The 5 Best Series on Netflix Right Now

Stranger Things, Squid Game, The Queen's Gambit (Netflix)
---
We all love watching movies and TV series on Netflix. What could be better than an evening in the company of friends, family, or pets watching a good show? If you've already watched all the good TV series on the streaming platform and want to do something else to have fun, then why not play online blackjack? But if you're all out of inspiration on what to watch tonight and need a recommendation of a great, binge-worthy watch, we have you covered! Below are the 5 best series on Netflix right now, and they're all guaranteed to have interesting characters, unexpected twists, and great storylines that audiences love.
---
1. Stranger Things (2016,-)
Genre: Science fiction, horror, mystery, drama.
Creators: The Duffer Brothers
Starring: Winona Ryder, David Harbour, Millie Bobby Brown, Finn Wolfhard, Gaten Matarazzo, Caleb McLaughlin, Noah Schnapp, Sadie Sink.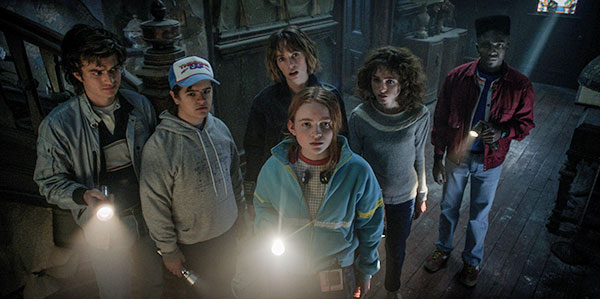 Chances are, you're probably already familiar with the Duffer Brothers' Stranger Things. After all, this beloved sci-fi series has been making people talk since 2016, when it took the world by storm, and it's still one of the highest-grossing projects on the platform to this day. Stranger Things is set in 80s in America, in a small quiet town where very strange things suddenly begin to happen. It all begins when a young boy named Will (Noah Schnapp) is abducted by a creature from an alternate dimension, which we'll later come to know as the Demigorgon. His mother Joyce (Winona Ryder) and his friends Mike (Finn Wolfhard), Dustin (Gaten Matarazzo) and Lucas (Caleb McLaughlin) both go looking for him, each with their own methods, and more chaos ensues.
This description alone should make you want to watch the show, but there's more. Season 1 will give you Goonies-meets-ET vibes, but the following seasons all stand on their own as being part of a different genre, giving us a very specific kind of nostalgia. In Season 2 we meet more nerdy characters and monsters, and Season 3 introduces Soviet experiments and secret labs in shopping malls, adding more mystery to the equation. But it's in Season 4 that everything changes: not only does the tone become darker, with genuinely scary scenes and references to horror classics like A Nightmare On Elm Street and Carrie, but the episodes are also twice as long, with four different narrative threads that converge at the end.
As you wait for the release of its fifth and final season, catch up on Stranger Things' past series. The show has plenty of mystery and sci-fi elements, otherworldly evil, teenagers and adults you'll get incredibly attached to, and, more importantly, a lot of heart.
---
2. The Queen's Gambit (2020)
Genre: Drama.
Creators: Scott Frank, Allan Scott.
Starring: Anya Taylor-Joy, Bill Camp, Moses Ingram, Isla Johnston, Christian Seidel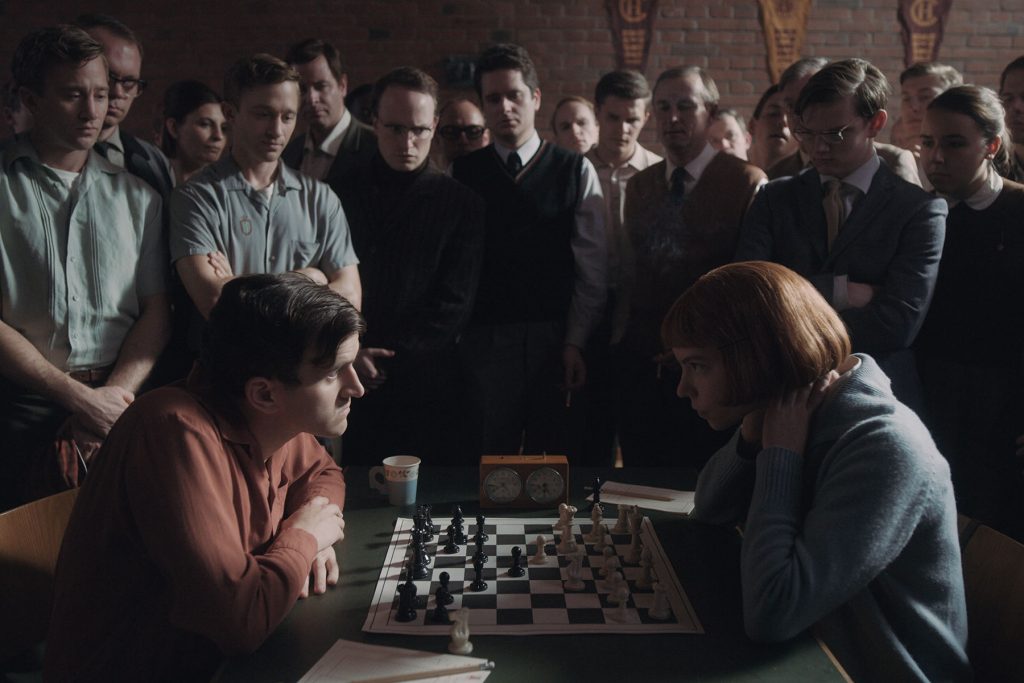 If you're wondering why everyone was suddenly obsessed with playing chess in 2020, The Queen's Gambit is your answer. The premise of the series is quite simple: a young, gifted girl lost both her parents at the age of nine and was sent to an orphanage. There, young Beth (Annabeth Kelly) finds out that she's not quite like the other girls: not only are her interests completely different from theirs, but she prefers being in the company of adults. And so, one day she finds herself in the building's basement and finds a janitor there, playing chess. Our introverted protagonist immediately becomes interested in the game, and it turns out that she's also a very good learner, as she soon masters the game. But there's a price to pay for stardom, as Beth Harmon soon finds out.
The Queen's Gambit follows Beth as she grows into a teenager (Isla Johnston) and an adult (Anya Taylor-Joy), and faces different challenges both in terms of her living arrangements and of her chess endeavors, as she enters more and more tournaments. But our protagonist is also struggling with dependency and addiction, and that makes the series all the more complex and enthralling to watch. Anchored by a superb performance from Anya Taylor-Joy, The Queen's Gambit will have you hooked from the first episode to the last, and leave you with an urge to become the next best chess player.
---
3. Sex Education (2019,-)
Genre: Comedy-drama, teen drama.
Creator: Laurie Nunn.
Starring: Asa Butterfield, Gillian Anderson, Jockey Gatwa, Emma Mackie, Connor Swindells.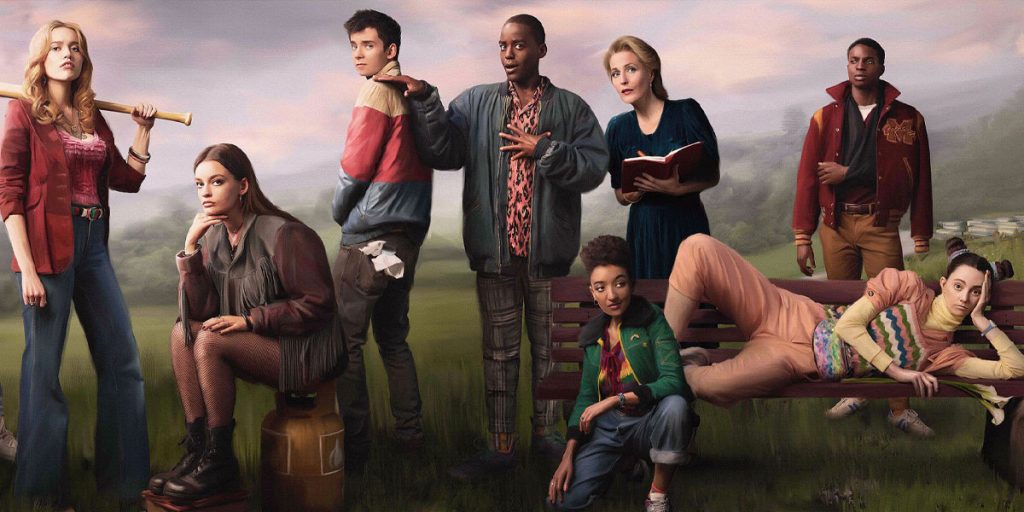 Here's another extremely popular Netflix series that immediately gripped audiences upon release, and the reason has to do with its subject matter and its many characters to root for. The show takes place in the small English town of Moordale, where a group of high school students live an active and interesting life. At the center of it all is Otis Milburn (Asa Butterfield), whose general awkwardness is only made worse by the fact that Jean (Gillian Anderson) is a famous sex therapist. Since Jean is very open about the subject, Otis knows a lot about sex and relationships, even though he has zero experience in that department. But all that knowledge eventually comes in useful when he realizes that his classmates have so many issues, and he can help.
And so, Otis joins forces with fellow outcast ​​Maeve (Emma Mackey), and the two of them set up an underground sex clinic at Moordale High which immediately becomes successful. Needless to say, the clinic doesn't remain a secret for long, and this causes absolute mayhem.
Just like Stranger Things, Sex Education manages to give us each and every one of us a character to root for, as it focuses on both teenagers and adults. Over the course of its three series (and counting), it tackles many important subjects and universal issues, all while still remaining incredibly fun to watch. Seeing its many characters grow up is part of the fun of watching Sex Education, a series that will appeal to everyone who loves stories about high school and teenagers and will also end up teaching you a thing or two.
---
4. Squid Game (2021,-)
Genre: Action, Adventure, Thriller, Drama, Survival.
Creator: Hwang Dong Hyuk.
Starring: Lee Jung-jae, Park Hae-soo, Wi Ha-joon, HoYeon Jung, O; Yeong-su, Heo Sung-tae, Anupam Tripathi, Kim Joo-ryoung.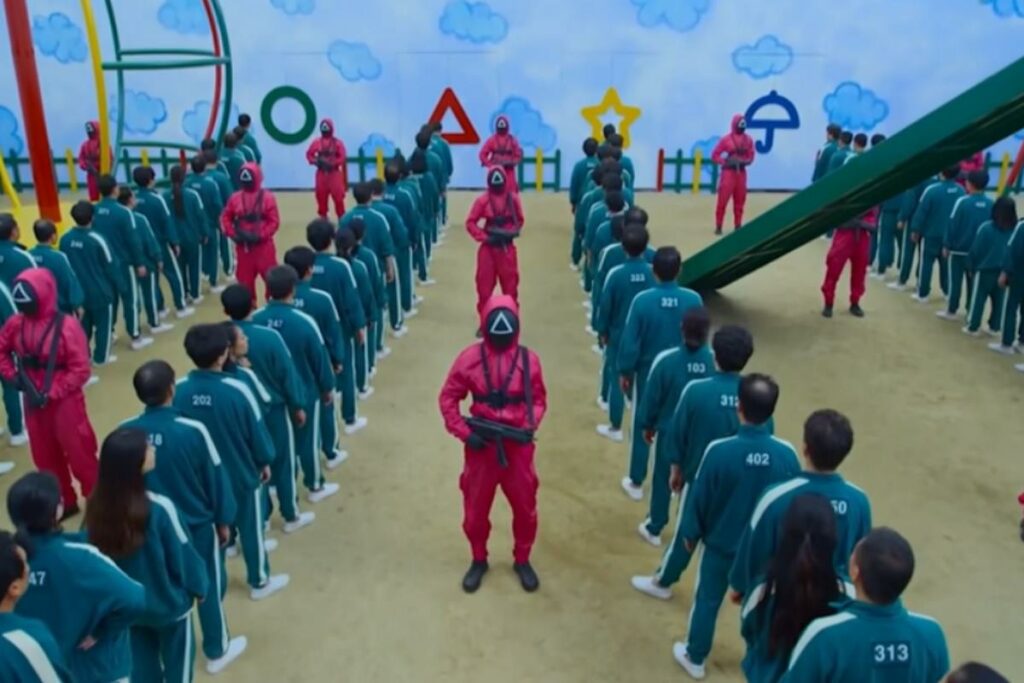 What if you found yourself in financial difficulties, and you were approached by a man who offered you money in exchange for playing a game? If it sounds too good to be true, it's because there's a catch. You won't find out what the game is until you accept the challenge, and, once you're in, your only way of getting out alive is winning.
See Also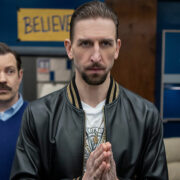 Squid Game was an unexpected hit back in 2021, drawing the attention of many viewers to the Korean TV series. The show centers on a well-meaning man named Song Gi–hoon (Lee Jung-jae), who is up to his ears in debt. One day he finds out that his ex-wife and her new husband are going to take his daughter to America, and the only way to stop it from happening is to find money. And so, our hero decides to say yes to a weird proposition and unwittingly becomes a participant in a brutal survival game, where the winner will receive $ 40 million, but the remaining 454 participants will end up dead.
If you're a fan of The Hunger Games and Battle Royale, you shouldn't miss Squid Game. With plenty of unexpected twists and big reveals you won't see coming, the show is one of the best series on Netflix right now. It will have you glued to your sofas for its entire duration, and will make you anticipate the upcoming Season 2 even more.
---
5. The End of the F***ing World (2017-2019)
Genre: Drama, black comedy, road movie.
Director: Jonathan Entwistle, Lucy Chernyak.
Starring: Alex Lowther, Jessica Barden.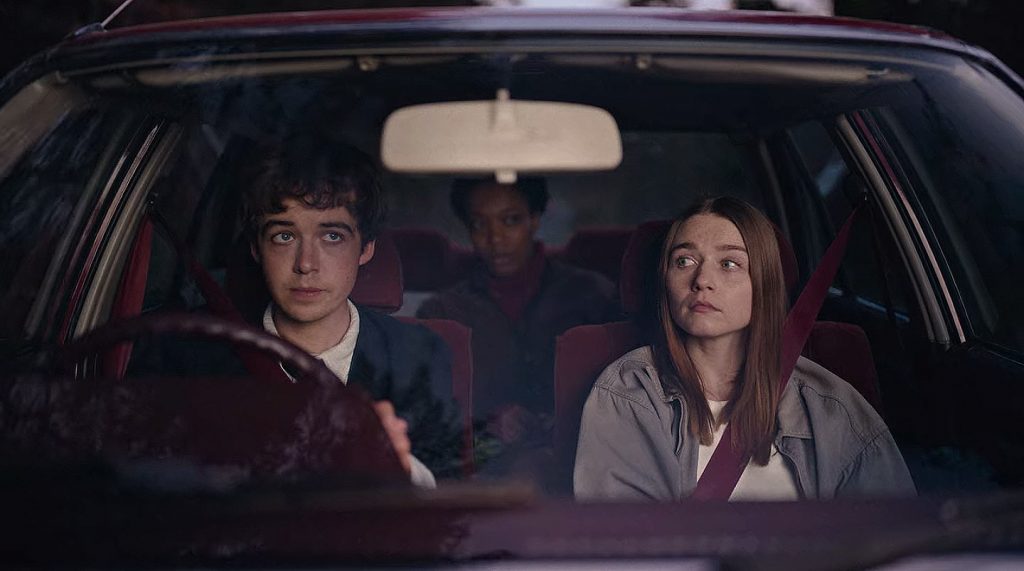 This British TV series is based on the comic book of the same name by Charles Forsman, and it has elements of drama, black comedy, and road movies. The show centers on teenagers James (Alex Lawther), who's convinced he's a psychopath, and Alyssa (Jessica Barden), a sarcastic rebel with abandonment issues. When James and Alyssa find each other, the latter convinces the former to run away together, and so they embark on a road trip in search of Alyssa's real father.
Needless to say, they'll end up finding so much more than that, and having to make many life-changing decisions. But they'll also grow up in the process, and watching them deal with all these challenges is part of the fun of the series. Wonderfully quirky, darkly funny and surprisingly violent and gory, The End of the F***ing World is unlike any other series on Netflix right now, and and absolute must-watch.