The 5 Best Educational Films

Robin Williams in Dead Poets Society (Warner Bros. Pictures)
---
There are many great educational films out there for students. They can open our eyes to new perspectives and cultures, teach us about important historical events, and inspire us to change the world. However, not all films are created equal. Some are more informative than others. To get the most out of films as an educational resource, we selected 5 great educational films for you to watch.
---
1. THE CRUCIBLE (1996)
Based on the play of the same name by Arthur Miller, Nicholas Hytner's The Crucible is about the witch trials in Salem, Massachusetts in 1692. The story is told from the perspective of Giles Corey (Peter Vaughan), a noble, brave farmer whose wife is accused of being a witch, and is about a town where a witch hunt takes place when one of its residents, Abigail Williams (Winona Ryder), accuses her ex-lover John Proctor's (Daniel Day-Lewis) wife of being a witch. Under the strict judgement of the entire town, as well as local minister Reverend Parris (Joaquin Phoenix), Proctor must decide whether to confess to the crime and save his own life, or to remain silent and allow his wife to be put to death.
The film is inspired by the 1692 witchcraft trials that really took place in Salem, in which nineteen people were accused of witchcraft and put to death, and it is mainly about intolerance, social dynamics, the power of the mob, and how fear and ignorance can lead to hysteria. Both heartbreaking and thought-provoking and starring a superb Daniel Day-Lewis, The Crucible is a must-see for anyone interested in American history or in filmmaking. It is also an excellent resource for students who are interested in the Salem witch trials, as it provides a realistic portrayal of the events that occurred during this time period. Additionally, the film highlights the importance of due process and the rule of law. That is why students are often asked to write The Crucible essays to analyze various aspects of this important historical movie.
---
2. STAND AND DELIVER (1988)
Ramón Menéndez 's 1988 American drama film Stand and Deliver is based on the true story of Jaime Escalante (Edward James Olmos), a high school math teacher in East L.A. who taught a class of predominantly Latino students and inspired them to pass the Advanced Placement Calculus Exam. Escalante, who was born in Bolivia, had come to the United States to work as a mechanic, but soon found his true calling in teaching. When he starts teaching at Garfield High School, he finds that most of his students are Latino and come from poor families, and he is determined to give them the opportunity to succeed, believing that they can do well in math if they are given the chance.
Stand and Deliver is an inspiring story about the power of education to transform lives. It is a must-see for anyone who believes in the importance of giving all students the chance to succeed, and it's also a great motivator for students to do their best in school, and a reminder for teachers to never give up on their students, Watch it for its inspiring story of perseverance and for a great performance from Edward James Olmos, who was nominated for an Academy Award for Best Actor and won a Golden Globe Award for Best Actor – Motion Picture Drama.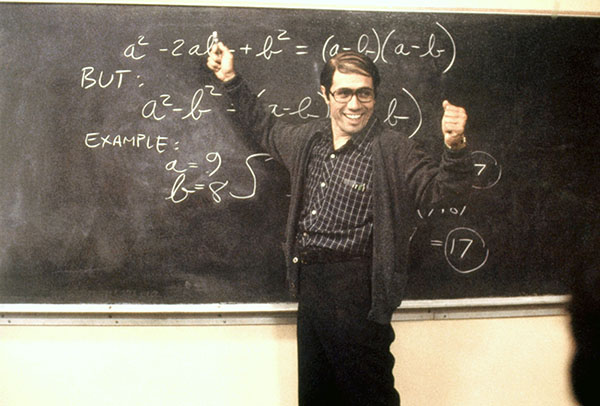 ---
3. TO KILL A MOCKINGBIRD (1962)
"To Kill a Mockingbird" is a novel by Harper Lee published in 1960. It was immediately successful, winning the Pulitzer Prize, and has become a classic of modern American literature. The novel is set in the fictional Maycomb County, Alabama, during the 1930s. The story covers three years, during which brother and sister Jem and Scout are growing up, and the story itself is narrated by the latter. Robert Mulligan's 1962 film is adapted from Harper Lee's novel, and revolves around the children's father, Atticus Finch (Gregory Peck), a widowed lawyer who defends a black man against an undeserved rape charge, and his children against prejudice. The novel deals with the issues of race and class in the Deep South during the 1930s, providing an important look at race relations in the United States during the early 20th century and highlighting the importance of the legal system in protecting the rights of all citizens.
---
4. DEAD POETS SOCIETY (1989)
Starring the late Robin Williams, Peter Weir's Dead Poets Society follows English professor John Keating (Williams) as he inspires his students at Welton Academy, an all-male prep school in Vermont where he has just started working, to pursue their dreams and make their lives extraordinary. Though initially reluctant to follow Keating's unusual and unconventional methods, such as ripping out pages from their textbooks and standing on tables instead, the students soon begin to learn what Keating is really teaching them – how to "seize the day" and really live their lives. Eventually, the students discover their own talents and passions, making the decision to pursue their dreams, but things aren't as easy for the professor, as other faculty members still don't approve of his teaching style.
Dead Poets Society is a moving and inspirational film that celebrates the power of individual expression and the importance of following your dreams. It is a timeless classic that continues to resonate with audiences today, and it is also important students because it discusses the power of words and highlights the importance of standing up for what you believe in, even if it means going against the grain.
See Also

---
5. EDUCATING RITA (1983)
Rita (Julie Walters) is a working-class hairdresser who decides she wants more out of life and enrolls in an Open University course in English Literature. Her tutor, Frank (Michael Caine), is a middle-aged, burned-out university lecturer who is drinking too much and has grown to hate his job. At first, Frank is dismissive of Rita and her working-class background, but he soon comes to respect her intelligence and her determination to improve herself.
Rita is an engaging and sympathetic character, and we see her grow and change over the course of the film. She starts out with little confidence and a very limited view of the world, but she gradually becomes more confident and her horizons expand. We see her grappling with big questions about life and literature, and she comes to some interesting conclusions. Frank is also an interesting character. He starts out as something of a caricature of the disaffected academic, but we also see him grow and change, as he comes to respect Rita and to see the value in his own work.
Educating Rita is a thought-provoking exploration of education, class, and self-improvement. It tells an inspiring story about the power of education to transform someone's life, and it's funny, touching, and ultimately very uplifting.
---

Films are a powerful medium for education, providing students with a new perspective on the world around them. Through films, students can learn about other cultures, explore difficult concepts, and gain a new understanding of the world. In addition, films can be a great motivator, inspiring students to learn more about a subject or to take action on various issues.