Ted Lasso Season 3 Premiere Review

Jason Sudeikis in "Ted Lasso" Season 3, now streaming on Apple TV+. (Apple TV+)
Ted Lasso is back! The Season 3 premiere takes us back to where it all started but reminds us just how much our characters have changed.
---
I had a strange sense of déjà vu when I started watching the Season 3 premiere of Ted Lasso, as it took me back to the very first episode of the series. We've already seen AFC Richmond rank at the bottom of the polls, the players' morale plummet, and their owner Rebecca (Hannah Waddingham) try to get back at her ex-husband Rupert (Anthony Head) by putting all her hopes in Ted Lasso (Jason Sudeikis). Episode 1 brings us back to the Season 1 premiere of the Apple TV+'s show — only, Rebecca is now actually trying to win, and the team is more united. But our players are still trying to process their former kit man-turned-assistant coach's shocking betrayal at the end of last season.
But the biggest change involves Ted Lasso himself, with whom we first reunite at the airport, as he waves goodbye to his son Henry (Gus Turner), who had been staying with him for a while. Our favorite coach looks as cheerful as ever, but we soon realize that he's not really the same Ted we met in Season 1.
This Ted doesn't ooze confidence, nor is he eager to enthusiastically dispense catchphrases to the people around him: in Season 3, our coach is just as deflated as the rest of the team, and painfully aware that his knowledge of football is limited. "What am I doing here?," he asks Coach Beard (Brendan Hunt), wondering if staying in London is the right move. "You're there to win," his son reminds him later in the episode, but Ted is having a hard time believing, to quote a familiar piece of paper with blue writing on it.
But Ted isn't the only one having a crisis of confidence in the Season 3 Premiere of the series. Keeley (Juno Temple), Roy (Brett Goldstein), Leslie (Jeremy Swift), the AFC Richmond players and, yes, even Nate "Wonder Kid" Shelley (Nick Mohammed): every single one of these characters is facing impending change and dealing with things as best they can, but that doesn't mean that they don't fear for the worst. Of course, Ted Lasso handles these changes with its usual balance of heart and humor, making it incredibly easy for us to return into its world.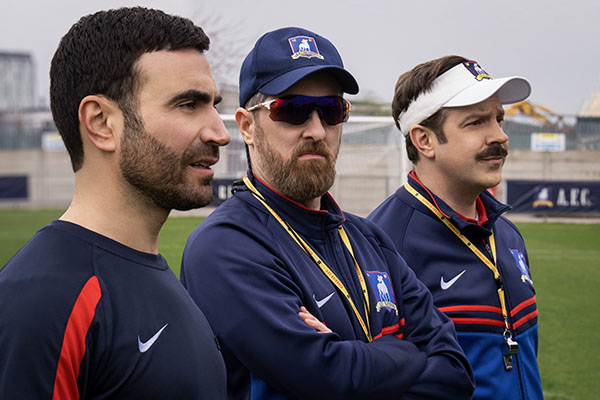 And so, Ted Lasso 's Season 3 premiere perfectly sets the stage for the rest of the season, presenting us with a situation that immediately makes us nostalgic but also gives us much to look forward to. Episode 1 is at its best when it "lets Ted be Ted," and what we get when that happens is a lesson on what makes a team really work, as Ted brings the players back to 1857 London and teaches them to really "connect to each other's tunnels" (you'll have to watch the episode to understand this one!).
But what we also get, in the end, is a fascinating look at the dynamics between Ted and Nate. Even if they don't actually meet, they both attend press conferences where each has to comment about the other, and handle the situation in completely different ways.
First of all, we're going to see a completely different side of Nate this season. The West Ham United coach has definitely learned how to be assertive, also thanks to club owner Rupert's support, but "Nate the Great" is still hiding in plain sight, and emerging whenever he faces new situations. Ted, on the other hand, might have forgotten how to really "be Ted," but he still can't help but be his earnest, authentic self, and he soon remind us why he made such an impact these past few seasons.
Season 1 of Ted Lasso introduced us to AFC Richmond and their larger-than-life new coach, and instantly made us fall in love with his contageous energy and optimism. In Season 2, we learned that even Ted is human, and watched as all characters dealt with tough situations and made it through, becoming better human beings in the process. In Season 3, things get even more complex, as most of our characters know that they aren't invincible. They've already used the "Ted Lasso" wild card, and originality and optimism alone won't help them win the championship. Now, the only way to make it through is to work hard, develop a good strategy, and rely on each other. Judging by the season premiere, we're in for one hell of a ride.
---
Ted Lasso 's Season 3 premiere is now streaming on Apple TV+.