Ted Lasso Season 2 Episode 2 Review
Juno Temple and Brett Goldstein in "Ted Lasso," premiering July 23, 2021 on Apple TV+. (Apple TV+)
In Season 2 Episode 2, Ted Lasso and the team undergo significant growth, with surprising twists and meaningful role reversals that remind us all the reasons why we love the show.
---
Last week, Ted Lasso 's Season 2 premiered on AppleTV+, and we left Ted (Jason Sudeikis) and the AFC Richmond team dealing with a season that started with seven consecutive draws, and a match against Nottingham Forest that deprived Dani Rojas (Cristo Fernández) of all his enthusiasm and confidence, leading him to the conclusion that "football is death." Coming to the rescue was sports psychologist Sharon Fieldstone (Sarah Niles), whose therapy sessions helped not just Dani but the entire team, so much so that Higgins (Jeremy Swift) and Rebecca (Hannah Waddingham) decided to hire her for the entire season. But, if their decision is certainly going to positively affect AFC Richmond, it's also going to have a significant influence on Ted's relationship with the team, and Episode 2 shows us just how deep the changes might be not just for our favourite football players but also for the titular coach. In this episode, Ted has to make an important decision that's bound to affect dynamics and relationships between the players, and that might even affect his own role within the team in the process.
But Ted is not the only character facing difficult choices in Episode 2. Though he's now coaching a team of eight-year-olds, Roy Kent (Brett Goldstein) is still struggling to find himself as a former football player, as the sport has taken up such a significant part of his life up till this point, defining not just his success but also, in many ways, his own identity. In a hilarious scene involving unexpected videos from the past, his girlfriend Keeley (Juno Temple) points out that he hasn't quite been his usual sarcastic self since he left AFC Richmond, and this prompts him to consider accepting a job offer as a commentator at Sky Sports — an experience that's just as potentially rewarding as it is completely new, and therefore scary.
A completely different choice awaits Jamie Tartt (Phil Dunster), whose "lustful journey" at the reality show has come to an end, and whose return to real life comes with the discovery that his football career might be over, as no one wants to work with him anymore. But if the Jamie we saw at the end of Ted Lasso's Season 2 Premiere appeared to be the same smug bully who has been refusing to "make that extra pass" for much of Season 1, Episode 2 shows as a character who's much more controlled and self-aware, and who seems to have learned to be a little kinder, not just to others but also to himself. And so, we learn that he's partly to blame for his fate, as he's the one who decided to leave Manchester City for a reality show, but we also discover a Jamie who's not afraid to admit that he's made the wrong choice.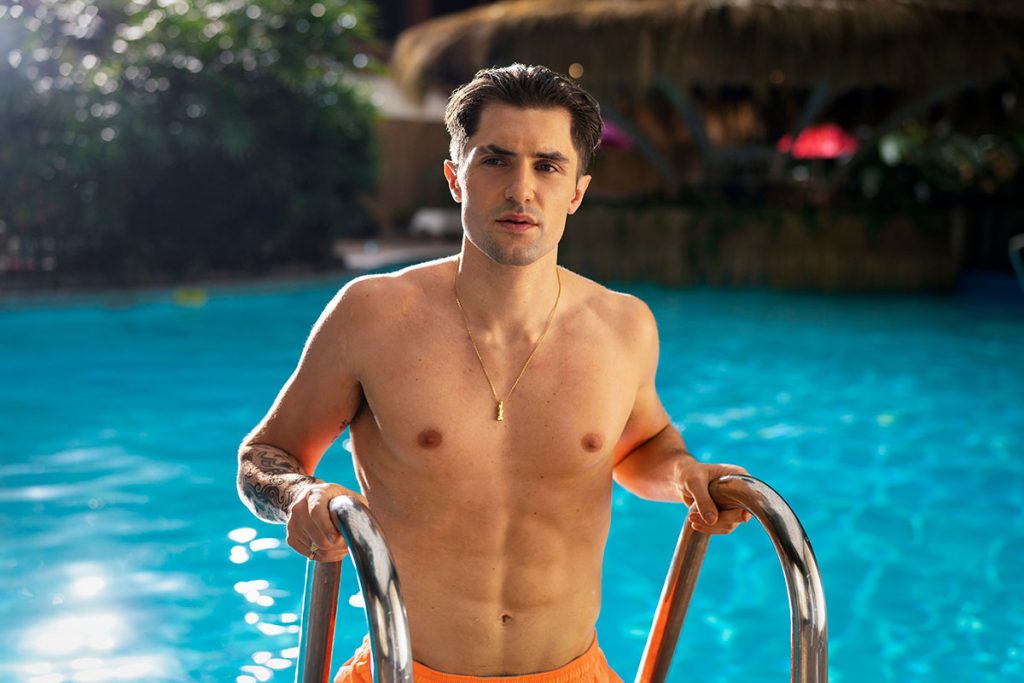 It's quite a reversal of roles that Roy and Jamie undergo in Episode 2, if you think about it, and credit goes to Ted Lasso's writers for turning the tables on us in two episodes alone, giving us a Season 2 that already feels as heartwarming, epic and thought-provoking as the first, but that also immediately gives us impressive character growth and new, clever dynamics. If AFC Richmond's former captain was blunt, honest to the point of rudeness, and always ready to speak his mind, Season 2's Roy Kent is stubborn and disillusioned, and his initial refusal to try something new reveals his deepest fears, making him more complex, but also, in a way, more human.
Jamie Tartt, on the other hand, is all about making brave choices in this episode. If Season 1 showed us a player whose insecurities made him not only incredibly stubborn, but also unpleasant towards others, Season 2 gives "Jamie f*ing Tartt" the chance to be the brave one, and we see him actively take ownership of his own life, and make the conscious choice to show people his vulnerabilities and ask for help. It's an interesting reversal of roles that gives us completely different dynamics and unexpected character development, anticipating a second season that might surprise us in all the right ways.
But Jamie and Roy are not the only characters that undergo significant change and have to make important choices in Episode 2. Perhaps the most interesting transformation of all is Ted's, as something quite extraordinary happens to our titular character in this episode. In a completely unforeseen twist, Ted has evolved from the eccentric coach who constantly surprises you with unexpected acts of kindness and ingenious, out-of-the-box solutions to the most predictable character in the show. And so, we come to the realisation that, though the "Lasso way" might not be wrong, to use Trent Crimm's words, it might not be completely "right" either, as it might just be more about Ted's own insecurities than about his desire to make other people happy.
This becomes painfully obvious when Ted attempts to use his charm to get Sharon on his side, by doing the most Ted Lasso thing of all and bringing her biscuits. Only, his usual routine doesn't work with the psychologist, who can see right through Ted's "way of connecting with new people," but who's also wise enough to respond by establishing boundaries — an act that's just as destabilising to the coach as Ted's own strategy with Sharon was initially supposed to be.
See Also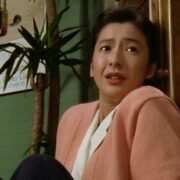 If it was already quite clear from the Premiere that Sharon was going to be important not just for the team but also for Ted's own growth, it becomes even more obvious in Episode 2, where the doctor's approach finally seems to be getting to the coach. In fact, Ted is also dealing with a decision to make that will change the team's dynamics and possibly even affect his own relationship with one or more of the players. But, if Season 1's Ted would have probably chosen to prioritise his need to appear friendly and approachable, Season 2's Ted might be about to realise that he's not just the players' friend: he's first and foremost their manager. As such, it's up to him to choose whatever he thinks will be right for the team, based not on his own sympathies but on what will give them more chances to succeed, even if that means making unpopular decisions. And, if some of Sharon's detachment and professionalism does indeed rub off on Ted, we might just see an AFC Richmond that's stronger than it's ever been before.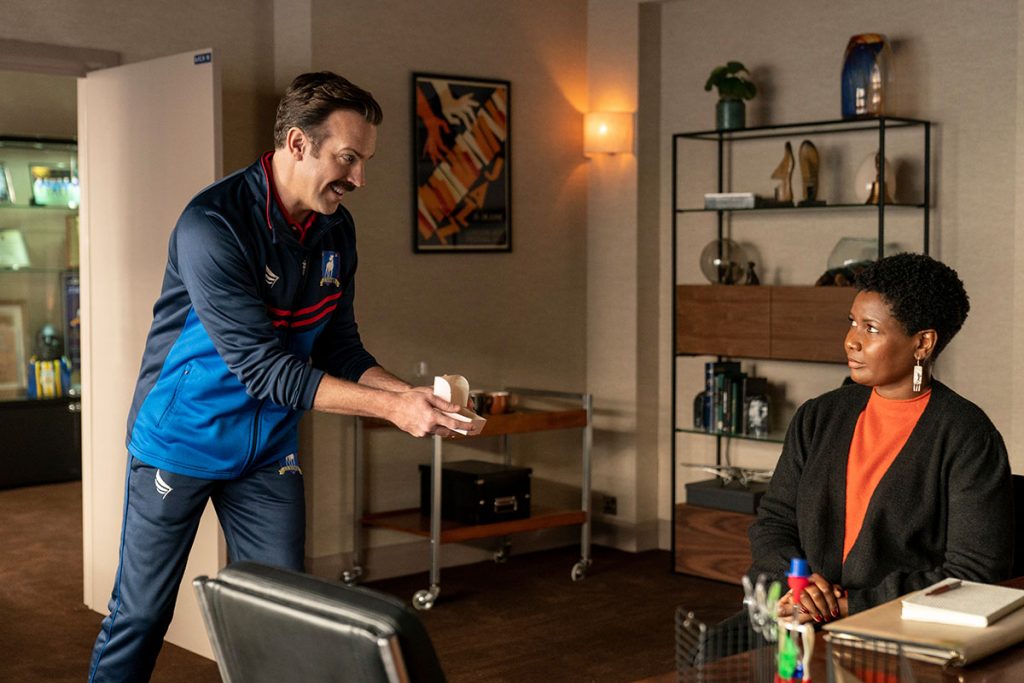 To me, the weakest character arc so far has been Nate's (Nick Mohammed): the kitman-turned-coach has undergone quite a lot of changes in Season 1, but he's always been defined by his humility and kindness. In Season 2, he seems to have become quite the tyrant, and I don't quite see where the show's writers are going with this. Sure, the lavender scented softener jokes are definitely enjoyable, but so much effort has been put into making Nate such a memorable, likeable character in Season 1 that I really hope there's a reason behind his sudden change of attitude, and that newly hired kit-man Will (Charlie Hiscock) will be given something to do other than being on the receiving end of Nate's remarks.
That said, Episode 2 is still a thoroughly enjoyable, thrilling episode that fully manages to replicate Season 1's winning recipe, with the perfect blend of humour, charm, meaning and heart. We can't wait to be entertained, moved and surprised over and over again in the rest of the season.
---
Ted Lasso's Season 2 Episode 2 premieres on Apple TV+ on July 30, 2021.