Sunflowers: Riveting Documentary on Van Gogh 's Passion (Review)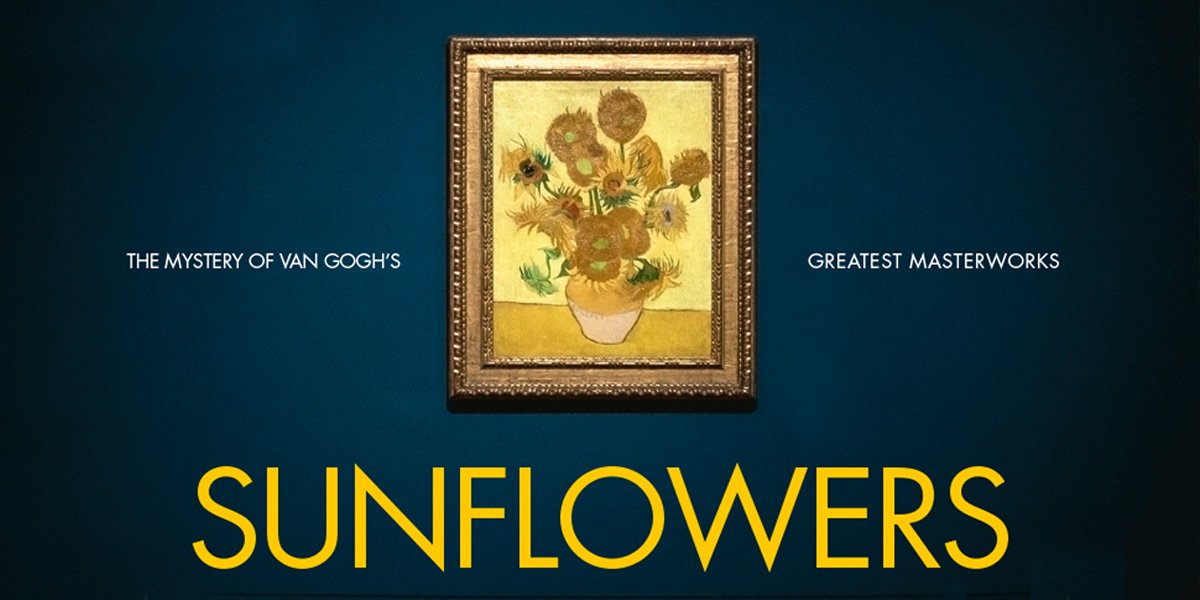 Sunflowers (Exhibition on Screen)
Sunflowers is a colourful and compelling documentary that focuses on Van Gogh 's passion for nature and colour through an exploration of his Sunflower paintings.
---

Although Vincent van Gogh is one of the most celebrated artists of all time nowadays, he only became recognised as the talented painter he was after his passing away. Though his artwork is admired and replicated all over the world, it is the man and the myth behind them that has awakened the interest of many art appreciators. Known for his vibrant way of seeing the world, combined with some shocking mental health issues, Vincent van Gogh is one of the few painters whose work can be analysed in the context of the mental and creative processes that lies behind the world that he painted. And still, after over 100 years, there are always new angles and meanings to be deciphered from his writings and his paintings.
David Bickerstaff's new documentary, Sunflowers, highlights his astonishing work as a still life artist and demonstrates his obsession with the diversity and, above all, the magic of sunflowers. Sunflowers is an enlightening and informative documentary that takes you across continents and languages to highlight Van Gogh's talent with the various shades of one colour and reproducing nature and life at its finest. Various curators and art professors share their knowledge on the allure of sunflowers and what they meant for Van Gogh and his work. Produced by Exhibition on Screen, the documentary details and provides more information on the Van Gogh Museum's latest exhibition, titled Van Gogh and the Sunflowers.
Vincent van Gogh corresponded frequently with his brother Theo, and, through their letters, we are able to get to know Vincent as a person with ambitions, passions and mental health issues. It was his entrepreneurial sister-in-law, Johanna van Gogh-Bongers, who bundled, edited, and translated all the van Gogh brothers' correspondence and presented them as a first volume in 1914. Ever since then, van Gogh's fame and reputation have been steadily growing through Johanna's donations of his work to biographical exhibitions. However interesting van Gogh's private life was and is, knowing his personal thoughts and feelings changes the way his art is perceived. It is innovative and educational to watch a documentary on van Gogh that focuses on the art itself and does not overanalyse the mental conditions in which Van Gogh created his art. The documentary therefore focuses on Van Gogh's descriptions of the sunflowers, and the meaning he asserted to painting them.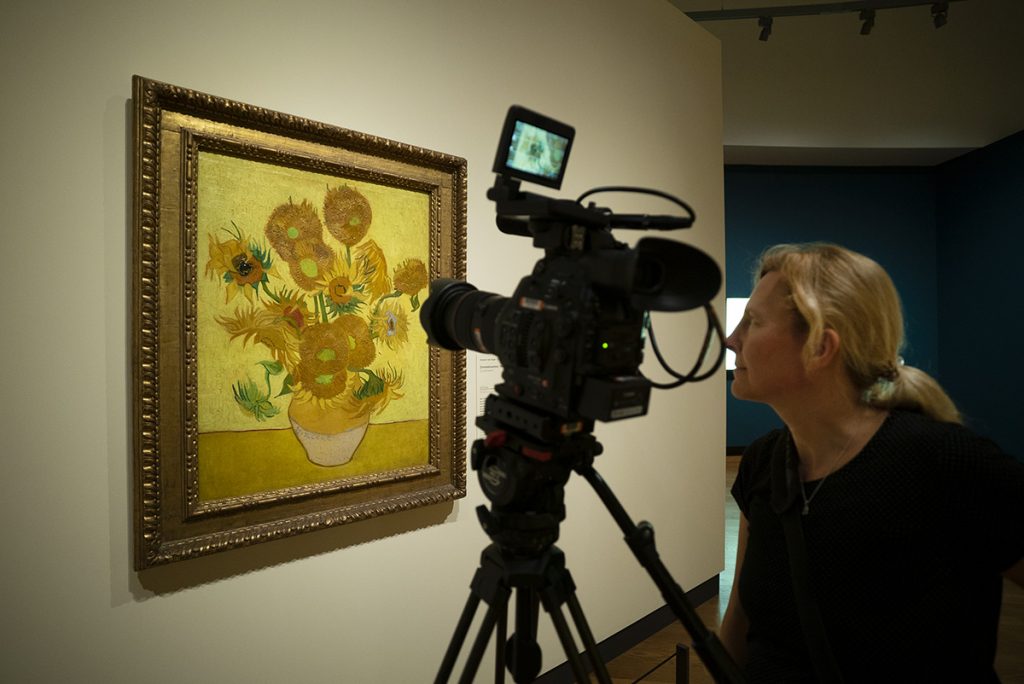 Due to their high level of artistic talent, van Gogh's paintings of Sunflowers are naturally among his most famous. Painted between 1888 and 1889 in Arles, the collection shown in the documentary consists of five large canvases of sunflowers in a vase. The number of sunflowers, as well as their blooming process, varies, but they are all painted in three shades of yellow – a feat that demonstrated the possibility of creating an image using only numerous variations of a single colour without losing the beauty and realness of the image. From his letters, we know that these paintings had a special significance for him: he told his brother Theo that they communicated gratitude.
Nowadays, the Arles sunflower paintings can be found all over the world and are on permanent display in the Van Gogh Museum in Amsterdam, the National Gallery of London, in the Neue Pinakothek in Munich, in the Philadelphia Museum of Art and the Sompo Japan Museum of Art in Tokyo. Sunflowers takes you on a journey across these museums and shows you the placement of the paintings in their collection, alternating close-ups of the various beloved paintings with interviews with their curators.
The documentary is also true to its name, and the titular sunflowers —or 'tournesols', as Van Gogh at times referred to them— are made the main protagonist of the film. Vibrant, colourful images of sunflower fields, coupled with Van Gogh's sketches, highlight the diversity and beauty of the sunflower, which was still uncommon in the 1880s. Various scenes on the history of the helianthus add an extra rustic touch to the documentary, which makes it easier to see why Van Gogh's fascination with them resulted in many of his artworks. The soft touches of the colour yellow permeate throughout the film and form a red thread across close-ups of Van Gogh's paintings, the curators and professors who care for them, and re-enacted appearances of the artist himself.
As highlighted in Sunflowers, despite their obvious similarities there are a plethora of artistic differences that make each painting unique in its own way. The love for Van Gogh's paintings, style and technique shines through in the admirable and enthusiastic way the curators and professors speak about Van Gogh's style and technique. Though the documentary refers to Van Gogh's letters and descriptions and actively includes them in its analysis, it does not overanalyse his mental state of mind, contrarily to other documentaries on Van Gogh. Sunflowers is a refreshing and informative documentary that is a must-see for everyone interested in the magical allure of sunflowers and Vincent van Gogh's passion for them.
---
Sunflowers will be released in cinemas across the UK from 8 June, including Curzon, Everyman, Odeon, Picturehouse, Showcase, Vue and independent cinemas. Click here to find your nearest cinema. #EOSSunflowers
---
JOIN US!
Don't miss our monthly updates with film news, movie-inspired recipes and exclusive content! You'll only hear from us once a month. #nospam