Succession Season 4 Episode 1 Review

Sarah Snook, Kieran Culkin and Jeremy Strong in Succession Season 4 Episode 1 (Claudette Barius/HBO)
Succession 's Season 4 Episode 1 is one of the show's most exciting, entertaining episodes to date, perfectly bridging the gap from last season.
---
This review contains spoilers for "Season 4 Episode 1 of Succession.
From the very first episode of HBO's smash-hit sensation Succession, the show's central siblings have never been able to agree on anything. Whether it's professional disputes, family drama, or even just their father's constant pressure, there's always been something keeping Kendall (Jeremy Strong), Roman (Kieran Culkin), and Shiv (Sarah Snook) on opposing sides of the neverending media war. But for the first time, Season 4 of Succession brings the Roy siblings together in a final push against their father Logan (Brian Cox) in what's already promising to be the show's most emotional, intimate, and high-stakes outing so far.
The devastating finale of Succession's third season saw Kendall briefly give up on his conquest against Waystar Royco, until the news of Logan's intentions to sell the company to rival media enterprise GoJo spurred him into an alliance with Shiv and Roman to protect their family legacy. The episode ended on a chilling cliffhanger that subtly revealed Tom's (Matthew MacFadyen) behind-the-curtain betrayal of his wife, leaving the Roy siblings effectively removed from the company and seemingly defeated by their father once and for all.
Episode 1, titled "The Munsters," spares no time in filling the blanks between that explosive encounter and the beginning of season 4. While Logan attempts to secure the GoJo acquisition and sign away his company for good, his children are attempting to rebuild their professional reputations with a new start-up called The Hundred – but this project doesn't last long when the two generations of the Roy family find themselves in a high-stakes bidding war for the purchase of PGM, another rival company. It's this intense showdown that fuels the majority of "The Munsters"' runtime, following both sides of the conflict as they work desperately to out-pitch the other.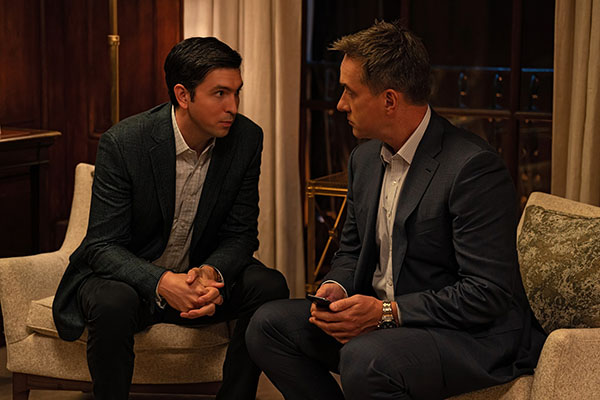 The concept for episode 1 of season 4 is exactly what Succession does best: providing a simple premise that's constantly elevated and complicated by sharp twists that continue to build throughout the episode. "The Munsters" is effectively 60 minutes of high-stakes warfare that's fought only with words, and it's the rich character work blended with the show's signature witty dialogue that allows it to work so well. Bringing Kendall, Roman and Shiv together again was the best decision that Succession could've made, with the trio constantly bouncing off each other and providing some of the funniest and cleverest interactions in the show's long history – there really aren't any other shows right now with tighter scripts and more memorable one-liners than Succession is managing reliably.
It's hard to recall the last time Succession's stakes were quite this high, with all three Roy siblings essentially unemployed and their entire family legacy riding on the decision of a rival company. And episode 1 never lets the audience forget that, reminding us at every opportunity just how important and influential this moment is for the Roy family, using these characters' layered backstories and complex relationships to push the momentum forward at every opportunity. It's typical Succession storytelling – things can never quite be too exciting, and there's always an opportunity to raise the stakes. "The Munsons" proves that the show hasn't forgotten that, but it also keeps the jokes coming thick and fast. From a recurring gag about Greg (Nicholas Braun) accidentally making a sex tape to Roman's constant jokes about Kerry's (Zoë Winters) relationship with Logan, the episode contains some of the show's funniest moments yet.
Episode 1 also gives some insight into the complex relationship between Shiv and Tom, which was seemingly shattered at the end of Season 3 following the latter's decision to back Logan over his wife. Some time has clearly passed between seasons, and the couple's marriage has taken a major hit. The episode never explicitly goes into detail about the conversations they've had during this time, or the arguments they've undoubtedly endured, but it constantly drops hints and glimpses that ultimately converge into an incredibly emotional climax at the end of the episode. Both MacFadyen and Snook have always done a great job of capturing this couple's unconventional dynamic, but their work in "The Munsters" really exemplifies why this show's cast has grown so universally acclaimed over the years.
See Also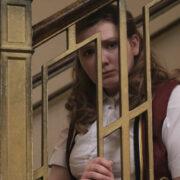 In many ways, Tom is actually the standout character of this episode. Not only does his relationship with Shiv get a serious examination, but he's also become a trusted ally to Logan and played a huge role in the deal with Nana Pierce. His character has changed so much since the show's early days, and it's been fascinating to watch how his descent into immorality has consistently worked well for him, developing the show's recurring themes of corruption being an inherently beneficial part of business. He's sold his morals for another shot at fame and success, proving his partner-in-crime Greg right when he questioned "who needs a soul anyway" last season.
From the fast-paced storytelling to the hilarious dialogue, "The Munsters" represents everything that's always worked so well about Succession. It's an exceptional story in itself whilst also setting the framework for the rest of season 4, offering glimpses into these characters' inevitable futures and raising questions about who will ultimately come out on top of this endless game of whispers and betrayal. There's never been a moment when the Roy sibling's success hasn't been followed by an immediate downfall, but that's all part of the fun with Succession – anything could happen before the show is over.
---
Season 4 Episode 1 of Succession is now available to watch on HBO Max.