Studio 666 Review: Foo Fighters vs. The Evil Dead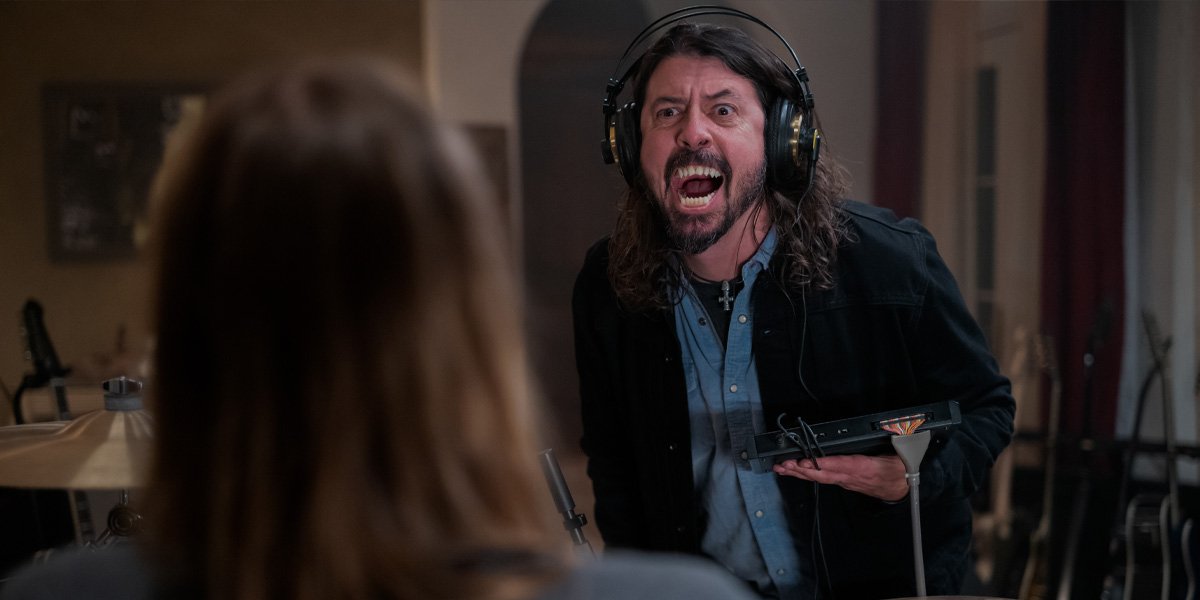 Dave Grohl stars as himself in Studio 666 (Open Road Films)
Studio 666 has the Foo Fighters dealing with writer's block while fighting demonic wraiths, in this rock n' roll horror flick.
---

One combination that will never get old is rock n' roll and horror films; both have been intertwined for a long time now and have developed several projects, most of them involving the grindhouse and B-horror-movie scenes of the late 70s and 80s. Films like Black Roses, Rock n' Roll Nightmare, Heavy Metal Massacre, and even Trick or Treat managed to garner some attention at the time at the drive-in or midnight screening scenes, although most of them are quite schlocky and trashy in most parts. At the same time, that's what makes them "charming" in their own way. These types of scrapyard flicks aren't made anymore, and if they do, it is a rare occasion. Not so long ago, out of nowhere, the band Foo Fighters announced that they were working on a movie, and I started thinking that it would be in the same wavelength as The Beatles' A Hard Day's Night, The Ramones' Rock n' Roll High School, or even The Clash's Rude Boy, but it wasn't. Dave Grohl and company decided to go with an Evil Dead-esque approach to their movie, Studio 666, and the genre fits perfectly with their music style and groove.
The movie focuses on the legendary band and Rock & Roll Hall of Famers, Foo Fighters, who, thanks to their label's chief exec Jeremy Shill (Jeff Garlin), are moving into an Encino mansion that has been immersed in grisly rock history. They are preparing to record their much-anticipated 10th album, but little to no ideas have come forth for Dave and company. As they keep struggling with writer's block and stress on account of searching for a new sound, frontman Dave Grohl is attracted to something he senses.
A ghostly presence is haunting the house. One day, Dave goes to a basement where he finds the musical muse he needs for his new album, but it comes with a cost. A supernatural force takes Dave's body as host while he finishes what the previous mansion's inhibitors started: a devilish never-ending metal track. This now threatens the completion of their new record and the band members' lives. Will the Foo Fighters come out alive after these treacherous events?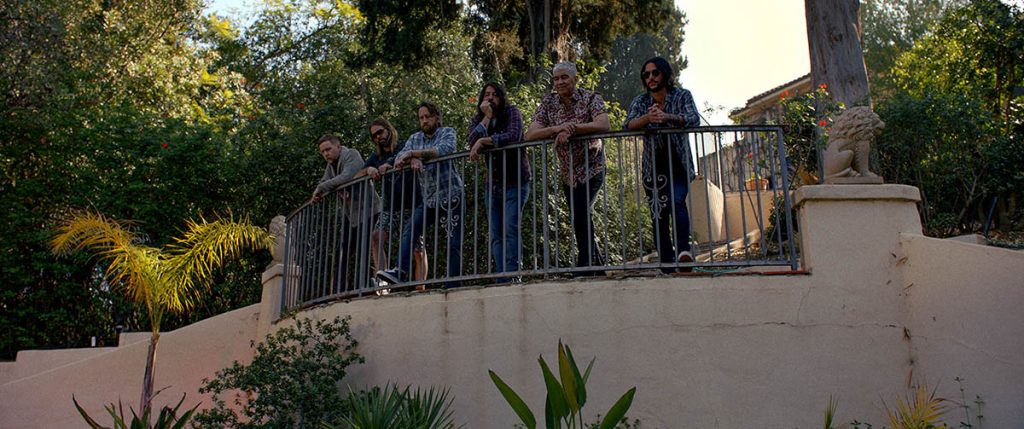 The best way to define Studio 666 is the Foo Fighters meets Evil Dead and Motel Hell, even though it is less gruesome, bloody, and funny than either one of these. It wants to be a horror-comedy, which is hard to make, while still involving the rock and roll elements into the mix, as they made a metal record as a companion piece to the film. However, you could argue that the film itself is the companion piece, just as Boy Harsher did recently with their short/album The Runner (a short that blended the band's 80s synthpop and darkwave mechanics with a Lynchian or Kenneth Anger-esque style of filmmaking). Because of such, it is hard to see its true purpose of existing outside of that record or their next one to come after that. Nevertheless, it helps that the film is entertaining in most sections due to its B-movie design and the flicks it references, which are plentiful: the classic The Exorcist shot, the book of the Evil Dead, and even a chainsaw kill that looks like it could have come from either Pieces or Texas Chainsaw Massacre (and it is the best kill).
The band seems to be one hundred percent into the project, evident in their performances, mannerisms, and line delivery. Some of them, specifically Dave Grohl and Whitney Cummings, even chew the scenery thanks to being so involved and immersed in it. It does, however, have its fair share of problems and minor issues that cause fractures in the engagement. Studio 666 does take its time to settle down onto the horror side of the narrative. This wouldn't be much of a problem with other films, yet considering that this is sleazy on purpose, it could have gone straight to the point and showered the screen in blood red. At least twenty minutes could have been cut out of the feature easily so that it could have had the Roger Corman stamp of approval (most features that the "the pope of pop cinema" produced were 90-minutes or less). Some of the visual effects are a tad off and poorly made, albeit the practical ones look pretty good for what it's worth. There is some nastiness to it; as the kill number rises, the creativity of the murders does as well.
See Also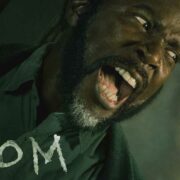 It's fun to watch this legendary band fight demons for whatever reasons (the horror aspect of the story doesn't make much sense), but it takes too long to get the bloody show started. Instead, the film fills its unnecessarily 108-minute runtime with comedic scenes that work on a 50/50 basis and music sessions, which are fine because a couple of their newly composed metal tracks are good. Director B. J. McDonnell's previous feature, Hatchet III, went guns blazing in the first couple of minutes (it isn't the best example); what stopped him here? Anyways, there are still things to enjoy. Studio 666 is an intentionally trashy horror-comedy, and it seems like the cast, especially Grohl and Cummings, had a blast doing the movie. And although that alone doesn't excuse the poor script and middling comedic scenes, its self-aware B-movie/midnight screening entity will entertain horror fans seeking an escapade involving demonic possessions, haunted mansions, and rock n' roll legends, Foo Fighters. Not good nor great, but hey, "we'll find some time to kill", and this is a good way to do so.
---
Studio 666 was released in theaters on February 25th, 2022.