Shadow and Bone: Netflix Season 2 Review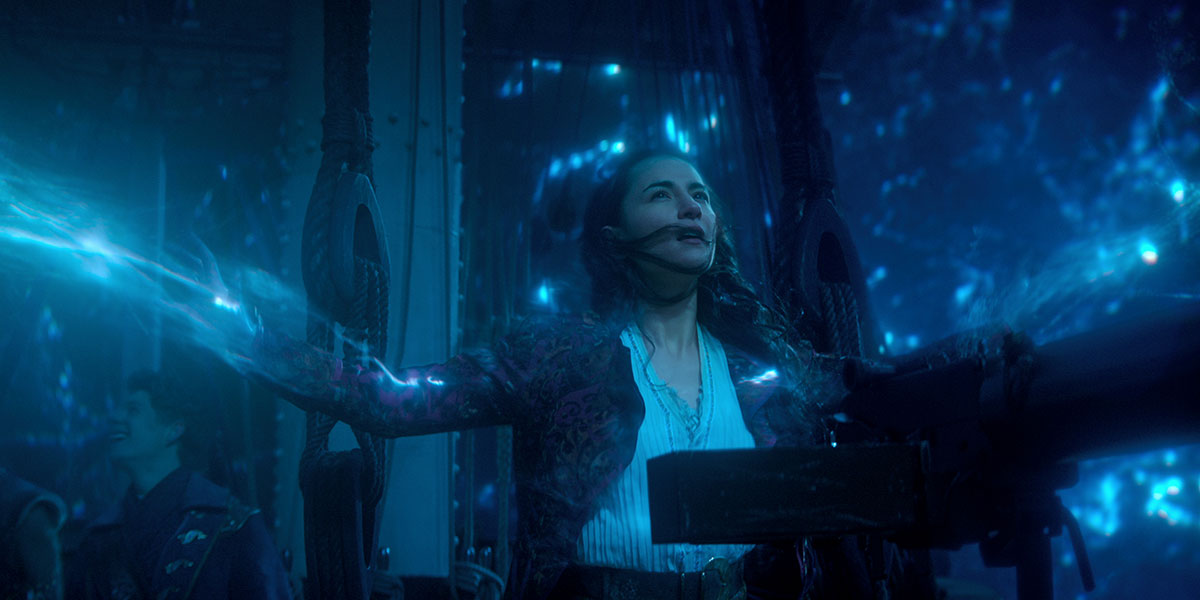 Jessie Mei Li as Alina Starkov in Season 2 of Shadow and Bone. (Netflix © 2023)
Season 2 of Netflix 's Shadow and Bone will satisfy fans, with a story that slightly differs from the books but has the same charm.
---

Netflix 's Shadow and Bone is back, and we couldn't be more excited to return to the Grishaverse! Season 2 picks up right after the events of the first season, with "sun summoner" Alina Starkow(Jessie Mei Li) on the run, and determined to destroy the Fold created by The Darkling/General Kirigan (Ben Barnes). But the Shadow Summoner is also back, scarred but stronger than ever, and with a new army of seemingly indestructible shadow monsters that follow him everywhere. On top of that, the Shadow Fold (the tear of darkness created by the Darkling years prior) keeps expanding overnight, destroying villages in the process, so much so that many Ravkan citizens have become refugees.
The Ravkan refugees try to reach to the same place where Alina and Mal (Archie Renaux) were headed, at the end of last season: Novyi Zem. That's where we find them, in what's known as safest place in the Grishaverse, home to otkazat'sya, or non-magical people, who fleed Ravka when the Darkling came to power. But Kirigan has been spreading false propaganda, and everyone believes Alina to be working with him. Not only that, but our heroes also need to hide from the First Army (Ravka's first line of defense, made of otkazat'syas — non-magical soldiers), as, when Mal left them to help Alina in Season 1, he became a deserter.
But that's not all, because Alina and Mal aren't the only heroes in this story. Back in Ketterdam, we reunite with our favourite cane-holding criminal mastermind and his Crows. Having helped Alina defeat the Darkling and agreed not to disclose her whereabouts, Kaz Brekker (Freddy Carter), Inej (Amita Suman) and Jesper (Kit Young) are eager to return to their beloved Club. But they soon discover that the Crow Club no longer exists: in their absence, ruthless criminal Pekka Rollins (Dean Lennox Kelly) took over most businesses in Ketterdam, including their own. "Are you saying we have no home?," asks Jesper, but before Kaz can reply, they are on the run again, as it turns out that they are inexplicably wanted for murder.
The Crows devise a plan to get their Club back and defy Pekka Rollins, who also happens to be Kaz's nemesis. To do so, they require a demolition expert and a heartrender — a Grisha with the power to control others' internal organs. For the former, they recruit Kaz's friend Wylan Van Eck (Jack Wolfe); for the latter, as luck would have it, Nina Zenik (Danielle Galligan) happens to be around, hoping to reunite with her drüskelle (Fjerdan witch hunter) boyfriend Matthias (Calahan Skogman).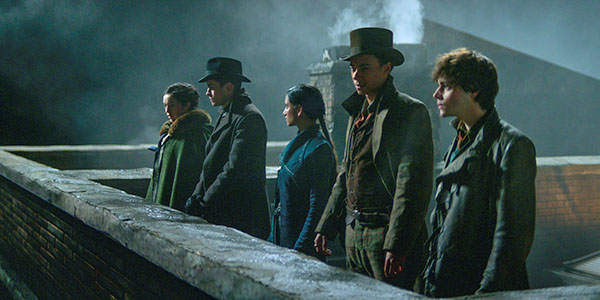 And so, Alina and Mal, and Nina and the Crows embark on two separate quests, the former to free Ravka from the Darkling and the latter to defy Pekka Rollins and free Matthias. Needless to say, their paths eventually cross, but not before facing unexpected turns, reuniting with old friends and enemies, and making new acquaintances, from pirate/privateer Sturmhond (Patrick Gibson) to Grishas Tolya (Lewis Tan) and Tamar (Anna Leong Brophy).
… Confused? If you were, I wouldn't blame you. Just like the previous chapter in the Grishaverse, Season 2 of Shadow and Bone is set in a vast land with plenty of cities, characters, and magical abilities that all have unfamiliar names, and where everyone constantly moves from one place to the other. It'll take you a little while to familiarise yourself with the Grishaverse's slang and customs again, and taking a look at the map as you watch the show won't hurt. But once you've reacquainted yourself with author/executive producer Leigh Bardugo and co-showrunners/co-writers Eric Heisserer and Daegan Fryklind's series, you'll be in for a treat.
In the first season of Shadow and Bone, Bardugo's Shadow and Bone trilogy and Six of Crows duology were merged to craft a completely new story that was still faithful to its source material. This year, the show as a whole takes the same approach, but also takes some material from The King of Scars duology, which revolves around Ravkan prince Nikolai Lantsov. Not only that, but, while most of Season 2 replicates what happens in the books — only, adjusting the timeline to simultaneously show us what Alina and the Crows are doing, the second half of the series drastically changes certain key elements of the books, making us anticipate a much darker Season 3 than we had envisaged. Yet, at the same time, the show never loses the essence of the novels, which is preserved even if some major events take place that will take fans of the book completely off guard.
I'll leave it at that to avoid spoilers, but suffices it to say that one of the most interesting aspects of Season 2 is the relationship between Alina and the Darkling. Can light exist without darkness? Shadow and Bone shows us a Rey/Kylo Ren sort of dynamic between our hero and our villain, as they appear to perceive one another's presence and abilities and even visit each other with projections.
Alina has a strong, positive bond with Mal that dates back to their childhoods, and also forms a friendship with another morally good character later in the series; yet, she cannot help but seek the Darkling, even on an unconscious level. Is it the guilt of a victim of abuse, or is it the fact that the very existence of good is subject to the presence of evil? Or is it that General Kirigan used to have the same hopes and dreams as Alina before he was corrupted by years of ostracism from the Grisha world, caused by their failure to understand his power?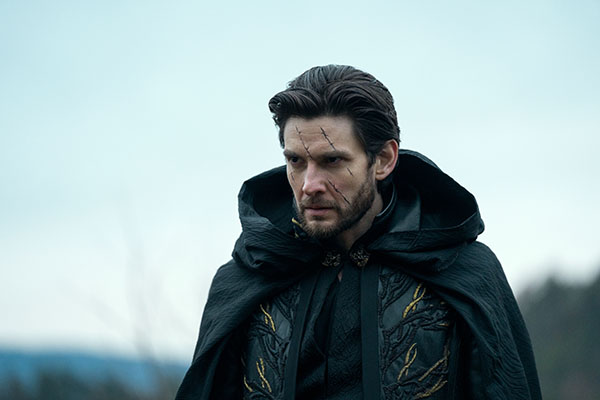 These and more questions are asked throughout Season 2, and Jessie Mei Li and Ben Barnes effortlessly inhabit Alina and Kirigan once again, giving us very real emotions that we can absolutely feel through the screen. Mei Li in particular continues to surprise us with a strong heroine who isn't defined by the men in her life, even when she's weak or confused, and if Shadow and Bone works, it's in no small part due to her believable, multilayered performance.
But the rest of the cast shines too, from Kit Young, Amita Suman, Freddy Carter, Archie Renaux to the many new and returning characters. You'll reunite with many familiar faces in Season 2, but the most memorable moments come from Daisy Head as tailor Genya, Zoë Wanamaker as Grisha trainer Baghra, Luke Pasqualino as durast David Kostyk, and Sujaya Dasgupta and Joanna McGibbon as squallers Zoya and Nadia. Just as good are the new characters, portrayed by Patrick Gibson, Jack Wolfe, Anna Leong Brophy, and Lewis Tan. The less said about them the better, but each of them is absolutely essential to make this second season as exciting, charming, emotionally affecting, and full of surprises as the first.
Shadow and Bone as a whole has been really good at crafting sexual tension, and Season 2 is no different. You will get really invested in more than one potential pairing, and, though trying to guess who Alina might eventually end up with is part of the fun, not all of them involve our protagonist. There are also a very sweet queer relationship, and a blooming romance blooming between two strong characters who carry a lot of trauma. And then there are genuine friendships, with real displays of affection and acceptance that make us even more invested in everyone's fate.
Among the most interesting characters of Season 2 are Kaz, Jesper, and Baghra, and some information is revealed about their pasts that makes each of them even richer and more multilayered as characters. Jesper's character development is particularly effective, and there's a metaphor about queer identity within his growth as a character. Though we get plenty of information about Kaz's past, I wish we had gotten to know his fears a little better (if you've read the books, you know what I'm talking about), but I have a feeling it will probably happen in Season 3. As for Baghra, though she's not in many episodes she absolutely makes a mark, and Wanamaker is superb as always.
On a technical level, the series is also great. The worldbuilding is as magical as it should be, made even better by well-choreographed action and fight scenes (Kim Chiang), a great score (Joseph Trapanese), and stunning costumes (Wendy Partridge) and locations (Kent Sponagle). The cinematography (Petra Korner and David Higgs) is also great: each character or group of characters get a different colour palette, and the use of warm colours make everything feel more immersive and familiar. And then, of course, there's Alina's magic, which comes alive just like we imagined it would in the novels.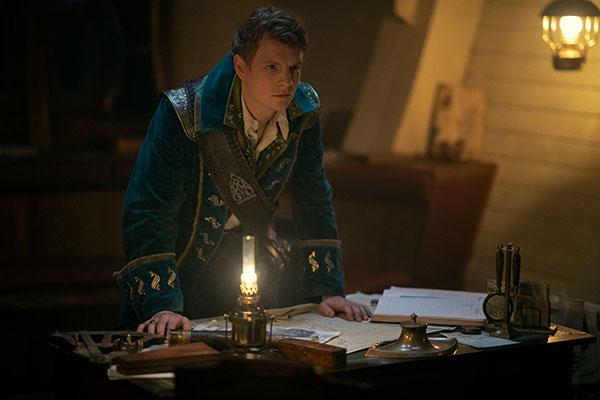 There are some things I didn't like about Season 2, such as Matthias' narrative arc, which isn't as well-developed as it could have been: it feels like he was used more as a motivation for Nina than as a character of its own. Though most cast members have incredible chemistry with one another, I also wasn't hugely convinced by the evolution of Alina and Mal's relationship, which is convincing at first and feels a little rushed toward the end.
Which brings me to my main criticism: I absolutely loved every single episode of Season 2 except for the finale. It was no easy feat to merge several books into either episodes of a series, even more so given how many characters are in it. While I still think Shadow and Bone succeeds as a whole, it does feel like so much happens in episode 8 that it's hard to appreciate and even fully understand each moment.
Even then, Shadow and Bone still remains gripping, enthralling storytelling, and one of the rare shows where you don't have a favourite character because they're all equally compelling. Given what happens at the end of Season 2, I absolutely can't wait to find out what comes next. Here's hoping the series gets renewed for Season 3!
---
Shadow and Bone premiers globally on Netflix on March 16, 2022.