Rosaline (Hulu) Film Review: Shout Out To My Ex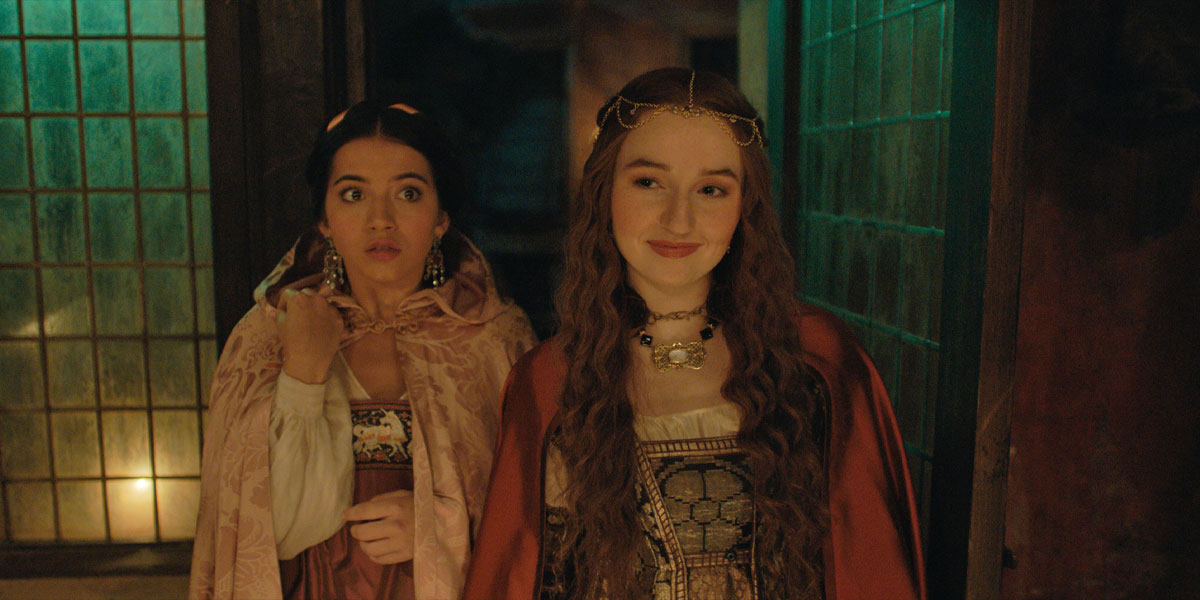 Isabela Merced as Juliet and Kaitlyn Dever as Rosaline in Rosaline, exclusively on Hulu. (© 2022 20th Century Studios.)
As a Shakespearean retelling, Karen Maine's Rosaline is fun, charming and not afraid to call out its star-crossed lovers for being a tad melodramatic.
---

Sometimes, when retelling a well-known story, filmmakers make it grittier and darker, or transpose it to the present and make timely commentary about the nature of its original themes. While Karen Maine's Rosaline is neither dark nor gritty, nor is it particularly focused on social commentary, it does eschew William Shakespeare's famous tragedy 'Romeo & Juliet' with a more modern sensibility, framing it through the delightfully acerbic eyes of Rosaline, the 'ex-girlfriend', and making it a lot more upbeat.
On a Verona balcony at midnight, a young couple proclaims their love in secret. Romeo (Kyle Allen) and Rosaline (Kaitlyn Dever) have been dating clandestinely for a while, but when Rosaline encourages Romeo to attend her family's masquerade ball, his eyes are turned quite spectacularly by her cousin Juliet (Isabela Merced), and Rosaline finds herself properly jilted. Enraged, she hatches a plan to drive the besotted couple apart and recruits the dashing Dario (Sean Teale) to help her when it all goes a bit wrong.
For those who haven't read the Bard's play, Rosaline is but briefly mentioned as the reason Romeo attends the Capulet ball in the first place, and is then summarily dumped off-stage when he claps eyes on Jules. It's much the same set up here, although Maine skews more towards comedy than tragedy and even pokes fun at the ridiculously melodramatic nature of Romeo and Juliet's desperate last hurrah. Rosaline is a comedic retelling of the story, eschewing the pomp and flowery language for a more modern vernacular, while still keeping the period setting. It's a bit silly, a bit camp, and somewhat predictable – aside from the obvious –, but ends up being surprisingly good fun.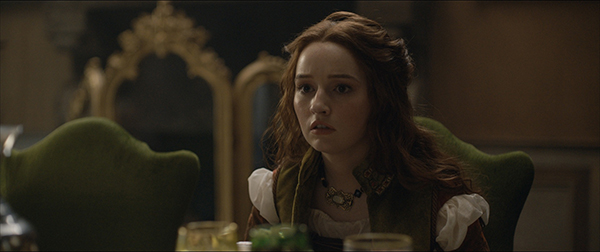 Maine plays with cliches, derides Romeo's sweeping proclamations of love as being a bit cheesy, and snarkily comments on the fact that Romeo and Juliet spent mere hours together before getting hitched. But the film doesn't ever feel mean, nor does it turn on Juliet for 'stealing' Rosaline's man or particularly pit the two women against each other. There's a version of this film where Rosaline's a petty caricature of 'not like other girls' and Juliet is the sexist caricature of 'homewrecker', and Rosaline deftly avoids any of those pitfalls to its immense credit.
As the titular Rosaline, Dever is a delight. She's charming, with wonderful comedic timing, and her chemistry with every supporting cast member feels natural and authentic. Merced and Allen are fun as the star-crossed lovers, with the former giving Juliet more agency and the latter imbuing Romeo with a bit more bumbling than previous incarnations of the 'romantic' pair. Teale is suitably roguish with a heart-of-gold as Rosaline's 'definitely not a love interest', but Minnie Driver and Bradley Whitford feel underused as Rosaline's nurse and father, respectably. The film zips along at a brisk 97 minutes with barely any fat left on Scott Neustadter and Michael H. Weber's script, but Maine manages to really impress upon these characters and the nature of their lives in a way that doesn't feel rushed. (Even if some more scenes with Driver and Whitford wouldn't have gone amiss, purely for their presence.)
See Also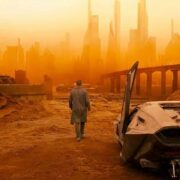 Rosaline isn't a masterpiece, but nor is it trying to be. It's a light-hearted, fresh-feeling retelling of a story that has already been utilised extensively, although perhaps not from the point of view of the ex. It's a fun film that's delightfully camp and stagey, and that's just trying to make you smile. And it definitely succeeds in doing so.
---
Rosaline is now available to watch on Hulu (US) and on Disney+ (everywhere else).