Roger Waters: Us + Them: Psychedelic Rock Fans Rejoice! (Review)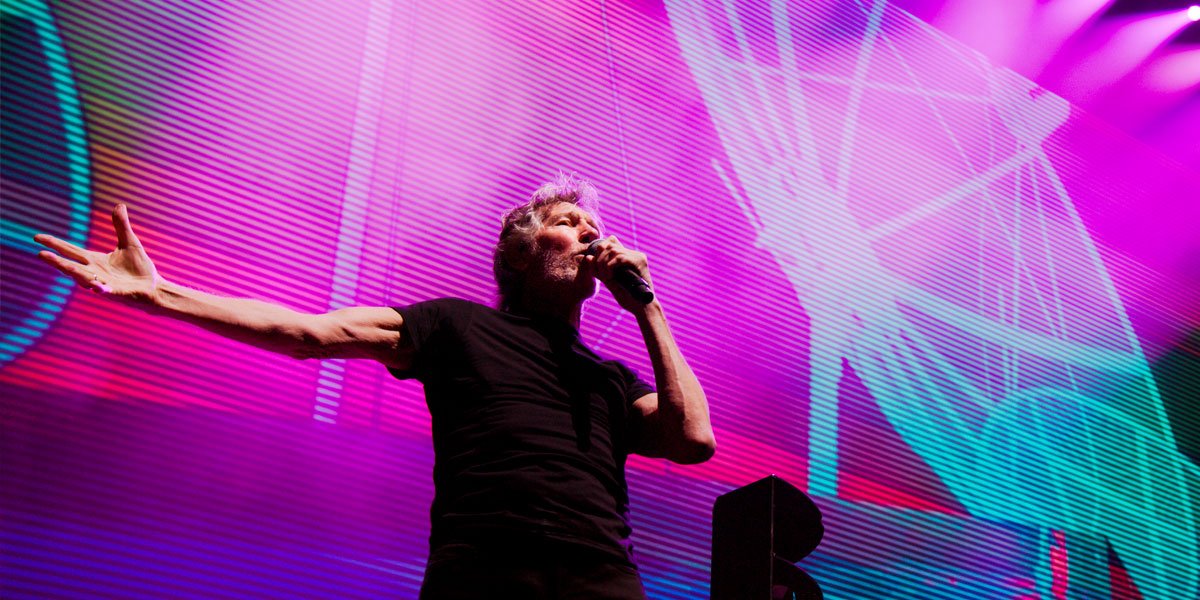 Roger Waters in Roger Waters: Us + Them (Courtesy of Sony Pictures)
Roger Waters: Us + Them recontextualizes classic songs, and will be a triumph for the initiated, though first-timers should proceed with caution.
---
By its very nature, art is frustratingly subjective. There is no definitive quantitative metric by which we can measure the quality of art. And then if you combine mediums of art, it adds another layer of subjectivity to the whole thing. And then, on top of all of that, how do I set aside a preexisting disposition to an artist in question in order to judge something as objectively as possible?
This is the conundrum I face when reviewing Roger Waters: Us + Them. As a film reviewer, not only do I have to address the quality of the filmmaking itself, but also need to consider the music (arguably the main selling point of the piece), as well as my love of Roger Waters and his body of work. So to account for all of this, I'm going to administer two scores: one for folks who are already fans of Waters and Pink Floyd, and the other for those who are less familiar with either.
---
FOR THE FLOYD FANS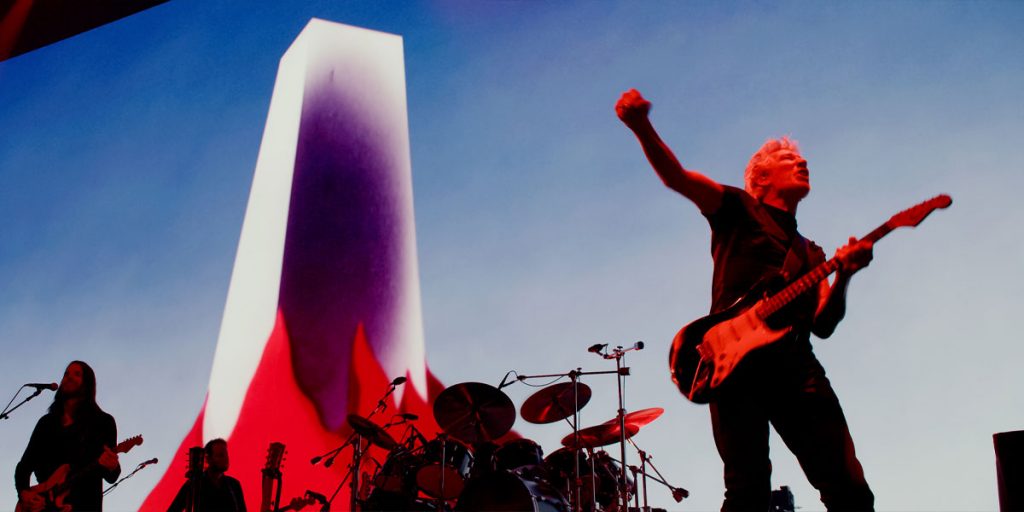 First of all, it's a collection of some of the best and socially prevalent songs from Waters' back catalogue of solo work, as well some major highlights from Pink Floyd's discography, delving heavily into Dark Side of The Moon's tracklist, while also some beloved pieces from The Wall, Animals, Wish You Were Here, and even Meddle. Although, because it's my favorite Floyd song of all time, I would have liked it if "Comfortably Numb" made the setlist.
The songs remain the blissful and transcending soundscapes you know and love, but are either expanded upon or recontextualized to fit the overall message of Us + Them. For "The Great Gig In The Sky," the vocal solo becomes a duet, utilizing tight harmonies, adding another layer to the sonic experience. For "Another Brick In The Wall," Waters' familiar anti-fascism and anti-authority themes make appearances as he's joined onstage by children in prison uniforms. The visual component of film narrative and abstract animations are tailor made to compliment each song, and frankly I always find it refreshing when a visual element attached to Dark Side of the Moon is something other than The Wizard of Oz.
Roger Waters himself is still a consummate performer, and while his voice isn't as powerful as it was forty-five years ago, I can hardly fault him for aging. However, the older timbre of his voice really works in this context, recontextualizing the words of his younger self through the eyes of an older and more mature artist reflecting on his life. Waters also does a good job of allowing his backing band moments to shine, particularly guitarist Dave Kilminster, who perfectly captures David Gilmour's essence while retaining his own unique style.
Roger Waters: Us + Them is a treat for long time fans, and seeing multiple generations in the crowd, and shouting along to the words of "Welcome to the Machine" made my arm hair stand up as it warmed my heart and gave me goosebumps. In conclusion: why are you still reading this review? Go out and watch it now!
---
FOR THE UNINITIATED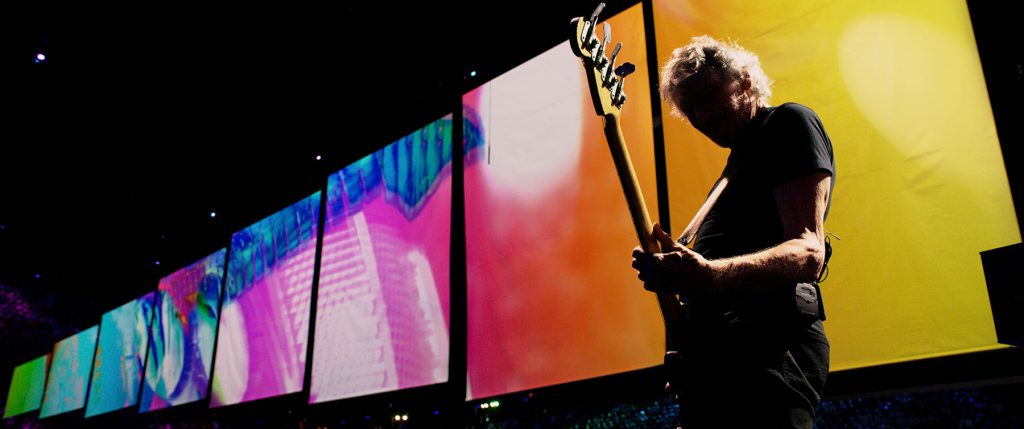 This is a very odd jumping-on point for anyone new to Roger Waters and/or Pink Floyd. This film is a few things, and among them is a celebration of Waters' life work. While I think you'll still get something out of it coming in blind, I would recommend pursuing the more famous offerings in Pink Floyd's discography, and well as Roger Waters' recent solo output. Those will help contextualize what you're seeing.
Now, to harken to my thoughts on subjectivity real quick, a very prevalent theme in Roger Waters: Us + Them is Waters' expression of his political ideals. Waters falls comfortably on the left end of the political spectrum, and from The Wall to Is This The Life We Really Want?, he has not been afraid to make these political views known. Us + Them is no exception. The framing device of the film loosely follows the story of a Palestinian woman's struggle for survival, mirroring Waters' own pro-Palestine views. He also takes several shots at right-wing governments and their leaders, particularly the brands of right-wing extremism sprouting in the United States. If your politics resemble Waters', I don't think this will be an issue. If you're a Tory, however, I can understand if you find the political aspect preachy and detracting from the music.
Speaking of the music, that's another deeply subjective element of this film. Most of the film is concert footage from a recent tour, so if settling in for 2 hours of spacy rock jams doesn't sound like fun to you, this REALLY isn't going to be your thing. If you're one of those people who start to squirm if a song runs longer than four minutes, I can understand if you breathe a sigh of exasperation at the prospect of sitting through a 17-minute song called "Dogs." However, if you have an appreciation for psychedelic rock that takes its time and weaves intricate soundscapes, you owe it yourself to check this out.
---
I love Roger Waters and his work with Pink Floyd: I love The Wall so much, I'm literally writing my master's dissertation about it. It's very easy for me to just gush about how much I enjoyed watching Roger Waters: Us + Them, but as a reviewer, I have to be objective. For those who already like Waters and Floyd, this is an easy sell. For those who've yet to check our Rogers or Floyd, there are even more objective variables then usual, and I cannot possibly account for all of them. Roger Waters: Us + Them is certainly not for everyone, but the ones who will like it will LOVE it.
---
Roger Waters: Us + Them is available to download & keep.
---
STREAM ROGER WATERS: US + THEM:
---
JOIN US!
Don't miss our monthly updates with film news, movie-inspired recipes and exclusive content! You'll only hear from us once a month. #nospam