Riders of Justice (Film Review): Flawless Storytelling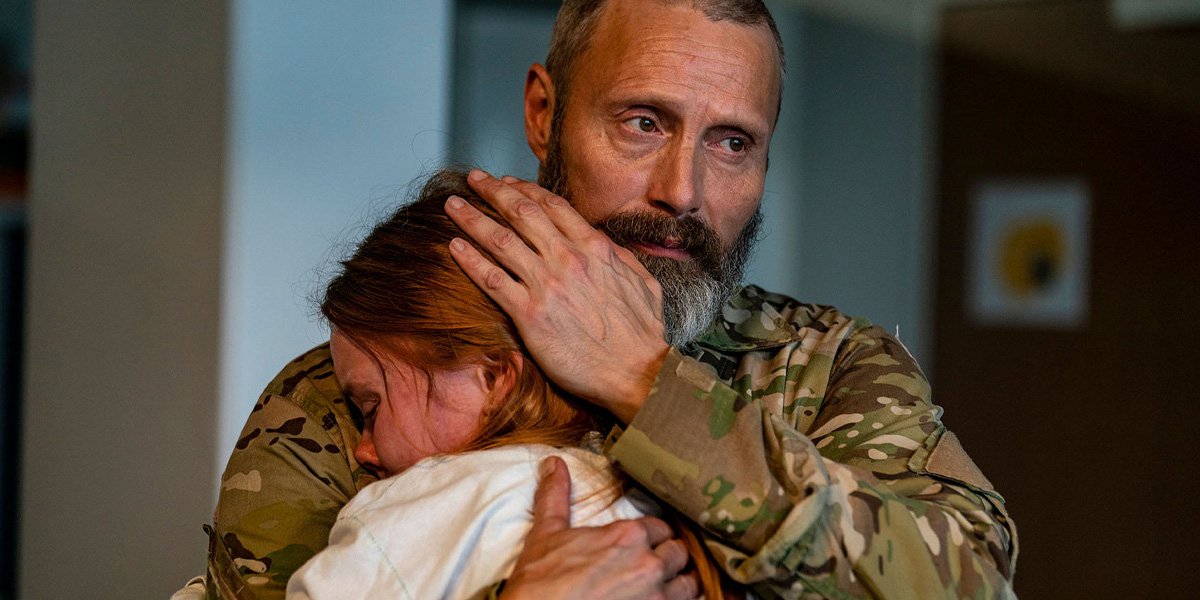 Mads Mikkelsen and Andrea Heick Gadeberg in Riders of Justice (Rolf Konow, Trust Nordisk)
In Riders of Justice, Anders Thomas Jensen defies genre conventions and crafts a one-of-a-kind black comedy that is as riotously funny as it is touching and meaningful.
---

It's a cold night in Talinn, Estonia. An instrumental version of Little Drummer Boy instroduces a young girl and her white-bearded grandfather as they approach a street vendor. The girl wiskes for a blue bicycle, but "Christmas is a long time away", her grandad tells her, "Maybe you'll get it, maybe you won't". As they walk away, the vendor makes a phone call. Warm violins and flutes come in, joining the timid notes of the piano, and the atmosphere becomes hopeful and poetic, almost fairytale-like, as a group of men is seen stealing a blue bicycle that fits the girl's description, and we realise that, albeit unorthodoxically, her wish is about to come true. But what Mathilde (Andrea Heick Gadeberg) doesn't know yet is that that very same bike will set in motion a chain of events, each with its own separate thread, that will ultimately see her risk her own life on a revenge mission against a dangerous gang, joined by her father, two statistics nerds and a grumpy sidekick with a heart of gold and the unlikely name of Emmenthaler.
By that description alone, you might be expecting Riders of Justice (Retfærdighedens Ryttere) to be an action-packed revenge movie that uses violence and humour to place its characters in absurd situations for comic relief. Though there's definitely plenty of action, violence and comedy in the film, screenwriter and director Anders Thomas Jensen's (Adam's Apples, Men & Chicken) latest crime drama is also so much more than that. Thanks to a carefully crafted screeplay that leaves no loose threads and to the director's ability to seamlessly switch between tones and genres, Riders of Justice is not only an effective crime caper and a riveting action thriller, but also a thought-provoking, surprisingly philosophical drama.
Aided by superb performances from Mads Mikkelsen (Another Round), Lars Brygmann (A Funny Man), Nikolaj Lie Kaas (Britannia), and Nicolas Bro (Nymphomaniac), this complex, meaningful drama delicately draws you into a world that feels instantly familiar, tackling grief, loss, guilt, acceptance and growth with its all-too-relatable, wonderfully human characters. Whether you're in for the action, the drama, or for Jensen's signature brand of black comedy, you won't be disappointed: Riders of Justice has something for everyone, and it's bound to stay with you for a very long time after the credits roll.
Aside from the aforementioned bicycle, whose influence on to the film's storyline is more of a symbolic nature, the major event that sets everything in motion is a tragic train accident that causes the death of Mathilde's mother, who happens to be on board with her daughter during the collision. Also on the train is statistics expert Otto (Nikolaj Lie Kaas), who has just been fired from his company for having developed a Minority Report-reminiscent algorithm that he believes can "project events before they happen", but that his former employer had found no use for.
Since Otto had offered his seat to Mathilde's mum right before the wreck, unwittingly playing a part in her death, he is compelled to investigate the accident, and he enlists the help of his former colleague, Lennart (Lars Brygmann). Together, they begin to notice unlikely coincidences that soon make the train wreck resemble less like an accident and more like a premeditated attempt to prevent reformed criminal John "The Eagle", also a passenger on the train, from testifying against his former biker gang and their violent leader, Kurt (Roland Møller, of Atomic Blonde). "The numbers never lie", and our two statistics experts, joined by their friend Emmenthaler (Nicolas Bro), decide to pay a visit to Mathilde.
But Mathilde has her own troubles to deal with, such as her inability to cope with her mum's death, and her struggles to connect with her recently-deployed father, Markus (Mads Mikkelsen), who has just returned home, and who also carries his own set of issues. Accustomed to express himself with violence, he doesn't know how to find an appropriate outlet for his emotions, let alone deal with a teenage daughter whom he loves, but doesn't really know. "Where do we go with all our sorrow, all our anger, all our fear and all our loneliness?", asks the preacher during his wife's service. Markus and Mathilde are only just beginning to figure out how to heal when Otto and Lennart show up, setting forth a series of events that sees them join forces to get their revenge, in an unlikely adventure that will ultimately teach them an unexpected, much-needed lesson in human behaviour.
See Also

Many are the characters that cross our heroes' paths in their search for revenge, including Albert Rudbeck Lindhardt's (Another Round) opinionated, blue-haired teenager and Gustav Lindh's (Queen of Hearts) unexpectedly wise sex slave, both sources of comic relief, but most of the film's standout moments are best left unspoilt. No matter what absurd adventures our compelling protagonists find themselves in, what makes the film work is how incredibly convincing they are as friends: though this is surely aided by the fact that most of the actors, and Jensen himself, have known each other for a long time, having worked together on other films, credit is due to the cast's on-point performances as well as the film's writing, as each character is full-rounded and always believable. Moreover, watching Otto, Lennart, Emmenthaler, Markus and Mathilde interact with one another and discover each other's flaws is effortless: the film's silliest gags are interlaced with moments of sincere emotion that keep surprising us till the very end, making the film immensely watchable and, at times, oddly therapeautic.
Riders of Justice is a thoroughly surprising journey that will have you laughing out loud and crying your eyes out, sometimes simultaneously. Jensen masters the art of showing, not telling, crafting a film that defies definitions and cannot be bound by genre conventions. Thanks to a meticulously crafted script that comes full circle and to the undeniable chemistry between all cast members, this hysterically funny caper comedy moves and entertains in equal measure, leaving you with much to think about and warming your heart with deeply emotional, universally relatable moments. Riders of Justice is storytelling at its best, and one of the year's best films.
---
Riders of Justice had its UK Premiere at the Glasgow Film Festival on 26th February, 2021. The film is now available to watch on digital and on demand.