Red, White & Royal Blue: Movie Review

Red, White & Royal Blue. (Prime Video)
Matthew López's charming and sweet Prime Video movie Red, White & Royal Blue is a glorious win for romantic comedies.
---

Just like the book from which it is adapted did upon release, Red, White & Royal Blue is taking the world by storm. Before reading Casey McQuiston's 2019 novel, I did not think I would like it. But I ended up falling in love with the characters and their love story, so much so that I finished it in a couple of days. Needless to say, I was incredibly excited for the movie version of Red, White & Royal Blue to come out. At the same time, I was equally scared that it would not do justice to the book I loved so much. However, despite some flaws, Matthew López's adaptation did not disappoint.  
Red, White & Royal Blue is a romantic comedy centring on Alex Claremont-Diaz (Taylor Zakhar Perez), the First Son of the United States, and Prince Henry (Nicholas Galitzine), the spare of the British royal family. The film opens at the royal wedding in London, where Henry and Alex are both in attendance. The rivalry between the two, which is clear from the very beginning of the film, leads to a highly publicised incident at the wedding. This causes Alex and Henry to spend more time together, posing as close friends, in an attempt to minimise the fallout of the press as the re-election campaign of Alex's mother, Ellen Claremont (Uma Thurman) approaches. Engagement after engagement, the two inevitably grow closer as they get to know each other better. 
The music particularly stood out to me while watching Red, White & Royal Blue, so much so that I immediately looked up the playlist on Spotify. The soundtrack was composed by Drum & Lace, but the film also features well-known hits by artists like Lil Nas X and Taylor Swift, both of which will be familiar names for the target audience of this movie. After the opening scene, the song "Bad Reputation" by Joan Jett and the Blackhearts starts playing, setting the tone for the entire film. Not only is the song a 80s classic, but it also perfectly fits the narrative and Alex and Henry's incident at the royal wedding ruins their respective reputations.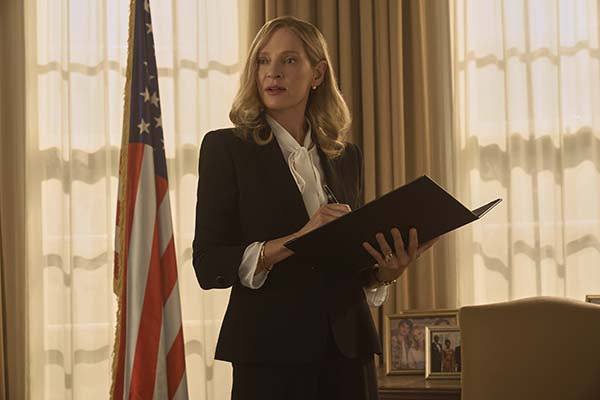 The songs also accompany the main characters' relationship, in a way that reminded of the use of music in 90s rom-coms that introduced me to the genre. For example, the party scene where songs by Bad Bunny and Sofia Reyes create the perfect setting for such a key moment in Alex and Henry's love story. The choice of using Spanish-language music is also interesting as it is a clever way to underline and represent, albeit subtly, Alex's Hispanic cultural heritage. This may seem like a small detail, but it is extremely important: in Red, White & Royal Blue, Alex speaks about how he had never seen anyone that looked like him on tv, thus making the film having a Hispanic character as the lead even more significant.
As evident from the plot, the queer romance is the very premise of Red, White & Royal Blue, and also one of the elements that set it apart from many other romantic comedies. Henry and Alex's romance seems to be against all odds: their love story has to remain a secret due to their public roles. However, the films shows that their love can be stronger than prejudice: Alex and Henry are able to overcome any obstacle thrown their way as they refuse to give up on each other and on their love. Of course, the chemistry between the two main characters is a key factor in establishing this love story and making us root for their future romance from the first moment they appear on screen together.
Most importantly, the movie was able to capture what I loved the most about Red, White & Royal Blue: the fact that it is not just another romantic comedy. The surrounding context of the British royal family, the American elections, and the role of media in politics are key to the story, and to Alex and Henry's very own romance. While it may only hint at social commentary, the movie showcases an idealistic version of our everyday politics, one where a woman becomes president of the United States and where people are free to love who they want, and perhaps one that can inspire us for a better future. 
Even if the characters are very well sketched out from the beginning of the film, Red, White & Royal Blue focuses too much on Alex for my liking. Some of the side characters are completely abandoned: for example, Henry's sister, Princess Beatrice (Ellie Bamber), has a more central role in the book, as she was Henry's support system and confidante within the royal family. Similarly, Alex's loving and protective sister, June, is very important figure in Alex's life but completely missing in the film adaptation. I can understand why some side characters were not explored as much in the film adaptation, in order perhaps to dedicate more runtime to the main relationship, but I wish we had seen more of Henry as a character on his own rather than only through Alex's story and point of view. 
See Also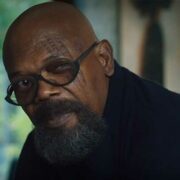 Red, White & Royal Blue is a film that can survive without an identifiable villain, as the threat to Alex and Henry's relationship lies within society, but I felt like the main antagonistic figure was neither as present nor as important in the film as it was in the book with Rafael Luna, whose role in the film seems to be merged in the character of Miguel Ramos (Juan Castano). The latter, however, remains a side character, whose involvement in Henry and Alex's romance is much less clear than Luna's was in the book version. The plot of the film remains strong regardless, due to its implications in world politics, but its stakes would have benefitted from a more prominent enemy figure.
With its brilliant chemistry between the two romantic leads and excellent use of music, Red, White & Royal Blue creates a story the audience wants to get lost in. It is an enjoyable movie that both fans and non-fans of the book – and anyone who likes a good rom-com – can certainly love. It also showcases how important it is to have representation in such a popular genre, where gay couples and people of colour have often been present only on the sidelines. Not only does this film focus on these communities but it also shows us what a kinder world can look like, one where love and the fight for freedom and equality can triumph over prejudice.  
---
Red, White & Royal Blue is now available to watch on Prime Video.