Queen Of Glory: Film Review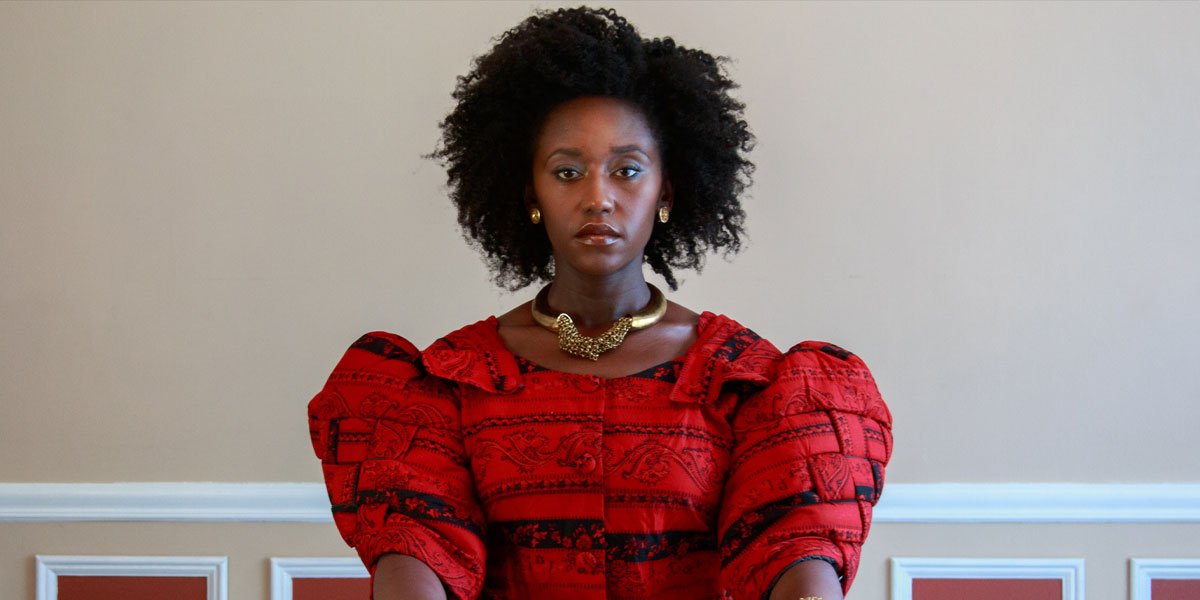 Nana Mensa in Queen Of Glory (Magnolia Pictures / Courtesy of the BFI London Film Festival)
With a careful balance of simplicity and spark, Queen Of Glory sees worlds and cultures collide in a wonderfully human display of modern America.
---

Queen Of Glory opens in a kaleidoscope of colour: traditional Ghanian music and dance fill the frame with an almost overwhelming intensity, all before the opening lines. The immediate immersion into such a vibrant, chaotic scene with no supporting context does well to illustrate the themes of uncertainty and overwhelm that permeate through the film, and is a clear example of its masterful execution.
The film follows Sarah (Nana Mensah, who gives a shining performance throughout), a Ghanian American woman, living and teaching in New York while she pursues her Ivy League doctoral programme. While Sarah's academic career seems to be flourishing, her personal life threatens to destabilise her ambitions, the wrecking ball in question taking the form of her married lover. As Sarah plans to abandon her doctoral programme to follow her boyfriend across the country to Ohio, she is informed of her mother's death. Thrown back into her childhood world of life in the Bronx, Sarah attempts to navigate a family and culture from which she has become disconnected. What at first seems to be a roadblock in Sarah's plans may in fact be the redirection she so desperately needs. 
Something Queen Of Glory really throws into focus is the value and importance of family: when things really fall apart, it is this connection to the community that will help you to heal. This theme is beautifully embodied in Sarah's journey. There is an initial indication throughout the film that Sarah left the Bronx for college as soon as she was able and has become disconnected from her roots since. However, when her mother dies and her dysfunctional relationship eventually falls apart, it is this renewed connection to her home that sustains her. This is subtly illustrated in a scene between Sarah and her father at the kitchen table. The two characters reminisce on how Sarah broke her leg as a child and her father ran with her to the hospital: this brief memory tenderly illustrates the strength of familial love in the face of suffering.
When Sarah returns to her adolescent neighbourhood, it becomes clear to her how much her mother, Grace, has done for the community. Sarah is charged with the management and sale of Grace's Christian bookshop, and we see the shop as an intersection, a melting pot of humanity where all are welcome. A shining example is Orlando, or Pitt (Meeko), the tattooed, misfit ex-con who was Grace's only staff. Though initially uncertain, Pitt's lovable rogue persona comes through to Sarah as the two become unlikely friends. Pitt's unexpected aptitude for managing the bookstore and his loyalty to Grace, the woman who gave him a job when no one else would, highlights the theme of redemption that seems to run through the plot.
This theme of redemption can also be seen through the character of Grace's father, who comes to New York for Grace's funeral despite having lived separately in Ghana for many years. To be honest, I didn't like Sarah's father as a character and I doubt I'm alone in that. Godwin (Oberon K.A Adjepong) seems lazy, ungrateful and wildly inappropriate, and bringing another woman home to his dead wife's house before they've even had the funeral was a particularly low moment. Godwin exhibits a callous insensitivity that is almost unfathomable and seems unrelenting in his efforts to burden Sarah with both emotional and practical challenges. While I'm not sure the film does much to illustrate his redemption, he certainly appears to feature in Sarah's.  
Sarah's feelings of disorientation and overwhelm in the aftermath of her mother's death, emotions her overbearing father and wider family appear only to intensify, are cleverly communicated in the artistry of the film's camerawork. Intrusive scenes featuring cultural practices and animated music are interspersed with the films action and serve to highlight the great weight of expectation placed on Sarah's shoulders. In a brilliantly subtle scene we see Sarah being measured for traditional dress by several 'aunties'. During the fitting, her family members urgently remind her of her responsibilities and bombard her with unrelenting questions, all accompanied by a dramatic drum beat. Through careful camerawork and layered sound, Sarah's stress is palpable.
Marijuana has an unlikely prevalence in the film, as Pitt reveals himself to be a passionate baker and sells his homemade weed-infused cookies in the Christian bookstore, stock that is unfailingly popular with all manner of customers. The sale of weed cookies in a Christian bookstore is a wonderfully jarring concept that serves to further exemplify what the film does so well: show real people, exactly as they are with no pretension, and welcome them. The bookshop is a symbol and celebration of the messy realities of life, a world in which religion and weed can be discussed in tandem and where people can show up as their authentic selves.
Queen Of Glory, at its heart, is a convincing depiction of modern America. Sarah's childhood neighbourhood acts as a microcosm, a symbolic patchwork of humanity, where faith, love, hardship, and the justice system are discussed with varying levels of subtlety. Sarah's neighbour Julia (Tarina Milo) and her family serve to demonstrate the melting pot that is their community, 'the only white people' at Grace's funeral and some of Sarah's oldest friends. Audiences see cultures, languages, and faiths collide at varying intervals throughout the film, but, with the arrival of Tanya's child, we are reminded of the fabric that stitches it all together, an unwavering devotion to those that we love.
---
Queen Of Glory is now available to watch on digital and on demand.