Phoenix Rising, Part 1 (HBO) Review

Evan Rachel Wood in Phoenix Rising by Amy Berg (Olivia Fougeirol | Courtesy of Sundance Institute)
In Part 1 of HBO's Phoenix Rising, Evan Rachel Wood tells her truth on Manson, the industry and her own life, bravely educating us on recognising and surviving domestic violence, manipulation, and abuse.
---

It's hard to review a film when you've only seen its first half, even more so if the film in question tackles important issues like domestic violence and abuse. Yet, even if only Part 1 of HBO's upcoming documentary Phoenix Rising was screened during its World Premiere at the Sundance Film Festival, what's clear from these first 77 minutes is that director and producer Amy Berg's (Deliver Us from Evil) film does a lot of things right, starting from the way it focuses not on the abuser, but on the abused. Right from the start, Phoenix Rising lets actress, activist and domestic violence survivor Evan Rachel Wood take control of her own narrative, and her story doesn't just consist of those four and a half years in which she suffered "toxic, mental, physical, and sexual abuse" at the hands of a predator who disguised himself as a God, but of a childhood spent feeling invisible, an adolescence where she was controlled by "theindustry machine" of Hollywood and preyed upon by a manipulative, violent man with a cult, and an adulthood spent in fear, unable to relate back to the person she once was.
Part 1 of Phoenix Rising begins in Los Angeles, 2020, with Evan Rachel Wood talking to fellow activist Ilma Gore and looking at memories from her past, like old photos and the journal she kept when she was a teenager. It's hard to recognise the actress we've come to know through her performances in films and shows like Thirteen and Westworld, as Wood shows us the person she really is underneath – a person whose identity has been shaped by her experiences as a child and as an adult. "It's always really hard for me to look at photos of myself from before," she tells Gore, holding back tears.
"Nothing had happened yet, you know? […] You change one little thing, and it's the Ray Bradbury story where they step on the butterfly and everything is changed forever." And so, Wood's journey begins, taking us through a childhood spent in a home that had "somewhat of a dark side," where "the threat of violence" was always present, and where she learned that parents "fight because [they] love each other" and that "it was your job to keep going even when you felt uncomfortable." We learn about the moment young Evan and her mother fled North Carolina with a suitcase each and moved to LA, away from a brother who was also Evan's "best friend," who decided to stay with their father because he "didn't want dad to have to be alone."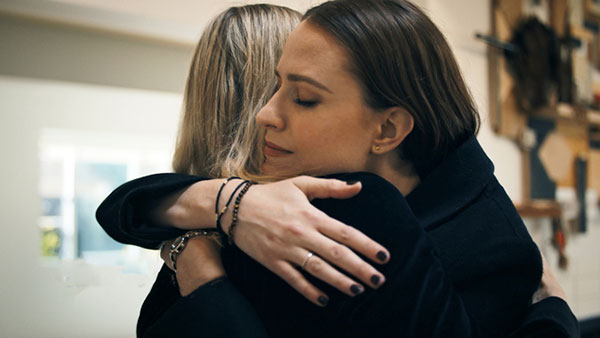 But Evan wasn't just an ordinary sixteen-year-old girl: she was also the star of Thirteen, a film where she had to shoot uncomfortable scenes because "it didn't matter what Evan wanted," and that made Hollywood brand her first as a "troubled teen" and then as a "little Lolita." And so, the uncomfortable roles continued, with films like Pretty Persuasion (2005) and Running with Scissors (2006), and a string of characters that appeared experienced and mature, but that didn't reflect the person Evan was underneath. Wood allows herself to be vulnerable as she let us into her childhood and teenage years, as she explains that she felt lost and invisible, looking for a direction, and describes herself as the perfect candidate for somebody to pop up and say, 'Come with me'." As you already know if you followed the actress' statements and actions, from a 2006 Rolling Stone article in which she talked about the abuse to her 2018 testimony before Congress that led to the Phoenix Act, a legislation extending the statute of limitations for domestic violence cases in California, that somebody was Brian Warner, aka Marilyn Manson.
The second part of the documentary focuses on the abuse endured by the actress, who describes being broken down "through means of starvation, sleep deprivation, and threats against [her] life," before taking us through the entire story, from their first meeting at the Chateau Marmont in 2006 till the moment Manson first crossed the line, and the violence that would come afterwards. It's hard to hear about the kind of abuse she withstood, and the toughest scene to sit through is when Wood recalls the experience of shooting the video for "Heart-Shaped Glasses" and describes it as being "essentially raped on camera." But credit goes to director and producer Amy Berg for never glorifying violence and always placing Wood, and not Manson, at the centre of the film's narrative.
See Also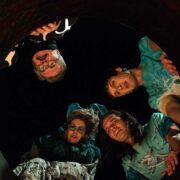 And so, Part 1 of Phoenix Rising takes us through the actress' toughest recollections, made all the more effective by interviews with her parents and footage from her childhood, but it first and foremost educates us by telling us the meaning of words like grooming, love bombing, gaslighting, brainwashing, coersion, branding, scarification, and faking empathy to isolate someone from their friends and family, and by showing us what abuse really looks like, even when the abused themselves can't yet recognise it at such. We learn that abuse can be disguised as love, and that expressing an overabundance of affection and attention is also a form of emotional manipulation; we find out about the shame that comes by being conditioned and gaslighted, and understand about consent, feeling safe, and the importance of calling it "domestic violence." In fact, we learn that people who suffered domestic violence take 7 to 10 years to even recognise that they were a victim. But we also discover that victims of abuse often become abusers, and that even the worst predators have often been rendered inhuman by a cycle of abuse they experienced, which means that, though they should be held accountable, one shouldn't go looking for revenge.
Part 1 of Phoenix Rising delves into many themes, from what abuse looks like to those who don't yet recognise it as such to how to carry the scars from your past with the help and support of a community. But the documentary also looks at other issues, such as the negative effects that the"industry machine" of Hollywood can have on one's identity, as well as how fame can turn a celebrity into a God that represents values that couldn't be different from who they really are. There are points towards the end of Part 1 where the film feels a little redundant, either revisiting experiences that we've already been told about or verging into sentimentalism by using animation and words on the screen to convey a message we've already grasped, but the first half of Phoenix Rising is still a must-watch for its earnest and educational depiction of abuse, told with courage and sensitivity by Evan Rachel Wood herself.
---
Phoenix Rising premiered at the Sundance Film Festival on January 23, 2022, and is now available to watch on HBO Max.