Peter Pan & Wendy: Film Review

Peter Pan & Wendy (© 2023 Disney Enterprises, Inc.)
Peter Pan & Wendy is a beautiful adaptation of a classic story that blends the book's mysticism with David Lowery's knack for the eerie.
---

Every one of us grows up with a story attached to our hearts – a tale that our mothers or fathers read when we were little. For me, it was the beloved J.M. Barrie book that has made hundreds upon thousands of kids dream about a place called Neverland, 'Peter Pan'. It's a story that nobody forgets because it never grows old, just like the titular character. It continues to inspire and fascinate us, remaining timeless as it reminds all who have read it of their innocence and youth. That may be one of the reasons why filmmakers from different generations and places want to continually create their own version of 'Peter Pan'. And while there have been a couple of disappointing ones in the past couple of years, the latest one helmed by David Lowery, Peter Pan & Wendy, is a delightful triumph.
Co-written by Lowery and his frequent collaborator Toby Halbrooks (Pete's Dragon), Peter Pan & Wendy tells the classic story most of us know about without many reinventions or reimaginings. As a result, it mostly stays true to the book, more so than the 1953 animated film. This paves the way for the American filmmaker to experiment with the tale's eerie segments and ambivalence about growing up, dealing with its burdens and expectations – an element that most adaptations haven't elaborated on. Although two characters are mentioned in the title, this is, for the most part, Wendy's story. It explores how she confronts the emotional toll of coming of age through an array of mystical scenarios that involve pirates, mermaids, fairies, and a boy who can fly.
At the center of the narrative is Wendy Darling (Ever Anderson), a young girl who's being sent to a boarding school. She doesn't want to grow up and leave her brothers, Michael (Jacobi Jupe) and John (Joshua Blue Pickering), behind. As she's packing to leave the next day, a mysterious figure breaks into their room… It's Peter Pan (Alexander Molony), accompanied by his glowing fairy, Tinker Bell (Yara Shahidi)! Peter Pan asks them if they want to take a trip to Neverland, where children don't grow up. And, of course, they accept the invitation as they seek adventure and a form of escape. Accompanied by a whimsical score by Lowery's frequent composer Daniel Hart, the Darlings soar through the dark London night skyline as they head to the "second star to the right and straight on 'til morning".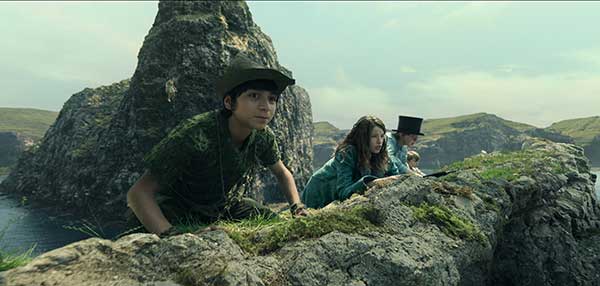 This is where the magic begins. Upon their arrival, the kids are stuck in the middle of a long-winding feud between Peter Pan, alongside his merry band of Lost Boys and Tiger Lily (Alyssa Wapanatâhk), and the leader of the pirates, Captain James Hook (played by a snappy Jude Law, who expresses the character's menacing and mournful characteristics with ease). In previous adaptations of this tale, Peter and Hook's feud is mainly based around the latter losing a hand to the former's blade. In one of the minor reinventions or shifts that David Lowery does to this beloved book, he humanizes the previously-seen-as-despicable Captain Hook and explores Pan's moralities when facing betrayal or maternal figures by adding more depth and connection to the justification of why they are in Neverland.
Their pasts aren't explored to the fullest. But it is refreshing to see a melancholic side to these characters we grew up with. When Wendy sings a lullaby to her brothers and the Lost Boys, Hook and Pan begin to recall their pasts – remembering what it was like to live an everyday life outside of Neverland. You see it in their faces, yet since they don't want to confront what happened to them or the departure from their respective homes, they hold their head high and continue to feud. Peter Pan's negligence in growing up versus Captain Hook's inclination to do so haunts the story with a gloomy shadow, which causes Wendy to reflect on her own life and decide to move onto the latter stages of life – portrayed by Terrence Malick-esque montages that almost caused me to tear up; I wish I could have seen more of them.
This is one of the aspects that distinguishes Lowery's version of 'Peter Pan': his knack for the eerie is intertwined with the source material's joyful liveliness, demonstrating his affinity for the material and bridging more depth and maturity to it along the way. Of course, many will question this version's existence, as Disney is doing dozens of live-action remakes of their most acclaimed animated stories (Beauty and the Beast, The Little Mermaid), and also the fact that there have been a couple of recent adaptations.
But Lowery's version demonstrates why that story lives on forever and remains resonant with everyone who reads it. Sure, it isn't a complete big swing that completely reinvents what we know of Peter Pan and Wendy's adventures, unlike the changes seen in The Wizard of Oz to Return to Oz. Nevertheless, there are plenty of moments where Lowery adds his melancholic spices to the lively mix.
See Also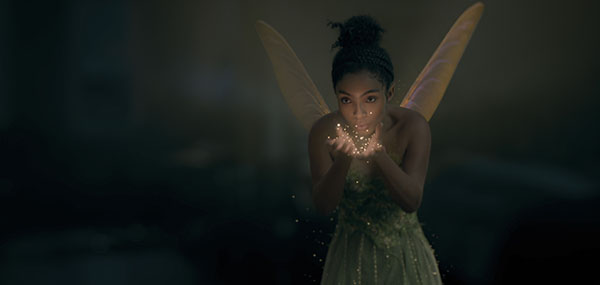 Peter Pan & Wendy is reflective without being too convenient and joyful while remaining profound in its dramatic moments. In the finale, the film hints at the idea of Neverland serving as an ideal afterlife for children, which fits perfectly due to Lowery's inclination toward talking about death and the untethering of time in his pictures (The Green Knight, A Ghost Story). This is merely hinted at during the ending, but the characters' heartache, loneliness, and guilt add some emotional weight to this adventurous feast. "My time for joy is lost", quotes Captain Hook during a segment in the film, and it helps us think about the inevitable sadness amidst isolation that most, if not all, have faced.
In addition, David Lowery captures the angst or ambivalence of aging – facing each challenge and change that comes through the years – via vivid imagery shot by cinematographer Bojan Bazelli, which helps this film appeal to both children who haven't heard of the story yet and nostalgic adults. It is a shame that Peter Pan & Wendy isn't getting released in theaters because, although the narrative's magic is off the charts, it would be amplified by a theatrical experience.
At a time when most children's entertainment is on the gutter, David Lowery and Toby Halbrook's slight rework of Peter's tales in Neverland demonstrates the best of what kids should aspire to see – films that contain dark themes, but presented in ways that make them palpable to them, without feeling too eerie. Its 103-minute runtime flies by, as if time was staying still, the magic slowly wrapping all over you, making this venture worthwhile and rewarding.
---
Peter Pan & Wendy is now streaming globally on Disney+.