Paul Dood's Deadly Lunch Break Review: Revenge At Its Most Glam-Rock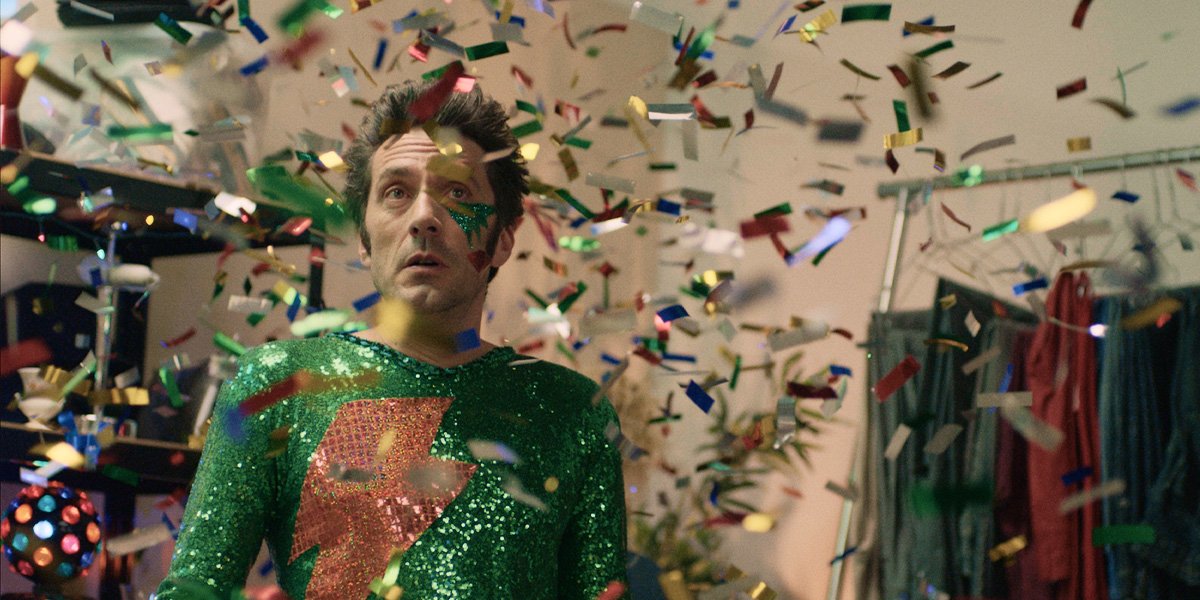 Paul Dood's Deadly Lunch Break (Courtesy of SXSW)
Paul Dood's Deadly Lunch Break thrills and entertains with the story of a sparkly-suited man who goes on a revenge rampage to right the world's wrongs over the course of a lunch break.
---

"If we were all on trial for our thoughts, we would all be hanged", reads a Margaret Atwood quote at the beginning of Paul Dood's Deadly Lunch Break, and those words are bound to ring true to many of the film's viewers, even more so in a post-pandemic world. After all, haven't you ever gone through great lengths to react politely to frustrating situations — often provoked by uncooperative, pedantic people who are used to unloading their own dissatisfactions onto strangers — showing a restrained smile while silently cursing said individuals in your head?
Now more than ever, we find ourselves having to silently endure exasperating conversations and disappointing turns of events, often caused by bureaucratic obstacles that would seem to have been put in place just to make our lives harder. Before COVID, these maddening events took place in person, taking the form of unfriendly exchanges with strangers whose paths we happened to cross at precisely the wrong time. Now, even a misunderstood text is enough to set us off in our own heads, driving us to blame all sorts of strangers for our own insecurities and frustrations.
The titular character of director of photography and filmmaker Nick Gillespie's (Tank 432) newest comedy drama is no stranger to this mechanism, having had his aspirations of winning a national talent competition crushed by the actions of five intransigent people who unwittingly, but irritatingly, obstructed his attempts to get to the audition on time. But well-meaning charity shop worker Paul Dood (Tom Meeten, of Ghoul) has no intention of surrendering to failure, and promptly plans a deathly revenge mission against the five individuals who ruined his day — smug train attendant Jim, (The World's End's Steve Oram), condescending workmate Bruce (Jonathan Creek's Jarred Christmas), an evil priest (Love Actually's Kris Marshall) and his assistant (Hot Fuzz's Alice Lowe), and the insufferable celebrity hosting the talent show (Muppet Treasure Island's Kevin Bishop).
Armed with a "sparkly, spangly, tight-fitted unitard", an elecrifying glam-rock soundtrack in his head, and a series of improbable weapons and catchphrases, "thriple threat" Paul sets off to execute five spectacular murders over the course of one lunch break, all while keeping the talent show's followers in the loop by live streaming his misadventures. But our favourite misfit soon finds himself chased by the police — Bowie enthusiast PC Patel (Hiten Patel, of Hulu's Four Weddings and a Funeral) and the kind-hearted PCSO Miles (Mandeep Dhillon, of After Life) — and his flawless plan takes an unexpected turn, calling for moments of hilarity, but also for clever social commentary.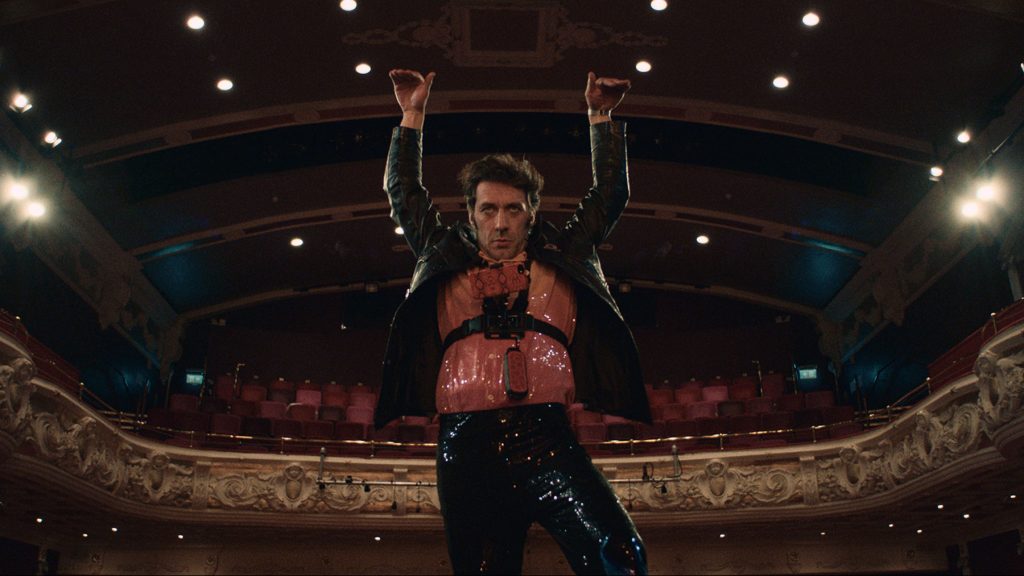 There's a reason if, despite its murdery premise, Paul Dood's Deadly Lunch Break had its World Premiere at SXSW in the Narrative Spotlight Section, and not as a Midnighter. Though the film certainly has all the splatter vibes you'd expect from its brilliant title and premise, Paul Dood isn't a horror flick as much as it is a silly, energetic journey made all the more enjoyable by a series of characters that feel authentic despite the absurdity, thanks to the cast's committed performances and to a genuinely likeable lead. As Paul's mission continues, our investment in the narrative comes from the film's most meaningful, thought-provoking details, such as the fact that the comments on Paul's socials become more sadistic by the minute, with our protagonist's live feed getting more crowded the moment he decides to go on a rampage. It's with enthusiastic reactions like "I could watch this guy for hours!" and "You're doing what I'd like to do!" that Gillespie's message comes across, and it's as bleak and disturbing as it should be, and an accurate portrayal of our current society.
See Also

Another aspect at which Paul Dood's Deadly Lunch Break excels is the sound design, and credit is due to sound designer and long-time Ben Wheatley collaborator Martin Pavey (Down Terrace, High Rise) and to composer Dan Baboulene (Vanity Fair) for giving the film a great deal of personality, thanks to a wonderfully nostalgic soundtrack and appropriate cues that have a positive impact on the movie's rhythm and tone. Also worth praising are cinematographer Billy J Jackson (Tank 432) and costume designer Jasmin Knox (Johnny English) for giving Paul Dood and the world he inhabits a unique identity that comes across in the details.

Gillespie's comedy drama is a highly enhoyable film with a brilliant premise and a well-written screenplay, but the fact that works like Edgar Wright's The World's End and Ricky Gervais' After Life exist doesn't work in the director's favour. Both filmmakers have crafted such specific and effective brands of British dark humour that it's hard not to think about these movies when watching something like Paul Dood's Deadly Lunch Break — a film that comes really close to achieving the same kind of magic, but that doesn't always excel at balancing the humour, the absurdity, and the social commentary. Yet, even if Paul Dood doesn't always flow as well as it could, the film is still a remarkable comedy drama that impresses both technically and narratively, entertaining us with many wacky twists, warming our hearts with an authentic lead who is determined to "right all the wrongs", and ultimately inviting us to do the same.
---
Paul Dood's Deadly Lunch Break had its World Premiere at SXSW Online on March 17, 2021 and is now available to watch on digital and on demand.