Our Flag Means Death (Review): A Pirate Comedy with Heart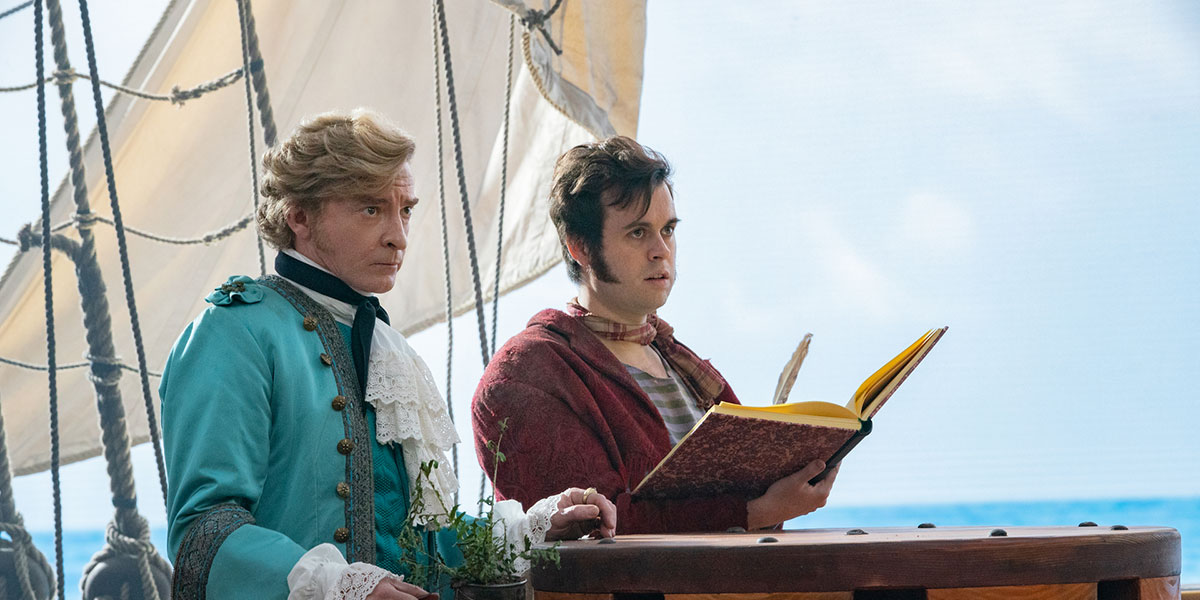 Rhys Darby and Nathan Foad in Our Flag Means Death (Jake Giles Netter/HBO Max )
Legends of pirates have long since fascinated us, and the HBO Max series Our Flag Means Death proves that they always will.
---
This review will not go into detail of the show's plot but may contain spoilers.

There's no denying that a fair few of us are fascinated by fictional pirates: if not currently, it's likely we have been at some point, especially since it's become increasingly difficult to avoid the allure that they have in film and television. There, we see them as typically good-looking, all round bad-ass individuals, living a life of wicked self-indulgence doing what they want when they want, portrayals that do nothing but play into our fantastical ideals of piracy. Looking at the success of the Pirates of the Caribbean franchise and television series Black Sails, there's more than enough evidence to show us there's a healthy market and a willing audience for pirate fantasies. Yet, since the end of Starz' Black Sails in 2017, there's been no new pirate shows to step up and fill the pirate sized gap left on our screens. Or at least that was until recent HBO Max series Our Flag Means Death proved that it could fill that hole.
Created by David Jenkins (People of Earth) and produced by and starring Taika Waititi (What We Do in The Shadows, Thor: Ragnarok) amongst others, Our Flag Means Death has quickly become one of HBO's most in demand shows. Gaining itself an instant following online, the show is fresh, truly innovative, and immensely interesting not only in pirate-centric television but among anything on television today.
Our Flag Means Death follows the escapades of Gentleman Pirate Stede Bonnet (Rhys Darby), a wealthy member of gentry who abandons his family and life of aristocracy for a life of piracy and is based very loosely on the real-life version of the man and the events of his life. From his bizarre pirate captaining style, where he reads bedtime stories to his crew and encourages a talk-it-through alternative to violence, to deciding his official pirate moniker, first pillages to crushing reality checks, and his eventual meet-cute encounter with the infamous Blackbeard (Taika Waititi). The show takes a historic figure and fictionalises him into a delightfully bizarre individual, before pushing him through a stunningly portrayed journey of self-discovery with his crew begrudgingly tagging along.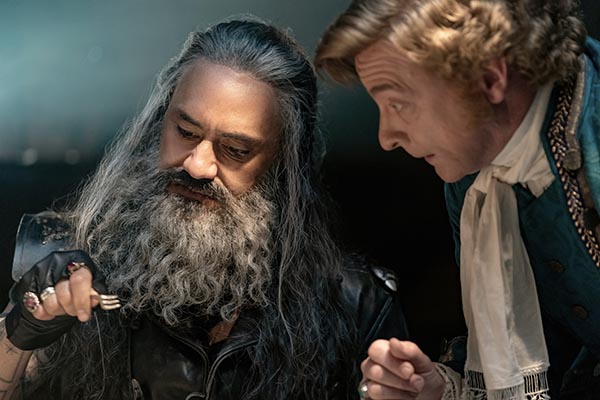 Personally, I found that the real selling point of Our Flag Means Death was that it managed to avoid so many of the pirate tropes I had admittedly expected it to fall into willingly and securely. Which, if it had done so, would likely have allowed it to secure the popularity associated with most other pirate-centric films and shows (and while it has secured that popularity, it's done so in its own way). Where we expect Stede to adapt to his new way of life and become a tough, brooding, blood thirsty stereotype of a pirate captain by the end of the season, Stede never falls into his expected arc. Instead, he remains his overdressed and underprepared self for the entirety of the season – even when faced with the realities of his new life, his caring personality and foppish looks remain. The pilot episode of the series gives us the perfect introduction to Stede, his crew and his version of piracy, establishing that the crew is made up of ordinary people who, unlike Stede, have had no choice other than a life of piracy. The Crew is one of the series' main sources of comedy and charm, while also being a beacon of diversity, something that sets the show lightyears ahead of other historical fictions. The deeply lovable cast is made up of a talented variety people, ranging in race, nationality, and gender. It's truly refreshing to see such a range of personalities while hearing such a blend of accents and dialects in what has become such a hit show.
A large part of the shows allure is its cast, with leading man Stede Bonnet being masterfully played by New Zealand actor, comedian, and internet sweetheart of the proverbial month Rhys Darby (Jumanji: The Next Level, Flight of the Conchords). The members of his crew are played by a wide range of talent from a wide range of places, and Nathan Foad, Vico Ortiz, Samson Kayo, Samba Schutte, Matthew Maher, Joel Fry, Kristian Nairn, Nat Faxon, and Ewen Bremner all bring their characters to life with a clear passion for the show. Such a cast makes it difficult to pick favourites, but some real standouts that captured my attention endlessly were Nathan Foad as Lucius, Stede's overdramatic scribe, and Vico Ortiz as Jim, a knife wilding raised by nun's ex-secret-identity fugitive member of the crew, seeking their revenge against certain people for certain reasons, neither of which I'll tell you – it's a spoiler. Regarding character backstories, the show manages to maintain an incredible balance, where we are given details about the lives of some members of the crew and none for others, leaving us looking for more details of their lives in every scene.

From the beginning, Our Flag Means Death establishes that it is a show in favour of its characters as well as its plot, not simply one or the other. The characterisations are masterful, with the allusive Pirate Blackbeard being separated from Edward Teach, the man behind the moniker. The series introduces us as an audience to Blackbeard through his crew and via brief cinematic glimpses of his shadowy persona, building him up to be his stereotype. But later, when Stede is introduced to Edward, so are we. We receive the same introduction as him to a man rather than a myth. Here, Jenkins fantastically redirects our expectations by introducing us to Ed and then developing him as a character opposed to his Blackbeard persona.
The chemistry between the two main characters, Stede and Ed, is another elevated point of the show. Darby and Waititi, having worked together in the past (Hunt for the Wilderpeople and What We Do in the Shadows), have a clear connection that they are able to tap into and use on the show. There's no doubt that they work well together, knowing each other both on screen and off, but here their acting and chemistry elevates the show to a level that wouldn't be expected from most comedies.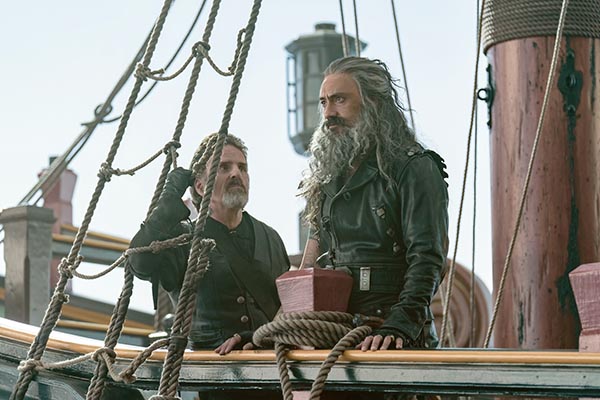 A standout character among the main cast is Blackbeard's second in command, Izzy Hands, played by Con O'Neill (The Batman, Chernobyl). Izzy is the only largely stereotypical pirate the show gives us: he is as ruthless and foulmouthed as we'd expect all pirates to be, while giving off the, as quickly dubbed by the internet, Ebenezer Scrooge-like energy of the only human character in a Muppets movie. The introduction we get to Izzy and the rest of Blackbeard's leather clad pirate crew sets us up to expect the same of Blackbeard, yet Jenkins diverts this expectation, presenting Izzy as a serious and violent character who would have been better suited among the cast of a grittier pirate shows such as Black Sails. A dynamic that works perfectly given the tone of the series; Izzy is the only character that we see from Ed's (Blackbeard's) original crew whose hard exterior is not broken by the bizarrely charming nature of Stede Bonet. Yet his character serves an important role as the series goes on: while as an audience we grow tired of his seriousness, it provides an ever-present reminder (perhaps a warning) that this is still a show about pirates, and while conventions are being broken in the current moment, those more serious risks still exist. At many points in the show, he serves as the metaphorical devil on Ed's shoulder, trying to drag him back to his Blackbeard persona away from Stede and an overall happier life. All while reminding us as an audience that we have also fallen for the brazen charm of Rhys Darby's Gentleman Pirate and forgotten that there are still risks at play in this narrative.
See Also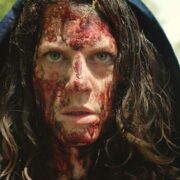 Jenkins has clearly opted to tell the story that he wants to tell regardless of reach, holding out the hope that there would be someone on the other side of the screen willing to accept Our Flag Means Death for what it is. What originally presents itself in the pilot episode as a light-hearted comedy about a peculiar pirate quickly takes on a deeper tone and later meaning. Jenkins opens up Stede's story, taking it and breathing life and development into it instead of playing it up for cheap and easy laughs. And, while we do get comedy in the show, given that it is marketed as such it lives up to that expectation, the jokes we get are smart and witty, relying on a range of visual gags and puns.
The show's tone masterfully shifts almost halfway through the series, from one of a caring comedy about a rag tag found family crew, to more in the range of romantic comedy from episode four onward, when Stede is introduced to infamous pirate captain Blackbeard. Waititi, who directed the show's pilot episode, is a welcome change to the Blackbeard character, which is often portrayed as nothing other than violent and unpleasant. The Blackbeard that Jenkins gives us is one who is simply bored of his monotonous life of piracy, who has found being one of the most feared men on the seas is now a tiresome task. Upon first meeting Stede and exploring his ship, Blackbeard asserts that it is refreshing to see someone doing something new, that's never been done before – a statement that can be applied to the show itself. The way that Jenkins handles the range of tones in the show is truly revolutionary for not only a historical fiction or a romantic comedy but for a show that presents itself openly as a queer version of the two.
The most remarkable thing about Our Flag Means Death is that it doesn't try to be anything other than itself: it is not Pirates of the Caribbean or Black Sails; it is simply Our Flag Means Death, and that, alone, makes it worth the watch. It's a romcom that doesn't hesitate to fall into its romcom beats, even when that romcom reveals itself to be between two pirates. At the end of the day, the show, while having the appeal of pirates, is a gamble for all involved- there's no doubt it would have found an audience but whether it found the right audience is something that Jenkins, Waititi and everyone else involved would have truly had to take a plunge on. Yet it's clear, from both the critical reception the show has received and the outpouring of love and fan-content that has been produced after the end of the first series, that not only did the show find the right audience, but they found it.
---
Season 1 of Our Flag Means Death is now available to watch on HBO Max. The show has recently been renewed for a second season.