November 2023: 10 Best New Movies to Stream

A list of the 10 best new movies to stream in November 2023 on Netflix, Apple TV+, Disney+, Prime, Max and more! Which film will you watch first?
---
November 2023 is here! If you're sitting in front of your TV and looking for a film to watch right now, we have you covered! We made a list of the 20 best new movies to stream on your favorite streaming platforms this month, from Netflix and Prime Video to Apple TV+, Disney+, Hulu, Max, and more! Find them all below in order of release, from highly anticipated movies to hidden gems, and come back soon for our reviews! Enjoy!
---
1. FIVE NIGHTS AT FREDDY'S
Director: Emma Tammi
Starring: Josh Hutcherson, Elizabeth Lail, Matthew Lillard
Release Date: October 27, 2023
Where to Stream it: Peacock
Technically speaking, this one's not really a November release. But if you've been busy celebrating Halloween and missed the October 27 release of one of the most anticipated video game adaptations of the year, you can watch it this month! Blumhouse brings Five Nights at Freddy's to theaters and Peacocks, with the story of a security guard who begins to worry at a certain pizza place where strange things begin to happen…
---
2. FINGERNAILS
Director: Christos Nikou
Release Date: November 3, 2023
Starring: Jessie Buckley, Riz Ahmed, Jeremy Allen, White Luke Wilson
Where to Stream it: Apple TV+
This highly anticipated new movie from the director of Apples has just completed its festival run, and it's one of the most unique films you'll watch this year. Fingernails is set in the near future and starts from a great premise: what if there was a way to rid you of all your relationship worries? That way is a quick test that involves the removal of a fingernail, and that, within minutes will either validate your relationship or give you the worst news of all.
The film mainly revolves around a woman named Anna (Jessie Buckley), whose marriage to Ryan (Jeremy Allen White) has been validated by a positive test. But Anna isn't convinced. And so, one day, she secretly accepts a job at the Love Institute, where she meets dashing instructor Amir (Riz Ahmed) and her descent into the rabbit hole of relationships begins. Read our review of Fingernails!
---
3. QUIZ LADY
Director: Jessica Yu
Starring: Awkwafina, Sandra Oh, Jason Schwartzman, Holland Taylor, Tony Hale, Will Ferrell
Release Date: November 3, 2023
Where to Stream it: Hulu/Star+/Disney+
Quiz Lady is the story of two estranged sisters who reunite for a common goal. The sisters? Anne (Awkwafina), who's obsessed with gameshows, and Jenny (Sandra Oh), who's a bit of a troublemaker. Their aim? Teaming up to cover heir mother's gambling debts. But things get more complicated when Anne's dog is kidnapped, and the siblings embark on a trek that they're hoping will earn them enough cash to pay the ransom while also saving their mother from financial collapse. How? By turning Anne into a gameshow champion. Judging by the cast involved, this has the potential to be very, very funny.
---
4. NYAD
Directors: Elizabeth Chai Vasarhelyi & Jimmy Chin
Starring: Annette Bening, Jodie Foster
Release Date: November 3, 2023
Where to Stream it: Netflix
Here's another festival favorite! Documentary filmmakers Elizabeth Chai Vasarhelyi and Jimmy Chin (Free Solo) team up to bring us a tale about friendship and tenacity which is also a true story. The film revolves around world-class swimmer Diana Nyad (Bening), who, at the age of 60, becomes obsessed with a competition she's never been able to complete. The swim, which people often call the "Mount Everest" of swims, is a 110 mile trek from Cuba to Florida, and Diana wants to be the first person to complete it without a shark cage, accompanied by her best friend/coach Bonnie (Jodie Foster).
If you'd like to find out more, check out the book from which it's adapted, Diana Nyad's on memoir "Find a Way"!
---
5. BIRTH/REBIRTH
Director: Laura Moss
Starring: Marin Ireland, Judy Reyes, A.J. Lister, Breeda Wool
Release Date: November 10, 2023
Where to Stream it: Shudder
If you missed this Shudder original in theaters in August, you can stream it this month! The film is about a pathologist named Rose (Marin Ireland) who isn't exactly a people's person, so much so that she spends her days trying to reanimate the dead. One night, a six-year-old girl named Lila (A.J. Lister), daughter of maternity nurse Celie (Judy Reyes), suddenly dies, and Rose has the chance to use her obsession for something good. How far would you go to protect the ones you love?
---
6. THE KILLER
Director: David Fincher
Starring: Michael Fassbender, Tilda Swinton
Release Date: November 10, 2023
Where to Stream it: Netflix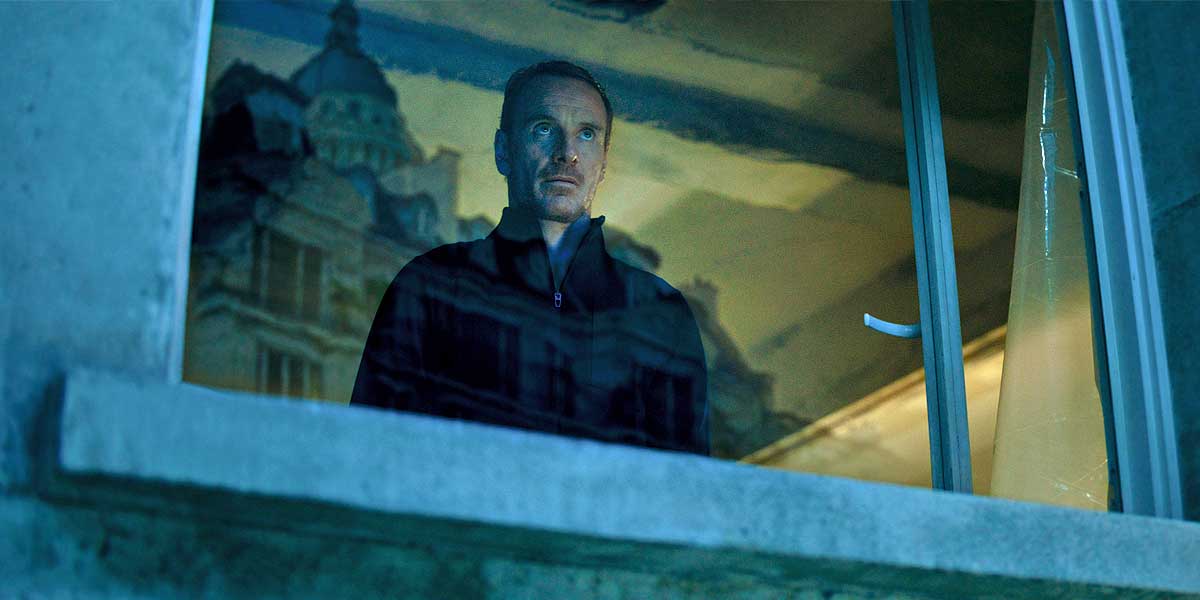 What if you were let into the mind of a hit man, but the hit man in question didn't have any interesting thoughts or approaches to reveal? That is the fantastic premise behind David Fincher's The Killer, which had its World Premiere at the Venice Film Festival earlier this year. If you approach this film with the irony it deserves, prepared to not take its protagonist seriously, you'll adore it. At the center of it is a fantastic Michael Fassbender as a narcissistic hit man who definitely isn't the man he thinks he is, and by the time the credits roll, you'll be dreaming about his internal monologues for weeks! Read our review of The Killer.
---
7. DAVID HOLMES: THE BOY WHO LIVED
Director: Dan Hartley
Starring: David Holmes, Daniel Radcliffe
Release Date: November 15 (US) & 18 (UK), 2023
Where to Stream it: Max (US), Sky & Now (UK)
A coming-of-age story of stuntman David Holmes, a prodigious teenage gymnast from Essex, England, who is selected to play Daniel Radcliffe's stunt double in the first Harry Potter film, when Daniel is just eleven. Over the next ten years, the two form an inextricable bond, but on the penultimate film a tragic accident on set leaves David paralyzed with a debilitating spinal injury, turning his world upside down. As Daniel and his closest stunt colleagues rally to support David and his family in their moment of need, it is David's extraordinary spirit of resilience that becomes their greatest source of strength and inspiration.
---
8. PLEASE DON'T DESTROY: THE TREASURE OF FOGGY MOUNTAIN
Director: Paul Briganti
Starring: Martin Herlihy, John Higgins, Ben Marshall, John Goodman
Release Date: November 17, 2023
Where to Stream it: Peacock
John Goodman is the narrator of a story about three childhood friends who end up working together as grown-ups. But it's also a story about hairless bears, park rangers, two-faced cult leaders and hidden treasures that may not be so hidden after all. If you're in the mood for an adventure, this should do the trick!
---
9. RUSTIN
Director: George C. Wolfe
Starring: Colman Domingo, Chris Rock, Glynn Turman, Aml Ameen, Gus Halper, CCH Pounder, Da'Vine Joy Randolph, Johnny Ramey, Michael Potts, Jeffrey Wright, Audra McDonald.
Release Date: November 17, 2023
Where to Stream it: Netflix
Rustin is another highly anticipated movie of November 2023, this time telling the true story of Bayard Rustin, one of the greatest activists of all time. He was behind 1963's March on Washington, and though he made history, he was soon forgotten. George C. Wolfe brings this tale back to our screens (and also to select theaters earlier this month) in a story that's bound to be inspirational and illuminating, not to mention timely.
---
10. LEO
Directors: Robert Marianetti & David Wachtenheim
Starring: Adam Sandler, Bill Burr, Cecily Strong, Rob Schneider, Sadie Sandler
Release Date: November 21, 2023
Where to Stream it: Netflix
Adam Sandler stars in an animated tale that he also produces. Leo is a coming-of-age musical comedy about a 74-year-old lizard (Sandler): what more do you need to know? It gets even better, as said lizard is a class pet, and while students got to move on with their lives, he's been stuck in that same classroom for years. His only company? A terrarium-mate turtle (Bill Burr). But one day Leo learns that he only has one year left to live, and decides to do something about it. Needless to say, things aren't as easy as it would seem.
---
MORE MOVIES TO WATCH IN NOVEMBER 2023: