Ms. Marvel Episode 3 Review

A still from Episode 3 of Ms Marvel. (Daniel McFadden. © Marvel Studios 2022.)
In the jam-packed Episode 3, Ms. Marvel answers some burning questions, unearths the show's Big Bad, and sees Kamala attend her brother's wedding.
---
Here we are at the midway point of the six-episode season of Ms. Marvel and the show hasn't undergone a noticeable drop off in quality. Obviously, that's great, but once again, the problem most of the Marvel Cinematic Universe (MCU)'s Disney+ shows have is that they don't always stick the landing. We're getting to the point where that might not be a problem with this series, as Kamala Khan's MCU debut appears to be getting all of the burning questions answered early on, rather than having a grand reveal prior to or during the finale.
Assuming things stay that way, Ms. Marvel will have accomplished a feat that not even WandaVision (2021) managed to achieve. That feat: Maintaining its charm and uniqueness throughout its entire run rather than getting wrapped up in reveals and connecting itself to the larger MCU that change the vibe of the show. As we've seen from these first three episodes, you can connect Kamala Khan and her story to the greater narrative that is being told without taking away the unique nature of the character and her show.
Ms. Marvel Episode 3 sees Kamala Khan (Iman Vellani) uncover things about herself, her family, the bangle, and her powers. These revelations and other factors, including Damage Control's search for the enhanced individual known as "Night Light" (which of course is Kamala), leave the young hero being pulled in several different directions. To make matters more interesting, all of this is occurring as Kamala prepares to attend her older brother Aamir's (Saagar Shaikh) wedding.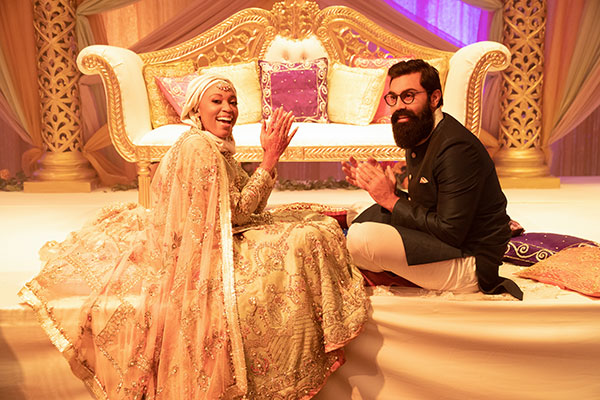 Much like the first two episodes, Episode 3 of Ms. Marvel features a well-paced story that moves each of our main arcs along pretty easily. One of the things I have constantly praised the creative team behind the show for is adapting Kamala Khan's story to fit the MCU without losing the heart of it. They've changed aspects of the title character and her powers, while never losing sight of the important parts of her origin story. Certain things may be different but this is very much Kamala Khan translated in the best way possible to this universe.
The most notable change has to be with her powers and their origin, and in Episode 3, said origin is revealed. Kamala isn't an Inhuman, as she is in the comics, but instead she's something else. While this change is sort of confusing to me, once I saw Kamala's reaction to learning what appears to be the truth, I relented. One of the key elements of Kamala's origin arc is her getting these powers that go on help her discover who she is and who she is meant to be. It would've been really easy to just tell her she's an Inhuman. However, Kamala hasn't grown enough yet to move forward past her beginnings. The new origin roots the series even deeper into the coming-of-age narrative. It also connects with another key to Kamala, her struggles with her parents and Muslim faith.
In the comics, Kamala initially transforms into a younger version of Carol Danvers/Captain Marvel (portrayed by Brie Larson in the MCU), from when Danvers used the "Ms. Marvel" moniker. This helps Kamala learn that there is more to being her idol than just looking like her. In addition, Kamala has to learn to accept herself for who she is, rather than who Carol is, in all aspects. While MCU Kamala doesn't become Carol, she's still learning the lessons that becoming her in the comics taught her. This means the timing isn't quite right, and telling MCU Kamala what she wants to hear: which is that her powers come from being something like an alien, would bring the coming-of-age narrative to a halt without our protagonist truly accepting herself. After all, Kamala still has that mindset of "It's not really the brown girls from Jersey City that save the world". Changing her origin allows the character to continue growing and truly become fleshed out by the time Ms. Marvel reaches its conclusion.
Episode 3 has a plot that helps move things forward and it's actually told pretty well. Kamala and the audience have some things about her powers answered here, but we're all still on the journey of finding out who this character is and wants to be. We also see a different side to Kamala's faith at Aamir's wedding, one that's actually really fun in the same way that her bonding with Kamran (Rish Shah) in Episode 2 was. Just because she struggles with certain aspects of the Muslim faith doesn't mean it's something that Kamala cannot have love for, and these last two episodes of Ms. Marvel have done a good job showing that. Showing that will make Kamala's struggle have an even bigger impact on the audience going forward, because we've seen the parts of her religion that she likes and dislikes. Bruno (Matt Lintz) and Nakia (Yasmeen Fletcher) each have their arcs furthered as well throughout despite Episode 3 putting a lot of focus on Kamala.
Ms. Marvel also doesn't waste time introducing what appears to be its overall Big Bad of the season. This is a contrast to previous MCU shows, which have had a tendency to wait and reveal the true villain of the series in either the second to last episode or even the finale. Hopefully that will allow the villain that Kamala is facing to have a bit of depth. There is also of course the secondary villains, Damage Control and Agents P. Cleary (Arian Moayed) and Sadie Deever (Alysia Reiner). I'm beginning to think that Damage Control, with their distain for superheroes, might be a substitute for the racism that Kamala experiences at the hands of Zoe Zimmer (portrayed by Laurel Marsden in the MCU) in the comics. While I don't know for sure if that's the case, Kamala's experiences with Zoe in the comics have an impact on her as she's coming to terms with being a Muslim superhero. I could see MCU Kamala's interactions with Damage Control having a similar, yet different impact. If I'm wrong, I honestly can't pinpoint what purpose Damage Control serves in this narrative other than getting people to say "Oh look, it's the guy from Spider-Man: No Way Home (2021)".
Iman Vellani continues to portray Kamala Khan in such a perfect way. Her fight scene in Episode 3 is exactly what I expected to be, Kamala is inexperienced, but she isn't really cartoonish during her first fight. Vellani gives the impression of a young hero that is still learning the ropes, but she can still be pretty fierce. I also really loved the moment that Kamala shared with Sheikh Abdullah (Laith Nakli), an imam at her mosque. This exchange might strike some as corny, but I think it really fits in well, Kamala's struggling with all these different things and hearing something like what Sheikh Abdullah said allows her to grasp on to his words and push forward with being a hero.
Ms. Marvel Episode 3 is another excellent chapter in the coming-of-age story of Kamala Khan. It proves that even if the origin of her powers has been changed, the character can still become the Ms. Marvel that fans love. It also introduces a Big Bad that should be exciting to learn about as the series goes on and one that serves as a compelling foe for young Kamala. So many plot points and questions were resolved or touched upon this week before we were left on another terrific cliffhanger. That's how you know a show is doing something right, when it can answer the questions you have, and still leave you asking for and wanting more!
---
Ms Marvel 's Episode 3 is now available to watch on Disney Plus.