Mr Malcolm's List (Review): Sharp, Hilarious Period Comedy

()
Mr Malcolm's List might be drenched in predictability, but its diverse cast, sweet romance and comedic zing give this Jane Austen-style story a much-needed edge.
---

Aside from being a devilishly witty Dickens-adaptation with a razor-sharp script, Armando Iannucci's The Personal History of David Copperfield (2019) was also notable for its wonderfully diverse cast, helmed by British Asian actor Dev Patel. Step forward Emma Holly Jones with her feature debut Mr Malcom's List, a film with similarly diverse casting choices and featuring an explosive ensemble including Freida Pinto, Ṣọpẹ Dìrísù, Zawe Ashton and Oliver Jackson-Cohen. Whilst this might be the only solid way Mr Malcolm's List breaks free from the mould of other period dramas, its brisk energy, sharp comedy and general sweetness is still a winning formula.
Dìrísù is the titular Mr. Malcolm, a man of great societal standing who has the unpleasant habit of judging women he meets against a checklist of wifely requirements. After rejecting Selina Dalton (Pinto), a largely playful process of revenge is set in motion, one backed by Julia Thistlewaite (an incredible Ashton). Numerous subplots play out alongside this central romantic battle between Mr. Malcolm and Selina, from Julia's own romance to Lord Cassidy's (Jackson-Cohen) comical escapades. Adapting the screenplay from her own book of the same name, Suzanne Allain never leans too heavily into serious period drama notes, instead fully embracing the farce of different scenarios. This choice makes for an entertaining, light watch, but its gender politics and feminist messages, whilst well-meaning, are often mishandled and become muddied.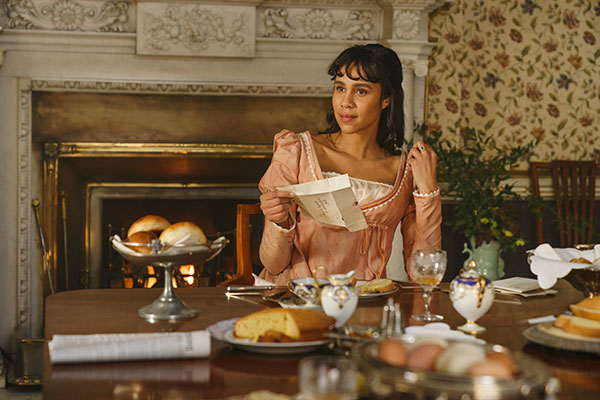 Despite his list, Mr. Malcolm does not become the villain of the piece; he eventually learns his wrongdoings and Selina is largely given her own agency in retaliating, although Allain's choice to occasionally paint Mr. Malcolm as a victim is odd. Ultimately, there are no true villains in Mr. Malcolm's List, with the film leaning into the general happiness seen in other Regency-set period romances. Standing out amongst the glowing ensemble are Ashton and Jackson-Cohen as cousins Julia and Lord Cassidy, or more accurately partners-in-crime (although Lord Cassidy is perhaps more a buffooning student than an equal). Both inject an already hilarious script with further vivacity, distinct facial expressions and impressive comical timing, as well as ensuring their characters are still likeable, despite Julia's teenage-esque impetuousness and Lord Cassidy's blundering persona. The chemistry between all of the actors sizzles on screen; Selina and Mr. Malcolm get less of the comedy, but their romance is sweet and most importantly believable. Despite its thematic flaws and general predictability, Mr Malcolm's List is a deft blend of classic romance and vigorous comedy.
With gorgeous set design, glowing costumes and sumptuous English countryside setting, Mr. Malcolm's List ticks all the right period boxes for fans of the genre, revelling in its genre trappings throughout its brisk, zippy 117-minute runtime. Jones' direction is assured and creative, drawing out the best from her impressive cast even as the film hurtles to its predictable conclusion. A delightfully sugary take on classics such as Pride and Prejudice (2005), Mr. Malcolm's List always has that much-needed twinkle in its eye, knowingly winking to the audience that this might not be anything revolutionary or special but assuring viewers that they'll have a bloody good time watching it.
---
Mr Malcolm's List will be released in UK cinemas nationwide from Friday, August 26, 2022. The film is now available to watch on VOD in the US.
---