Moonage Daydream (Film Review): The Prettiest Star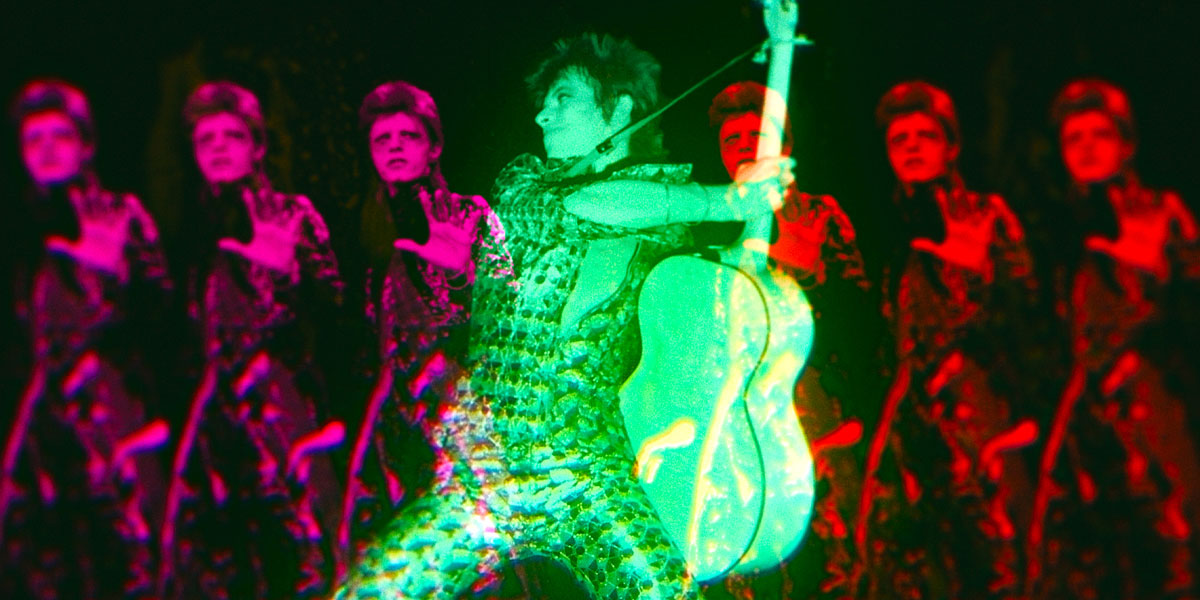 Moonage Daydream (Courtesy of TIFF)
Moonage Daydream is a kaleidoscopic and unique venture that radiantly and stylistically explores the magisterial talents of one of the best artists ever to grace the stage.
---

Director Brett Morgen is known for dwelling on archive footage documentaries to present fascinating stories about different movements in the art forms, with the exception of 2017's Jane. However, I mostly know him for his music documentaries about The Rolling Stones (Crossfire Hurricane, 2012) and Nirvana's front-man Kurt Cobain (Cobain: Montage of Heck, 2015). In these docs, you can sense his fascination with the respective subjects. He offers insight with never before seen archives and interviews and also showcases what made these artists/bands great via stylishly edited performances. However, something changed with his latest feature, Moonage Daydream, its title taken from the David Bowie song of the same name.
You can sense there's a far more personal connection with the material this time. If his videos of him strutting around the red carpet of the Cannes Film Festival during the documentary's premiere while "Let's Dance" was playing in the background don't present that, then the way he speaks about the artist should.
Morgen describes Bowie as someone who "cannot be defined but can be experienced," and I fully agree with that statement. David Bowie, who changed his name (David Jones) because of the rise of The Monkees, is a chameleonic artist that has shown no bounds in the vast realm of music artistry – one of my favorites of all time. This sheer sensation of vibrant magnetism and allure travels through your body the first time you listen to his records. It's an experience that rarely happens with other artists.
Yet, with Bowie, that sensation never leaves; it stays there forever, and each time you put on one of his songs, it brightens up your day. I'm pretty young; unfortunately, I never got a chance to see the master at work live in person, but even watching his performances on YouTube gives you chills due to its enticement and pizzazz, especially in his early 70s 80s work. The best way to describe his music is just pure transcendence or the kaleidoscopic vibrancy of what deep space may feel like.
And I have a feeling that Morgen feels the same and more, since he actually got to meet him a couple of times. After Bowie's death, Morgen wanted to pursue a project to commemorate his name and truly show the world what Ziggy Stardust was all about. He ended up getting access to the David Bowie estate's archive, which the artist was guarding and kept track of for a long time – almost over four and a half decades of material. Through interviews, performances, photographs, and narrations, amongst other things, that were available for him to explore, he sets off to craft a project that would make Bowie and his family proud. It's his passion project, a tribute to one of his heroes. And indeed, he does do that, and way more. Not only is Moonage Daydream a stylistically vibrant and personal "inside and out" portrayal of one of the best artists ever to grace the stage, but it also shows how brilliant he was in various aspects other than music.
It's a greedy experience, primarily if you are a fan, because of everything you are getting the chance to see for the first time. Coincidentally, this isn't the first time Bowie has been the center of a documentary (or concert-doc); there are D. A. Pennebaker's Ziggy Stardust and the Spiders from Mars and Francis Whately's trilogy (Finding Fame, Five Years, and The Last Five Years). However, none of them are to this extent in terms of content and oeuvre.
Instead of having an ordinary flowing documentary, Morgen takes a more hallucinatory approach to the icon's story to lavishly portray the different eras of the man. He intertwined his interviews, music videos, paintings, and performances with pop-culture imagery and clips from some of David's favorite features, like Fritz Lang's Metropolis (1927). This approach helps to communicate the reasons for Bowie's way of life instead of doing the same old music documentary trick that tries to put only the highlights of an artist's career and call it a day.
Morgen wasn't going with that route, given the responsibility to helm the archives onto an expansive piece of work. He wants to show not only how Bowie's impact covered his musical career, but also how his persona inspired plenty to be their authentic selves, with high compassion and sincerity. That's the more introspective part of the documentary. His views and curiosity about the world make the narration and soundbites entrancing.
Bowie has always been an advocate for that sensation of feeling comfortable with being uncomfortable via his sayings, outfits, or even in the same interviews, where his persona is questioned and judged. Yet, David remains poised and answers with sincerity. It demonstrates how his fans emulated that same persona Bowie was transmitting: his message was being heard, and people followed in multitudes. It seems like, even in today's times, his music makes us listeners want to embrace the curiosities in our daily lives, which might lead to inspiration for whatever we might be working on.
When the film reaches the parts where it covers Bowie's creative processes, that's where one would get inspired by his methods and tactics. Through the years, Bowie didn't stay with a single attire or tone; he switched his procedures, slowly evolving as an artist yet relying on instinct more than anything else. Moonage Daydream takes time to bask upon the evolution of his craft, capturing the effectiveness and allure of classic records, from "Aladdin Sane" to his underrated "Scary Monsters (And Super Creeps)." It feels like Morgen wants to say that Bowie felt empty once he felt he wasn't creating something different when concocting yet another record. David was a being out of this world, as he says. There's no one like him, and those trying to be him didn't have the talent to suffice. It's just extraordinary how Moonage Daydream gives us different shades of insight into his different eras, and how his innovation and inner psyche developed through the originality of his discography.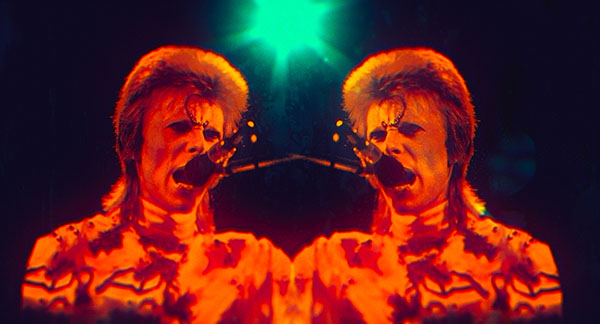 I have never gotten the chance to see my favorite music documentaries in theaters (Monterey Pop, One More Time with Feeling, Stop Making Sense). So, watching this one was even more special for me because this unveils (and explains) why Bowie was so impactful and extraordinary, better than anyone could. I was just buzzing with excitement during its entirety. Heck, even by watching the trailer, I started getting chills. This documentary shows that you can't beat the real thing in a world where plenty of disastrous music biopics are constantly being made (Bohemian Rhapsody and Last Days in particular). Moonage Daydream is a unique experience that comes by rarely – one of those infrequent music documentaries that transcend what you have seen before. After watching, the vibrancy of Bowie stays with you for an extended amount of time. It has been only a couple of hours since I watched a couple of films at the festival, and I still haven't been able to shake off this overwhelming feeling with the excitement towards what I saw.
For some, it may lack some broader insight, as they might feel it misses the point by not going in-depth about his personal life – his first wife and child – as well as the inner depths of his childhood and youngling years. In addition, its style and flash may be too profuse. Nonetheless, it perfectly fits with the glam-rock superstar's aesthetic. What's being presented by Brett Morgen is cinematically vivid and polychromatic. The viewer just sits back and watches in awe as the various psychedelically montaged images and sequences of an icon transgress through the 140-minute runtime that goes by like a breeze. If you are a fan of Bowie, no matter the era which is your favorite (Ziggy Stardust, Aladdin Sane, Major Tom, Thin White Duke, etc), I have a feeling you will love this immensely. And if by chance you aren't, this will make you a fan of his immediately. My love and appreciation for the man have increased after watching this, and you can't ask for more when watching a magnificently constructed documentary.
---
Moonage Daydream premiered at TIFF on September 12, 2022 and is now available to watch on digital and on demand. Watch Moonage Daydream!