Memory (2023): LFF Film Review

Jessica Chastain and Peter Sarsgaard both shine in Memory, Michel Franco's softly provoking dementia drama that is by far his best film.
---

Mexican director Michel Franco is a challenging filmmaker to get into. His previous films – including After Lucia and the Tim Roth double-bill of Chronic and Sundown – all possess an unvarnished, naturally sparse style. They also have narratives and moments that are meant to be shocking but are instead irritating. Take New Order, his thriller about Mexico's class system so terribly executed it loses any bite it may have. And we come to his newest effort Memory, set in New York City and starring Jessica Chastain and Peter Sarsgaard (who won Venice's Volpi Cup for Best Actor). Except this is markedly different from Franco – a softer, slower drama that is by far his best film to date.
Sylvia (Chastain) leads a structured life. A recovering alcoholic for 13 years, she regularly attends AA meetings. She works as a disability care worker in what she describes as an "adult daycare centre." The rest of her time is spent at her city apartment with a sophisticated alarm system, where she has a good relationship with her teenage daughter, Anna (Brooke Timber). She is why Sylvia has a relationship with sister Olivia (Merritt Weaver), and even then, it is quite tense. At Sylvia's high school reunion – where she mostly keeps to herself – a man named Saul (Sarsgaard) sits next to her. It unsettles her so much that she flees. Yet he follows her home and waits all night in the rain.
After his brother Isaac (Josh Charles) picks him up, we shift to Saul's perspective. It turns out he has early on-set dementia, which Isaac and his daughter Sara (Eighth Grade's Elsie Fisher) are trying to cope with. When Sylvia returns to visit him, she finds out Saul can remember certain events and memories from his past – but not her. She believes he was present during a traumatic act of sexual assault that still affects her. Which makes it all the more surprising when Issac and Sara approach her to be Saul's carer. But as it turns out, Sylvia is misremembering things as well. And as she spends time with Saul, a funny thing happens. They start to fall for each other.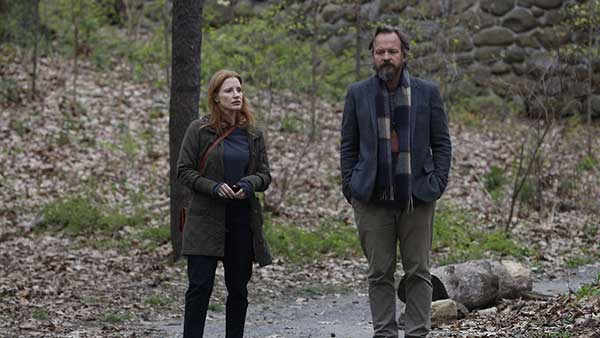 Memory is a film about the overall impact of memories. Happy or traumatic, recollected or not. Franco has said this is a film "about whether one can truly escape… the shadows of the past," and those ghosts rear their heads many times. Not least thanks to Sylvia's mother, Samantha (Jessica Harper of Bones and All and Dario Argento's Suspiria). She wants to move from Miami and be closer to her family but still refuses to believe her daughter and treats her like a troublemaker. It leads to a shocking confrontation – the kind of stark reveal Franco usually includes – but one delicately handled. That is the change of pace that makes Memory work so well.
It is reflected in the visuals as well. Usual DP Yves Cape retains his director's austere, blunt style, with a mostly still camera going far and wide with landscape shots and long takes. Yet it feels warmer.
Elsewhere, Jessica Chastain and Peter Sarsgaard both shine in emotionally demanding roles. Especially Chastain, who plays Sylvia with a heightened vigilance. Behind her external toughness and the triple locks on her apartment door is someone who has sheltered herself from (and perhaps due to) the extreme hurt from her past. Meanwhile, Sarsgaard inhabits Saul's condition terrifically, shifting from feeling at ease to mentally discombobulated. He also conveys that Saul really wants to enjoy Sylvia's company, watching movies with her despite being unable to remember their beginnings. No wonder their relationship grows into something sweet and sincere.
An intimate and softly provoking dementia drama with some brilliant performances, it is genuinely interesting to see how Memory plays out. It teases darker directions the narrative could take but remains restrained. It tackles trauma and how things previously left unsaid are forced into the open. And it highlights the awkward inquisitions of kids, highlighting the tricky dynamics of adulthood. Crucially though, Michel Franco never loses sight of his newfound trust and hope with a story about two uniquely broken people finding something in each other.
---
Memory will be released in select US theaters on December 22, 2023, and nationwide on January 5, 2024. Read our article on the moral gray areas in Michel Franco's Memory!