(Aya Films)
Mami Wata's hypnotic opening is overruled by underdeveloped characters and a general lethargy, in a film that's at times breathtaking, at others unfocussed.
---

C.J. 'Fiery' Obasi's (Ojuju) third feature film starts in compelling fashion: on the beach in the ocean village of Iyi, a woman is dwarfed by the rolling waters and night's sky, with Lílis Soares' (Um Dia Com Jerusa) black-and-white photography a striking sight from the very first shot. It is a wordless start, the soft crashing of waves further enforcing Mami Wata's instant hypnotism as we learn from a brief overlay about the titular water spirit, who is worshipped across parts of Africa and in the Afrikan diasporas of the Americas. Such a compelling opening promises a lot, but Mami Wata struggles to build on this initial intrigue, instead paling into an unengaging affair with, despite its subject, no sense of urgency.
At first a peaceful village with an Intermediary for Mami Wata called Mama Efe (Rita Edochie, Love Eternal) at its head, Iyi quickly becomes a place of crisis. Stuck without essentials, blame is hurled at Mama Efe and the water spirit she represents. Revolt suddenly spreads its way throughout the village, with its central revolution, which provides the narrative backbone of Mami Wata, led by a mysterious man called Jasper (Emeka Amakeze, Icheke Oku). This setup is interesting, as Obasi posits Western and African scientific and medicinal teachings against one another; belief systems are threatened, as tradition clashes with more modern ideas.
As compelling as this premise of Mami Wata is, it toils under a tone and pacing that is neither quick nor slow, but ultimately lethargic. This methodical execution is admirable, but the overarching tone results in a notable lack of energy or urgency, which is at odds with the momentous shift in the village we are witnessing. Ultimately, Mami Wata is not as incendiary as its plot's fiery trappings are. Soares' crisp monochromatic imagery, which won an award at Sundance Film Festival, evocatively draws out mystery from the darkness, but such shots aren't backed up by a consistently engaging narrative.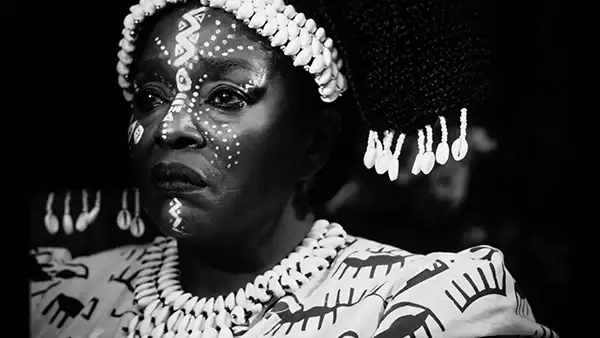 Despite this unhurried approach stunting the narrative and symbolism of Mami Wata, there is still a vibrant lushness to proceedings. Heavily stylised and admirably experimental, Mami Wata boasts incredible cinematography and exquisite costume design by Bunmi Demilola Fashina (Ran Mi Lowo). The world of Iyi is rich with detail, and whilst the characters are underdeveloped and unaided by proper context, we still feel the swirling waves or gentle breeze that filters through this ocean village. Mami Wata is elusive and slippery, and there is often something to glean from its imagery, whether it's the fierce eyes of Intermediary-in-waiting Zinwe (Uzoamaka Aniunoh, Behind the Scenes) or the fascinating oceanic landscape, which holds a similar mysticism and power to that of Atlantics (2019).
See Also

Whilst there is some complexity here to latch onto, Obasi's screenplay dwindles into something far thinner, with potentially deep points to touch on rarely explored to their fullest potential. In addition, the depiction of West African folklore and how Mami Wata aids people in moments of grief or struggle is absorbing. However, as Mami Wata enters into its more confrontational and violent conclusion, its final shots feel indicative of the film as a whole: they feel as if they should be more powerful than they are, when in fact lethargy blunts this ending's effect too.
---
Mami Wata was released in US theaters on September 29, 2023 and will be out in UK cinemas from November 17.