M.C. Escher: Journey to Infinity, The Dimensions of an Artist (Review)
M.C ESCHER: Journey to Infinity (Kino Lorber & Zeitgeist Films)
M.C. Escher: Journey to Infinity explores M.C. Escher's life with an engaging personal narrative and deconstructs his artistic methods with visually dazzling animations.
---

"I'm afraid there is only one person in the world who could make a good film about my prints; me," writes M.C. Escher, his words appearing onscreen letter by letter, mimicking a typewriter, in the opening to Robin Lutz's documentary M.C ESCHER: Journey to Infinity. Made almost fifty years after his death, it's not exactly Escher himself, but it's the next closest thing—a reverential yet eagerly curious documentary about the Dutch artist told in his own words and through detailed examinations of his mind-bending artwork.
M.C ESCHER: Journey to Infinity paints a comprehensive narrative of Escher's journey from relative obscurity to world fame. In a sense, Escher himself tells his own stories as an ebullient Stephen Fry narrates words from Escher's letters and diaries in an organic narrative that spans the artist's life and influential experiences that inspired his unique creative ethos. Fry's narration is instantly infectious, the beloved English actor giving the film a lively vocal dimension while also crafting a memorable personality for Escher to guide us through his story. And Escher isn't the only voice in the film—his sons George and Jan share intimate insights into the family history and musician Graham Nash tells us about the later discovery of Escher's work in the 1970s.
Easily the most memorable moments in Journey to Infinity are the dazzling animated sequences that deconstruct Escher's art. While two dimensional, his prints and woodcuts display a remarkable complexity and endless detail that can only be fully appreciated with close, meticulous examination. Fortunately, the film explains how Escher's art functions, demonstrating his unique techniques for using shapes, patterns, and directions of motion. Curiously, Escher never saw himself as an artist, but rather as a mathematician, his genius evident in the complex mathematical patterns that informed his mind-bending creations. Another fundamental theme that guided his work was the beauty of the natural world, seen especially in prints with interlocking patterns of birds or reptiles and one that features an imaginary species that rolls like a wheel.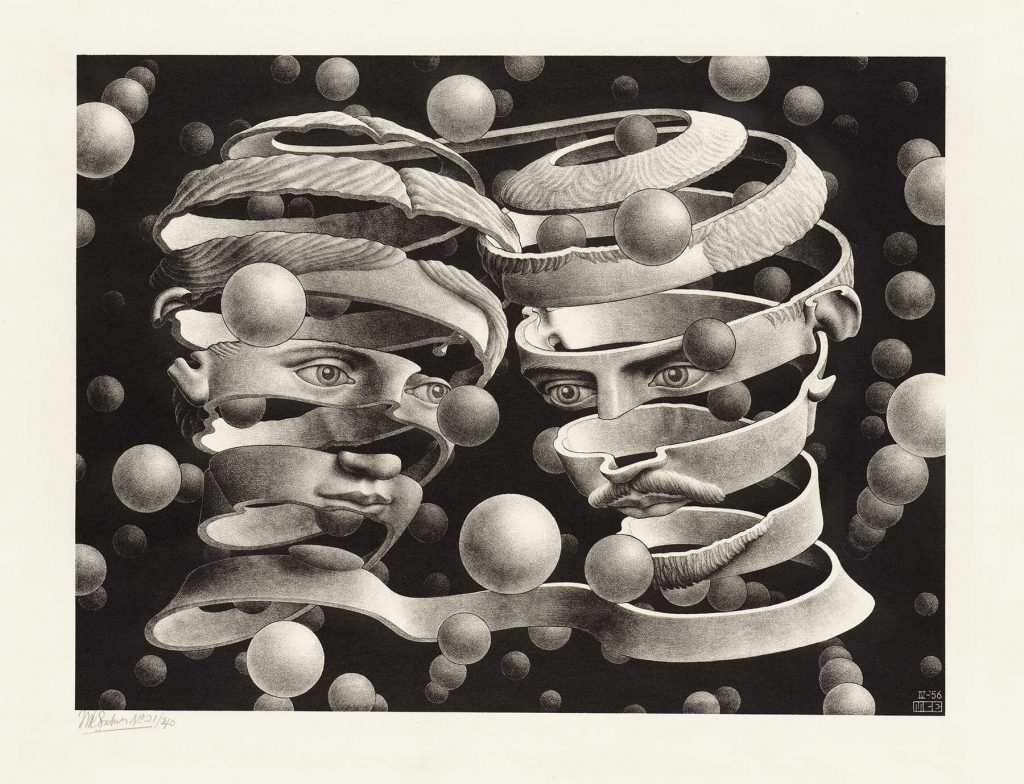 At 80 minutes, M.C ESCHER: Journey to Infinity never outstays its welcome yet never feels incomplete. It's a digestible watch, wholly engaging and a pleasant piece of documentary escapism into a subject well worth our fascination and obsessive curiosity. Even if you're familiar with Escher's breathtaking art, prepare to be even more amazed by the intricate details and mathematical beauty in these elaborate dissections. It's easy to get lost in these complex dimensions of human imagination put to paper and wood, and in the dreamlike passage exploring infinite worlds of drawn shapes and patterns, marvel with wonder as you ask yourself, in Escher's words responding to a math teacher's admiring letter—"how on earth?"
---
M.C ESCHER: Journey to Infinity opened in New York, Los Angeles and other US cities on February 5, 2021, and is now available to watch on KinoNow, Blu-ray and DVD in the US. The film was released in the UK by Munro Films, in UK cinemas on August 13 and on Digital Download from October 18.
---
JOIN US!
Don't miss our monthly updates with film news, movie-inspired recipes and exclusive content! You'll only hear from us once a month. #nospam