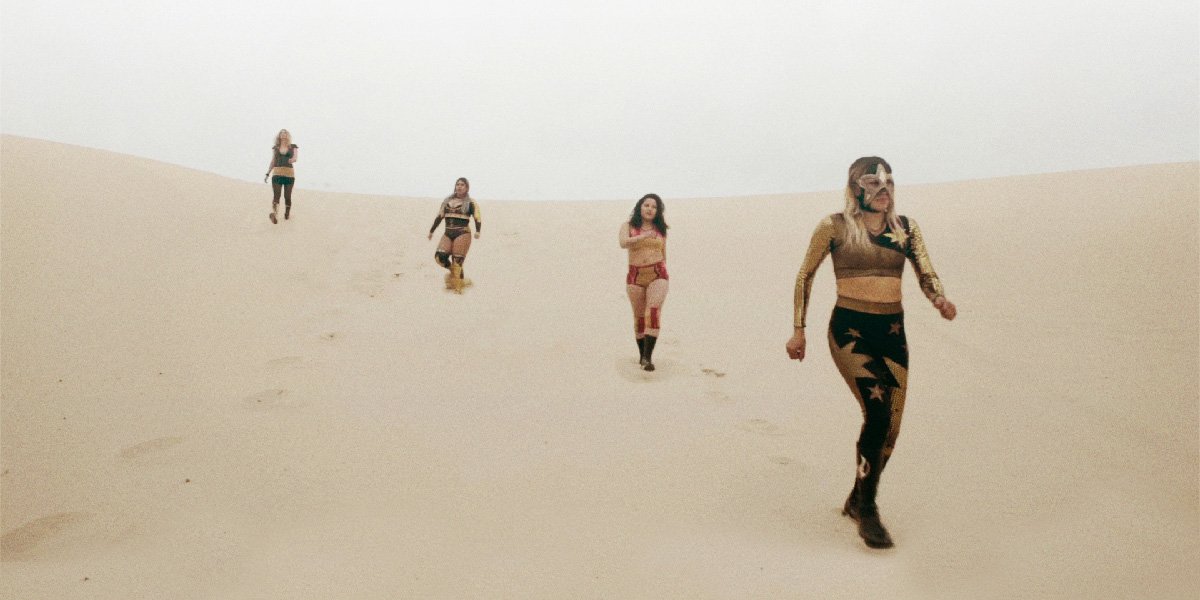 Luchadoras (TUMULT Film GmbH / RISE & SHINE)
Luchadoras is a compelling, but flawed and overambitious, documentary that utilizes the lens of lucha libre to shine a light on Mexican societal ills.
---

Luchadoras is a documentary about the struggle of three female Mexican professionals in Ciudad Juarez. Directors Paola Calvo (Violently Happy) and Patrick Jasim (Helmut Berger, My Mother and Me) have taken a verité approach to the material, which lends it a truly harrowing edge. Juarez is one of the most dangerous cities in the world, especially if you're a woman. And the independent women who are the focus of Luchadoras make for interesting portraits of Mexican society.
There is a grand tradition of great wrestling documentaries. From the harrowing Beyond the Mat to the joyous GLOW: The Story of the Gorgeous Ladies of Wrestling, professional wrestling has been fodder for great investigative filmmaking. There's something intrinsically about the sort of sacrifice and dedication to an outwardly ludicrous craft that lends itself to the medium. Wrestling biopics like Andre the Giant, Nature Boy, and The Resurrection of Jake the Snake have seen filmmakers attempt to wrestle with the complex legacies of the actual humans beneath the larger than life perspectives at play.
In pro wrestling, there's a certain lingo – there's no pretense that the outcomes are genuine, however all involved feel a profound dedication to the craft. The maintenance of the unreality of the story telling, "kayfabe" in the parlance, is paramount. Good guys ("faces") must confront the villains ("heels" or "rudos") in a sort of grand and mythic storytelling that steals liberally from cultural myth, Shakespearean drama, and low brow soap operas. It's readily apparent why a filmmaker as steeped in genre convention as Darren Aronofsky was able to mine the unreality of wrestling for his masterful The Wrestler.
This dedication to the fiction of kayfabe permeates Luchadoras. A film that is harrowingly gritty in its depiction of our heroines' brutal Juarez neighborhoods and the true danger of intergender wrestling matches always maintains a level of respectful dedication to the fiction. Our heroines are known only as Lady Candy, Baby Star, and Mini Sirenita. In a film that is deeply focused on the dangers of femicide there are obvious reasons for the women to conceal their identities, but here it goes one step further and helps to maintain their kayfabe.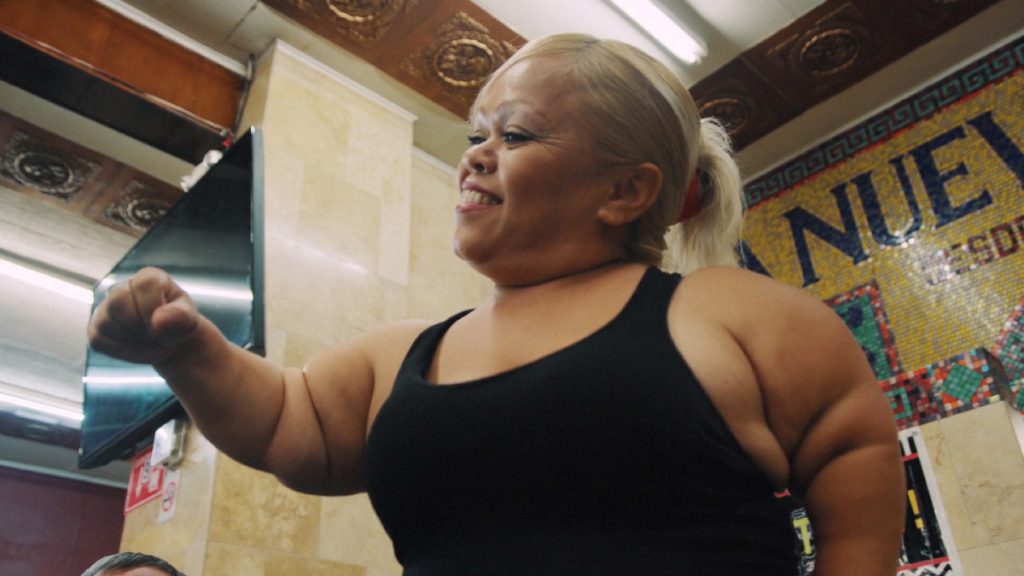 Each of our protagonists sheds a different light on the struggles of a woman in Juarez. Lady Candy has seen her children cross the border and now – despite them being miles away – she spends each day figuring out how to earn enough money to make the right impression at an immigration interview to reunite her family. Baby Star is a mother who was compelled to leave the profession by a controlling husband – she is torn between her passion and the pressures of her family. Miri Sirenita is a woman with achondroplasia who, at 40, is approaching her last chance to break through in the wrestling game.
The women bring a shared experience of misogyny and poverty to the forefront. Much of what they've been forced to experience is truly harrowing stuff. The filmmaking emphasizes their difficulties in stark detail. From Lady Candy's day job in a funeral home to tales of the murder of co-workers of Miri Sirenita, it's clear how much tribulation these women have faced. In Mexican wrestling, the greatest disrespect one can show is to unmask another wrestler, one harrowing sequence sees two male wrestlers repeatedly unmask and brutalize – for real – Baby Star and her tag team partner.
See Also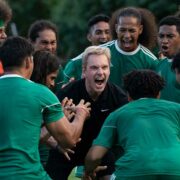 My struggles with the documentary arose in part because of a lack of focus. It is an ambitious film – which I respect – but I cannot help but feel it bites off a bit more than it can chew. It's difficult to juggle these three intimate character stories alongside a broader story of growing feminism, essential advocacy against femicide, and a cultural portrait of lucha libre as a window into Mexican society. That the film also has a tendency towards uncomfortably extreme close-ups creates a sense of intimacy that can sometimes serve almost to winnow away the big picture. The wrestling itself is filmed in Zack Snyder levels of slow motion which, in wrestlers of this level of skill, actually tends to expose the art's closer origins in dance than fisticuffs. It not only undercuts the unreality, but it tends to make the athletic feats of the women seem somewhat less impressive.
Nevertheless, this is a harrowing and moving slice of life portrait of three women living through unimaginable hardship. Its utilization of professional wrestling as a lens to investigate cultural iniquity in Mexico is a sage choice, but the execution is imperfect.
---
Luchadoras premiered at SXSW Online on March 17, 2021.