Love & Death (HBO Max) Series Review

Elizabeth Olsen in Love & Death (HBO Max)
Elizabeth Olsen is brilliant in HBO Max's series Love & Death, a fascinating true story with plenty of twist and turns.
---

In all honesty, I was not sure what to expect from HBO Max's Love & Death. I am not one to watch movies and series based on real life murders unless I have an extremely specific reason to do so. In this case, casting Elizabeth Olsen in the lead role of Candace "Candy" Montgomery was exactly what drew me to this miniseries. Then the first trailer was released, and I became interested in the nature of the case and the mystery of it all. So much so that I did not do any real digging into the case before watching for the most part. I recommend others do the same because I really felt like it enhanced the experience of watching the miniseries unfold.
Love & Death centers on two couples in the small town of Wylie, Texas. Candy and Pat Montgomery (Elizabeth Olsen and Patrick Fugit) and their friends Allan and Betty Gore (Jesse Plemons and Lily Rabe) all have perfect lives. That is until an extramarital affair truly turns everything upside down.
The set and costume design of Love & Death is quite impressive. They really capture the small-town atmosphere and the feeling that everyone knows everyone and everything about each other. For the most part, the late 70s to early 80s aesthetics hit the mark as well, with everything resembling photos/videos that I have seen in the past from that period. The outfits appear to be a mix of newer looking clothes and perhaps some vintage items thrown in there, and they help immerse you in this retelling.
Love & Death also has a soundtrack that will keep you tapping your toes. They perfectly curated a selection of songs that embrace the period. Some of these needle drops are fun and elevate the miniseries best moments to greater heights.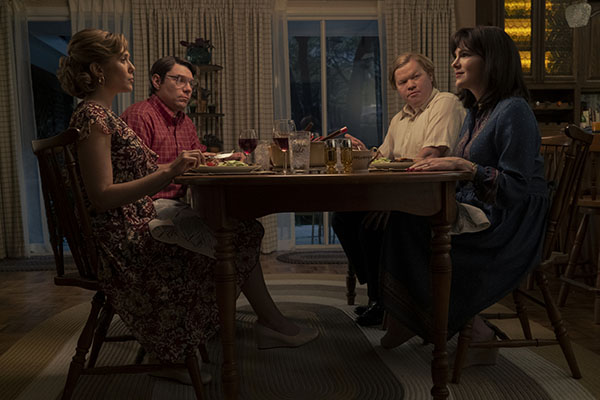 This narrative that Love & Death writer David E. Kelley told was enamoring for several reasons. Kelley really manages to nail the sense of tension whenever needed. Whether that's sexual tension between Candy and Allan Gore or the tension of the two having to keep their affair secret or things that occur later in the series. It is something that the musical score and direction consistently emphasize through clever camerawork and use of flashbacks. The story keeps you engaged and features a number of twists and turns that I didn't see coming. You are also given plenty of time with each of our main players that are involved in this murder case in some way or another. Much like if you were a resident of the small town of Wylie, Texas, you get to know these characters and it makes the narrative hit a lot harder as things play out.
I was able to see where Candy Montgomery was coming from, even if I did not agree with her actions during the series, because writer David E. Kelley fleshed out her character as much as he could with the materials that Love & Death is based on. Before every episode, the words "This is A True Story" appear on the screen and while David E. Kelley may have taken some liberties, these feel as close to the real people as possible despite being portrayed by actors. The subject matter and all involved are treated with the respect and dignity that they deserve. What also helps the narrative is that the cast gives realistic and grounded portrayals of their characters.
How does Candy Montgomery go from cheerful, churchgoing housewife to someone capable of being accused of murdering her friend with an axe? Love & Death does a tremendous job of looking at that via a wonderful character study of Candy Montgomery and by showing you a different, darker side of the white picket fence American Dream. You have two people with ideal lives in Candy and Allan, who chose to have an affair with each other, and that leads to some unthinkable consequences. This is riveting material and David E. Kelley and the creative team do as much as possible to explain the who, what, and why of this real-life murder case without being distasteful or misleading.
Elizabeth Olsen is magnificent as Candy Montgomery, giving a performance that is certainly worthy of an Emmy nomination. She pushes herself to entirely new levels as Candy in Love & Death, and brings such powerful emotion to the screen. You will see her as a perfect wife and mother, but Olsen and David E. Kelley never portray this character as one that is without flaws. Candy has urges and desires that she knows she should not and watching her struggle with them before inquiring about having an affair with Allan, for example, is fascinating.
Love & Death features some of the most chilling moments of Elizabeth Olsen's career to date, she will leave you stunned and makes everything seem so effortless.
Olsen's southern accent is alluring and like honey once you settle into it and it is so hard not to buy into every word that Candy says. She is so mysterious, and it is something seeing the layers of this character get pulled back during the parts of the narrative that really focus on her and Olsen clearly enjoys playing such a complex individual.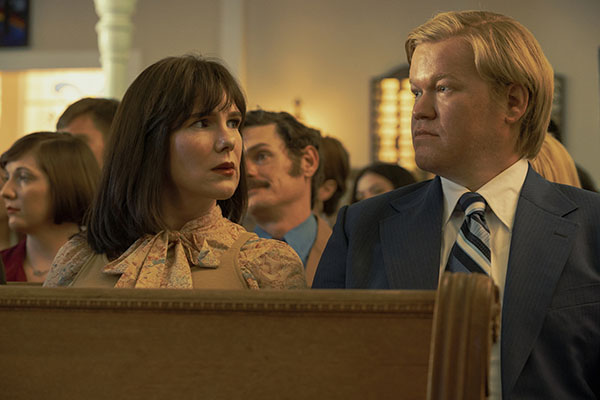 Jesse Plemons does fine work as Allan Gore, even if he cannot quite match up with Olsen's charismatic and mystifying performance as Candy. To be fair, I think that is exactly how the character of Allan is written. He is supposed to be awkward and way out of his comfort zone, and Plemons nails that. Allan is written mostly well, and we get to see this man put through the wringer as much as Candy from the moment their affair begins until the conclusion of the miniseries. However, he is written quite awkwardly once the murder takes place, it feels like we are seeing less of him, even though the character is extremely involved.
Plemons is not the issue, he is great whenever on screen. It just seems like he is doing a lot of the heavy lifting with subtle vocal inflections and facial expressions. The dialogue in Love & Death does not allow us to really connect with Allan once the murder and subsequent trial occurs. It does not teach us anything about how he is feeling, and it is up to Plemons to make it work.
See Also

There are two other standout performances, in Love & Death without whom this narrative would not work, they are as essential as Olsen and Plemons. The first is Lily Rabe as Betty Gore, Allan's wife, and let me tell you, this performance is something else. Betty is such an interesting parallel to Candy and you see that in so many ways. You see it through her relationship with Allan compared to his affair with Candy, you see it in Betty's friendship with Candy.
They are similar in a lot of ways, but strikingly different in others. Rabe is phenomenal, making fantastic use of every bit of her screen time. She gives Betty a constant feeling of warmth, but you will see and feel her anger, frustration, and sadness whenever Rabe brings them to the surface. Lily Rabe stands toe to toe with Elizabeth Olsen, creating a dynamic between Betty and Candy that is so satisfying, which is perfect given how essential they both are to the narrative.
Love & Death has one final standout in Tom Pelphrey as Don Crowder, Candy's Lawyer. He is gritty and filled with southern charm. Pelphrey makes Crowder a slime ball, but that does not mean he is unlikeable. This is a lawyer that is willing to do everything to win the case for his client and is quite calculated. So much so that you cannot help but admire the way he handles himself and the task at hand.
If there is one negative aspect that I could point to when it comes to Love & Death besides the dubious writing that Allan Gore gets, it might not be something that makes sense to you at first. The series is well written, and yet it feels at times like we are moving too fast early on. Particularly in the first three episodes, it feels like "Oh, we're here already?". We are spending a lot of time with these characters and yet some of the more important moments feel rushed. Fast forward to later in the series and things move a little too slow for my liking and get slightly boring until Elizabeth Olsen's performance pulls you back in. It does not impact the overall quality of the miniseries too much, but it is worth noting.
This series is absolutely worth the watch, especially if you are a fan of true crime or Elizabeth Olsen. Love & Death is one of HBO Max's finest original series to date with solid writing from David E. Kelley that brings this unbelievable true story to life without being disrespectful. Elizabeth Olsen's performance as Candy Montgomery is among her best, and she is so gripping from beginning to end. After going into Love & Death unsure of what I would get in return, I can say that I really enjoyed this series. Elizabeth Olsen plays a large part in that, but it takes more than one person to make a miniseries good, and all the pieces here do a tremendous job of making this tale work.
---
Love & Death is now available to watch on Max.