Love at First Sight: Netflix Film Review
(Rob Baker Ashton/Netflix © 2023)
Netflix's newest rom-com, Love at First Sight, is a sweet, funny, and at times even emotional film.
---

Much like our protagonist in Love at First Sight, I too am always "down for a cheesy rom-com as long as there's a happy ending." And that is exactly what I was looking for when I put on Netflix's latest rom-com and after watching this movie I was not disappointed. The film is based on the 2011 novel "The Statistical Probability of Love at First Sight" by Jennifer E. Smith. Despite being one of many Netflix rom-coms coming out this year, this film manages to be funny and interesting, even if it uses familiar tropes for fans of the genre.
Love at First Sight begins in an airport when 20-year-old Hadley Sullivan (Haley Lu Richardson) misses her flight to London by four minutes. Not all is lost, however, she manages to get on the next flight out to London to make it just in time for her father's wedding. In a chance encounter, she meets Oliver Jones (Ben Hardy), a British 22-year-old Yale mathematics student flying home. As the two meet in the airport and on the plane, they end up bonding throughout the first half of the film: while they may be total strangers, their chemistry and connection are undeniable. As such, it makes perfect sense that Hadley and Oliver will have to look for each other once they go their separate ways in London.
The entire film is introduced by a narrator. While this is somewhat of an overused technique, Love at First Sight manages to keep it interesting and original in the way it utilises its narrator. Not only does the narrator introduce the story, but she also keeps being a part of it and interacts with the main characters themselves. The narrator is not just a voice, but it is personified in Jameela Jamil, who takes on multiple roles, such as cabin crew hostess, wedding guest, or immigration officer, to stay with our main characters and comment on trials and tribulations. I also really liked that the personified Narrator addresses the audience, directly looking at the camera and thus breaking the fourth wall while commenting on what we see happening on screen.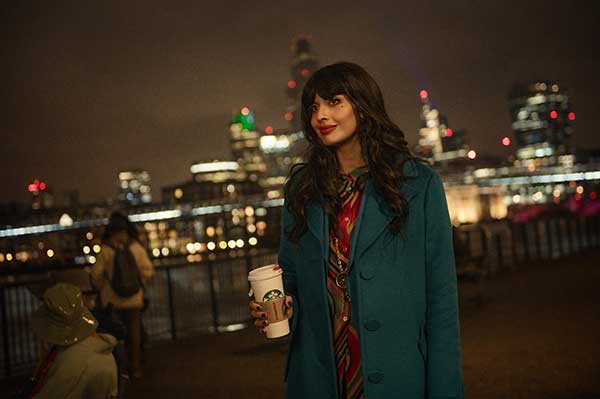 One of the reasons why Love at First Sight works so well is that it takes familiar tropes and puts them together in a clever and fascinating way. The main concept of love at first sight is certainly not original, but the film's originality is in its compelling characters and fascinating use of setting, making even such a cheeky story feel real and honest. Maybe you already know how the film is going to end when the film starts playing, but you still want to see how the characters will get there and what they learn on their journey.
The characters are one of the most interesting aspects of Love at First Sight. Oliver and Hadley are such a joy to watch on screen together, so much so that the audience can't help rooting for them, not only because of their chemistry together but also because they are well-built three-dimensional characters who exist on their own before working well together. As the film goes on, we learn a lot about both Hadley and Oliver individually – what their interests are and why they are flying to London on the same day – making us care about each character individually as well as the future of their relationship, which is established to be at risk the minute they arrive in the UK as they may never find each other again.
See Also

One of the things I liked the most about Love at First Sight is also its use of the London setting. As someone who has lived in London for five years now, it was refreshing to see areas of London that are less mainstream be the centre of attention in this movie. While there is a sequence showcasing some of the most famous London landmarks, including the Tower of London and the London Eye, the majority of it is set between Peckham and Shoreditch. While both are areas Londoners will be more than familiar with, perhaps even more than they are with the landmarks themselves, they do not often appear in this type of film, which tends to opt for the more touristic and well-known locations.
Despite the missed chance to call this film Love at First Flight, given the airport and flight elements that become key to Oliver and Hadley's love story, the film works. Love at First Sight is a charming rom-com that asks us what love – especially love at first sight – means: is it fate or is it statistics? Maybe for Hadley and Oliver, it's both. And while it may be a little unrealistic – after all, the very trope of love at first sight is not exactly something that happens every day – it's ultimately a story that works with its funny jokes, emotional moments, and strong and likable main characters. 
---
Love at First Sight is now available to watch on Netflix.