Leah Gallo: The Art of Being a Still Photographer (for Tim Burton) – Interview

Dumbo Dreamland portrait series: Colette Marchant (Eva Green), Queen of the Heavens Photograph by Leah Gallo / © Walt Disney Pictures, All Rights Reserved
Author, photographer and long-standing Burton collaborator Leah Gallo tells us about her experience working with the visionary director for over ten years, shares her favourite moments from the set and talks about the creative process that led to her latest project, The Art and Making of Dumbo.
---
Author, editor and photographer Leah Gallo has been collaborating with Tim Burton for over ten years, and her career is fascinating to say the least. As a still photographer, she has taken part in all of the directors' films since Sweeney Todd: The Demon Barber of Fleet Street (2007), documenting some of Burton's most iconic productions – from Alice in Wonderland (2010), Dark Shadows (2012) and Frankenweenie (2012) to Big Eyes (2014) and Miss Peregrine's Home for Peculiar Children (2016) – together with lesser-known projects, such as the video clip for The Killers' song Here with Me (2012), which was about a love story between a boy and a mannequin (see picture below).
Her portraits have appeared in many magazines and newspapers, including the New York Times, the Los Angeles Times, Parade, Empire, and Entertainment Weekly, but that's not all. Gallo is also an author and editor: she has written several books, from visual companions and limited edition crew books for the director's latest films to the impressive award-winning volume The Art of Tim Burton. Her most recent project, The Art and Making of Dumbo, which she wrote, contributed photographs to and edited with graphic designer Holly Kempf Keller, is a stunning companion to Burton's latest magical world.
We interviewed Leah Gallo on her relationship with the director and asked her about her creative approach and her experience as a set photographer for Dumbo: here's what she told us. 
Your collaboration with Tim Burton began over ten years ago, and you've been working together on films that were very successful and also very different from each other. How did you first meet and how has your relationship evolved while working on all these projects?
I met Tim Burton in 2006 through Derek Frey (who later became my husband). Derek and I grew up an hour apart in Pennsylvania, but never met until Thanksgiving of 2005, when we happened to both be in the area visiting family. I was living in Columbia, Missouri at the time, pursuing a graduate photojournalism degree at the University of Missouri, and Derek lived in London, which is where Tim is based. Derek has worked with Tim since Mars Attacks!, so they have a long working history together: he most recently produced Dumbo for Tim.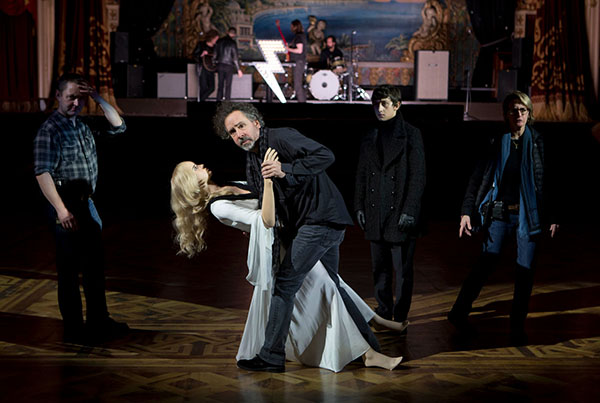 Tim and Derek were in Las Vegas filming for Bones, The Killers' music video that Tim directed. I joined them there and that was the first time I met Tim. I started travelling with them a lot after that, and an opportunity arose to shoot the scoring of Sweeney Todd: The Demon Barber of Fleet Street. Scoring almost always happens in post-production, but, because this was a musical, they were recording a lot of it in pre-production, so it was off the studio's radar. Derek threw my name into the last minute scramble to find a photographer and I was offered the job. I finished that up, and fortuitously, the photographer hired for Sweeney Todd, Peter Mountain, wasn't available for the first two weeks of filming. Tim and the producer Richard Zanuck were happy with the photos I had just taken on the scoring, so they offered me the job for those two weeks. 
I don't think they would have risked a whole film with an untried film photographer, but two weeks was manageable. Everyone was so happy with my two weeks of work on the film that Tim brought me on as a second shooter for the remainder of the film with the intent of doing a crew book that was given to the crew as a present at the end of post-production: thus began both my photography and book making relationship with Tim.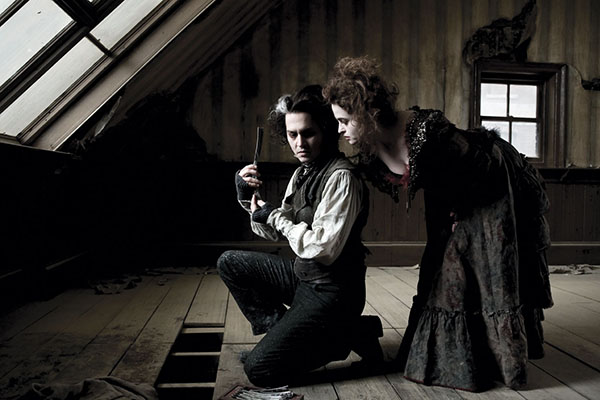 What's it like to be a set photographer for Tim Burton? Can you describe a "normal" day on set?
Tim creates fantastic worlds to photograph that are always beautifully lit, so I feel very fortunate to get to document them, and the crew. They're always a great group of people, because Tim surrounds himself with good people that become like family. 
Day to day on a film set is always different (especially if you're shooting on locations rather than sets, whether it's outside or inside, day or night, special effects shot versus a regular set up, etc.), and it also depends on which role I'm doing – if it's the main set photography or a portrait shoot or for the crew book. But I guess an 'average' day as a still photographer would be coming in for call, scoping out the set-up, figuring out where I can be as close to camera as I can to mimic what the camera sees, and then easing in there and being as unobtrusive as possible to get the necessary photos.
It's a lot of people skills, because filming can be tense, and a photographer is always the first to be booted. Relationships with the director, the camera crew, the actors, the grips, the sound department, the electricians and pretty much everyone else are vital to having any chance of getting a decent photo. People will work with you and try to make room for you if they like you, it gets a lot harder if they don't. It's about taking the work seriously but also understanding and respecting what others do, and moving out of the way if necessary: ultimately, the film crew getting the shot they need is always more important than the photographer's work. Sometimes it's just not possible to be in there, and that's always a good time to get good behind the scenes pics. And in between, during the set ups, is also a good time to capture the often dazzling process of making a film. Those to me are the most creative and fun photos to take.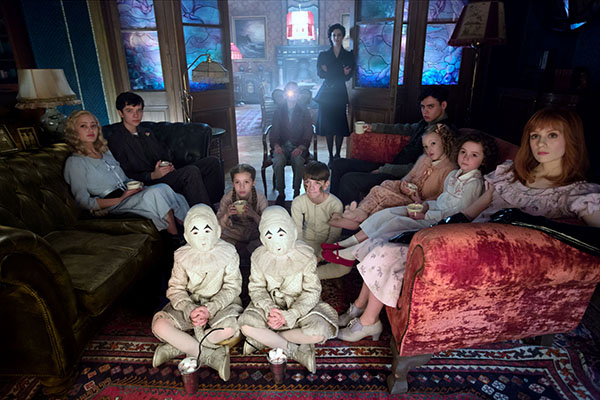 I'd like to ask you about your work on Dumbo. How did you approach this project and what was the main challenge for you?
Mostly, I concentrated on a vintage portrait series of the characters, did some work for the franchise department documenting the sets and props, and focused on crew and behind the scenes photos for the crew book I'm still working on. I wasn't the main still photographer on Dumbo because I wanted to have more flexibility with my hours due to mine (and Derek's) son Des, who was 3 at the time. So I only filled in as a unit photographer when the main still photographer, Jay Maidment, couldn't be there for whatever reason.
Derek and I had our second child, Sebastian, in August of 2018, and it derailed the timeline a bit for the crew book on this one, though I did finish writing and editing "The Art and Making of Dumbo", the in-depth companion book to the film, and also completed writing and editing a mini-booklet that will accompany the DVD.
Let's talk about "The Art and Making of Dumbo". I love how it encapsulates the essence of the film: your behind the scenes photos tell us a lot about the atmosphere on set, and your Vintage Portrait Series is absolutely stunning and perfectly in tune with the characters' personalities. I can tell that a lot of work went into it. Can you tell us about your creative process?
The text was an important part of the book-making process for me. I spent a long time researching, interviewing and reading through Press Kits, along with my own personal knowledge of the film, trying to combine these different elements into a journey that was both interesting and informative. The images came next, both artwork and the photography, which was a blend of Jay's and my photos in there, sprinkled with a few others. Holly Kempf Keller (the other half of the book making team, a graphic designer who also helped edit) and I carefully went through thousands and thousands of images to choose the ones in the book to best reflect the process.
It can be overwhelming sometimes – so many photographs and artwork showing so many different aspects of the filming! And there's so much to consider when deciding – images that complemented and expanded on the text without being redundant to other images, showing different stages and set ups, different costumes, different people, different aspects of the process, finding images that were approved and fit all of those criteria…but gradually, through a continuous back and forth conversation, and bouncing ideas off of Derek who is a huge help, we came up with the selection of photos and artworks that you saw in the book. 
Can you tell us about the Vintage Portrait Series? How did those come to be?
I knew from the start we would be including the Vintage Series. It was Jay who had the brilliant suggestion during filming that I should maybe do some portraits of the Medici circus troupe, and I eventually expanded that to the main characters and Dreamland as well (and basically anyone I could get my hands on to do a portrait of!). I studied old circus photos, and it was clear pretty quickly that the lighting should look as natural as possible, like it was taken outdoors, somewhere in the circus. 
For the Medici Bros. circus portraits, there were two film stages I alternated between – the 'backyard' stage, where the troupe lived, and the 'midway' stage, the circus fairground area. Which stage I shot the portrait on sometimes depended on which stage was available, and I would find a few spots on each that I thought appropriate for the character.
There were several I had strong visions for that I wanted on a particular stage in a particular spot though, which always complicated the logistics. For example, I was dying to get a shot of Danny DeVito as Max Medici in his ringmaster outfit in front of the Big Top, but of course his availability in his ringmaster outfit due to his shooting schedule was very limited, and when I finally had my chance to photograph him in the appropriate costume… The Big Top on the available stage had been collapsed for the special effects shot of it collapsing! I was really bummed not to get that, and it felt like the Max Medici shots were incomplete, though we did a few other options. But as the portrait series grew, I decided it would be great to also get as many characters as possible in their Medici Family Circus outfits on the Medici Family Circus stage as well (that's the circus at the end). Luckily for me, Danny was up for another quick shoot, and we had about five minutes in between a set up to do it. I placed him in front of the freshened up Big Top, used the light available, and got the shot I'd been hoping to get since the beginning. It was a huge relief and a big moment for me – it felt like it made the portrait series complete!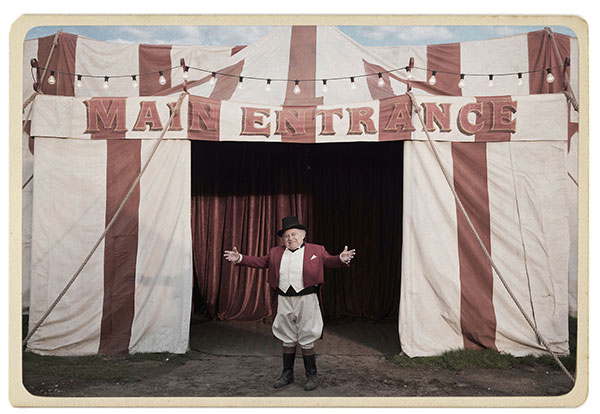 Another one I had a specific vision for that ended up being quite difficult to arrange was the one of Joseph Gatt, who plays Neils Skellig. He's Vandevere's muscle, and one of the scariest characters in the film, and I wanted the lighting and the portrait to reflect that. I was determined to get him on the Nightmare Island set, which had the spooky vibe I was looking for. Joe was completely up for doing it, but the set was in use the entire time it was operational, so finding a window when he was in the right costume and the set wasn't being used proved really tricky. We must have set up and had to cancel the shot half a dozen times! Eventually we did it at the very end of a shooting day, and Joe graciously waited around in his costume to make it happen. The key for me was having the torches lit. There was a bit of a miscommunication and all of the fire got turned off, so I had to chase after the poor special effects crew and convince them to relight everything to make it happen! They did though, for which I'll forever be grateful to Hayley Williams the SFX supervisor, and the end result is both beautiful and scary and worth all of the anxiety to get it.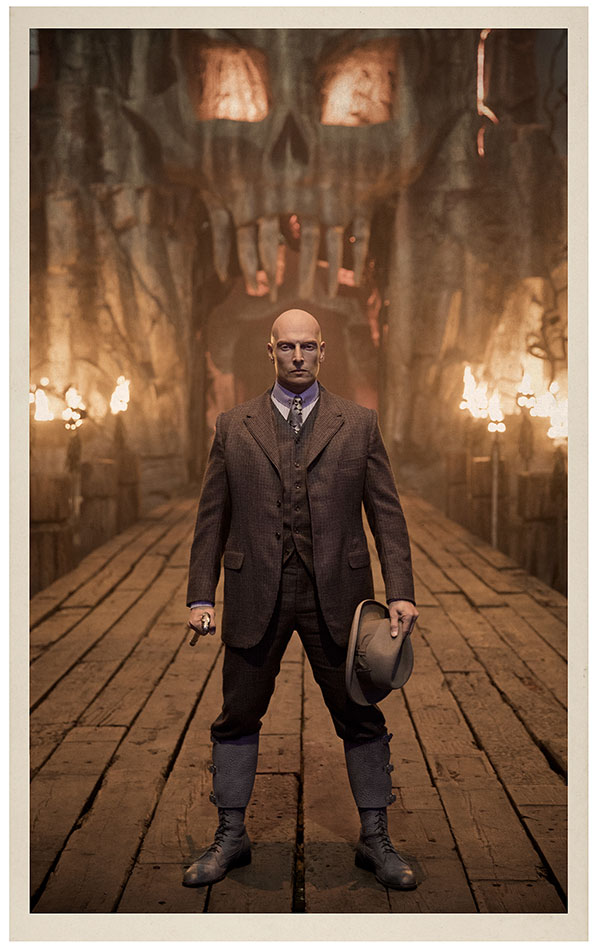 Eva Green's portraits (as Colette Marchant) were also a lot of fun to shoot. I used specific lighting in hers with the cooperation of the electrical department because I wanted them to have a starlet feel to them. I had a few locations picked out in the backstage area in the Dreamland Colosseum, and they're all gorgeous thanks to Eva's natural grace and the help of Francesca Jaynes, the movement coach and choreographer who helped us come up with some poses that lent themselves to Colette's elegant, silent film star quality. Eva gave me a lot more time than I had with some of the characters, so we had fun trying out different options. She's really lovely to work with. 
The clowns were also really fun to photograph. They instinctively knew what to do because they are real performers, so we had a lot of fun with poses. I photographed them solo, but also as a group, because there's an energy between them when they're together. I was able to shoot them in different costumes, and they were the ones that developed the ladder trick that appears in one of the final vintage clown photos (below). 
I could go on and on about the individual portraits – I remember pretty much every shoot, because it's always a bit nerve-wracking trying to work around when an actor will be free and where I'd like to shoot the portrait, and coordinating the electricians needed, props, movement coach or whomever else is needed…a constant juggling act!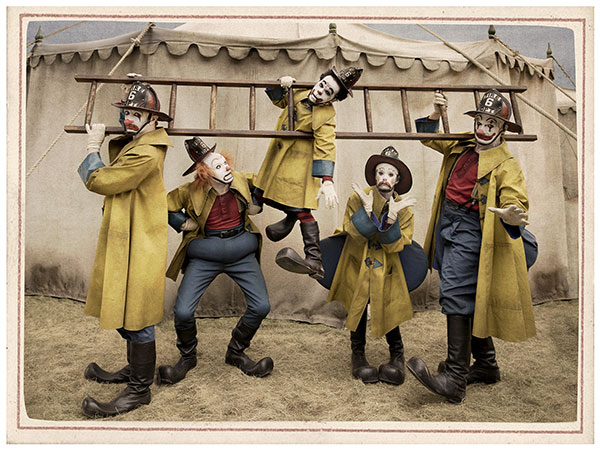 How did you approach the editing of your Vintage Portraits?
I played around a lot with how to treat the images. I wanted to give them a vintage-y look, but after trying them in black and white decided there was something really beautiful about keeping the color, and that a more desaturated look was the way to go. I spent a lot of time treating the photos with various layers – aging, grain, vignettes – to develop the look that you see in the final portraits. The treatments are all slightly different depending on what I felt each portrait needed, but I tried to keep them somewhat cohesive, so that they seemed part of the same universe. The fact that they were done on set and aren't dictated by the needs of marketing means that they capture a real flavour of the characters and the world, and hopefully serve as an authentic record of the film long past its release. 
One person whom I'd like to mention as an inspiration on these is the photographer, Mary Ellen Mark. I met her because she was a portrait photographer on three films I worked on: Sweeney Todd, Alice in Wonderland, and Dark Shadows. She was supposed to do Miss Peregrine's Home For Peculiar Children as well but she passed away. I formed a friendship with her through those films and visited her in New York a couple times. She was a huge supporter of mine, and of empowering women in photography. I have always been inspired by her eye, and her documentary work – one book she released was about her time spent with circuses in India. I think she would have liked these portraits. I really miss her spark.
What was the atmosphere like on the set of Dumbo?
There was a really warm and fun energy on set, especially when Danny DeVito was around. He was amused by the green elephant men and asked me to take a photo of him and one of the guys in the green suits. I always get a kick out of actors actually asking me to take a photo – that's rare. 
Do you have any stories you can share with us? We'd love to hear about an inspirational moment or a funny anecdote from the set!
One memorable moment was when I was doing the Stallion Star 'publicity' photos that were supposed to originally appear in the film. Later on, they cut most of the scenes with these photos (the only image they use in the film is my close-up portrait of Holt and Annie that you see a couple of times). But I photographed a whole series that I ended up adding into the book because they are so fun and show a little more of the character, Annie.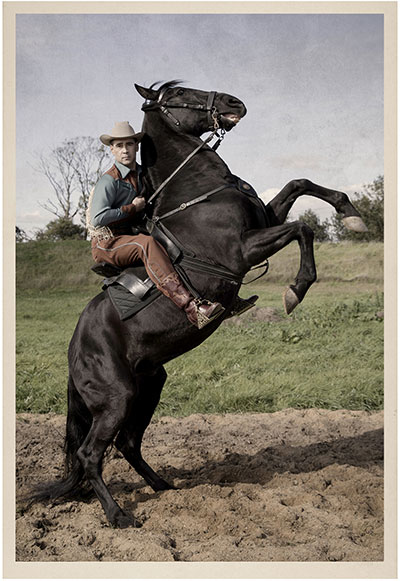 My favourite moment, though, was taking photos of Colin Farrell (as Holt) riding a rearing horse. He's such a nice guy and I was really impressed he likes to do his own stunts. On the final rear, the horse went up so high I have no idea how Colin stayed on! I think there was a moment when we all thought (including Colin) that he would fall off, and I had this vision of my photoshoot being responsible for injuring the main actor, but he somehow defied gravity, stayed seated – and kept his composure. In all the photos his face is cool and collected, and in most of them he's even looking at the camera. That's real star power there! I incorporated one of those rearing photos from the into the vintage portrait series because it was just too damn good a photo not to.
Finally, what's next? Can you tell us about your future projects or anything else you'd like to be involved in in the future?
I'm still working on the Dumbo crew book, and in the middle of editing a new Visual Companion for The Nightmare Before Christmas. I also work out of Tim's office for various projects like his touring art exhibits. I'll most likely be going to Brasilia for the installation and opening of The Lurid Beauty of Monsters, an interactive exhibit based on The Art of Tim Burton, a giant tome of a book that was one of the first projects Holly and I edited when we started working full time for Tim. 
I would love to work on Tim's next film, whatever and whenever that may be, if he'll have me as a photographer again (I never assume). I'm also open to working on other projects outside of the Tim world, if I can find the time and if the right project pops up, but at the moment I'm pretty busy balancing a family (I've got two kids now) and my work with Tim, so who knows. I'm always up for a challenge!
---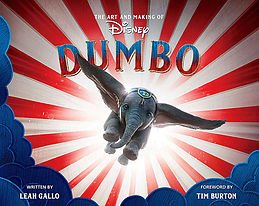 If you're interested in Leah Gallo's work, don't forget to check out Leah Gallo's official website, where you will find her unit stills, film portraits and behind the scenes images together with her information on her books and life outside of filming.