Land (Film Review): Robin Wright's Solid Debut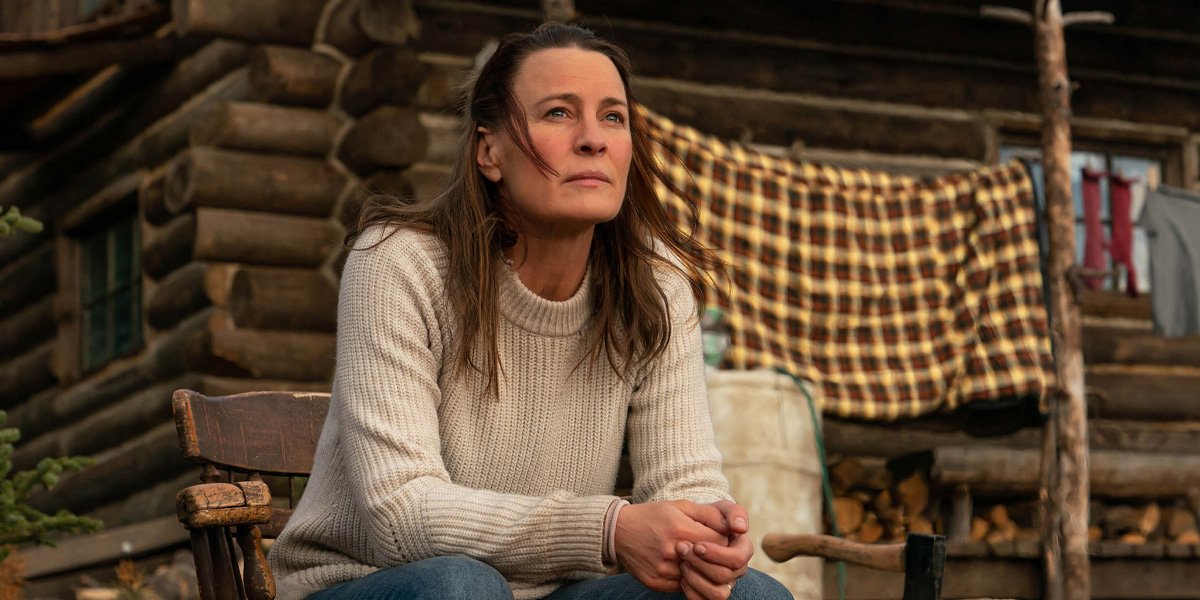 Robin Wright in Land (Sundance Institute, Daniel Power / Focus Features)
Land uses the structure of a back to nature wilderness story to delve into grief, in Robin Wright 's reasonably successful debut.
---

Land is Robin Wright 's (House of Cards) feature directorial debut. The film, also starring Wright, represents a new entry in the tried and true "back to nature" genre. Wright plays a woman who, for reasons we will learn but you can almost certainly guess, chooses to move to a cabin in rural Wyoming. Despite little background as an outdoorswoman, she acquires a home, buys a few boxes of supplies, throws away her cell phone, and leaves herself with nothing but the wilderness and her thoughts.
It's obvious why this sort of trope can be fertile terrain for artists – there's an appeal to getting off the grid that dates back to classic mythology and runs consistently through pop culture (including last year's The Call of the Wild). Those that are most successful tend to play at the tension between urban modernity and rural mos maiorum. Into the Wild, for example, is immensely invested in the societal influences that try to pull its lead, the memorably named Alexander Supertramp, back into the norm and eventually lead to his total rejection of standard society.
The problem with Land is that its main character – Edee – is not subject to that sort of tension. It's a transcendentalist story with the call of nature. Despite the framing as a survival tale, Land is far more invested thematically in grief. It's a woman frustratingly ostracizing herself so as to avoid the sharp reality of her personal tragedies. It's not a bad or inessential story to tell, but it tends to mute the effectiveness of the genre Wright has chosen to utilize.
The film is also painfully predictable. When Edee nearly starves, it happens early in the film's run time. There's no real tension because, clearly, the star-director-producer is not going to die in the first act. When a handsome stranger (the always welcome Damian Bichir, of A Better World and The Midnight Sky) shows up to rescue her, it's immensely clear that the character will remain involved. His character is reminiscent of the tough love sponsor in a typical rehab movie. Bichir sells the hell out of the character, but I cannot help but wonder what a better movie we might have seen if the focus were flipped between the two.
I can't help but notice how negatively this review reads, and I don't mean for it to sound that way. Land is eminently competent in filmmaking and structure. Wright is savvy in how she deploys her limited budget, and manages to make a bear attack and some wolves in the yard seem like effective threats without the deployment of immense CGI work. She has a lovely eye as well, and a gift for composition. While the screenplay was not my favorite at Sundance, Wright knows well how to put each actor in a position to covey the right emotion in each scene.
Land is also just a quietly pleasant experience. Despite a performance layered in grief, the story is life-affirming and uplifting. Having spent an awful lot of time cooped up at home with my family during COVID, the appeal of spending an hour and a half in the wilderness has never been greater. Wright is genuinely excellent in the lead role and conveys an immense amount of motion with as much subtlety as the screenplay will allow. Wright has shown more than enough promise here for me to think she'll be a director to watch in the future.
---
Land premiered at the 2021 Sundance Film Festival on January 31, and is now available to watch on digital and on demand.