Kingmaker (LKFF Review): Manipulating The Game Of Politics

Kingmaker (2022 London Korean Film Festival)
Though its story is messy and drawn-out, there's a lot of fun to be had with Kingmaker thanks to its snappy editing and sense of humor.
---

Korean cinema has always possessed a penchant for the political, and Kingmaker (킹메이커) takes that idea and runs with it. It's a high-stakes game of espionage and betrayal which, through its creative editing and directorial choices, allows the audience to really lose themselves in this complex narrative machine for two fascinating hours. The plot admittedly gets lost in its own complications and contrivances from time to time, but the film's visual style and dry humor should be enough to keep most audiences invested in this story.
Kingmaker tells the story of a political campaign strategist named Seo Chang-dae (Lee Sun Gyun), who teams up with one of South Korea's leading politicians (Sol Kyung-gu) and helps carry him to landslide popularity. But once the two masterminds begin to develop conflicting ideologies, their loyalties are tested and their powerful bond begins to slowly fall apart. Chang-dae certainly isn't the kind of character who's led by his moral conscience – in fact, many of the film's most exciting scenes revolve around complex plots orchestrated by Chang-dae in order to diminish the legitimacy of his political rivals. His outlandish ideas and flawless execution are always entertaining to watch, and it's in these contained scenes that Kingmaker really thrives.
Director Byun Sung-hyun really brings these moments to life with inspired direction that constantly subverts the audience's expectations, ensuring that we never know exactly what's coming next. Unfortunately, the film's overarching plot sadly isn't tight enough to really bring these moments together in an interesting way.
Kingmaker centers around politics above all else, but it often neglects to make this political battle actually worthwhile. From the very first scene, the film assumes that the audience is already invested in the characters and their motives without really giving any reason for them to be. The funny moments work really well, and that's mostly because Sung-hyun's sharp writing and fundamental understanding of his characters – but the emotional and dramatic moments lack depth because we're given no reason to really care about them. None of the characters are particularly likable (which is a crucial reason that the comedy works so well), but that can often prevent the viewer from really caring about what happens to them.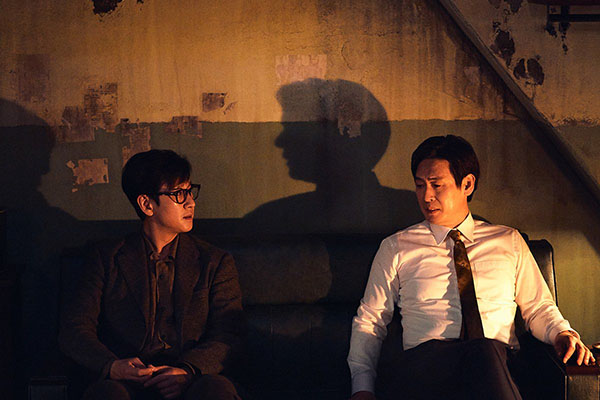 But that doesn't mean there's nothing to enjoy in Kingmaker. The two lead performances from Lee Sun Gyun and Sol Kyung-gu are both brilliant, with both actors successfully balancing the comedic and dramatic tones of the screenplay in a way that genuinely works and never feels forced. Their on-screen chemistry works excellently, and even though their characters are underdeveloped, they never fail to light up the screen in their several scenes together. Seo Eun-soo is also a standout, bringing a much-needed level of realism to keep things grounded in reality whenever the two protagonists lean too far into the unbelievable.
Beyond all the criticism, there's one feature of Kingmaker that absolutely deserves praise, and that's the editing. The film's editing team really brought everything they had to this project, and it shows in every single scene. From creative transitions to beautiful color grading, there's hardly a single moment where something unconventional and eye-catching isn't happening on the screen. Even those without an eye for a film's technical achievements will surely notice Kingmaker's excellence in this field, and it's easily the film's strongest aspect. The performances are good, the writing is solid, but the editing and cinematography are seriously impressive. It's easy to imagine that many aspiring filmmakers in the future will cite Kingmaker as a major source of inspiration, and that's a huge compliment to the film.
Ultimately, Kingmaker is made with a very specific audience in mind. It's a political thriller in the rawest and most literal sense, and if you're not the kind of person who finds excitement in the inner workings of large-scale politics, it's difficult to imagine that you'll take much away from the film's narrative. But that definitely shouldn't deter audiences from watching the film, because there are so many interesting decisions made by the director that you simply wouldn't find it any other Western thriller. Kingmaker is a film for those whose interests lie in either filmmaking or politics, and whilst it's bound to be an eye-opening experience for those audiences, more casual viewers may find themselves underwhelmed.
---
Kingmaker will premiere on November 12 at the 2022 London Korean Film Festival, which will run 3-17 November in cinema venues around London. Click here to read our other reviews from the festival.