John Malkovich 's Filmography: A Closer Look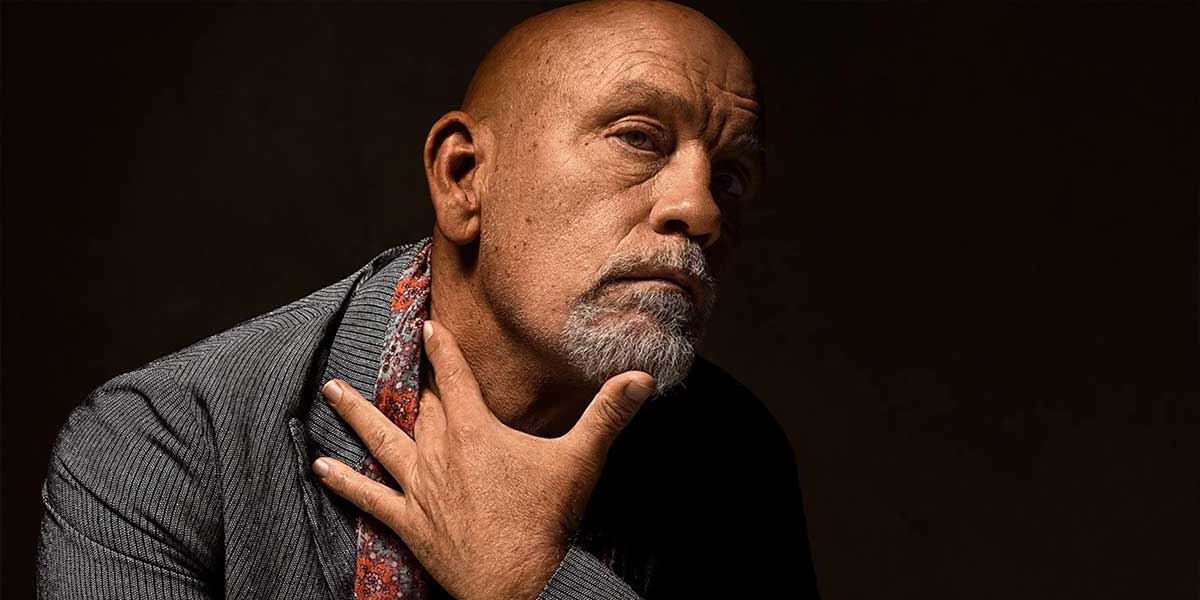 (Swiss Garth, GMBH)
Let's take a look at John Malkovich 's filmography and what the characters played by the actor have in common.
---
Have you ever wondered why it is that some of the best actors of our generation often appear in such terrible movies? Take John Malkovich 's filmography, for instance. In the course of his long career, the talented actor – in fact, one of the greatest actors of our time – has been involved in a total of 91 films, 20 TV shows, one videogame, two stunning music videos (for Annie Lennox and Eminem) and two Nespresso commercials (here and here: you're welcome).
Among those projects are cult classics (Dangerous Liaisons, Death of a Salesman), Academy Award nominees (Shadow of the Vampire, The Killing Fields, Places in the Heart, In The Line of Fire), festival favourites (The Ogre), acclaimed literary adaptations (Of Mice and Men, Disgrace), sci-fi fan favourites (The Hitchhiker's Guide to the Galaxy, Warm Bodies), low-budget indie gems (I'm Going Home), box office hits (Steven Spielberg's Empire of the Sun, Secretariat, the Coen Brothers' Burn After Reading), and the groundbreaking, genre-defining, wonderfully insane comedy/drama that put Spike Jonze on the map (Being John Malkovich). Yet, the Emmy-winning actor has also taken part in a long series of projects that are, at the very least, debatable.
Let me guess: if you try to recall any of Malkovich 's least successful films, none of these movies come to mind. That's because among the lesser known films in his filmography are some of those movies that go completely unnoticed: you watch them, you find them unremarkable, you instantly forget about them. So, as you conjure up memories from Malkovich 's most iconic and beloved roles, from Of Mice and Men and Dangerous Liaisons to Being John Malkovich and The New Pope, you magically start to forget that the eclectic actor has also taken part in some of the biggest movie flops of all time. Velvet Buzzsaw, Jonah Hex, Eragon, Red 2, Klimt, Mulholland Falls, Mutant Chronicles, Supercon, Mile 22, Mary Reilly, The Libertine, Beowulf, Johnny English, Zoolander 2: google them. Trust me, he was in all those movies.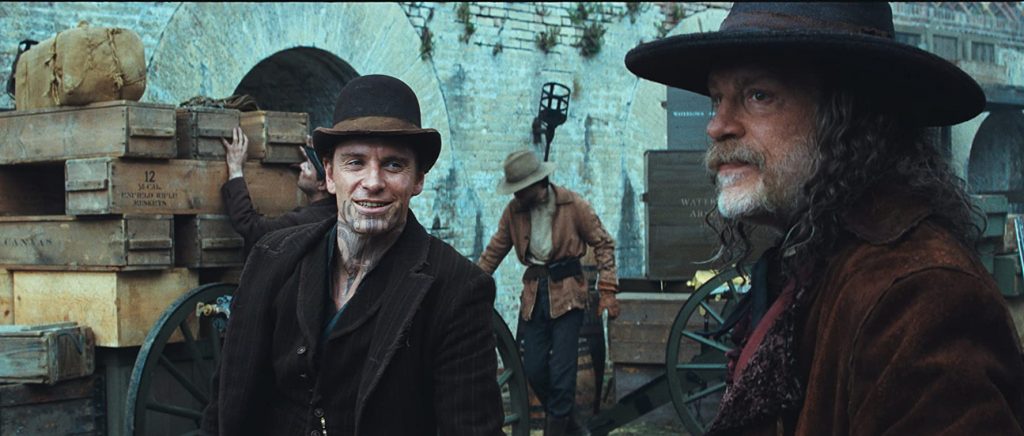 Don't get me wrong: John Malkovich is not the only actor whose long list of acting accomplishments is accompanied by just as many box office flops. Think of Robert De Niro's involvement in Dirty Grandpa, or Jake Gyllenhall and Brad Pitt's leading roles in Prince of Persia and Troy. Nicole Kidman and Nicolas Cage both star in Trespass, which earned a 10% score on RottenTomatoes. Cats and Serenity, collectively elected among the worst films of 2019, both feature an all-star cast, made of experienced thespians such as Judi Dench, Ian McKellen and Matthew McConaughey. Many actors have a habit of making terrible choices. Take Michael Fassbender: not only did he, too, feature in Jonah Hex, but his latest projects include The Snowman, Assassin's Creed and The Light Between the Oceans. Other actors are usually good at picking great quality screenplays, which only makes it harder to justify their less than ideal choices: let's not forget that The Astronaut's Wife, one of the worst sci-fi movies I've ever seen, has Johnny Depp and Charlize Theron as leads.
But let's talk about John Malkovich. The truth of the matter is that, though we'll never know why the Death of a Salesman actor favoured a certain project over another, what we do know is that John Malkovich improves the quality of any movies in his filmography simply by starring in it. And, though his filmography is a very diverse mix of hidden indie gems, box office hits and unremarkable movies, what most of these movies have in common is that the characters he plays are, in one way or another, extraordinary. Which might be the reason why he picked these projects in the first place, after all. So, let's take a look at what the most famous – and infamous – John Malkovich characters have in common.
---

ADAPTATIONS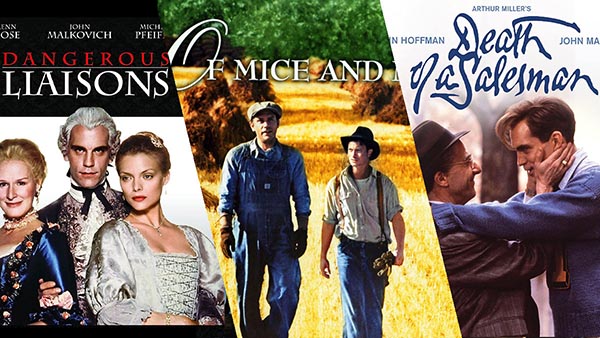 Let's start with the most obvious commonalities. John Malkovich's career as an actor began with theatre, so it should come as no surprise that, among his most acclaimed films, are several adaptations of either novels or theatre plays, and even a film whose very name was Adaptation. Not only did the versatile actor major in theatre, but he was one of the founding members of Steppenwolf Theatre Company, in Chicago, where he co-directed and acted in several projects, such as Sam Shephard's play True West and Lanford Wilson's Balm in Gilead, both Obie Award winners.
His love of theatre didn't stop there, and his Broadway debut, alongside Dustin Hoffman in Death of a Salesman, was a major success – so much so that the play's 1985 TV adaptation won Malkovich a well-deserved Emmy. But enough with the history lesson. Suffice it to say that Death of a Salesman, Of Mice and Men, The Glass Menagerie, Empire of the Sun, Dangerous Liaisons, Mary Reilly, Ripley's Game, The ABC Murders and even the music video for Annie Lennox's Walking on Broken Glass (in which he reprises his Dangerous Liaisons role) are all adaptations, and excellent ones at that. John loves adaptations, and he shines in every single one of them.
---

IMPECCABLE TASTE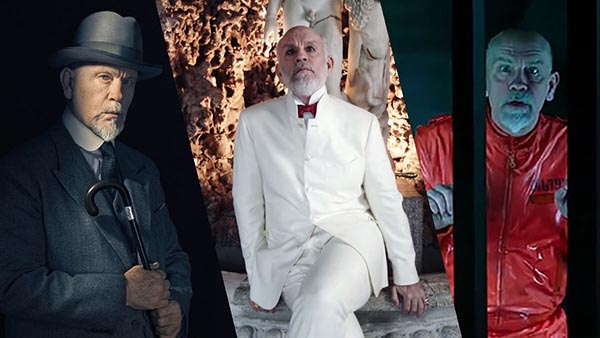 Let's talk about John Brannox (The New Pope)'s smoky eyeliner and red Christian Louboutin papal slippers. Let's look at Hercule Poirot's smart attire in The ABC Murders, Lucien Laurin's colour-matched outfits in Secretariat and even Skip Tailor (Zoolander 2)'s fashion choices as the creator of the "Members Only" jacket. In Dan Gilroy's less than successful Velvet Buzzsaw, the uninspired artist Malkovich plays is pretty much the only sane character in the movie, as well as a very stylish one. Brian Cook's first (and last!) film as a director, Colour Me Kubrick, is a delirious sequence of oddities that often fails to hit the mark, yet its leading character – a man who pretended to be Stanley Kubrick during the production of Eyes Wide Shut (true story!) – keeps our eyes glued to the screen with his eccentric outfits and clever puns.
Few know that Malkovich owns fashion companies and designs clothing lines, yet his stylish attire is guaranteed to catch viewers' attention in his films. It doesn't matter if you're watching acclaimed hits like Dangerous Liaisons, indie favourites like The Dancers Upstairs (also his directorial debut), incredibly clever music videos (check out his "Noodles?" line in Eminem's Phenomenal) or entirely forgettable releases (Arkansas, Supercon, Velvet Buzzsaw, Zoolander 2, to name a few). Whether he stars in a groundbreaking wonder or a masterpiece of blandness, John Malkovich always plays men with impeccable taste.
---

A VERY CLEAR MORAL IDENTITY, WHETHER GOOD…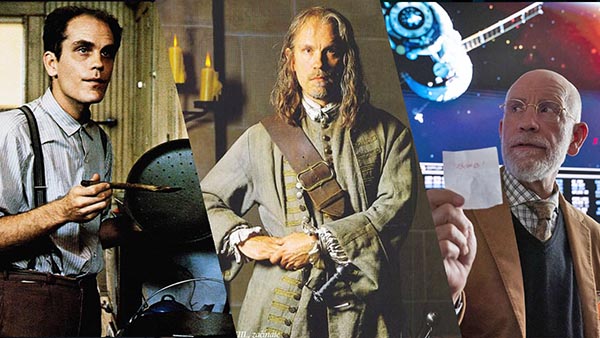 It's time to come clean: since its release in 1998, I've watched The Man in the Iron Mask at least thirty times. It's not that I can't recognise its flaws: the slow pace, the incoherent accents, the un-Dumas-like action and the overall cheesiness of the dialogues are among the factors earned the film a 33% score on Rotten Tomatoes. Yet, I keep coming back to this movie whenever I'm in need of something epic to watch, just like I can't help shedding a tear every time the three musketeers emerge from the fog, with Glennie-Smith's goosebump-worthy score sticking around for at least a minute longer than we needed it to. But who cares? The Man in the Iron Mask isn't perfect, but it strikes all the right chords in our nostalgic hearts, and we admire John Malkovich all-the-more for taking part in commercial, beloved projects like Randall Wallace's The Three Musketeers-inspired drama. And it needs to be said that Athos (Malkovich), Porthos (Gérard Depardieu) and Aramis (Jeremy Irons) are indeed responsible for some of the most memorable, epic and wonderfully corny scenes of the movie.
The goodhearted musketeer with terrible hair is one in a long list of morally good characters played by John Malkovich in his long career. From Places in the Heart's blind lodger to Extremely Wicked, Shockingly Evil and Vile's Judge Cowart, most of his characters have a very clear moral identity, no matter if they're the protagonist of a 1930s drama about farmers or a brief appearance in a 2019 serial killer biopic.
---

… OR REALLY, REALLY BAD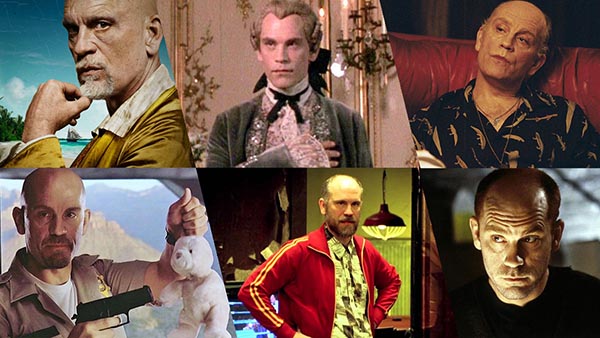 If John Malkovich is good at portraying goodhearted characters, he absolutely excels at playing ruthless villains. Which might have something to do with his extroardinary performance as Dangerous Liaisons' Vicomte de Valmont, his first truly evil role. When actors play such career-defining antagonists, they often end up being typecast by directors and studios, and that might explain Malkovich's impressive string of villains.
If Dangerous Liaisons' Vicomte is a manipulative, plotting nobleman, John's villains also include creepy assassins (In the Line of Fire), conflicted royals (The Libertine's King Charles II), famous psychopaths (Ripley's Game), legendary pirates (Crossbones' Blackbeard), Russian oil billionaires (Billions' Grigor Andolov), shady rangers (Arkansas's Bright), drunk CIA agents (Burn After Reading), vampire-loving directors (Shadow of the Vampire), morally questionable illusionists (The Great Buck Howard), flawed yet reedemable professors (Disgrace), shady impersonators (Color Me Kubrick) and criminal masterminds with exceptional names (Con Air's "Cyrus the Virus" and Rounders' "Teddy KGB"). And, though some of these films are definitely better than others, Malkovich's performances make most of them worth a watch.
---

THE WILLINGNESS TO PUSH BOUNDARIES
Being John Malkovich deserves to be in a category of its own, and it's not only because it's not just a film with John Malkovich but, rather, a film that revolves around a fictionalized version of John Malkovich, and whose entire plot is constructed around a portal that leads to John Malkovich's head. Written by a then-unknown Charlie Kaufman (Eternal Sunshine of the Spotless Mind, Synecdoche, New York, Anomalisa and a whole bunch of Oscar-worthy movies) and directed by a then-equally unknown Spike Jonze (Her, Where the Wild Things Are), Being John Malkovich is a psychedelic, unpredictable, clever gem of a movie that keeps on surprising with every re-watch.
And no, it's not really about a socially awkward man (John Cusack) who finds employment at a shady company with extremely low ceilings, where he finds a tiny door that takes whoever enters it "inside John Malkovich". Being John Malkovich is really about humanity, and our innate desire to escape our own boring lives in search for something more exciting, whether it's experiencing something new and absurd or becoming someone else entirely, at the risk of invading their life, damaging them irrevocably and, most of all, losing ourselves for good.
Being John Malkovich is an extremely clever movie. It tackles philosophical matters with irony, and it owns part of its success to John Malkovich's willingness to experiment and push boundaries. In this film, he dances while wearing only a towel, engages in many debatable acts while impersonating a string of manipulative characters, plays a puppeteer, becomes a puppet himself and even gets to say what's got to be one of the best lines in cinema history – "That portal is mine, and it must be sealed forever, for the love of God!".
He gives us a glimpse into his psyche, in a nightmarish, hilarious, incredibly watchable scene whose only dialogue consists of "Malkovich? Malkovich, Malkovich. Malkovich, Malkovich, Malkovich, Malkovich. Malkovich? Malkovich, Malkovich. Malkovich? MALKOVICH! … Malkovich." It's comedy at its best, but it's that kind of comedy that hides a much darker, scarier reality, and a vulnerability that the real John Malkovich had the courage to embrace when he got involved in the project. Because the truth is that, no matter how destructive and unethical its consequences may be, we'd all jump at the chance of becoming someone else, even at the risk of being spat out into that all-too-familiar ditch on the side of the New Jersey Turnpike.