Jack Rowan & Louisa Harland on Boys From County Hell: Interview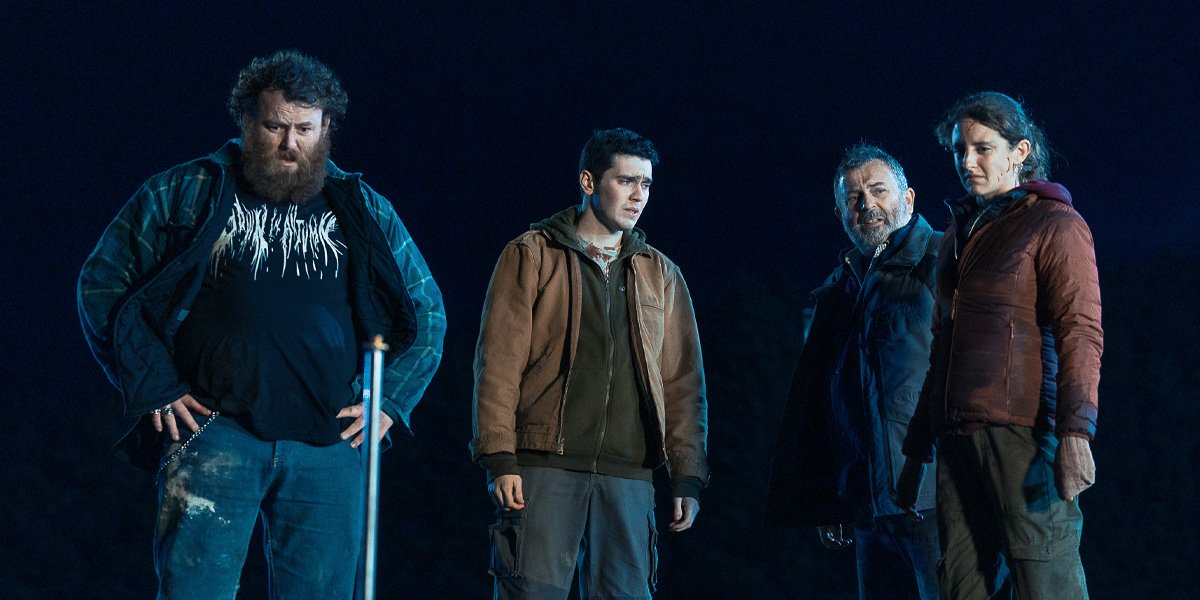 Nigel O'Neill, Michael Hough, Louisa Harland, and Jack Rowan in Boys from County Hell (Vertigo Releasing)
The stars of Irish vampire horror-comedy Boys from County Hell, Jack Rowan and Louisa Harland, discuss their involvement with the film and the excitement for its release this Friday.
---
Boys from County Hell is a lot of fun. Director Chris Baugh effectively combines comedy and horror with moments of tender emotion, and his assembled cast are naturalistic and really engaging on screen. Ahead of its cinematic release in the UK and Ireland, we interview two of the film's stars – Jack Rowan (Eugene) and Louisa Harland (Claire) – about how they got involved with the film, whether the effective genre-hybrid leans into its scares or its laughs more, and their excitement of finally seeing the film on the big screen after months pandemic-induced delays. Aside from a few technical glitches, it was a very quick but really great chat, and the pair were very gracious and enthusiastic.
---
Balance: Jack Rowan and Louisa Harland on tone
First off, thank you for taking the time to talk to us at Loud and Clear today. We're obviously here to talk about Boys from County Hell, and it's such a fun movie. One of the best things about the film was its blend of comedy and horror. Sometimes, when you watch films like this, it can lean a little bit too much into one, rather than the other.
Did you find it a challenge, getting that balance right, or was it just exciting getting to do both?
Jack Rowan: No, I was never worried at all. The vision of Chris, Brendan [Mullin, co-writer] and the team, from day one, was that they always knew exactly what this project was. And they knew exactly what they wanted from it. So our job was simple: turn up and just have fun, you know? And hopefully everything will come naturally. Those moments of horror and also the moments of comedy, they will come from a very natural place.
Louisa Harland: Yeah. And they did.
Do you think it leans more towards one or the other?
JR: I think there is a great mix of both. Because as well as the comedy and horror, it also has moments of tenderness and heart, but I'd say out of the two it would maybe lean more to comedy.
LH: Yeah, I think it's just a natural end result of the mix because that's quite true to form. It's in a sweet spot.
I'm admittedly a bit of a wimp when it comes to horror, so I'm maybe not the best judge.
LH: Well if you scare easy then that's great, do you know what I mean? It means they're doing [their job]. You're an easy target! [Laughs]
JR: In terms of genres in movies, it's amazing that a genre of film can make someone not be able to sleep or jump scare. Horror has been a genre forever and it still causes [reactions like that]. People still can't handle it! You are an easy target.
[Laughs] Absolutely!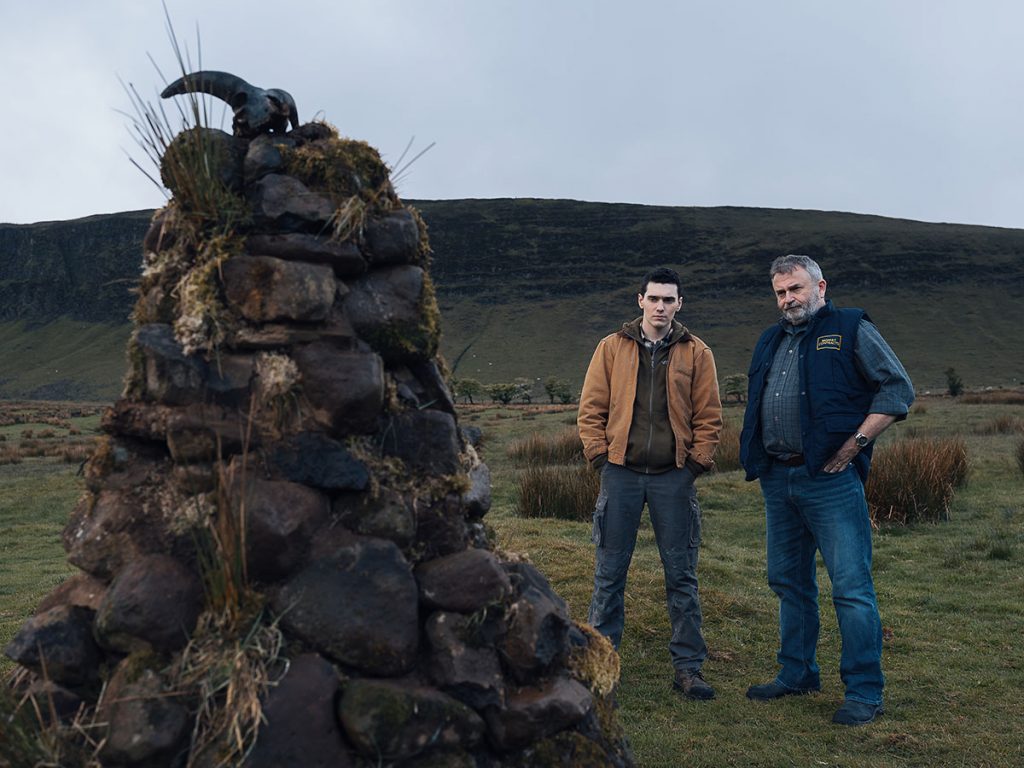 Aside from being scared, when watching the film I wasn't expecting to laugh as much as I did! A lot of that comedy comes from the naturalistic chemistry between the cast, that sense of over familiarity in this small town where everyone knows everyone's business, and the, for lack of a better term, incompetence in which you all have to deal with this situation.
What was it actually like on set? Were you aware that you needed to get that chemistry right?
LH: It came naturally!
JR: Yeah. We all got on really well, from the day we met. And I suppose that is so important: if we're all getting on, and we're all having fun, then that hopefully is going to [translate on screen]. You said that you had fun watching it, so that's mission accomplished!
LH: [Laughs] Yeah.
JR: Because we certainly had fun. It was a great ride from start to finish.
---
Involvement: Jack and Louisa on their auditions
So how did you guys get involved with the film? Did you audition, were you searched out?
LH: Yeah, we auditioned. I'd heard great things about these guys' script, because they'd been working on it for a while, and so I auditioned. [Unfortunately, Louisa's internet connection froze at this point for a few seconds.]
JR: [Laughing] This virtual stuff, man.
It's fine. What about you, Jack?
JR: So, I came across it as just a normal audition process, the script went to my agent and whatnot. And the thing that actually [excited me], my first buzz, was the fact that I had an opportunity to audition for a part with an Irish accent, you know, because that was always something I'd wanted to do. And then it just so happened that the script was really fun, really great. Then I had the opportunity to meet Chris and Brendan, went, in auditioned, and got the part, which was pretty good. I'll actually never forget that day, because some of the scenes I did in the audition are about talking to a friend that's moving to Australia. And that exact day, when I finished out audition, I was seeing my best friend after he'd been away in Australia for two years. So that was really quite something. And at the end of the audition, you know, I had that good feeling. That I'd smashed it. And then I'm going to see my friend, literally door to door. I'll never forget that day. It was brilliant.
Speaking of that accent! I'm not a local but I was very impressed, and I wondered, Louisa, if you were?
LH: [Laughs] Yes, no, I was equally impressed and equally nervous because I'm from Dublin, so I also had to put the [Northern Irish] accent on. So, when I heard Jack's, I was a bit nervous, because he had nailed it so well. But no, no tips! As I said, he could have been giving us all tips. It was actually quite creepy almost on the first read through because, he just really did sound so authentic. Very safe to work with.
JR: You should see my head. [Gestures that it's growing]
LH: [Laughs] Yeah, exactly! It's no longer fitting in the little screen. Sorry you had to hear that, Jack. But, you know, because Jack is Irish and his accent is so authentic it was definitely needed for the film.
JR: Thank you!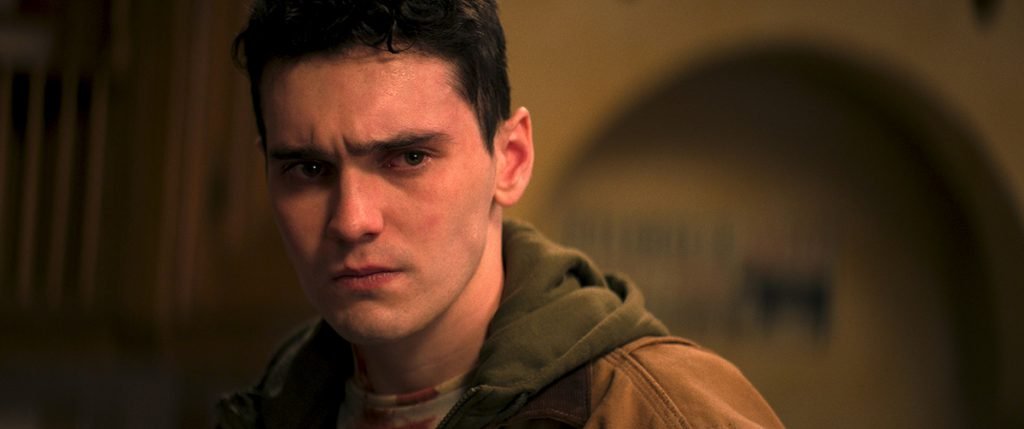 ---
Release: finally getting to see the film
You obviously filmed it a while ago. Are you excited for people to see it?
LH: Yeah, we did film it a while ago now.
JR: Well, annoyingly, because of the whole COVID stuff, we filmed it in 2019 and it was going to be at Tribeca in 2020, but around that time was when it all went mad. But it's kind of come full circle, because I'm glad that it's coming out at a time when cinemas are now open again.
LH: True!
JR: Chris and Brendan, they deserve that. And it is one of those movies that you want people to watch on a big screen and vibe with it, you know?
LH: I haven't seen it on a big screen!
JR: Neither have I!
LH: Have you seen it on a big screen?
No, I watched it on my computer. Which, obviously, is not what the guys intended! But I do hope it see it on a big screen.
JR: Definitely. And it's out soon, I'm hoping it's still in cinemas when I'm back. I'm back in a few weeks.
Are you somewhere nice just now?
JR: I'm in South Africa! But I'm really hoping, because we always spoke about being together, all of us, and watching when it hits cinemas, so I'm really hoping we get that.
---
Forward: Jack Rowan and Louisa Harland on favourite vampires, future projects and getting back to normal
With there being no shortage of vampires on film and TV, there was a feeling of 'freshness' about the film. The lore plays on existing expectations in such a fun way. Aside from Abhartach, do you have a favourite on-screen vampire?
JR: I love The Lost Boys, that's my top vampire. I like Kiefer Sutherland and everyone in that film.
LH: I'm going to second that, because other than that, I actually can't think of a vampire that I loved so much. Apart from our film!
Finally, what do you guys have coming up next?
LH: I'm doing the third series of Derry Girls. At last! We've unfortunately had a lot of scheduling issues due to COVID. But I'm really looking forward to going home and, you know, getting back to that.
Back to some sort of normality?
LH: Yeah that is normality for me, absolutely.
And Jack?
JR: Yeah. As I said I'm in South Africa at the moment, doing Noughts and Crosses [season two], and I'm really glad after the whole [COVID] thing, just to be back in front of the camera. It's a good sign of hopefully it all coming back – TV and film and theatre and music, the arts – as it's all incredibly important. I'm just glad to be back doing it.
Well, I have to let you guys go now. Thank you so much for taking the time today, best of luck with all your future projects and, of course, the release of Boys from County Hell.
LH: Thank you so much!
JR: Thank you.
This interview has been edited for length and clarity.
---
Boys from County Hell is now available to watch on digital and on demand. Read our review of Boys from County Hell.