Interview: Barry Ward & Anna Bederke on That They May Face The Rising Sun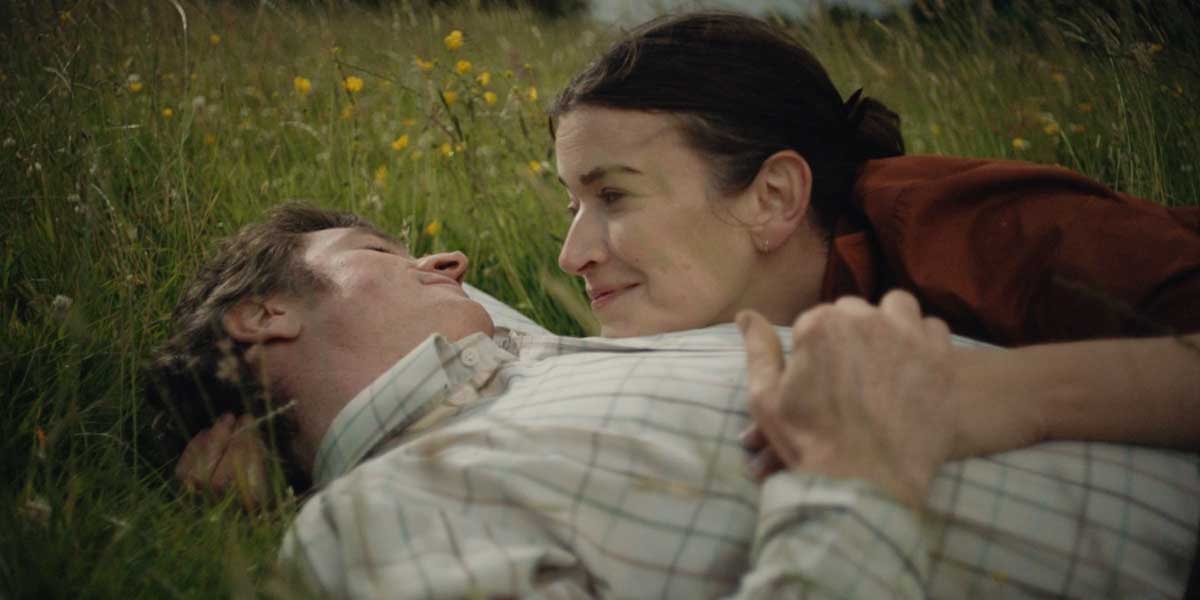 We sit down with That They May Face the Rising Sun stars Barry Ward and Anna Bederke for an interview as part of the 2023 London Film Festival.
---
A reflection on nature and history, Pat Collins' That They May Face the Rising Sun is a beautiful and touching film on the ordinary lives and heart-warming community in 1980s Ireland, featuring Barry Ward and Anna Bederke in the two main roles. From their interview together, we can immediately notice how well the protagonists get along with each other, which undoubtedly translates into their performance on screen. Similarly, it is beautiful to see that the sense of community shown in That They May Face the Rising Sun has translated off screen with the cast members' relationship with each other and their experience on set, which both Barry and Anna look back fondly on.
Based on a book of the same name by Irish writer John McGahern, That They May Face the Rising Sun focuses on the main couple, Joe Ruttledge (Barry Ward) and Kate Ruttledge (Anna Bederke) who move away from London and go back to live and work in a small lakeside community in Ireland, where Joe grew up. They are now fully integrated with the rural life of 1980s Ireland and have become one with the lakeside community, populated by memorable and unique characters, including Patrick Ryan (Lalor Roddy) and Johnny Murphy (Sean McGinley). As the film goes on, the audience gains an insight into the ordinary daily life of the community, including their rituals and work patterns.
That They May Face the Rising Sun premiered at the London Film Festival, where we sat down with the lead actors of the film, Barry Ward and Anna Bederke, to discuss their preparation for the movie, their experience on set, and much more. Read our full interview!
---
How Barry Ward & Anna Bederke Became Involved with That They May Face the Rising Sun
How did you first kind of come on board with this project?
Anna Bederke: I remember I was reading the script for the first time on a park bench, and I enjoyed it, but I was constantly waiting for a plot. After finishing it, I kept going back to it: with every day that passed, I kept thinking about how interesting it was. There's something about the story that is so unique and special. So I decided wanted to do this, but at first, it wasn't really clear if I could make it. I also knew Pat Collins was making it: I have watched his previous documentaries and he has a certain way of looking at things that I find beautiful and interesting.
I really enjoy films that have a poetic side without being kitschy, and I felt that this story needed to be told in a certain way. It was a slow journey, like diving slowly into the world of That They May Face the Rising Sun and the characters by working on them and meeting all the other beautiful actors with whom I fell in love right away. It was such an amazing experience that I don't know even how to say it: I felt so lucky. It felt gentle and effortless in every sense, and that's an unusual experience for me, in shooting a movie. It was really beautiful; I am really thankful that I could experience that.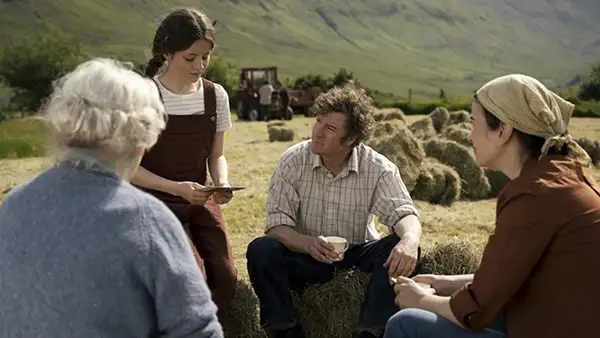 Barry Ward: I knew McGahern's work and the book, "That They May Face the Rising Sun," very well, and I knew Pat was going to adapt it. We have mutual friends – people that I have worked with in the past – and I remember putting the word out: I said, if you're talking to Pat, tell him that I'd love to do this. They called me in for an audition, but for whatever reason that fell by the wayside – which is great, because I don't like auditioning.
Instead, we decided to meet for a chat in Dublin, in a hotel: it was much better than an audition! I knew we would get on well because we have mutual friends as well, so we chatted for about 10 minutes, largely about John McGahern. Then, Lalor Roddy [who plays Patrick Ryan] came in after me for his meeting. He and I go way back, so we had this big hug and a part of me was looking at it from Pat's perspective, in seeing that we already had this bond. He cast both me and Lalor, so it was seamless and effortless: everything worked out very smoothly. I was also kept abreast of the other casting as well: Pat was telling me who he was casting and in what roles, and I had worked with most of them before.
The reality of it was amazing: how the shooting went mirrors the movie itself in the way that Kate and Joe are the two constants: they are central to it and then other people come in and out and interact with them. On set, we had several brilliant actors come in for a few days and we would get to catch up and hang out, and then they'd move on, and the next one would come in, so it was kind of art imitating life.
---
Barry Ward & Anna Bederke on how They Worked on their Characters in That They May Face the Rising Sun
How did you prepare for your roles in That They May Face the Rising Sun? Did you read the book beforehand?
Barry Ward: I'd read the book years before, and I revisited it. But in my experience, for the most part, you have to put away the book and the script becomes the gospel you have to adhere to, work with, and concentrate on. In That They May Face the Rising Sun, during the shooting, we kept going back to the book: the script itself felt like an ever-evolving element. Pat was constantly including more passages in the book, and I remember him saying to me: "if there's anything that really stands out for you, bring it to my attention, and we can try and incorporate it". So I did revisit the book when shooting.
Anna Bederke: No, I haven't read it, I'm still looking forward to doing it. Like Barry, I believe that you don't have to read the book, because you're working with the script. And the script is what you say yes to. I worked on the character: how you approach a character is different every time. Since Kate is an artist, I had to learn a lot. I was really into painting when I was younger, so it was for me a great joy to connect to something that was far long gone. And I also had to learn this piece of piano, I was totally afraid to do that. It was also definitely getting to know the people, Barry, Lalor Roddy, and Pat – I really had the feeling that was so much of my preparation. It was also just being there, in the landscape, and meeting people who are really carding wool and knitting.
Anna, I know you've acted in different languages in your career: what are the biggest challenges acting in a second language for you in That They May Face the Rising Sun, if any?
A.B.: I don't think there was one. I think it would have been if I had to have a proper accent. But other than that, I use what I have at hand. Of course, every language has a different way of thinking, so there is a difference there. But I don't have the feeling it's more difficult or easier. Even with a specific accent, I don't believe that would be different, because you work on that when you prepare for the role, and then the difficult part is more in the preparation, because you have to own an accent and really to work on that. It's the same as with everything in acting: you have to learn new things. It could be the language, it could be a certain way of holding your body… Or playing the piano as well, for me, in That They May Face the Rising Sun.
The relationship between your two characters really shines but at the same time, we don't really explore that as much and don't see them alone. How did you work on creating this relationship in a way that feels authentic?
B.W.: We hung out a lot because our schedules were the same, it's just having free time together. We also had a week of rehearsal beforehand: we just spent a lot of time together and chatted. And we get on very, very well and think a lot alike: we are into similar books and films. It was very easy, and I think that comes across on screen. Funnily, there was one scene set in a bedroom, it was just a conversation on the edge of the bed, and I think Pat thought it had to be different because in That They May Face the Rising Sun, there is not much in terms of sexuality, you don't know anything about their intimate lives. He deliberately took that scene out of the bedroom because he didn't want to open that can of worms in that way, so he thought it best to avoid it. But I think we found moments of intimacy elsewhere in a way that feels very natural and really works: for example, the moment in Kate's studio or the scene in the meadow.
A.B.: I think it is also about how someone is available with you: with Barry, it was very easy, he was always very present and natural. Acting is in a way about connecting, even if there is no connection visible, but it is really about the connection with whoever is in front of you. That is a lot easier if your acting partner has the same approach and is ready to be honest. For us, I felt like it was right from the beginning. It felt easy because there was no pretentiousness in any way and you don't have to work against each other, which can usually happen a lot. In the end, I think that is what translates into That They May Face the Rising Sun.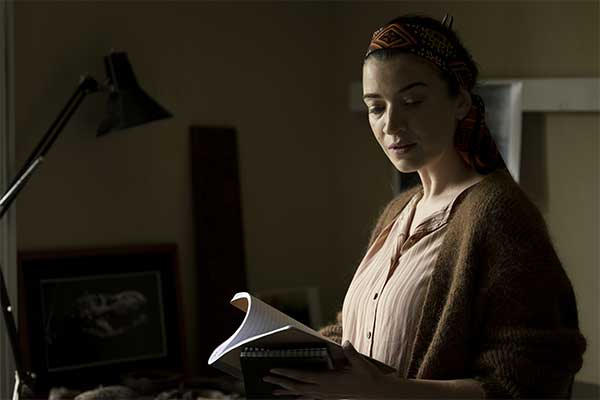 ---
Shooting That They May Face the Rising Sun & Experiencing the Community Life on Location in Ireland
It is particularly relevant, especially after COVID, to see a movie showing a community: did you reflect and work on the community aspect of That They May Face the Rising Sun on set?
Barry Ward: Yes, absolutely. Our job, particularly as Barry and Anna, was to create that: to live that experience that Joe and Kate have, and that then by extension invites everybody else in. I've learned that it's important for number one and two, on the call sheet, to set the tone for the entire shoot. And luckily, we were both cool and chill. So, everybody coming in was having a really wonderful time. It was like a retreat: it was a really special time and place. And I have a history with a lot of the other actors – they're all super smart, well-read and interesting, so there were a lot of great, heavy conversations in that part of the world. It was a real bubble.
See Also

Anna Bederke: and very essential: I feel like everything I have seen was necessary and down to earth.
How did you feel shooting on location?
B. W.: It was amazing. It's a part of the world that I'm quite familiar with. My dad was born there, he made his first communion with John McGahern. It's in my blood, it is in a way a home away from home. It was such a positive experience also because of the environment of the shoot and the people we were lucky enough to work with on it. We created that sense of community that you see in the movie, it was just a joy to live. What you see on the screen is what we really lived for the six weeks – that's stunning.
A. B.: I had not been to Ireland before, so I cannot really separate what is Kate and what is Anna in this experience, because I also had to get to know my surroundings. I think this is also what Kate goes through in That They May Face the Rising Sun as she's an outsider. It was the same for me, I learned a lot through meeting all these wonderful people and being surrounded by nature. I have the feeling that Kate is not operating for her, so it's really important to get into that space, it was really helpful just to be a nature actually, I was walking a lot on set, sometimes by myself or with, Lalor, with Barry or with Pat.
It was all these little things that made you listen and learn. And that's also something that I learned by just hanging out with the cast because I really could tell there's a big quality to all of these people I work with: they're amazing listeners. I have never experienced that in my life, you get that just by observing them and how they interact with one another. I found that so inspiring. It was very open-minded, very friendly, but calm, it was always down to earth – I don't know how they do it. Like the film, it is about this simple beauty of listening.
---
Presenting That They May Face the Rising Sun at the London Film Festival
What does it feel like to present That They May Face the Rising Sun at the London Film Festival? This particularly stands out this year, because many actors couldn't attend it due to the SAG strikes in the US. What does it feel like for you to be here and be able to talk about what you did?
Barry Ward: Amazing, I adore London. I've been living in London for 18 years, and I've attended this festival before. It's also a prestigious festival so it's great that they've accepted our film. It's exciting, I've not had a film play here before; I am kind of steadily working my way around all the festivals. It is great to have That They May Face the Rising Sun playing here. I'm really curious and excited about the premiere because it will be the first time I see the film with an audience. And that, for me, is kind of the end of our work: you get to experience it with an audience and answer some questions.
This interview has been edited for length and clarity.
---
That They May Face The Rising Sun had its World Premiere at the BFI London Film Festival on 8 October, 2023. Read our review of That They May Face The Rising Sun!