Huesera: The Bone Woman – Film Review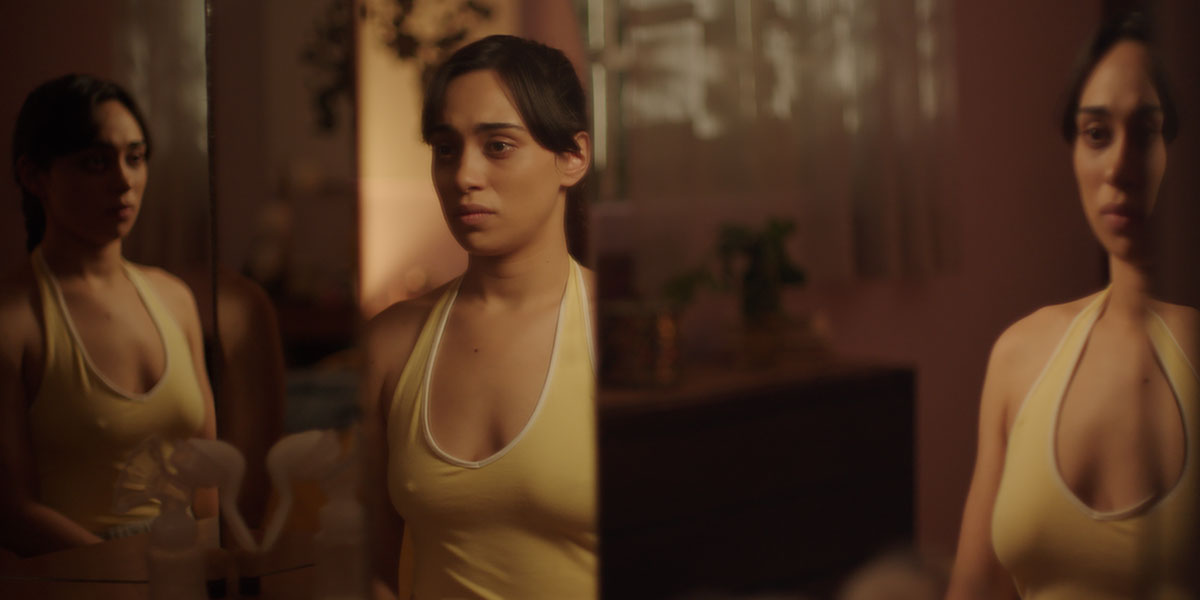 Huesera: The Bone Woman (XYZ Films)
Michelle Garza Cervera and Natalia Solián elevate Huesera: The Bone Woman to new heights. This maternal body horror film unnerves and enthralls.
---

In 1989, Dr. Clarissa Pinkola Estes wrote a book called "Women Who Run with the Wolves: Myths and Stories of the Wild Woman Archetype". In that book, there's a short story about La Huesera (or, in its English translation, The Bone Woman). It tells the fictitious tale of a woman who gathered bones, primarily those of wolves, in the desert. And once she assembled an entire skeleton, the woman sang to it until it came into being. Then, the "re-animated" creature freely ran away into the horizon and later transformed into a woman. According to the story's author, the bones represent our indestructible life force. The hymns the woman sang to the creature can be seen as breathing the truth of one's psyche and understanding the world's darkness.
That reborn entity provides a glance of the soul when everything seems to have been lost or yielded, so it roams around the plains, reminding us of the things we still have before it is too late. This darkness is intertwined with the horrors of impending (and eventual) motherhood in Michelle Garza Cervera's feature-length directorial debut Huesera: The Bone Woman, titled after Pinkola Estes' short story. While many films have tackled maternal fears and the tormented pressures that arrive with them, this one definitely leaves a notable impression due to the director-screenwriter's unique perspective. Cervera blends Mexican myth with re-invented genre conventions and the narrative material the film is inspired from to create a titillating horror picture.
Huesera begins with a group of people making a pilgrimage to the Virgin of Guadalupe statue, praying for their respective lives to go right and without trouble. One of those people is Valeria (Natalia Solián), who's there with her mother (Aida López). Valeria has been trying to start a family for a long time but to no avail, and she's praying that she has a baby with her husband Raúl (Alfonso Dosal). Finally, her prayers are answered: soon after their trip, Valeria becomes pregnant. She's excited at first, because this brings her a lot of joy. But as time passes, she begins to envision a series of horrifying hallucinations. These visions begin to take a toll on her life, and she sees some dark, faceless entities trying to inflict her and her child harm.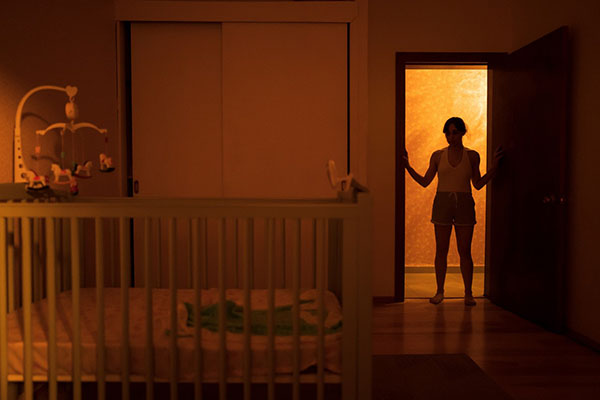 Through beautifully and haunting cinematography by Nur Rubio Sherwell, Michelle Garza Cervera portrays the horrors of the side of motherhood that isn't captured on screen quite often. Huesera depicts the cost of being a mother, giving up your dreams and aspirations to start a family, and leaving everything behind to start anew. Of course, Valeria wants this child and loves her dearly, but society wants to set up an array of terms and regulations that don't align with her needs. She doesn't want to succumb to the pressures that might arrive from it; hence, later on, those strains manifest into a living nightmare that haunts her daily living. Valeria defies those patriarchal norms, which she is obligated to follow by her family, and this makes it hard for her to cope with being a mother who cares and nurtures.
Her mind and body are at a tug-of-war due to the effects these strains are causing her. The pressures begin to swallow Valeria whole: she seeks the autonomy and happiness of the life she used to live. This forms a series of scenarios in which Valeria confronts the darkness blurring her mind. In the end, Huesera is a film about a woman's individuality. Michelle Garza Cervera uses the horror genre to discuss such topics through a darker lens, to reflect on the reason why society wants to shape our identities for us. It contains a solid emotional punch because of how Natalia Solián portrays Valeria and her struggles with depression. Her facial expressions and body contortions showcase the power of her acting chops.
Whether or not Valeria succeeds in her pursuit of contentment, Huesera: The Bone Woman keeps the audience alert and intrigued with its blend of mysticism and Rosemary's Baby-like delusions. The dread that slowly creeps up as the movie continues arrives from a combination of two main aspects. The first one is its eerie atmosphere, which is created by the negligence of not society's norms, and the second one is the implementation of body-horror elements. While the former fuels most of the film's runtime, the latter arrives at the second half of the picture, like a pitch-perfect addition to complete the film's psychological horror cycle with a memorable sequence. In Huesera's ending sequence, Michelle Garza Cervera takes inspiration from Lars von Trier's brilliant and provocative film Antichrist (2009), which is also a film about despair caused by loss, longing, and motherhood, but with a more brutal and exploitation twist.
There is a particular scene in Huesera that reminds me of the Lars von Trier picture, and it is the scene where Willem Dafoe and Charlotte Gainsbourg's characters are embracing in the woods after the tragic loss of their child. Hands begin to stick out of the tree near them, creating a haunting picture that resembles their character's conjoined pain and melancholy. In Huesera, there's no love scene in that hallucinatory ending, but there are blank-faced bodies toppling down onto Valeria in a dark forest, which creates an eerie sequence similar to the one seen in Antichrist. Like in von Trier's picture, this scene in Huesera is like a beautifully horrific painting that brings a culmination to a chapter in the leading character's life.
It's a perfect climax that brings an end to the nightmare Valeria has been experiencing. Every pressure of the dilemmas she has been going through since postpartum converges into an amalgamation of horror thrills. Michelle Garza Cervera manages to craft a distinctive horror picture that speaks about a rarely commented topic in cinema. It's a brilliant directorial debut that should bring attention to her future work and make Natalia Solián an international star.
---
Huesera: The Bone Woman is opening in US theaters on February 10 and landing on VOD on February 16, 2023, from XYZ Films.