House of Gucci: Film Review

Lady Gaga stars as Patrizia Reggiani in Ridley Scott's HOUSE OF GUCCI (© 2021 MGM Pictures Inc. )
House of Gucci shifts through several tones as it spotlights the dark side of power, pleasure, & privilege, but it's anchored by an endlessly entertaining ensemble.
---

If you were alive in the 90s, it was almost impossible to avoid the shocking scandal surrounding the Gucci family following the assassination of Maurizio Gucci, ordered by his ex-wife Patrizia Reggiani, later dubbed "The Black Widow" by the Italian press. However, all the heresy you may have heard can't come close to summing up this scintillating saga of the dark side of power, pleasure, and privilege, and that's why Ridley Scott's (Alien, Blade Runner) House of Gucci seeks to offer us a lively – but no less lurid – history lesson, filling in the blanks of this tale of betrayal and broken hearts with sparkling style. Some may call this colossal story a tad overstuffed – and with a runtime of nearly three hours, there's certainly a lot of ground to cover – but due to the raucous nature of this real-life tragedy, there's always something outrageous occurring onscreen to hold our attention, and, if nothing else, the allure of its award-winning and tremendously talented ensemble cast earns our interest time and time again, particularly with the glorious Lady Gaga in the lead, relishing the opportunity to play such a caustic and controversial character – and showing that her success with 2018's A Star Is Born was no fluke.
The doomed romance of Maurizio (Adam Driver, of Star Wars and Marriage Story) and Patrizia (Gaga) begins after a chance meeting at a splashy upper-class shindig, where the pushy Patrizia bewilders the meek Maurizio with her beguiling brashness, drawing him in to dance despite his initial reservations. Thought the two part ways, Patrizia is smitten with her peculiar paramour, and strains to seek him out by any means necessary, piquing his interest with her persistence. A swift courtship later, and the two are set to be married, much to the chagrin of Maurizio's father, Rodolfo (Jeremy Irons, of The Lion King and Zack Snyder's Justice League), who subsequently disowns his son and shuts him out of the company for shacking up with someone out of their social class. However, Maurizio's uncle Aldo (Al Pacino, of The Godfather and The Irishman) fights to bring Maurizio back into the fold to breathe life into the Gucci brand again, especially since his own son, the purposeless Paolo (Jared Leto, of Suicide Squad and Blade Runner 2049), is of no use when it comes to business management. Maurizio is uninterested in Gucci's affairs, but Patrizia convinces him that this is his chance to make something of himself and his family's legacy – partially because she sees success for herself in the future, as well. But, as their fortune and fame grows, Patrizia schemes to cut Aldo and Paolo out after they cross her, and soon enough, she and Maurizio are at odds too, further causing her fury to fester.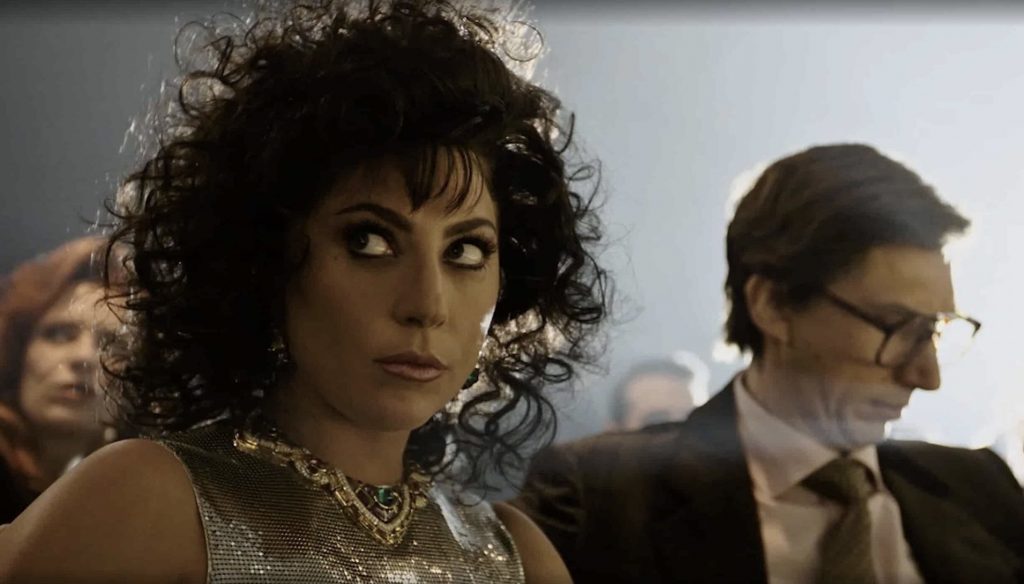 With so many stars and subplots to juggle, House of Gucci can at times feel a tad bloated, and it does struggle at the start to land on a tone for this massive melodrama. Gaga and Driver treat their stormy love story with straightforward sincerity (after a slightly stilted meet-cute, and in spite of the former's propensity to later lean into pomposity in her standout scenes), but Leto and Pacino approach their characters from a campier and more comedic angle, creating some disconnect in terms of the emotions the audience is supposed to be experiencing in any given scene. This isn't to say any performer is serving up subpar work – quite the opposite, actually – but just that it takes awhile for Gucci to feel comfortable in its own skin and find the right "flavor" for the film. Thankfully, towards the end of the first act, as Maurizio rejoins the family, Gucci does indeed find its footing, and what follows is exceedingly electric and expertly exaggerated entertainment, portraying these powerhouse personalities at their most pompous but still provocatively enthralling. Even if its ultimate conclusion is a bit inevitable and it takes a little too long to reach this resolution, Gucci always comes up with some new chaos to keep us captivated, preventing dull proceedings from dampening our investment.
However, the most essential element to Gucci's effectiveness is undeniably its exceptional ensemble, with each performer wholly committing to their individual characters' idiosyncrasies (Patrizia's punchiness, Maurizio's moderation, Paolo's pretention, etc.) and completely commanding the screen every second they take center stage. No matter what energy they bring to the movie, each actor brings it with every fiber in their being, leaving it out for all to see, making for sumptuous showmanship that is, at the very least, always fascinating to observe. Leto – already the source of much acclaim – is an absolute livewire as Paolo, disguising the disregarded son's insecurities behind a constant display of brazen bombast, making for a hilarious yet subtly heartbreaking performance that continually surprises us as the star evolves in the part.
Pacino is likewise a pleasant presence, settling into this world of Italian scheming quite well (which should come as no shock given his extensive experience in the crime genre), but even if he doesn't have to stretch himself as the strident and showboating Aldo, he's endlessly engrossing every time he saunters in to take control of a conversation, and his self-assurance lingers long after he leaves a scene. Despite being far subtler than his on-screen relatives, Driver too turns in some of his best work here, making Maurizio's progression from passive heir to master manipulator feel logical but no less cold and calculated – and yet, through it all, he's still a consummate charmer, all thanks to Driver's natural charisma.
Still, let's be clear – at the end of the day, House of Gucci is Lady Gaga's show through and through. Here, she doesn't just "chew the scenery" in her tour de force take on Ms. Reggiani – she straight-up swallows the film whole as she adopts a "take no prisoners" approach to her ascent in the fashion world (and later, her plot to make Maurizio pay for the pain he's caused her). We already know Gaga can deliver the memeable campiness that comes with the territory when portraying a prima donna like Patrizia (as her instantly iconic "tea stirring" scene can attest), but it's her authentic anger that proves the most affecting, recontextualizing this infamous legend's rage as a rational response to the rejection she feels from Maurizio once he deems she's "gone too far" – while benefitting off the very business machinations she put into motion. As such, although Gucci obviously doesn't condone the drastic methods Patrizia took to take vengeance on Maurizio, her anguish is all the more understandable, as we witness her stoic sadness in reaction to Maurizio belittling her in front of his friends, giving her Christmas gifts with no care involved, and painting her as a villain after he's profited off her financial prowess. Though most associate Gaga with her hammy mannerisms – and she is quite outstanding at the ostentatious – she's able to show even more of her mature range with Patrizia and once again prove that she has depth beyond her pop star persona.
House of Gucci may not always have the most propulsive momentum as it tackles nearly three decades worth of drama, but given how much mesmerizing mayhem it packs into its 158-minute runtime, there's rarely a dull moment to be found. And, when spotlighting such an eternally engaging ensemble, how could there be? With each actor fitting their role to a tee and fully buying into the frenzied fun of this tumultuous tale, there's always something screwy to be fixated on when watching the film, and Scott and screenwriters Becky Johnston (The Prince of Tides) and Roberto Bentivegna know how to continually keep us on our toes, never quite sure what turbulent twist or turn awaits. Though there might not be some meaningful lesson waiting to be revealed at the end of this riotous rollercoaster ride of romance and retribution, it all amounts to a mighty thrilling time at the movies nonetheless – and a signature star-studded spectacle of 2021.
---
House of Gucci is now available to watch on digital and on demand. Watch House of Gucci!