Historical Fiction & Fantasy Series to Binge

Writers' strike got you down? If you're looking for something to binge but have run through newer titles, here are some epic historical fiction and fantasy series to keep you entertained.
---
If you're a heavy consumer of streaming entertainment like me, chances are you've been feeling this content drought ever since the writers' strike began back in what felt like eons ago. Usually, summertime is stocked full of new titles releasing in theaters and streaming on your favorite platforms, but this year offered slimmer pickings than what we're used to. While we have had some really good releases, we've also felt the absence of heavily anticipated titles. If you find yourself meandering through various apps for something good to binge and historical fiction and fantasy are your jam, you're in luck. Here's a list of some of my favorite historical fiction and fantasy series suggestions for you to check out or revisit. I promise, you'll be highly entertained in one way or another … or several.
---
BARBARIANS (2020,-)
Creators: Barbara Eder, Stefan Ruzowitzky, Steve Saint Leger & Lennart Ruff
Where to binge it: Netflix
Barbarians is a tremendous German historical war drama that soared in international popularity when it landed in 2020, and it is absolutely worth a good binge. Don't worry—there's an English dub. Barbarians is a fictionalized account of what went down during the Roman Empire's occupation of Germania—namely the resulting rebellion of the Germanic tribes during the Battle of the Teutoburg Forest around 9 A.D., which was a pivotal battle that took place under the cover of night when an alliance of indigenous tribes targeted their oppressors. The result? Three obliterated Roman legions, which is a bloody good must-see on screen.
Barbarians follows the story of three friends whose fates are intertwined in fighting for their freedom and dealing with the drama of love, loyalty, and betrayal. Barbarians is full of action, heavy on the bloodshed, and loaded with high production value, solid acting, and some pretty sweet camera work. Currently there are two seasons embellishing the narrative of the monumental aforementioned battle, and while it is yet to be announced, season three, presumably, will focus on the aftermath of conflict. I, for one, cannot wait.
---
BRITANNIA (2017-2021)
Creators: Jez Butterworth, Tom Butterworth, James Richardson & Terry Cafolla
Where to binge it: Prime Video, MGM+ & Fubo (US); Sky & Now, Prime Video, Apple TV (UK)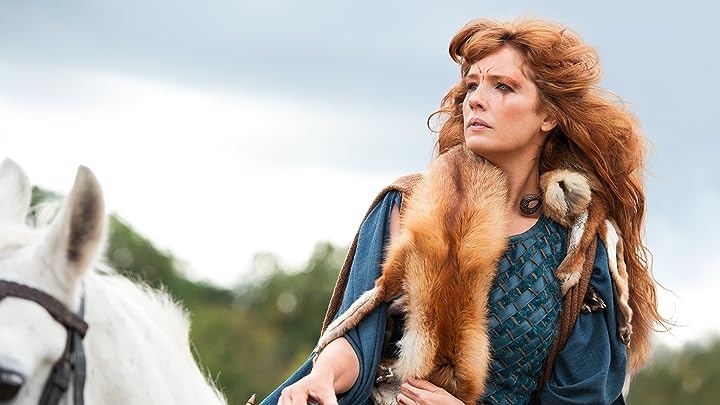 Swords, sorcery, swears, and sassiness … and Romans and Druids—that's what you'll get out of Britannia, which started out in 2018 as a Prime Video production before it was picked up by EPIX in 2020 for Seasons 2 and 3. Sadly, and disappointingly, EPIX opted not to renew the series for Season 4 (booo), which left all us fans on the edge of our seats craving closure to this fantastically entertaining drama series. They blamed it on COVID.
Set in the primitive and mystical times of 43 A.D., Britannia follows the Roman army in their effort to conquer Britain after Caesar's failed attempt 90 years prior. As we wade into the mystical realm of ancient Britain, which is just divine and full of strong, wild, mouthy female warriors and powerful Druids, who have the unique ability to channel the mysterious forces of the Underworld. In an enthralling tale of clashing cultures and extreme power struggles, Britannia is a gripping narrative that brings to life a rich tapestry of characters, each with their own abilities, motives, and loyalties.
Britannia features Kelly Reilly (Yellowstone) as a powerful Celtic warrior and David Morrissey (The Walking Dead) as Roman General Aulus Plautius, who went on to become the first governor of this newly conquered land. Britannia's plot centers on Rome's effort to crush the Celtic tribes, who are divided and at war amongst themselves. In this land littered with warrior women and powerful Druids, a prophecy exists that a "Chosen One" will save her war-torn land from the Romans. The prophecy falls into jeopardy when the one known as "The Dead Man" arrives, setting into motion a battle amongst the Druids and risking their demise.
Britannia garnered much critical acclaim for its vivid portrayal of Rome's invasion of Britain and is one hell of a bloody, brooding series with an excellent plot, fascinating narratives, gorgeous visuals, even better plot twists, impeccable battle sequences, and a healthy mix of history and fantasy, not to mention superb acting, tribal tattoos, and costumes. Look for this one to be fun, active, engaging, and highly entertaining as opposed to historically accurate. Britannia is a thrilling escape into a fantastical world where magic, swearing, brutality, levity, and a taste of the ancient past collide.
---
CAMELOT (2011)
Creators: Chris Chibnall & Michael Hirst
Where to binge it: Prime Video, Google Play, Vudu, & Apple TV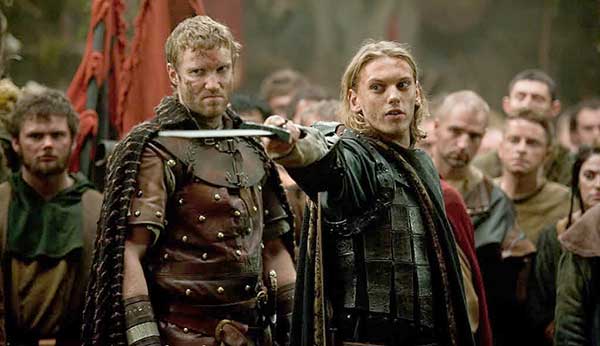 Had Starz given it more than one season, Camelot (2011) would've been an even bigger success than it was. Still, its one season is outstanding and is absolutely worthy of your time if you're into the legend of King Arthur. If you ask me, anything created by screenwriter Michael Hirst (Vikings, Pillars of the Earth) is a must-see. He's pretty much the king when it comes to creating the most successful and historically accurate drama series, outside of creative narrative liberties, of course. Camelot focuses, yes, on the legend of King Arthur, which we all know and love, but this particular series breathes a very adult twist into the tale with its focus on sweaty passion, sibling rivalry, and, of course, romance.
When Britain is sent into chaos after King Uther's death, Merlin (Joseph Fiennes, of The Handmaid's Tale) searches for an heir and finds an impetuous young man named Arthur (Jamie Campbell Bower, of Stranger Things), Uther's unknown son who has been raised as a commoner. Camelot highlights the fierce battle for the throne between Arthur and his ambitious, evil half-sister Morgan (Eva Green, of Penny Dreadful), who is determined to fight her brother to the bitter end, summoning unnatural forces to claim the crown. Arthur's journey to unite a kingdom ripped apart by war becomes a series of profound moral tests and difficult challenges that make for a riveting watch.
---
THE LAST KINGDOM (2015–2022)
Creator: Nick Murphy
Where to binge it: Netflix
One of my all-time favorite historical fiction series is The Last Kingdom, a heart-wrenching British television series based on Bernard Cornwell's novel of the same name. Cornwell is an English-American historical fiction author with the penchant for writing historical tales with in-depth efforts at accuracy, besides Philippa Gregory, but her focus is different.
"The Last Kingdom" is the first novel in Cornwell's "The Saxon Stories" series (2004), which tells how the nation of England began under King Alfred the Great. While the series is spectacular, it does not follow the author's books true to form, and that's due to things like a skyrocketing production value and a dwindling time frame.
The Last Kingdom introduces us to Uhtred of Bebbanburg (aka Uhtred Uhtredsson and/or Uhtred Ragnarsson), who is played by the very delicious Alexander Dreymon (American Horror Story). As a young Saxon noble, Uhtred is kidnapped by Danish Vikings and raised as a Dane in Ragnar Ragnarsson's kingdom, but it's not the same Ragnar you're thinking—different time periods. While in captivity, Uhtred is woven into Danish culture, language, and religion for years before a series of events places him in the service of King Alfred of Wessex, played by the very talented David Dawson, whom you may remember from Peaky Blinders.
The Last Kingdom delves into the turbulent backdrop of King Alfred's desire to unite the separate kingdoms and explores Uhtred's loyalties between his birth country and the people of his upbringing. With an engaging, dynamic storyline, The Last Kingdom is a must-see for anyone looking for an epic and thrilling historical drama.
Expect gorgeous cinematography, multi-dimensional characters, breathtaking costumes and battle sequences, and copious amount of blood, brutality, emotion, entertainment, and top-notch acting. I do recommend watching with subtitles, because it's often difficult to understand some of the accents. The Last Kingdom ended its five-season run in 2022 and wrapped up Cornwell's "Saxon Stories" adventure with a movie in Summer 2023, Seven Kings Must Die.
---
NORSEMEN (2016-2020)
Creators: Jon Iver Helgaker & Jonas Torgersen
Where to binge it: Netflix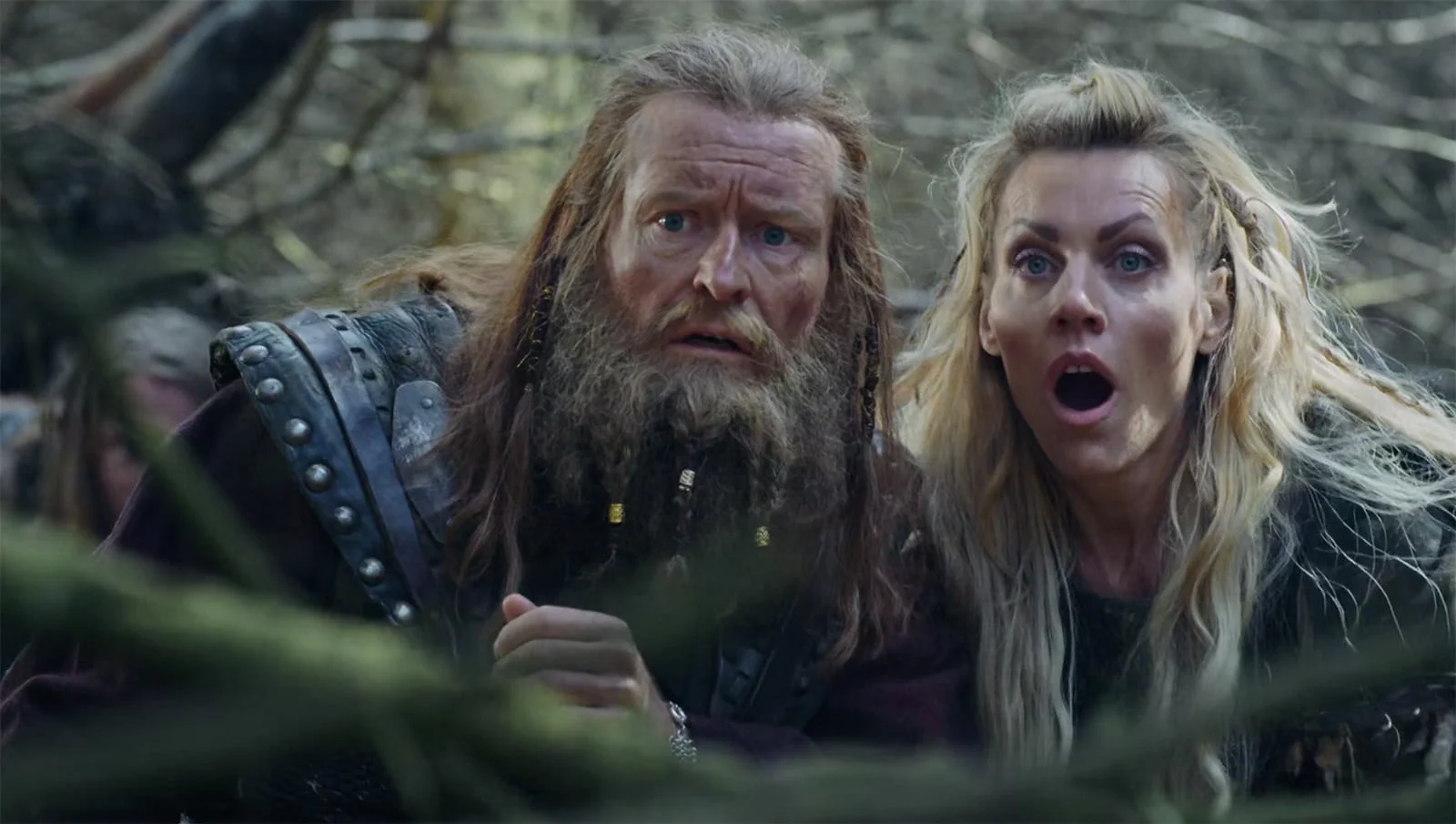 If you enjoy the drama but perhaps are looking for something with a little more levity, Norsemen is your jam. Filmed in both English and Norwegian, this hilarious TV series out of Norway is about a group of Vikings living in the village of Norheim. The story follows the life of these villagers and their day-to-day happenings, which include a lot of shenanigans and a lot of strife. Norsemen is unique and different with awkwardly hilarious moments, making it one of the most watchable and enjoyable medieval shows to dive into, especially now. It serves up a highly entertaining take on the Viking Age and offers a story about the challenges faced by a small Viking village. It also portrays quite the childish rivalry between the chieftan and his little brother.
As the three-season series progresses, we're led into silly disputes with neighboring villages, including a rival tribe led by a ruthless Viking and the efforts of a Roman slave in an effort to modernize Norheim's culture, resulting in persistent ongoing conflicts. One character you'll fall in love with is the sword-wielding, no-nonsense wife of the chieftan, Hildur. She's a force to be reckoned with and is the most grounded, level-headed warrior amongst all the Viking men. Norsemen is good for three seasons of laughs and offers a tongue-in-cheek take on the whole Viking craze.
---
PENNY DREADFUL (2014-2016)
Creator: John Logan
Where to binge it: Showtime, Paramount+ & Fubo (US); Sky & Now (UK)
Shifting gears into 19th-century Victorian Gothic fiction is Penny Dreadful. Venturing into the dark recesses of Victorian London, this psychological thriller series masterfully weaves together classic literary figures with a chilling narrative that keeps viewers on edge.
Penny Dreadful brings to life Dr. Frankenstein and Dorian Gray by exploring their origin stories. Season 1 begins in London in 1891 when an American gunman and roadshow artist (Josh Hartnett, of Lucky Number Slevin) is hired by an avid explorer and his mysterious, seductive clairvoyant, Vanessa Ives (Eva Green, of Camelot), to help locate and rescue the adventurer's daughter from a mysterious vampire … and other monsters. They receive help from a young doctor named Victor Frankenstein, who is hunted by an undead man of Frankenstein's creation.
Season 2 introduces a coven of witches who answer to Lucifer and are on the hunt to bring Miss Ives to their master. Meanwhile, Frankenstein is forced to make his creature a bride, which is both endearing and heartbreaking. And in Season 3, our main characters encounter more supernatural events as they find themselves scattered across the world, but when Count Dracula appears in London, the battle for Ives' soul begins.
With its ensemble cast led by the enigmatic Eva Green, Penny Dreadful delves into the supernatural world, unearthing creatures and legends that lurk in the shadows. The show has garnered acclaim for its superb acting, atmospheric cinematography, and rich storytelling, earning several awards and nominations throughout its three-season run. Seamlessly blending psychological drama with visceral horror, Penny Dreadful offers an immersive experience that lingers long after the credits roll.
---
ROME (2005-2007)
Creators: Bruno Heller, William J. MacDonald & John Milius
Where to binge it: HBO & Max, Prime Video, Vudu, Google Play (US); Britbox, ITVX, Apple TV (UK)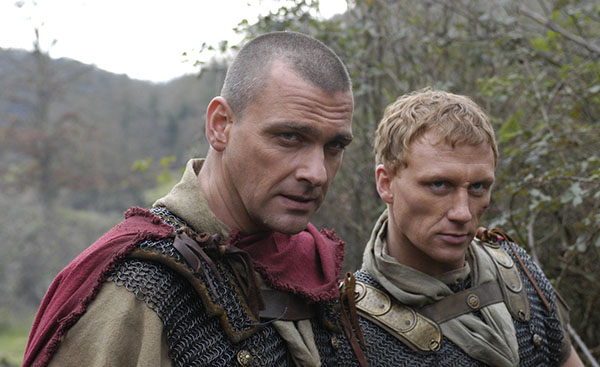 Ahh, rest in peace, Ray Stevenson (King Arthur)! Rome is a furiously crass British historical drama that follows the turbulent transition from the Roman Republic to an autocratic empire. It portrays both the aristocratic viewpoint of Julius Caesar and his allies, as well as the politically naive viewpoint of ordinary Romans like Lucius Vorenus (Kevin McKidd, of Grey's Anatomy) and Titus Pullo (Stevenson). Rome is a raw account of the lives and deeds of the rich, powerful, and historically significant as they navigate politics, war, and family dynamics in pursuit of a stable Roman Empire.
Season 1 depicts Julius Caesar's civil war of 49 B.C. against the traditionalist conservative faction in the Roman Senate, as well as his rise to dictatorship and subsequent fall, right down to his assassination on the Ides of March 44 B.C. We also see the early years of the young Octavian, who is destined to become the first emperor of Rome. Season 2 chronicles the power struggle between Octavian and Mark Antony following Caesar's assassination, spanning the time period from Caesar's death to the suicide of Antony and Cleopatra in 30 B.C. High production values cancelled Season 3, but don't let that deter you from visiting the series.
Rome is an exciting exploration of the complexities of the Roman Empire and its eventual rise to power. Featuring production values through the roof, especially for its time in 2005, as well as elaborate sets and costumes with intriguing storylines full of explosive action, Rome is certainly one historical series you shouldn't pass on watching. In addition to Stevenson and McKidd, Rome also features James Purefoy (Pennyworth), Tobias Menzies (Outlander), Polly Walker (Bridgerton), and Indira Varma (Game of Thrones).
---
SPARTACUS (2010-2013)
Creator: Steven S. DeKnight
Where to binge it: Starz, The Roku Channel, Apple TV, Vudu, Google Play (US), Starz & Lionsgate+ (UK)
See Also

One of the best shows on television in 2010, historically speaking, was Spartacus: Blood and Sand. The series received much acclaim for its extreme production value, mouth-watering narrative, epic combat sequences, and its lead actor, Andy Whitfield, who left this physical plane when he succumbed to non-Hodgkin's lymphoma on September 11, 2011, not without leaving his mark, though.
Spartacus: Blood and Sand tells the story of the Thracian gladiator who, from 73 to 71 B.C., led a major slave rebellion against the Roman Republic departing from Capua. After being torn from his homeland and separated from his wife, Spartacus is forced into slavery and condemned to fight in the excessively bloody gladiator's arena in Rome. As he navigates the violent, brutal world, he comes to realize that not all battles are fought in an arena; he must overcome lies, treachery, and temptation if he wants to survive.
Executive producers Steven S. DeKnight (Pacific Rim: Uprising) and Robert Tapert (Evil Dead, Evil Dead Rise) focused on structuring the events of Spartacus' obscure early life leading right up to the beginning of historical records. After completing the first season, Season 2 was delayed due to Whitfield's diagnosis, so Starz produced a six-episode prequel miniseries entitled Spartacus: Gods of the Arena, which was rife with heart-pounding, visceral gladiator games in a style reminiscent of Zack Snyder. When Season 2, Spartacus: Vengeance, finally came around, actor Liam McIntyre (The Flash TV series) took on the titular role, which ended with Season 3, Spartacus: War of the Damned.
Spartacus is a seductively thrilling action-drama series rampant with blood, violence, and sex that brings to life the Roman Republic and its depravity. Through Spartacus' struggle for vengeance, we learn of his heroic journey to free himself and his people from slavery. With epic arena battles, intense gladiator training, political intrigue, and passionate romances (heavy on the nudity), Spartacus is a show that will, no doubt, captivate you from start to finish. There's no room for insecurity of any kind in this series, which'll have you attempting to binge as much of it in one sitting as you can. Spartacus' gripping story and amazing performances make it one of the best medieval TV shows ever made.
---
THE TUDORS (2007-2010)
Creator: Michael Hirst
Where to binge it: Prime Video, Paramount+, Showtime, Fubo, Apple TV, Google Play, Vudu (US); Sky & Channel 4 (UK)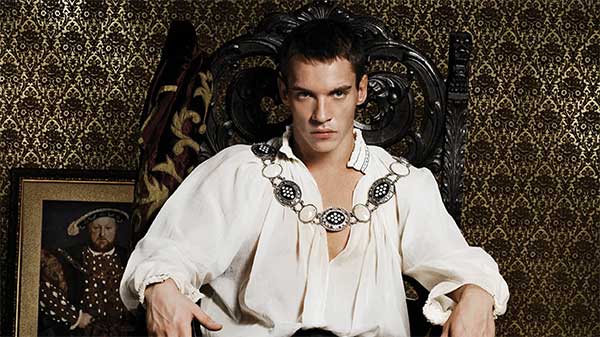 The Tudors (2007)is, in my opinion, the penultimate historical fiction series of the 2000s; it's what hooked me on the genre and created an obsession of Tudor history. Set primarily in 16th-century England, The Tudors is yet another one of Michael Hirst's creations that lured in audiences with its political intrigue, elaborate costumes and sets, intricate storylines, and emotionally charged performances, namely from Jonathan Rhys Meyers (Vikings), who plays King Henry VIII.
The Tudors is an enthralling and dynamic drama that brings to life the power struggles, romances, and political machinations of Henry VIII's court while exposing us to relationships with his six wives. It showcases one of the most tumultuous periods in English history, replete with treachery, ambition, lust, and greed. Henry is a shrewd, charismatic, passionate leader determined to leave his mark on the world, and we get to watch as he impulsively navigates his way through love, wars, and politics in an effort to secure the future of England.
Rhys Meyers embodies King Henry VIII's personality so much, it's as though he truly channeled the sovereign while filming The Tudors. We as viewers are but flies on the wall at court watching his sanity unravel woman by woman, wife by wife. He. Is. Divine. Remember when Heath Ledger took on the role of the Joker and it was said he lived the role as though there were no separation between himself and it? Yeah, I'm pretty sure he was inspired by Rhys Meyers' stellar portrayal of the legendary King Henry VIII. The Tudors is one series you'll watch over and over and possibly over again—it's that good on.
---
VIKINGS (2013-2020)
Creator: Michael Hirst
Where to binge it: Prime Video, Hulu, Disney+, Peacock (US), Prime Video, Apple TV, Google Play (UK)
I feel like this series, which is another golden nugget from screenwriter Michael Hirst, needs zero introduction. Vikings is a beast of a masterpiece full of bad-ass shield maidens, ravenous Viking warriors soaked in emotional depth, and raw tribal violence wrapped in near-perfect narratives garnished with drama, suspense, and mythology. Vikings is one of the rarest shows on earth that is never, ever dull and whole-heartedly entertaining in plot, action, and acting.
Vikings follows the legendary Viking chieftain Ragnar Lothbrok (Traves Fimmel, of Raised by Wolves), who claims to be a direct descendant of the god Odin,and his band of Norse warriors as they explore and conquer new lands in all their brutal glory. Along the way we are introduced to all of Ragnar's family and descendants, as well as the paths their lives take.
Frustrated by the policies of Earl Haraldson, who only sends raiders to the east to Baltic states and Russia, Ragnar seeks to secure his legacy as a leader of men through epic battles and political alliances by forging west to the new world. Along the way, he must deal with betrayals, unexpected turns of fate, and the growing power of his enemies. His family and allies experience a mix of adventure and tragedy as they struggle to survive in the treacherous world of Dark Age Scandinavia. In six action-packed seasons full of love, drama, war, and brutality, Vikings captures the gritty, savage reality of the Viking Age in a captivating and awe-inspiring manner, perfect for a binge-worthy medieval TV show.
And, though it does not live up to its predecessor, you might as well continue the fantasy and follow up with Vikings: Valhalla, the sequel series to Vikings. Created by Jeb Stuart (Die Hard, The Fugitive), Vikings: Valhalla is set 100 years after Vikings events and chronicles the beginning of the end of the Viking Age. Exploring the adventures of Leif Erikson, Freydis (daughter of Erik the Red), Norweigan King Harald Hardrada, and the Norman King William the Conquerer, Vikings: Valhalla is a good action-packed drama offering a twist on the traditional Viking stories.
---
Every one of these series is a must-see worth making time to watch it for the first or revisit it for a whole new experience. With each viewing, you'll fall deeper and deeper into their respective narratives and begin noticing varying degrees of beauty, art, and storytelling in places you didn't see the first go-round.
If you're still looking for more historical fiction and fantasy series to binge after these, check out The White Princess and The White Queen, The Serpent Queen, Merlin, Marco Polo, Kingdom, Game of Thrones, Outlander, The Lord of the Rings: The Rings of Power, and Reign.