Hester Street: "Goodbye O Lord, I'm Going to America" (NYFF Review)

Hester Street (Cohen Film Collection at DuArt Media Services)
Carol Kane shines in Joan Micklin Silver's Hester Street, an underseen staple of American independent filmmaking that thoughtfully explores immigration and assimilation.
---

Jake (Steven Keats), a Jewish Russian emigré to the U.S, thinks of himself as a typical Yank. Since he left his home country, he has fully assimilated into American culture as much as he can, going dancing, learning English, flirting with women, and leaving his old culture and religion behind. However, things take a turn when his wife Gitl (Carol Kane) and son arrive, throwing a cog into his romantic pursuit of Mamie (​​Dorrie Kavanaugh). What follows throughout Hester Street is a thoughtful rumination on the pains and pressure to assimilate into American culture, and director Joan Micklin Silver incisively critiques the concept of the melting pot.
When Gitl arrives in New York, she is faced not only with a brand new language and culture, but she is confronted by Jake's own fierceness. He wants her to be like him, to forget her old culture and embrace their new one. Silver hones in on this tension that many immigrants undoubtedly face: the pressure to assimilate and the pain of being forced to lose one's culture. Fortunately, Gitl finds solace in Jake's coworker Bernstein (Mel Howard), who becomes their boarder. He lends a sympathetic ear to Gitl's worries, and understands her desire to not abandon their culture.
The majority of the film concerns itself with Jake and Gitl's struggles, shifting its perspective between the two throughout, though eventually lending much more empathy toward Gitl. We see Jake mostly as a liar and a cheat, someone who is selfish and prideful, and it's up to interpretation for how much the film shows this selfishness to be distinctly American. In one of the film's most striking moments, the camera pans away from Gitl as she takes off her wig and replaces it with a kerchief, not letting the audience see her in her natural hair, which would be shameful for a married woman to do. It's easily one of the most tender moments of the film and a clear showcase for Silver's empathetic camera.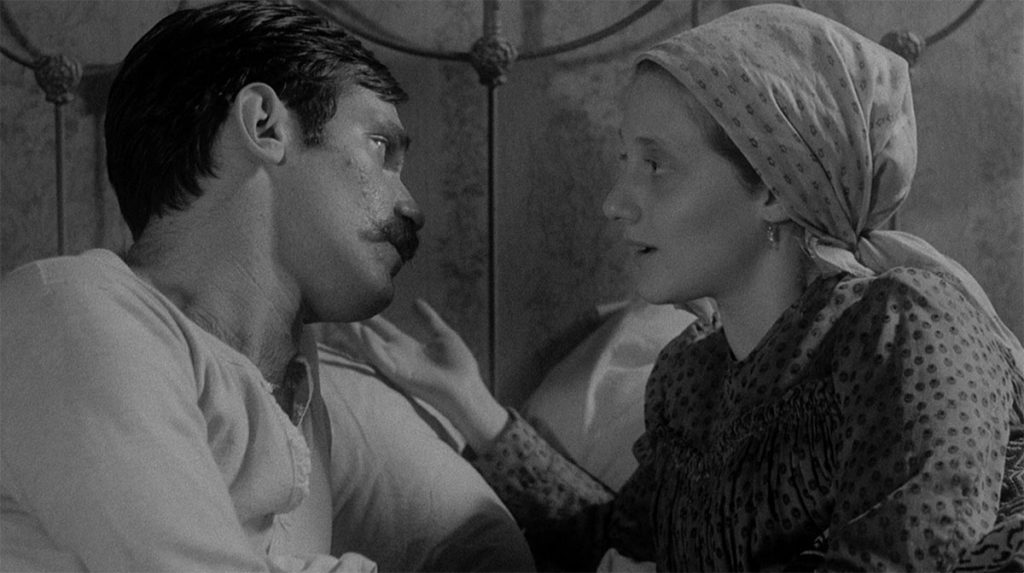 While there are moments where the filmmaking shines, it's style does not stand out a lot. It is definitely grounded and the attention paid to recreating 1890s New York feels vibrant, especially on such a low budget. Although the black and white visuals aid in transporting the viewer into its time period, the camera is mostly intent on taking a step back and capturing the naturalistic performances of the actors. Carol Kane is especially terrific as Gitl, moving impressively between speaking Yiddish and English, as well as detailing the emotional toll her new life is taking on her. It's a joy to see Gitl discover herself and what she wants, and Kane demonstrates the tremendous will of her character.
Even though the visual language of Hester Street slightly underwhelms, and although its narrative can drag it times, it succeeds in capturing a distinct time and place, and well as providing thoughtful commentary on immigration. It shows how the idea of America as a melting pot is a damaging one, how it forces those with distinct cultures to forgo their backgrounds in hopes of seeming more "American." And Carol Kane brings these thematic considerations to life in a wonderful performance that garnered her an Academy Award nomination. Thanks to the new restoration by the Cohen Film Collection, Hester Street may finally be recognized as a staple of American independent cinema.
---
A new 4k restoration of Hester Street was screened at the New York Film Festival on September 25, 2021. The film was released on October 1 at the Quad Cinema in NYC, and the Nuart in LA.
---
JOIN US!
Don't miss our monthly updates with film news and exclusive content! You'll only hear from us once a month. #nospam