Herself: London Film Festival Review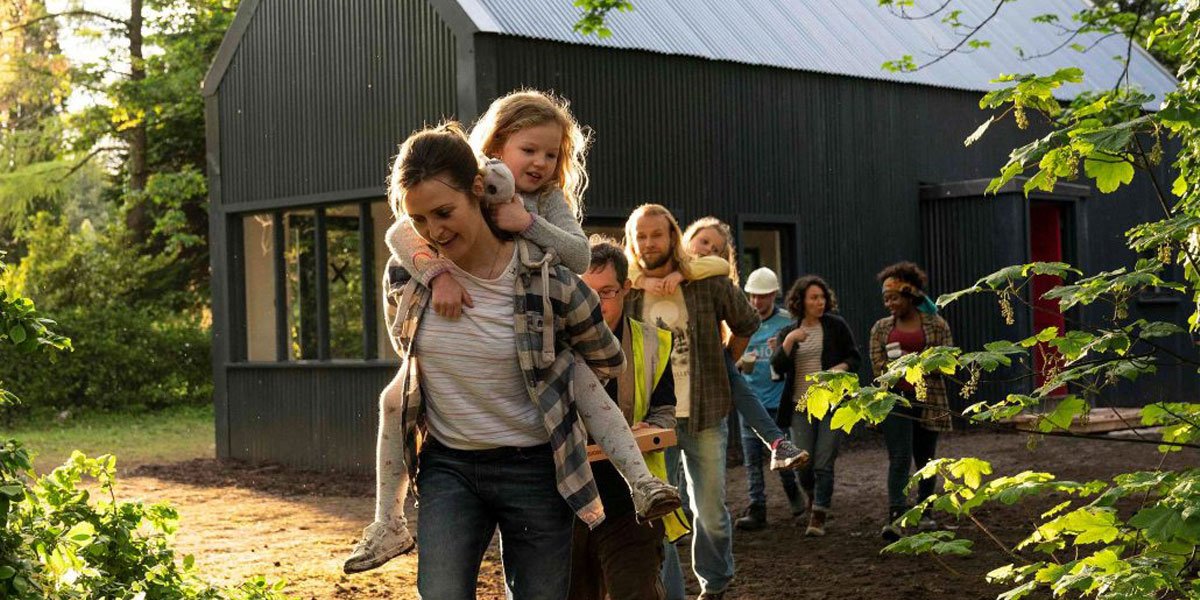 Herself (Courtesy of London Film Festival)
Herself proves to be an effective feel-good drama, carried by Clare Dunne's powerhouse performance.
---

Life isn't an easy journey to follow. Along the road, we experience many obstacles, some of which personally test us. However, we manage to carry on, with hope guiding us along the way. In Phyllida Lloyd's Herself, hope is a recurring theme. It is what drives Sandra (Clare Dunne), a mother of two, to recover from domestic abuse, and it is what will resonate with audiences by the end of the film.
Having previously directed the sensational Mamma Mia! and the Oscar winning drama The Iron Lady, Lloyd enters unchartered territory with a laid-back and humanistic tale that follows a woman's determination to build a house (and a new life) for herself and her two kids. Clare Dunne co-writes the script but also takes over as the leading role, making waves in one of those departments. Among its moments of melodrama, this Irish production can be tender and heartfelt to experience, with Dunne being a revelation in one of the year's most moving performances.
Dublin mother Sandra has found a way to indefinitely escape her abusive home. Right before she is knocked down and her arm is stomped on by her raging husband Gary, she manages to send one of her daughters to seek help, while the other witnesses the abuse happen. Sandra and her kids are temporarily set up in a hotel room while the system fails to find her a permanent home. With the frequent flashbacks to that gruesome moment, Sandra focuses on recovering and rebuilding her life.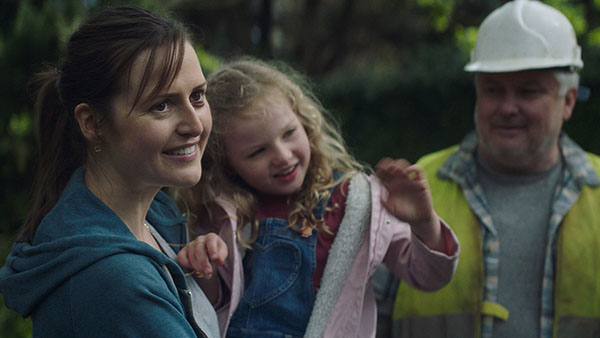 It is then that she gets the idea of building a small home, and further research reveals that the minimum cost would only be 55,000 Euros. After being graciously gifted a plot of land by her employer Peggy (Harriet Walter), who was close with Sandra's mother, Sandra recruits many co-workers and friends to help build the home from the ground up. The process proves difficult, and Sandra is still at roadblocks with her broken arm and hips, a bleeding budget and her failing attendance at her second job. Add to that a custody battle with Gary, who takes advantage of the frequently missed visitation dates to take her to court. Ultimately, Sandra's spirit is on the line here.
Herself aims to be more emotional than it is innovative, because we've seen this kind of story before, but one can't help but feel the empathy from the moments of pure humanity that the director implements throughout. The story doesn't wade into melodramatic territory too often, and it gives us a glimpse into Ireland's economical and societal system. What is certainly the meat of the film, here, is Clare Dunne's stellar performance. Sandra is a victim of many things here; an ill husband, a state failing to support her, and physical pain that pills don't really help with. But she doesn't back down from what life throws at her, enduring trauma and gaining empowerment, moving forward despite what bumps life may throw at her. She embodies hope itself, throughout the entire film. This is seen most notably in an effective climax that can't be discussed without spoiling the movie.
See Also

To follow two heavy Meryl Streep movies with a smaller scale narrative that proves to be heartwarming in its overly familiar concept is indeed impressive. Herself echoes Ken Loach, but is shaped with feel-goodness, which shouldn't come as a surprise considering Phyllida Lloyd directed Mamma Mia!. Sometimes these simple, down-to-earth stories are just what we need to remind ourselves that we can overcome anything if we remain spiritual with ourselves. Do not let the clichés dissuade you from watching this, for Herself is a fine indie drama; a story of humanity that can still manage to move you by the end of the film, and Clare Dunne's breakout performance is bound to garner lots of attention at the awards season later on this year.
---
Herself is now available to watch on Amazon Prime video.