Grand Jeté (2022) Film Review: Hollow Transgressions

Grand Jeté (Altered Innocence)
Grand Jeté casts an impartial lens on its otherwise transgressive story of an estranged mother and son's reunion and their ensuing sexual relationship.
---

After dedicating her life and sacrificing her health for a career as a professional ballerina, Nadja (Sarah Nevada Grether) now works as an instructor teaching her craft to young dancers. When we first meet Nadja after a swimming session, the camera holds its focus on her back, zoomed in on her tight muscles as she tries to soothe her physical discomfort. The camera continues to focus on the uncomfortable details of Nadja's body, like her bent bloody feet, unpleasant rashes on her neck, and her bony, veiny hands, only offering a brief respite and zooming out as we see her demonstrate her precise, graceful dance movements to her students.
For much of Isabelle Stever's latest feature Grand Jeté, cinematographer Constantin Campean utilizes tight angles and often keeps the camera uncomfortably close to its onscreen subjects, effectively visualizing the physical pain Nadja suffers from her rigorous dedication to her craft. Although we learn little about her backstory, it's clear that dance is an obsession that has consumed Nadja. It's caused great distress to her body, and with the help of pain pills, she soldiers on through her discomfort. Her life revolves around dance and seemingly nothing else. She lives with a boyfriend or partner of some sort, but the brusque interaction we're shown only hints at a cold distance between them.
Nadja's rigid life is suddenly turned upside down when she visits her mother Hanne (Susanne Bredehöft) and is reunited with her estranged son Mario (Emil von Schönfels). Mario lives with Hanne, as Nadja instead chose to pursue her dance career without the burden of raising her own child. Like Nadja, Mario's life also revolves around his body, between working at a gym, his rigorous fitness routine, and making money on the side performing extreme acts of physical endurance. At first, there's a noticeable distance between Nadja and Mario, and her feelings towards him seem ambiguous, but she exhibits some curiosity, wanting to learn more about the son she gave up.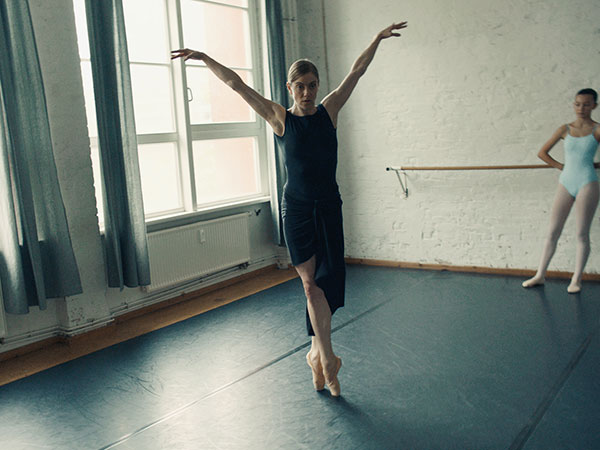 Later that night as she walks to the train station, Mario insists on giving her a ride and ends up taking her to a nightclub, where she finally lets herself loose as she dances, this time free from the rigid movements and setting of the ballet studio she's accustomed to. Nadja then moves back in with her mother, and as she gets to know Mario better, their relationship soon turns sexual, and for once, Nadja's life becomes reinvigorated in ways unfamiliar to her.
Grand Jeté isn't interested in sensationalizing this story of a taboo relationship. Instead, it frames it with an uncritical, impartial eye, simply letting the events unfold onscreen, with no judgment towards its characters and their transgressions. However, it fails to offer what we most want from this story, a "why." Why do Nadja and Mario engage in a sexual relationship? To make up for lost time? Is there some unspoken connection between them that extends beyond the maternal bond? Why do they so easily transgress this boundary? Unfortunately, the film offers no insights into this nor any hints that might give us something to think about after the credits roll. The film often feels wordless, especially with its sparse dialogue, and neither does it offer any sense of context to its characters, and little depth into their personalities and psychologies, especially for a film with such a rich opportunity to explore this.
Stever's film sadly renders an otherwise provocative story into something so carelessly objective and banal. Like it's tight and intimately framed images, Grand Jeté feels too "zoomed-in," only showing us brief glimpses of these characters' lives, never bothering to show us the bigger picture of its story and why we should care about it. It's easy to wish the film had something more to say—a side to pick, a judgment to make, or an explanation for why and how this strange relationship unfolds.
---
Grand Jeté will open at Laemmle Royal in Los Angeles on September 20, with actor Sarah Nevada Grether in attendance for a Q&A, and for a week-long run Laemmle NoHo on September 23. The film will be released on VOD on October 25, 2022.