Glitter & Doom: Film Review (Frameline47)

Glitter & Doom (Speak Productions & TBD Pictures, Frameline47)
"Queer love movie musical" Glitter & Doom is light on plot, but Indigo Girls fans will enjoy its irresistible musical numbers.
---

It's nighttime when Glitter & Doom begins, and we're shown a boy wearing a red clown nose who's putting on a magic show in the street. "Toss and turn, spin and learn," he cheers on the crowd; "catch yourself before you burn," he adds, to himself, right before the trick goes wrong and the place catches fire. Elsewhere, a young man auditions at his favorite queer bar, singing a rock song he wrote, but he's immediately interrupted by the manager. "Got something lighter?," the latter asks, and the former plays the same song – the Indigo Girls' "Prince Of Darkness" – but with a pop sound instead, and tentatively smiles at the owner as tears fills his eyes, knowing he will be rejected.
The boy walks out of the bar with his guitar, singing to himself and so lost in his thoughts that he doesn't realise he's interrupting a performance in the street. "Look, una co-estrella," says a familiar voice, and an inexperienced magician who longs to "feed his soul" meets a boy who "looks like someone with a lot of songs inside." They're usually "sad songs no one wants to hear," but not tonight. As we witness the beginning of a romance between wannabe circus performer Glitter (Alex Diaz) and songwriter Doom (Alan Cammish), their dreams and personalities blend into one, and we're taken to an dazzling, magical world full of colours and light, as we catch a glimpse of the beautiful queer community around them. "My place is of the sun and this place is of the dark; I do not feel the romance, I do not catch the spark", sings Doom, and suddenly, what felt like a missed opportunity at the bar opens up a world of possibility.
The opening scene of Tom Gustafson's (Were the World Mine) Glitter & Doom, written by Cory Krueckeberg, perfectly sums up what works so well in the film, which has just had its US Premiere at Frameline47. This "queer love movie musical" is filled with stunning musical numbers and irresistible arrangements of Indigo Girls songs that will make you want to look up the soundtrack as soon as you leave the screening. Not long after Glitter and Doom meet, we're treated to a scene at the club where "Prince Of Darkness," "Touch Me Fall," and "Shed Your Skin" are rearranged and mashed up together to create something that sounds so much better than any of these songs on their own, and is made even more memorable by the film's stunning visual style.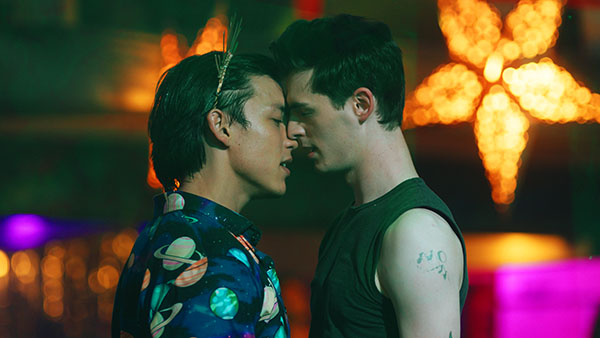 Not long after that, we witness a beautiful rendition of "Keeper of My Heart," followed by the boys harmonising as they leave on a camping trip together. As we watch this blossoming queer love story, time moves in a linear way but we're only shown snippets of their moments together, where music tells as much about the story as the dialogue does.
Sadly, that is, in part, the film's main flaw too. With the sheer amount of Indigo Girls songs in the film, it's not hard to tell that the story of Glitter & Doom was developed around the music, and not the other way around. If the first half an hour of the movie is highly effective at drawing us into the story and introducing its leads, it soon becomes evident that the plot itself isn't as strong as the film's visuals and sound.
Glitter & Doom mostly takes place around the 29 days in which the titular characters get to know each other before they have to part ways to pursue their different dreams. During this time, the film attempts to explore their pasts and families, such as their respective mothers (Ming-Na Wen and Missi Pyle) and how they react to their goals, but the unrealistic dialogue and flawed characterisation, alienate us from the story instead. As the musical numbers and harmonies pile up, the film remains visually pleasing and the songs are still catchy, but Glitter and Doom's unlikely backstories make their individual stories less interesting, and the screenplay often verges into melodrama, preventing Alan Cammish and Alex Diaz – who are both very good in the movie – from having any real chemistry in most of the scenes.
If you go into the screening aware of its narrative issues, you'll still find plenty to love in Glitter & Doom, as the musical numbers alone will keep your eyes glued to the screen and your ears tuned to the sound of Indigo Girls. Not only that, but tons of familiar faces from the queer community appear in the movie, from actual Indigo Girls Amy Ray and Emily Saliers to Lea DeLaria, Tig Notaro, Drag Race's Peppermint, The B-52s' Kate Pierson, Beth Malone, and more.
There's poetry to be found in Glitter & Doom and there's definitely a story to be told here: I would be very interested in watching this story told as a theatre play instead, where the magic of the stage would make its cheesiest and most theatrical moments feel more natural and immersive. Regardless of this, if you're a fan of musicals and the Indigo Girls, you'll enjoy Glitter & Doom, and I guarantee you won't be able to get these songs out of your head.
---
Glitter & Doom had its US Premiere at Frameline47 on June 22, 2023 and its world premiere at INSIDE OUT 2SLGBTQ+ Film Festival earlier this month.