Foe (MGM)
Garth Davis makes a mess out of his high-concept sci-fi picture Foe, leaving behind a mishmash of loose messages, tones, and themes.
---

Writer-director Garth Davis' most significant achievements are in television, notably his four-episode contribution to the Top of the Lake limited series with Jane Campion. But that didn't stop him from jumping ship into the cinematic realm for a few turns at the helm of a project. Although his debut, Lion (2016), was understated and textured, the touching story at its center was rendered lifeless by his directorial procedure and agenda-driven approach. These same problems doubled in his follow-up, Mary Magdalene, two years later. Nevertheless, you could still see glimpses of a clear vision amidst it all. However, rather unfortunately, Foe, Garth Davis' first film since 2018, based on Iain Reid's novel of the same name, is a complete mess that destroys the director's high-concept sci-fi project, leaving behind some minor traces of what could have been an exciting story.
Foe is set a couple of decades into the future – 2065, to be more specific. It is a not-so-distant future, and the film hints at what may happen to all of us with the rise of artificial intelligence and the climate crisis burning our lands. A.I. substitutes are slowly replacing humans, since they can work through harsh conditions without worrying about getting in danger or injury. This is a possibility for where the world is headed, and Davis and co-writer Iain Reid believe so too. We see this "new world" through the setting of the Midwest, a once lively and vigorous location but now devoid of life and completely desolate. Cinematographer Mátyás Erdély easily captures those feelings in the landscapes during the first third of the movie.
The setting – looking at the sunlit desert plains – already tells one part of the story. It is a place that reflects the essence of what the characters in this story have gone through before the story begins and what they will have to confront after, all within the confines of the lead characters' farm. The crux of the themes that Davis and Reid want to explore is attached to that setting: loneliness, seclusion, the importance of intimacy and connection, amongst others. Everything can be seen with a frame of the Midwest and some backstory. Just as A.I. makes art pieces out of random word combinations, or even fake songs by popular artists, the humanity of such setting has been stripped apart, leaving an empty shell devoid of emotion. That same description can also describe my experience watching Foe.
This story centers around an American couple, Henrietta and Junior (played by the biggest Irish stars today, Saoirse Ronan and Paul Mescal), who are the only people living in that area, at least for hundreds (maybe even thousands) of miles. One of the first lines we hear from Henrietta – or, as her partner calls her, Hen – is "he doesn't see me anymore", which immediately makes it clear that their relationship is fractured. Something is separating them as the days go by. Davis later reveals their terrible intimate situation by showing us how they constantly fight, sleep in separate rooms, and occasionally demonstrate some sense of disgust for one another. It is evident that what initially attracted them to each other has long gone by this point. But what was the root of this detachment? Did society forget to show genuine emotions and open up in an AI-reliant period?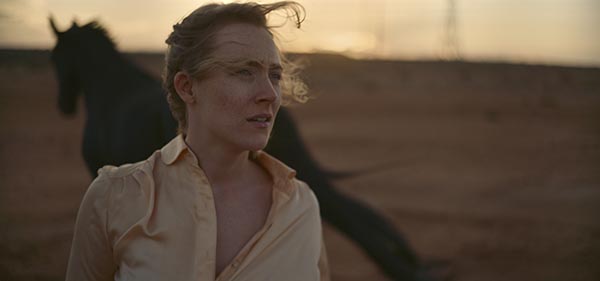 Things are about to change for both Hen and Junior, for better or worse, when a corporate shill named Terrance (Aaron Pierre) arrives. He visits their farm for a proposition – a "demand" to save our "children's children", as Terrance later states. Since the planet is almost uninhabitable, Terrance and the company he works for, OuterMore, have been designing a place in space where people can live. Junior is interested, and Terrance manipulates him into accepting the offer. The problem is that Hen has to stay behind on Earth while he's off in the stars. But Terrance comes up with an offer to ease Hen's tensions: a clone "Replacement" of her husband will accompany her during Junior's temporary stay.
What will Hen's experiences with the A.I. version of her husband be like in comparison to the real thing? Is she going to live happier with an emotionless vessel? These questions, and the concept itself, are truly interesting, worthy of a late-night conversation after a couple of drinks. Iain Reid is known for creating existentialist pieces that make us reflect on our daily lives and the future. Coincidentally, his novels are adapted onto the big screen at the perfect moment, just like when I'm Thinking of Ending Things, released at a time when we were all alone with our thoughts and dread oozed through our walls. However, the problem with Foe lies in how Garth Davis handles the full scope of the ideas Reid wants to translate from book to screen.
The Australian filmmaker struggles to visualize the intertwining between artificial intelligence, climate change, and a broken marriage – the lack of love and connection within a vacuous world governed by cold machines. Davis doesn't give these topics the necessary nuance or clarity to fully express the anxiety and melancholy that must devour these characters' minds, bodies, and souls. Even if there are moments when things are going well for Hen and Junior, they can't function correctly since the outside world has nothing to offer them. We never get a moment in which we feel this tension between them, at least in a humanistic manner. Davis uses marriage melodrama tropes to make their fights and reconciliations have a more profound impact.
See Also

What he doesn't know is that, instead, those tonal and narrative decisions render the emotional story beats not only ineffective, but inadvertently comedic. No need to worry: Ronan and Mescal aren't the ones to blame for this. They are a compelling pairing, and their chemistry is felt throughout the silent moments of this sci-fi drama combo. It is the muddled screenplay that's at fault here. Whether it is the unneeded dramatic exaggeration in the human moments of this story or the thematic mishandling of the source material's concepts, it's all a mess that nobody can take seriously. By the time the big reveal arrives, although the viewer would have guessed what happens by now, you don't care. And it seems pretty harsh to describe it this bluntly. But not an inch of interest will be wandering through your mind by the halfway mark. You won't be bothered to think about or even answer the intriguing and thought-provoking questions that arise during the first act.
Reid's novels are hard to translate to the cinematic medium: they need someone who has sheer control of the material in a way that can express the complex nature of its notions, creating parallels between humanist and psychological underpinnings. That's why Charlie Kaufman was a perfect fit to adapt I'm Thinking of Ending Things. Meanwhile, with Foe, Garth Davis lacks the ability and directorial command to make this high-concept sci-fi project work.
---
Foe premiered screened at the New York Film Festival on September 30, 2023 and will be screened at the BFI London Film Festival in October. The film will be released in US theaters on October 6 and on digital platforms on November 7.