Flaming Ears (Review): A Queer Rebellion Against Convention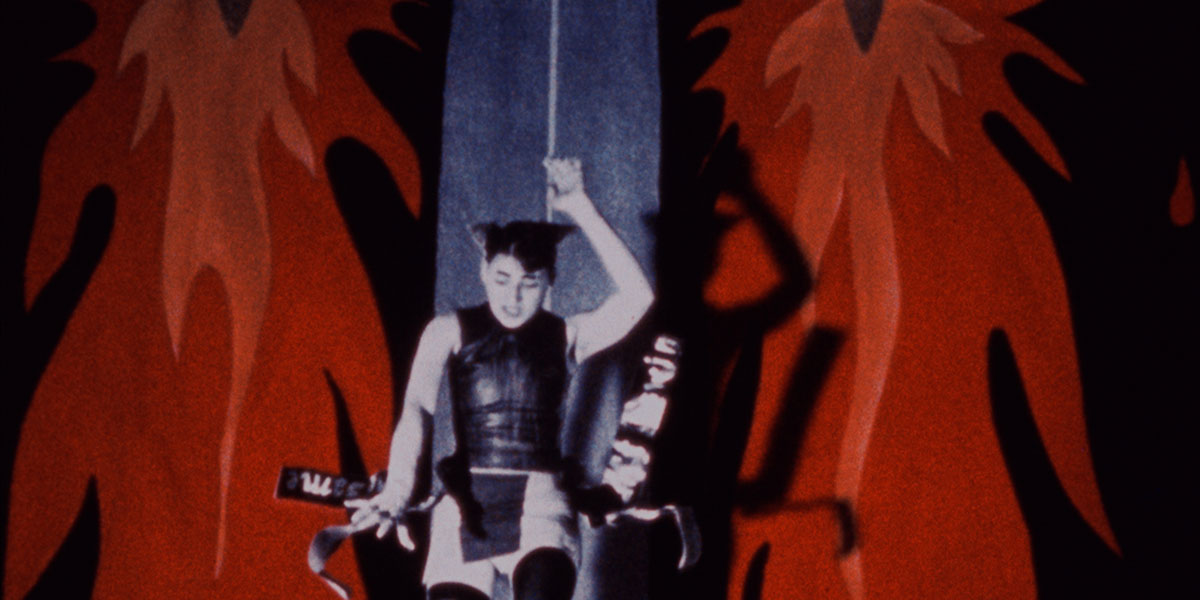 Flaming Ears (Kino Lorber)
Flaming Ears disregards convention at all turns, embracing its underground roots and queer storytelling to create something both mystifying and exhilarating.
---

Set in the fictional city of Asche in the year 2700, Flaming Ears boldly asserts itself and its own anti-establishment stance within the first ten minutes. The camera peers over an endearingly cheap construction of Asche; all cardboard cutouts of buildings and wires crisscrossing every which way. We enter a nondescript building, composed of a dingy set with the sounds of explosions emanating from the distance. Characters interact without introduction, talking about the mechanizations of this apocalyptic future. We can gather very little: a factory has been attacked, one character sets out to discover the culprit, and suddenly we're transported to a dance club, where people wear glitzy outfits and enact lurid sexual fantasies.
If nothing else, Flaming Ears is an experience, taking the viewer on a journey that eschews narrative in favor of a riotous, in-your-face punk attitude. Part of the film's success in this regard is due to the film's recent restoration (coming to select US theaters via Kino Lorber), which breathes life into the images while staying true to the movie's grimy DIY aesthetic. Additionally, co-directors Dietmar Schipek, A. Hans Scheirl, and Ursula Pürrer triumph at crafting a low-budget future that feels strange and alien, using their own limits as strengths, and making something truly unconventional, something that actively resists the mainstream. It's difficult to parse exactly what happens in the film, or what the narrative beats are supposed to be. It works better as a series of moments.
And what moments this film contains. Within the first few minutes we're granted both an energetically comedic animated sequence and suddenly one of the characters is trying to have sex with furniture. In another scene, a character who might just be an alien eats a lizard and then their hand explodes. Flaming Ears is full of these ecstatic moments of imagination and creativity that scoff at respectability and convention. Supported by a mostly lesbian cast and crew, the film and its makers create something unabashedly queer, both in content and in form. Flaming Ears plays like an assertion of power. Watching the film is like looking at a snapshot of a distinct subculture in a precise moment of time. There's weight that comes with seeing marginalized people resist the very same mainstream that pushes them into the fringes.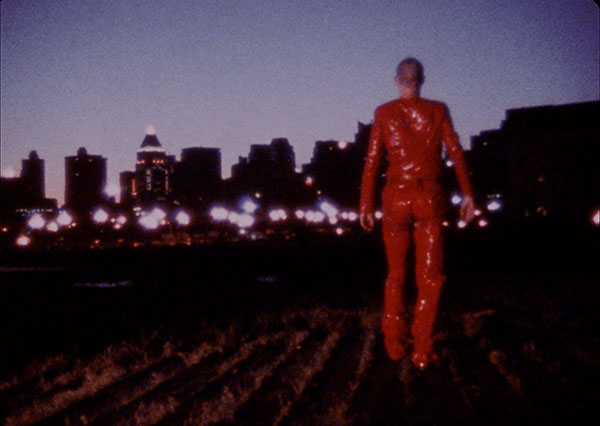 The actual plot of Flaming Ears is arguably the least vital aspect of the film. It's more intent on providing a prolonged mood, and while that makes for an intriguing watch, it's not always successful. Character relationships are muddled at best, and the film does not have enough anarchy to sustain its sub-90-minute runtime. There is a story here, but it feels like one is always trying to catch up to what's happening. That said, there is an almost surreal tone that's accomplished by operating with such a loose narrative. One of the admirable qualities of Flaming Ears is it's staunchly not for everyone, it operates on its own chaotic, disjointed, rebellious wavelength, and you're either on it or you're not. Even with the film's flaws, it is at times entrancing. From the brief animated sequences to its DIY sets, Flaming Ears constantly surprises, fully embracing its own underground and queer roots to create something unique and otherworldly.
---
A new 4K Restoration of Flaming Ears will open at Metrograph (NYC) and in select US theaters on November 18, 2022.