Fire Island (Review): The Perfect Movie to Kick Off Pride Month

Fire Island (Jeong Park, Searchlight Pictures. © 2022 20th Century Studios)
Fire Island is a riotous modern retelling of Pride and Prejudice that simultaneously offers revolutionary representation for diverse LGBTQ+ leads in romcoms.
---

When it comes to mainstream LGBTQ+ entertainment, one can certainly say that we're in a bit of a "golden age" for such art. From 2018's Love, Simon – the first film by a major Hollywood studio to focus on a gay teenage romance – to Netflix's coming-of-age charmer Heartstopper that released earlier this year, the queer community is receiving more representation than ever before in popular media, but one troubling trend is also quickly emerging – a lot of these films and shows (and especially those that generate the most social media chatter) are, well… rather white.  
Sure, there is something to be said for the fact that "all progress is progress," but, given that this progress has been continuing for the better part of the 21st Century, you'd expect there to be a few more opportunities for racial minorities to receive this same representation in mainstream LGBTQ+ entertainment, and yet, thus far, that hasn't been the case. Enter Andrew Ahn's Fire Island, a riotous modern retelling of Jane Austen's Pride and Prejudice, skillfully (and scathingly) scripted by queer Asian comedian Joel Kim Booster, and set on the titular infamous gay party island that simultaneously offers revolutionary representation for diverses LGBTQ+ leads in romcoms.
The story starts like any old debaucherous summer comedy, with a group of best friends setting off on a summer vacation to some exotic locale (this time being the intimidating Fire Island), but our concentration is fixed first and foremost on our central dynamic duo, Noah (Booster) and Howie (Bowen Yang, of SNL fame), and their romantic conflicts. Acting as our Elizabeth and Jane Bennet of sorts (respectively), Noah – who sleeps around without a care in the world, completely uninterested in long-term relationships – vows to refrain from pursuing any men this week until Howie – an aimless hopeless romantic – finds a honey of his own, and sure enough, on their first night out, Howie catches the eye of the charming Charlie (James Scully, of You), who doubles as his "Mr. Bingley."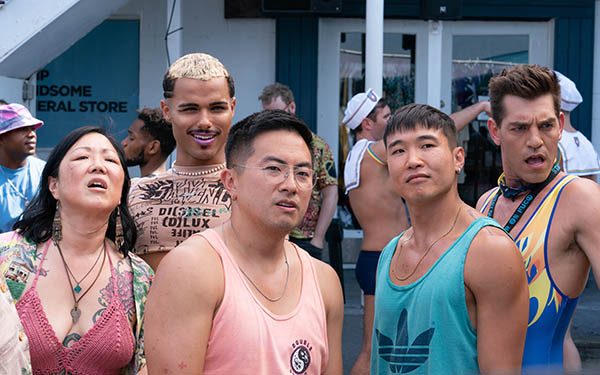 At the same time, Noah finds himself drawn to the withdrawn Will (Conrad Ricamora), Charlie's best friend, who gives off the vibe that he believes he's "better" than the other gays at Fire Island (he's wealthier, he's "straight-passing," etc.), which continually causes conflicts between the two, and yet, they can't seem to stay apart, unsure if they desire to fight or flirt with one another. Over the course of the next seven days, both Noah and Howie will reassess their priorities and paths in life based on revelations springing from these burgeoning relationships, all while simply trying to enjoy their summer vacation, assuring that this will be a Fire Island trip unlike any they've ever taken before.
The parallels to Pride and Prejudice may lead one to assume that Fire Island is more drama-centric than it actually is, so let's make it clear here and now that, above all else, this film is meant to provide its audience – and especially its LGBTQ+ audience – with an escapist good time, and Ahn, Booster, and co. succeed wildly on that front. For starters, their recreation of the raucous Fire Island environment is pretty much perfect, from the pompous parties to the close-knit camaraderie one has with their fondest friends (and even to the depiction of some of the less desirable aspects of the setting), but they also succeed at creating a cast of colorful, charismatic, and captivating characters who all add to the film in winning ways and, as an ensemble, refreshingly reflect many real-world gay friend groups.
Even while Noah, Howie, Will, and Charlie receive the most significant storylines (with Yang notably standing out and flexing his dramatic muscles as the oft-mistreated hopeless romantic Howie), Booster suffuses his script with charming character beats and and campy comedic bits for each and every cast member (one "Heads Up" gag involving Oscar trivia is sure to make cinephiles cackle), ensuring that side-splitting supporting players like their surrogate group mom Erin (Margaret Cho, of 30 Rock and The Flight Attendant), the lively Luke (Matt Rogers), the kinetic Keegan (Tomás Matos), and the melodramatic Max (Torian Miller) all receive their time to shine. And, as a result, being so careful and considerate with each character further fleshes out this friend group as a whole, driving home some of the script's strongest themes, centered around the constancy of chosen families and the beauty in these bonds.
See Also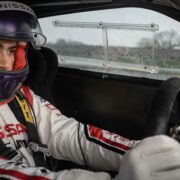 Fire Island's other primary focus – and where the drama does come into play – is using those aforementioned parallels to Pride and Prejudice to dissect the classism and racism in the gay community, which particularly festers on Fire Island. Whether it be through muted microaggressions or more prominent displays of prejudice ("No fats, no fems, no Asians" is utilized to its full, ugly effect here), we're presented with a perspective of queer life that we don't always see in mainstream movies that cover modern queer experiences, and it's startling to see, especially juxtaposed with the gang's jovial surroundings. It's not that most aren't aware of these attitudes, but thanks to Booster's screenplay, we get a crash course in exactly what it's like to live your life oscillating between the glee one feels making gay memories with their gals and the anguish that comes after facing the roughness of the real (rich, white) world.
And yet, Booster still finds a brilliant balance between this social commentary and the tender romcom tropes we all know and love (Noah and Will get an affecting enemies-to-lovers arc, Howie receives the overblown displays of affection he's always deserved, etc.), which assures that there's something for everyone in Fire Island. If you're searching for a chaotic summer comedy, this film has the screwy setpieces to satisfy. If you've been looking for LGBTQ+ entertainment that doesn't solely center around cis white men, you've found it. And if you're really pining for a good old fashioned romance that doesn't stray from the clichés but still does enough different to make those classic formulas feel "fresh," Fire Island has got you covered. And it's not only a perfect fit for practically all of your "film night" needs, but it also doubles as a perfect – and gloriously gay – way to kick off your Pride Month festivities.
---
Fire Island is now available to watch on Hulu.