February 2023: All New Films Out on Digital & VOD this Month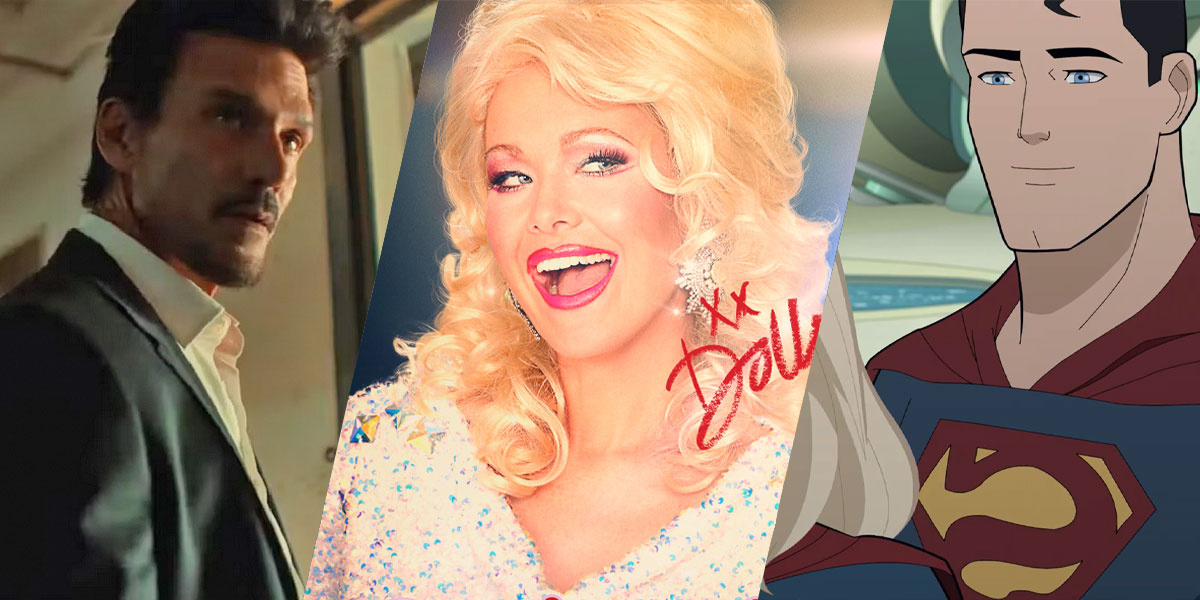 Little Dixie, Seriously Red, Legion of Super-Heroes: Trailer (Paramount, Lionsgate, Warner Bros.)
All new films out on Digital and VOD in February 2023. This month's releases, from Legion of Super-Heroes to Seriously Red!
It's February 2023, and you know what that means: Valentine's Day is approaching! But that doesn't mean that this month can't give us more new films to watch on digital and VOD! Among the new releases coming out in February are a new Frank Grillo action movie, a film about a Dolly Parton impersonator, a New Orleans music documentary, a DC animated flick, at least two great horror movies and more!
Below are all the new films to watch on digital and VOD in February 2023! They're listed in order of release and divided by movies you'll be able to see on digital and on demand in the US and in the UK. Scroll till the end for this month's film festivals and events, click here for February 's theatrical releases, and check out our list of most anticipated movies of 2023! Enjoy!
---
1. FEBRUARY 2023: NEW ON DIGITAL & VOD – U.S. RELEASES
A LOT OF NOTHING
Directors: Mo McRae
U.S. Release: February 3
U.K. Release: TBA
Official synopsis: James and Vanessa seem to be the perfect couple – happily married, successful, and comfortable. One night, their lives are rocked to the core when, after watching a tragedy play out on the evening news, they realize their neighbor was involved. In a state of shock, and with opposing viewpoints on how to address the issue, they decide to seek justice against a neighbor.
---
BABY RUBY
Director: Bess Wohl
U.S. Release: February 3
U.K. Release: TBA
Official synopsis: Baby Ruby tells the story of Jo, a successful lifestyle entrepreneur who is happily pregnant, awaiting the arrival of her first child. But soon after Jo welcomes baby Ruby home, something starts to feel off– even she's assured it's all perfectly normal. Is something wrong with her? Is something wrong with Ruby? And why are the seemingly perfect neighborhood moms so desperate to befriend her? As Jo fights to protect herself and her baby, she is plunged into a waking fever dream where everyone is a threat and nothing is what it seems. At last, she must confront the truth of her own darkness and contend with the ultimate human sacrifice: The one mothers make for their children.
---
BODY PARTS
Director: Kristy Guevara-Flanagan
U.S. Release: February 3
U.K. Release: TBA
Official synopsis: For too long cinema has been dominated by the male gaze. Innovative and incisive, BODY PARTS explores the evolution of desire and "sex" on-screen from a woman's perspective. Demystifying the often invisible processes in creating intimacy for the screen, the film sheds light on the most closely-guarded secrets of an industry now at a crossroads.
---
THE HOLLY
Director: Julian Rubinstein
U.S. Release: February 3
U.K. Release: TBA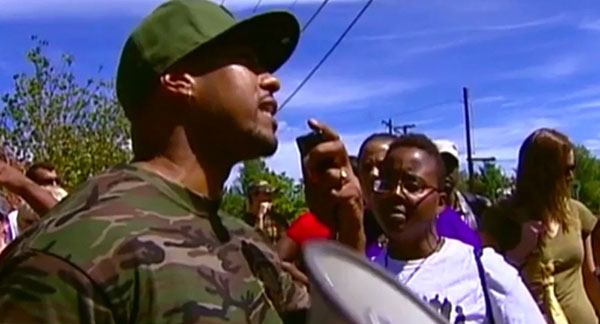 Official synopsis: THE HOLLY goes deep inside a gentrifying community in Denver, where a shooting case involving an activist becomes a window into the political machinations of urban development and the city's gang activity.
---
LITTLE DIXIE
Director: John Swab
U.S. Release: February 3
U.K. Release: TBA
Official synopsis: Frank Grillo (The Purge franchise) and Eric Dane (Euphoria) star in this action-packed revenge thriller. When a deal goes wrong between a corrupt Governor and a ruthless drug lord, ex-Special Forces Operative Doc (Grillo) is caught in the crosshairs. Now, with his family in danger, Doc must take down the Mexican drug cartel and do whatever it takes to protect the one good thing in his life – his young daughter, "Little Dixie".
---
THE LOCKSMITH
Director: Nicolas Harvard
U.S. Release: February 3
U.K. Release: TBA
Official synopsis: Miller (Ryan Phillippe), an ex-con recently released from prison for a bungled robbery, tries to walk a straight line and work his way back into the lives of his ex, Beth (Kate Bosworth), a police detective, and their young daughter. While Miller is doing his best to stay on the straight and narrow with the help of an old friend (Ving Rhames), he finds his past will not stay in the past, and he is forced to commit one last crime before he can truly walk away. Things once again go badly, and now not only his freedom, but also his daughter's life, hang in the balance.
---
OCEAN BOY
Director: Tyler Atkins
U.S. Release: February 3
U.K. Release: TBA
Official synopsis: Inspired by true events, Ocean Boy is stirring, provocative and peppered with laconic Australian humor, a compelling story capturing the light and shade of life, reflecting strength and vulnerability.
---
SHE IS LOVE
Director: Jamie Adams
Global Release: February 3
Official synopsis: When Patricia (Haley Bennett) arrives at a country hotel in Cornwall, she encounters her ex husband Idris (Sam Riley) who manages the place with his girlfriend Louise (Marisa Abela, Industry). Things are immediately awkward and the former couple reconnect over a long, messy night where they revisit the past while remaining open to new beginnings.
---
STARS FELL AGAIN
Director: VW Scheich
U.S. Release: February 3
U.K. Release: TBA
Official synopsis: Bryce is ready to propose to Madison while they visit her family for Christmas. However, the spontaneous wedding of Madison's sister Harper throws Bryce's perfect proposal plans into a tailspin.
---
TAKE ME TO THE RIVER NEW ORLEANS
Director: Kristy Guevara-Flanagan
U.S. Release: February 3
U.K. Release: TBA
Official synopsis: Take Me to the River New Orleans is the second in the franchise of the award-winning Take Me to the River films. The new movie celebrates the rich musical history, the heritage, legacy, and influence of New Orleans and Louisiana. A true collaboration and melting pot of influences from around the world, that came together and formed one of the world's most unique cultural jewels. Our adventure shows the resiliency of surviving disaster to a formidable rebirth while pairing legacy musicians with stars of today, and how this unique cultural jewel came to exist.
---
TWOTWO
Director: Jun Hoskulds
U.S. Release: February 3
U.K. Release: TBA
Official synopsis: Socially awkward David (Joel Ballard) appears to have the perfect life, until he loses his corporate job and is faced with eviction. After hitting rock bottom, he wakes up in an alleyway where a homeless man promises him a way to change his life. It sounds too good to be true but with nothing to lose, he takes up the offer. Everything appears the same, then through a chance encounter with a mysterious young woman on the run (Morgan Makana), David discovers her unusual ability to manifest reality as she conceives it and their lives become intertwined.
---
FACING THE LAUGHTER: MINNIE PEARL
Director: Barbara J. Hall
U.S. Release: February 6
U.K. Release: TBA
Official synopsis: Facing the Laughter: Minnie Pearl is a full-length documentary about the life and work of Sarah Cannon, aka Minnie Pearl. Sarah was a serious, educated woman who had once dreamed of becoming a Shakespearean actress, but she found fame playing a simple country girl who often made herself the butt of her jokes. Instantly identifiable – even in silhouette – by her straw hat with a price tag dangling from its brim, Minnie Pearl became an icon of country music radio, stage and TV. When she greeted audiences, they enthusiastically echoed her signature "Howdee" in a happy roar. While Sarah and Minnie were two sides of a coin, they share a legacy of compassion, empowerment and humor.
---
THE FEARWAY
Director: Robert Gajic
U.S. Release: February 7
U.K. Release: February 23
Official synopsis: A young couple embark on what should be a fun romantic road trip… But their plans are quickly derailed when a mysterious being follows them, abuses and harasses them. As the situation worsens, they desperately seek help from anyone they can… But who can they trust? Will they reach safety, or will death come fast?
---
THE LAST DEAL
Director: Jonathan Salemi
U.S. Release: February 7
U.K. Release: TBA
Official synopsis: Black market marijuana dealer Vince is living the high life in Los Angeles, but everything changes when new laws pass making cannabis legal. With limited dispensary licenses available, Vince may be squeezed out of the business. He's desperate to make one final score, but borrows money from the wrong people.
---
LEGION OF SUPER-HEROES
Director: Jeff Wamester
U.S. Release: February 7
U.K. Release: TBA
Official synopsis: Welcome to the 31st century and the Legion Academy, where a new generation hones their powers with hopes of joining the Legion of Super-Heroes. Devastated by tragedy, Supergirl struggles to adjust to her new life on Earth. Taking her cousin Superman's advice, Supergirl leaves their space-time to attend the Academy. There, she quickly makes new friends, as well as a new enemy with old ties: Brainiac 5. But a nefarious plot lurks in the shadows – the mysterious group known as the Dark Circle seeks a powerful weapon held in the Academy's vault. Find out if the budding heroes can rise to the challenge in this all-new DC Universe Movie!
---
MIXTAPE TRILOGY: STORIES OF THE POWER OF MUSIC
Director: Kathleen Ermitage
U.S. Release: February 7
U.K. Release: TBA
Official synopsis: Mixtape Trilogy: Stories of the Power of Music explores one of the most intense and unique relationships between people who rarely meet: music artists and their fans. Folk-rock icons Indigo Girls openly share their journey, which has powerfully influenced the life of their biggest fan. Composer and pianist Vijay Iyer examines issues of immigration and race through his music; his work touches the heart of Garnette, a "man of the streets" from Kingston, Jamaica. Rapper and activist Talib Kweli inspires and transforms the life of Mike, a "Hip Hop" architect from Detroit. The director unpacks the music and the audience is invited to fall into it. The art of listening unfolds and inspires us to listen to music, and, perhaps, each other, in new ways.
---
ONE YEAR OFF
Director: Philippe Martinez
U.S. Release: February 7
U.K. Release: TBA
Official synopsis: Need a long beach vacation with your besties right now? Then come laugh, love, and lavish in One Year Off. The fun starts as Claire (Nathalie Cox) and her pals are invited to the West Indies by their friend Ben (Jeff Fahey), who just inherited an island getaway. To pass the long days, they start a business hosting beachfront weddings, resulting in both awesome success and hilarious disaster. Meanwhile, the sun and scenery put Claire, Ben, and their posse in the mood for romance. Will the next wedding be one of theirs?
---
STRANGERS TO PEACE
Director: Takeshi Kushida
U.S. Release: February 7
U.K. Release: TBA
Official synopsis: Three former child soldiers face retribution, anxiety, and danger as they attempt to rebuild their lives after leaving the FARC guerrilla army and the bloody Colombian conflict. STRANGERS TO PEACE intimately captures the personal stories of Dayana, the market vendor navigating her new identity as a trans woman; Ricardo, the young father secretly clinging to his communist ideology; and Alexandra, the indigenous child soldier, who was forced to leave her family behind in the Amazon. Their stories are told through the lens of filmmaker Laura Àngel, who herself was a victim of FARC violence.
---
THEY WAIT IN THE DARK
Director: Patrick Rea
U.S. Release: February 7
U.K. Release: TBA
Official synopsis: Amy (McGuire) and her adopted son Adrian (McGee) areon the run from Amy's abusive ex-girlfriend, Judith (Winkel). Desperate to stay hidden, they take refuge in the abandoned farmhouse of Amy's family outside her Kansas hometown. Soon, though, a supernatural force from Amy's dark past begins haunting Adrian. With the vengeful Judith in pursuit, Amy and Adrian find themselves locked in a showdown between the threats both outside and in.
---
THE WEDDING HUSTLER
Director: Chris Soriano
U.S. Release: February 7
U.K. Release: TBA
Official synopsis: The Wedding Hustler follows an Asian American wedding planner (​​Christine Chang) who knows her "thang" on bargaining the best price. When she learns about a couple (Chris Soriano and Hillary Soriano) who rescheduled their wedding three times because of the COVID-19 pandemic, she decides to help the groom surprise his fiancé with the perfect wedding. With barely any money, the groom and the planner navigate through the street vendors of Los Angeles to piece together the wedding of his fiancé's dreams.
---
WOMAN OF THE PHOTOGRAPHS
Director: Takeshi Kushida
U.S. Release: February 7
U.K. Release: TBA
Official synopsis: Written and directed by Takeshi Kushida, the film follows Kai, a solitary and skilled digital photographer who begins a twisted romance with a model suffering from body dysmorphia and obsessed with appearing perfect in her photos.
---
AMONG THE BEASTS
Director: Matthew Newton
U.S. Release: February 10
U.K. Release: TBA
Official synopsis: When a gangster's daughter reluctantly teams with a former Marine to find her kidnapped cousin, the combat veteran must overcome his own demons in order to rescue the child.
---
DAUGHTER
Director: Corey Deshon
U.S. Release: February 10
U.K. Release: TBA
Official synopsis: Four travelers encounter menacing phenomena while camping in a remote stretch of the Mojave Desert.
---
DISQUIET
Director: Michael Winnick
U.S. Release: February 10
U.K. Release: TBA
Official synopsis: Jonathan Rhys Meyers stars in the terrifying, edge-of-your-seat thriller. After a near-fatal car accident, Sam (Meyers) wakes to discover he is trapped in an abandoned hospital by mysterious and sinister forces that have no intention of letting him leave…
---
SERIOUSLY RED
Director: Gracie Otto
U.S. Release: February 10
U.K. Release: February 13
Official synopsis: Red (Krew Boylan) lost her job as a real estate agent, but there's something no one can take away from her: her dream of becoming the world's greatest Dolly Parton impersonator! After her act attracts the attentions of an amorous Elvis impersonator (Rose Byrne) and a powerful booking agent (Bobby Cannavale), Red is catapulted into the top tier of copycat acts, becoming the onstage and romantic partner of the top Kenny Rogers impersonator. But when Red's life as an imitator starts to feel false, she discovers true happiness comes when you're being the best version of yourself.
---
THE UNSETTLING (LIMITED)
Director: Harry Owens
U.S. Release: February 10
U.K. Release: TBA
Official synopsis: A foreign couple's visit is disturbed when the house they rent slowly stalks them, consuming their sorrow and trapping them in a nightmare.
---
LUNANA: A YAK IN THE CLASSROOM
Director: Pawo Choyning Dorji
U.S. Release: February 11
U.K. Release: February 17 in cinemas
Official synopsis: When Ugyen, a day-dreaming and discontented young teacher is posted to a school in the remote village of Lunana, dizzyingly high up in the Himalayan glaciers, he is disheartened to find a simple yak herding community lacking basic amenities such as electricity or even a blackboard. But the enthusiasm of his young students and the unassuming warmth of the village folk buoy Ugyen's spirits and he must decide whether to return to the city before the gruelling winter sets in or remain in this strange and captivating land.
---
PROJECT WOLF HUNTING
Director: Kim Hong-Sun
U.S. Release: February 14
U.K. Release: TBA
Official synopsis: While under heavily armed guard, the dangerous convicts aboard a cargo ship unite in a coordinated escape attempt that soon escalates into a bloody, all-out riot. But as the fugitives continue their brutal campaign of terror, they soon discover that not even the most vicious among them is safe from the horror they unknowingly unleashed from the darkness below deck.
---
REMEMBER YESTERDAY
Director: J.R. Rodriguez
U.S. Release: February 14
U.K. Release: TBA
Official synopsis: When diner owner Jenny Hill's childhood sweetheart returns home to direct a new film project, her once stable life is turned upside down. She finds herself face to face with the possibility of a second chance at the life she had once longed for; performing on stage and being in love. But is that what's been missing in her life? Confusion, misdirection and an old secret comes to life…Will that put an end to Jenny's fairy tale? Did you ever think you'd get a second chance…Did you think you'd get two?
---
SWALLOWED
Director: Carter Smith
U.S. Release: February 14
U.K. Release: TBA
Official synopsis: After a drug run goes bad, two friends must survive a nightmarish ordeal of drugs, bugs and horrific intimacy in this backwoods body-horror thriller.
---
HUESERA: THE BONE WOMAN
Director: Michelle Garza Cervera
U.S. Release: February 16
U.K. Release: TBA
Official synopsis: The supernatural Mexican horror feature is led by Natalia Solián in a star-turning performance as Valeria, a young woman expecting her first child who becomes cursed by a sinister entity. Plunged into a terrifying and dangerous world, a group of witches emerge as her only hope for safety and salvation, but not without grave risk.
---
BOY FROM NOWHERE
Directors: SJ Finlay
U.S. Release: February 17
U.K. Release: February 17
Official synopsis: Based on true events, BOY FROM NOWHERE follows the story of Gary, a young and vulnerable Filipino boy who loses everything in an attack on his village that kills his father. Desperate to find his mother and her tribe, Gary sets out on a perilous journey while battling hunger and solitude. Along the way, he gets caught up in the dangerous world of gangs and is eventually brainwashed into becoming a child soldier for a local rebel faction. Vulnerable and malleable, Gary fights for survival until further loss leads him to find a more meaningful purpose for his life.
---
FREE TO A BAD HOME
Directors: the Hale Brothers
U.S. Release: February 17
U.K. Release: TBA
Official synopsis: From the Hale Brothers, and in the tradition of Creepshow and V/H/S, a new horror anthology about the various forms of evil that lurk in the shadows. The lives of three strangers – a widow, a thief, and an addict – are terrorized by cursed objects and those that spread them in Free to a Bad Home, starring Miranda Nieman, Jake C. Young, Olivia Dennis, Hayley Sunshine, and Roni Locke.
---
THE INTEGRITY OF JOSEPH CHAMBERS
Director: Robert Machoian
U.S. Release: February 17
U.K. Release: TBA
Full Review: The Integrity of Joseph Chambers (Tribeca Review): Proving One's Worth
Interview with Clayne Crawford: Clayne Crawford on The Integrity of Joseph Chambers: Tribeca Interview
Official synopsis: Clayne Crawford stars as Joseph Chambers, an insurance salesman who goes deer hunting for the first time ever, alone, when his experienced buddy is too sick to join him – in an attempt to acquire the skills necessary to provide for his family in case of an apocalypse. Also starring Jordana Brewster, Jeffrey Dean Morgan and Michael Raymond-James.
---
AMBUSH
Director: Mark Burman
U.S. Release: February 24
U.K. Release: TBA
Official synopsis: Aaron Eckhart (The Dark Knight) and Jonathan Rhys Meyers (Vikings) star in this intense, gritty, and action-packed Vietnam War epic. When a small outpost is ambushed, a US Army squad must take the battle below ground on a high-stakes mission in a new type of warfare the likes of which they have never seen.
---
DEVIL'S PEAK
Director: Ben Young
U.S. Release: February 24
U.K. Release: TBA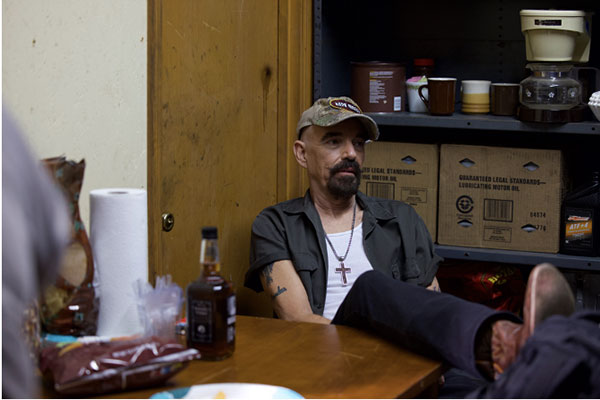 Official synopsis: Set in the Appalachian Mountains, Devil's Peak is a tense thriller about a family dominated by a crime lord (Thornton) who controls his family and his business with his fists. When his son (Penn) meets the girl of his dreams (Katelyn Nacon), desperately wanting to escape the life he is expected to lead and free himself from the clutches of his father, he is forced to go head-to-head with the terrifying man who will stop at nothing to ensure loyalty from all of those around him.
---
FREE SKATE
Director: Roope Olenius
U.S. Release: February 28
U.K. Release: TBA
Official synopsis: A young and promising Russian figure skater is found beaten and frostbitten in a lay-by of a motorway in Finland. In the hospital, the officials find a letter from her belongings and are able to reconnect her with her Finnish grandmother, whom she has not seen for years. With the help of her grandmother, who offers her the shelter of her home, the figure skater tries to re-establish herself and recover from the trauma and inhumane circumstances that forced her to flee from Russia. She finds a new chance with top figure skating, but despite the bright future, new friends and possibilities, her past won't let go of her. The figure skater realizes facing her troubled past is the only option to make it to the top.
---
THE MAN IN THE BASEMENT
Director: Philippe Le Guay
Global Release: February 28 on Apple TV+ and Prime Video
Official synopsis: A benign real estate deal becomes a sinister standoff between a young Parisian French couple (Jérémie Renier and Academy Award nominee Bérénice Bejo) and a dangerous negationist. Simon Sandberg, a Jewish Parisian architect (Renier) sells his flat's unused cellar to a seemingly normal and well-mannered former history teacher, Jacques Fonzic (The Untouchables' François Cluzet). But when Fonzic takes up residence in the cellar, the stranger's secret life emerges. Slowly and methodically, his far-right, radicalized beliefs about Judaism and conspiracy theories ensnare Simon's very existence, driving him to more and more desperate strategies to evict the man.
What ensues is a riveting cat-and-mouse game between Fonzic and Sandberg as the increasingly menacing buyer insinuates himself with their naive teenage daughter, turning the family's idyllic world upside down. Impeccable acting and a nightmare scenario drive this tense and gripping thriller, based on a true story, to its logical and frightening conclusion.
---
2. FEBRUARY 2023: NEW ON DIGITAL & VOD – U.K. RELEASES
JETHICA
Director: Pete Ohs
U.K. Release: February 6
U.S. Release: February 14 on Fandor
Official synopsis: Hiding out in New Mexico after a freak accident, Elena runs into Jessica, an old school friend. But when Jessica's stalker suddenly shows up at their door, they must seek help from beyond the grave to get rid of him, for good.
---
NEPTUNE FROST
Director: Saul Williams & Anisia Uzeyman
U.K. Release: February 6
U.S. Release: out now on digital and on demand! Watch Neptune Frost!
Full Review: Neptune Frost (Review): "Picture a Dream & Dare to Live It"
Official synopsis: An incredible, unique and contemporary Afro-futurist Sci-fi punk musical about an intersex African hacker, a coltan miner and the virtual marvel born as a result of their union – who attempt a takeover of the authoritarian regime that's exploiting the region's natural resources — and its people.
---
RISE OF THE FOOTSOLDIER: THE EXTREME EDITION
Director: Julian Gibey
U.K. Release: February 6
U.S. Release: out now on digital and on demand!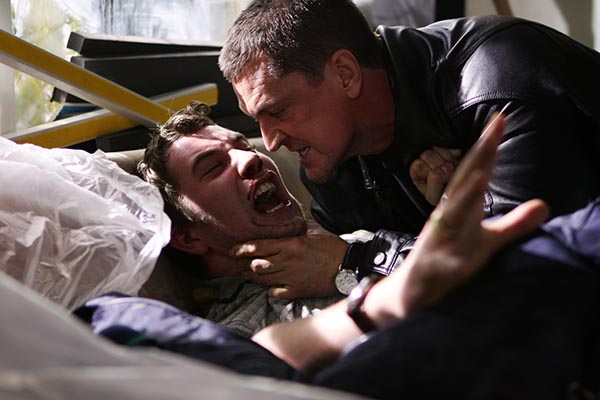 Official synopsis: This is what a proper British gangster looks like. Based on his real-life autobiography, 2007's Rise of the Footsoldier follows Carlton Leach (Ricci Harnett) as he evolves from feared football terrace general to a member of one of the most notorious British gangs that operated throughout the late eighties and early nineties. Leach had one goal, and one goal only: by the time he reached the top, everyone would know the name Carlton Leach.
---
SUBLIME
Director: Mariano Baisin
U.K. Release: February 6
U.S. Release: 2023
Official synopsis: Best friends Manuel and Felipe live in a coastal town in Argentina. They spend all their time together playing in their rock band and working on converting an old van into a secret love nest to entertain their respective girlfriends. A talented songwriter, Felipe pours his soul into his lyrics evoking thwarted desire. With their gig debut just around the corner things come to a head and suddenly everything is at stake: friendship, love, and the band. Mariano Biasin's vibrant drama, Sublime, vividly captures the heartache of adolescent angst and longing.
---
ASK ME TO DANCE
Director: Tom Malloy
U.K. Release: February 13
U.S. Release: out now on digital and on demand! Watch Ask Me To Dance!
Official synopsis: Jack is an IT programmer, a great guy, and unlucky in love. Jill is a graphic designer, a great gal, and just as unlucky. They have no idea they are destined to be together. On a starry night, Jack and Jill separately meet a fortune teller who tells them they will meet the love of their life before midnight at the end of the year, which happens to be only five days away. The countdown begins, and both Jack and Jill go on a series of horrible and hilarious dates, each worse than the next. Each time, they barely miss meeting each other. New Year's Eve is getting closer. Will the fortune-teller's prophecy come true? Will they meet and fall in love?
---
NEXT EXIT
Director: Mali Elfman
U.K. Release: February 20
U.S. Release: out now on digital and on demand!
Full Review: Next Exit (2022) Film Review: Searching for Meaning
Official synopsis: In the not too distant future, a research scientist makes headlines proving she can track people after death, and her radical scientific study is looking for volunteers for a pain-free passing to the afterlife. Rose sees a way out and Teddy sees his chance to finally make it. When fate has the two strangers sharing a car rental, they set out on a lengthy road trip to the unknown. As these two misfits quarrel their way across the country, friction gradually gives way to the deep connection that they've been looking for all along.
---
THE SUBJECT
Director: Lanie Zipoy
U.K. Release: February 20
U.S. Release: out now on digital and on demand!
Official synopsis: The Subject follows a successful white documentary filmmaker, Phil (Jason Biggs), dealing with the fallout from his previous film in which he captured the life of Malcolm (Nile Bullock), a young black teen caught up in a gang lifestyle. While Phil's film earns him respect and accolades in the art world, capturing Malcolm's brutal murder on tape has left Phil questioning himself and the ethics of his work. Now, back on the streets and with a new subject for a high-profile new series he's producing, the documentarian discovers someone is filming his every move, but who has turned the camera on the filmmaker and why are they threatening his idyllic life?
---
FEBRUARY 2023 – FILM FESTIVALS & EVENTS:
Film Festivals:
Other Events:
Decision to Leave: UK screening on February 13 for one night only, with a new pre-recorded conversation between Park Chan-wook and Bong Joon Ho.
Suzhou River (Lou Ye): New 4K Restoration at Film Forum (NY): February 17-23, 2023