Favolacce (Review): How to Tell Bad Tales in a Glorious Way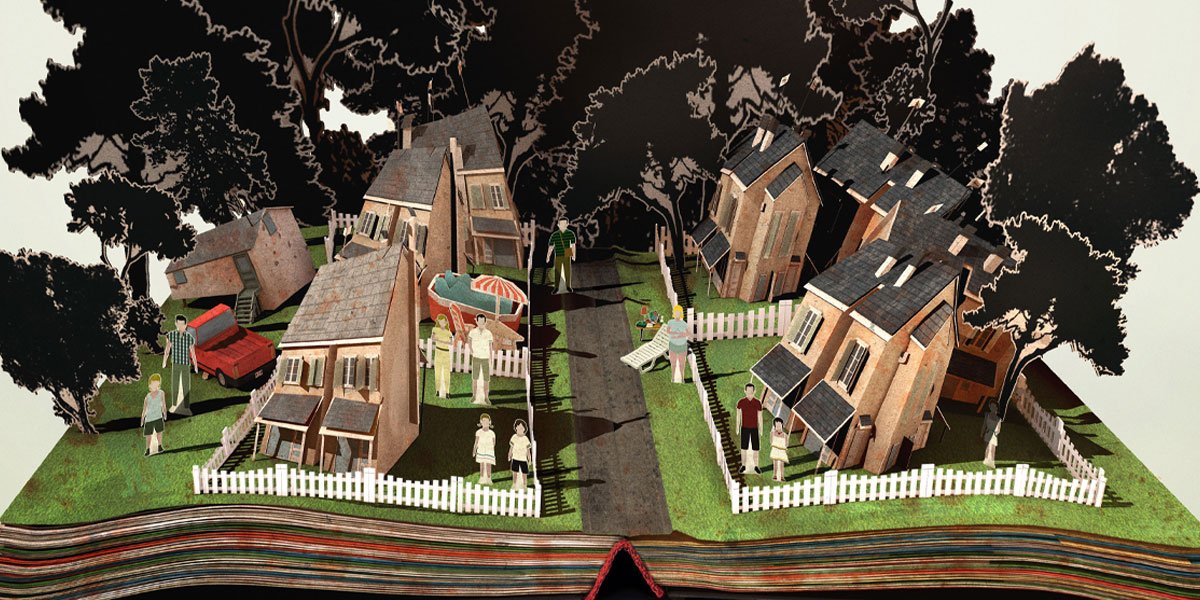 Poster for Favolacce (Vertigo Cinema)
In Favolacce, Italian mavericks D'Innocenzo Brothers strike back and shoot an intense provincial drama of "Bad Tales" that won over critics' hearts at the last Berlinale.
---

What if stories literally became our daily bread and butter? In a way, they already are. Still, Italian directors D'Innocenzo Brothers think we could be more radical in our approach to day-to-day storytelling, and their last picture Favolacce (Bad Tales) gives cinematic substance to their argument. The Brothers hit Italian scenes hugely with their first film La terra dell'abbastanza (2018). Now, the talented twins from Rome who would dress in sweatshirts have changed into refined contemporary storytellers. And, on a side note, Paul Thomas Anderson might have had a hand in their metamorphosis.
A Silver Bear winner for Best Original Screenplay at the 2020 Berlinale, Bad Tales rests upon a Magnolia-like framework of loosely interlaced plotlines and no pivotal hero. As a third-person voice-over narrator states at the very beginning of the film, this is a fictional story based on a true story of somewhat incongruous or insubstantial events. In the Brothers' image-words, this statement translates into a suburban community on the outskirts of Rome (Spinaceto) – a hyper-provincial social group where parents can't really connect with their own children and the little ones dramatically search for guidance as they strive to make sense of a world of barren things.
There's an inherent kind of dread in Spinaceto – a dread which is beautifully conveyed by Paolo Carnera (La terra dell'abbastanza)'s sunny and terse cinematography. Ninenties-vibe electric add-ons, pastel-coloured costumes and faces, a kind of blue that spurts from the very heart of the blazing sun: in the D'Innocenzos's world, stories are, first and foremost, palpable. Just like oneiric fiction, the very fabric of the everyday is heightened, sewn tighter, and transfigured through a psychedelic loop of exaggeration and nightmarish absurdity. This is why pasta-and-splashy-sauce close-ups have never felt so charmingly inappropriate. This is why we get the feeling we are finally meeting the worst version of ourselves. This is why the Brothers' universe can't be home neither to heroes nor to antiheroes: not only is Favolacce genre-defying, but it is also character-defying. As long as the Story lives on, it doesn't really matter who's playing the lines.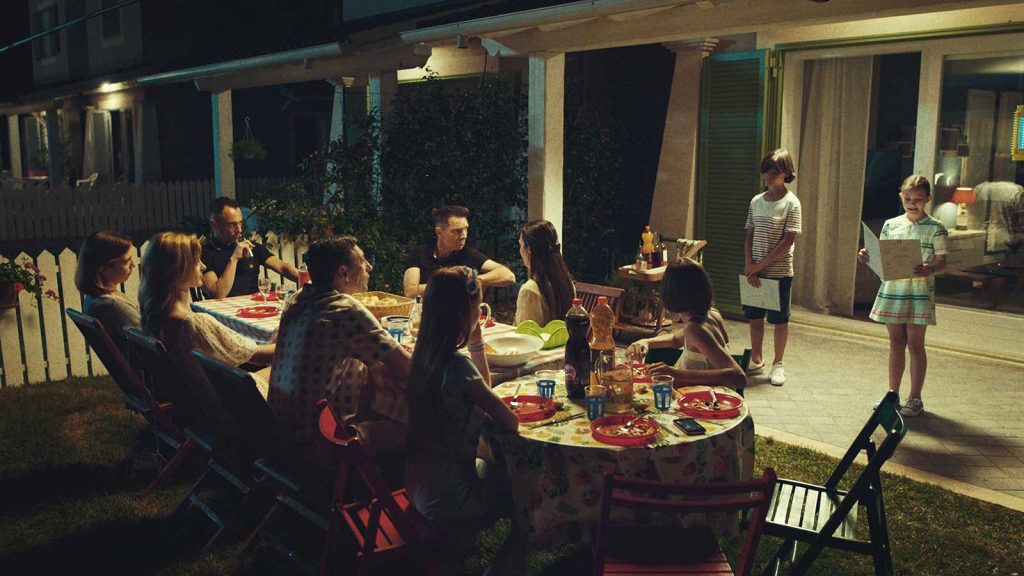 Nonetheless, Favolacce's performances are first-class. From internationally-acclaimed actor Elio Germano (Volevo Nascondermi, Il Giovane Favoloso, Melissa P.) to quirkily good raising-star-to-be Justin Korovkin (The Nest), Favolacce puts together a gloomily delicious cast in which dreary, exhausted adult figures alternate in a muted dialogue with the younger versions of their future selves and build the perfect recipe for a sterile human landscape – so sterile, in fact, that the elderly seem to be completely left out. In the enclave of Spinaceto, love is always misplaced and, possibly, badly understood. Days pile on top of one another, as if waiting for the final scream – that last, dreaded outlet of energy that never comes.
Overplayed noises of the world out there, such as planes crossing the skies, thus turn into a proper score for the film. Everything that doesn't strictly belong to what's on screen trickles with suspicion, and the impression that we're being spied upon is played with by the Brothers' directing style, which sees overhead, and extreme long shots alternate with oblique CCTV-angles and ominous stills. With every minute, we feel the impasse growing stronger on us. We've been caged into the fiction of a true story. And it doesn't look like there's any way out of it.
See Also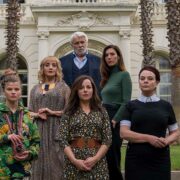 Therefore, we're all the more surprised when the final coup comes and brings Favolacce to an end with masterly expertise. The D'Innocenzos do know how to bridge childhood and the age of (un)reason; how to indulge in details while framing everything into the greater picture. Just like Medieval tapestry, Favolacce is a bidimensional work in progress: you can never be sure of what it all means unless you pierce the surface of the fabric right there where the focal point lies. So, we cannot but be grateful to the Brothers for their contribution to contemporary cinema. Which might not be Italian today, but which will hopefully be handed down as a textbook example of what it means to shoot films with the heart through the lens of the mind.
---
Favolacce (Bad Tales) is now available to watch on digital and on demand.