Fathom (Tribeca Review): The Sound of Whales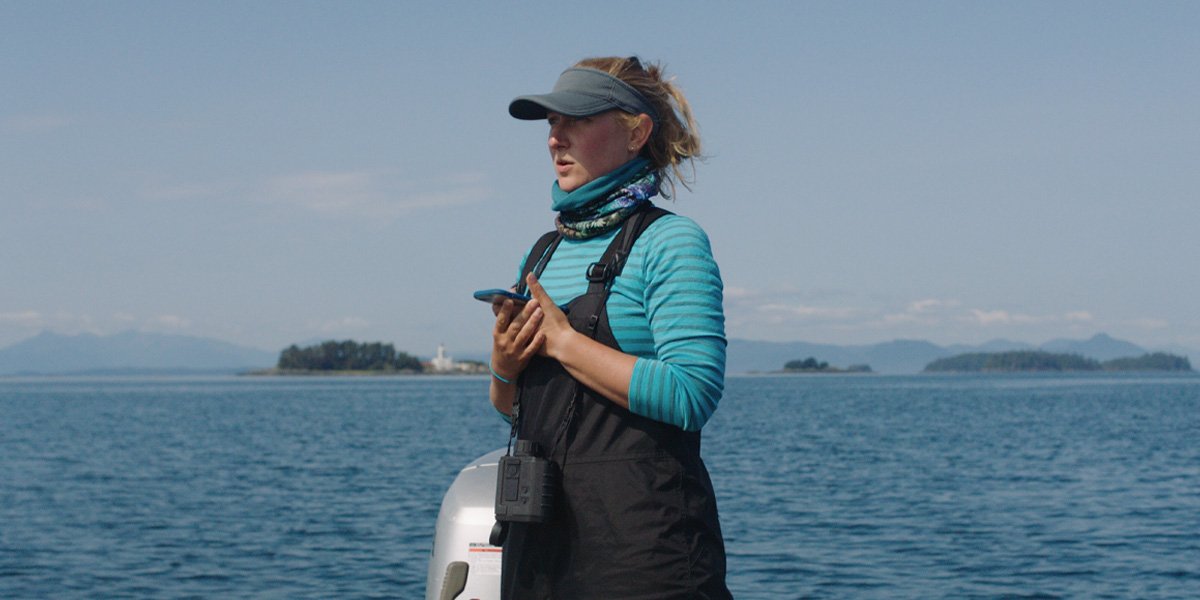 Dr. Michelle Fournet in "Fathom," premiering globally on Apple TV+ on June 25, 2021. (AppleTV+)
Visually stunning with effective sound design, Drew Xanthopoulos' Fathom is a documentary about humpback whales bolstered by the passion and enthusiasm of its scientists.
---

There's a universal enjoyment in watching a documentary about someone incredibly passionate about what it is they do. In Drew Xanthopoulos' Fathom, the focus is split between Dr Michelle Fournet and Dr Ellen Garland, two marine scientists researching different aspects of humpback whale song, and the end result is an interesting and engaging insight into at a rather niche subject matter, which looks and sounds absolutely spectacular.
Dr Fournet is seeking to work out whether one particular humpback call – known as 'the whup' – is used as a means of identification and introduction between the species, using a recreation in an attempt at making direct contact with a group of whales in Hobart Bay, Alaska. Dr Garland is deciphering how far whale song stretches across time and location in the South Pacific, tracking one particular song to French Polynesia and researching the cultural aspect of whale aural behaviour. Both women have dedicated their careers to the study of these majestic creatures, and their enthusiasm is evident and infectious throughout the entire documentary, as their research trips yield both highs and lows.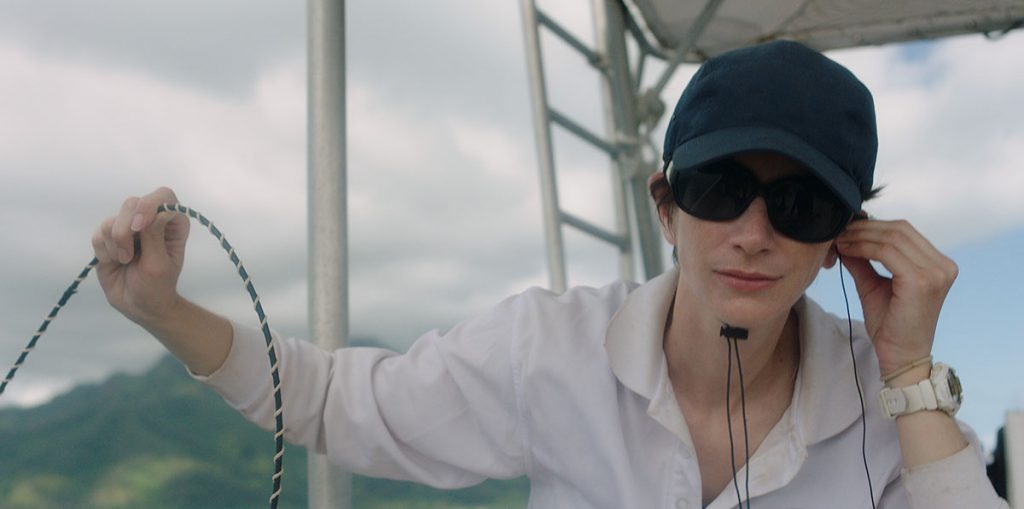 Xanthopoulos is on double duty as Director and Director of Photography, and alongside sound designer Nick Ryan, has created a film that is stunning both visually and aurally. The beauty of the Alaskan and French Polynesian landscape is crystal clear on screen, and the audio design and use of diegetic sound is impactful right off the bat. From the lapping of water to the trundling engines of a boat, the audio is so immersive that when it highlights the sound of the whales themselves, it's very easy to see why these women have dedicated their lives to something so wonderful. The whale song is strangely hypnotic, and animation from Duncan Elms adds dimension to the intricate and technical aspects being described so reverently by Fathom's lead women, creating an audio-visual experience that's really effective.
Fathom is an immersive, engaging and intellectually interesting documentary that emphasises the wonder of both the humpback whale and the passion for science. Drs Fournet and Garland are so knowledgeable and invested in their projects that it's very easy to get caught up in their enthusiasm, as well as the natural beauty of the environments they inhabit and the majesty of the humpback whale. It's quite humbling to learn about creatures whose cultures and voices have existed for eons beneath the sea, and Fathom also acts as a reminder that protecting the species' whose complex and fascinating existences are under threat remains one of mankind's most important projects.
Save the whales, folks.
---
Fathom premiered at the Tribeca Film Festival on Wednesday, June 16, 2021, and will be available to watch digitally on "Tribeca at Home" June 11-23. The film was released globally on Apple TV+ on June 25, 2021.