Fantastic Beasts: The Secrets of Dumbledore Review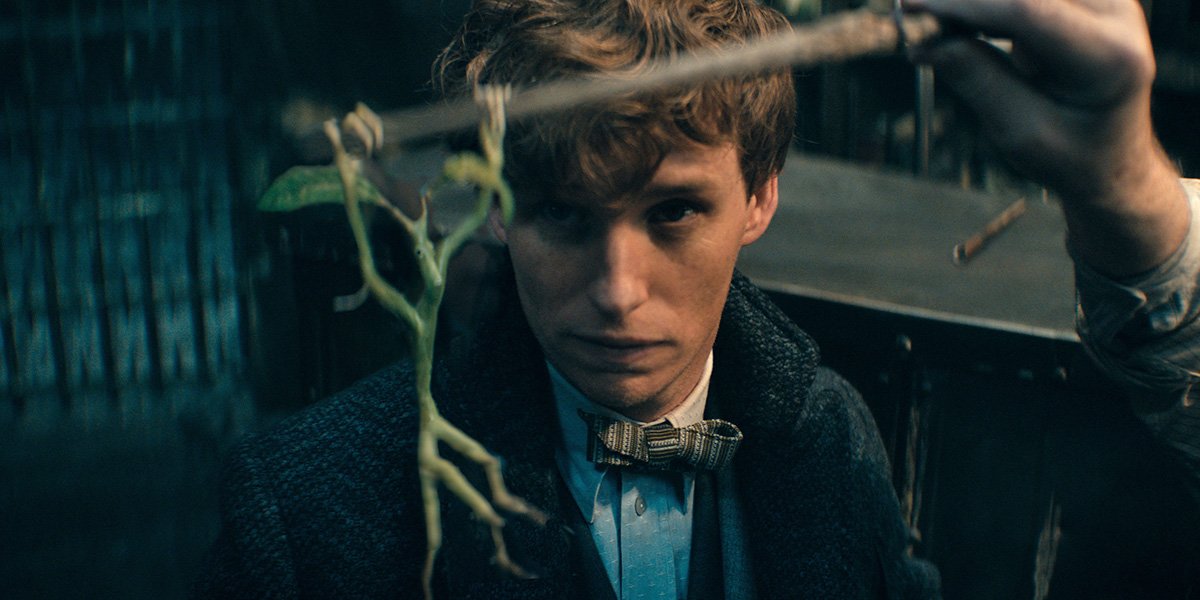 Pickett the Bowtruckle and Eddie Redmayne as Newt Scamander in Fantastic Beasts: The Secrets of Dumbledore (© 2022 Warner Bros. Pictures)
Third time's the charm as we return to The Wizarding World with Fantastic Beasts: The Secrets of Dumbledore in what's a fun attempt at salvaging this franchise.
---

As fans of Harry Potter, we've seen our favorite film series be dragged through the mud in the past four years since the release of Fantastic Beasts: The Crimes of Grindelwald in 2018, a bad sequel to a mediocre first prequel that caused audiences to lose faith in the franchise, followed by author J.K. Rowling losing the trust of half her fanbase after commenting on the transgender community. Then there's Fantastic Beasts co-star Johnny Depp (Minamata) going through a rough time in his career after his divorce with actreess Amber Heard (Aquaman and the Lost Kingdom) and fighting domestic abuse allegations, resulting in being fired from playing the role of the villanous Grindelwald, and cast members having their roles reduced from the newest film after speaking up against Rowling. Fantastic Beasts just seems like it can't catch a break from controversy. So, it is only natural that fans aren't exactly stoked for The Secrets of Dumbledore compared to other blockbusters coming out later in the year. That being said, the brand new installment is finally here and it's got people wondering: is it just as bad as its two predecessors, or is it finally a step towards the right direction?
Fantastic Beasts: The Secrets of Dumbledore sees Professor Albus Dumbledore (Jude Law, Peter Pan & Wendy) unable to stop the powerful Dark wizard Gellert Grindelwald (Mads Mikkelsen, Indiana Jones 5) alone as he moves to seize control of the wizarding world. He entrusts Magizoologist Newt Scamander (Eddie Redmayne, The Trial of the Chicago 7) to lead a team of wizards, witches and the brave Muggle baker Jacob Kowalski (Dan Fogler, The Offer) on a dangerous mission, where they encounter old and new beasts and clash with Grindelwald's growing legion of followers. What this film finally dares to acknowledge is a question that has been building over the course of two movies: how long can Dumbledore remain on the sidelines until he is forced to join the fight against Grindelwald?
I am happy to report that The Secrets of Dumbledore does, in fact, try to right the wrongs of bad decisions from the past, giving us proper character work as opposed to sacrificing it for nonsensical plot. Now, that's not to say this brand new film isn't heavy on plot, because it is, but it's integrated into the motivations of our protagonists, antagonists, and supporting cast much more organic. A significant issue fans had with Newt's characterization in The Crimes of Grindelwald is that it felt like he was placed in the role of the hero because he had to, since he was the star of the original film, leading him to be completely unlikable and somehow underused in his own movie. Here, though, Newt's motivation to want to take a part in the conflict involving Grindelwald is done so much better, since his magical creatures are directly affected by this possible wizarding civil war. Not only does this make Newt's involvement way more relatable, but it gives the audience something to care about. These movies are called "Fantastic Beasts" after all, it is about damn time they receive the spotlight to shine, other than getting glorified cameos like in previous installments.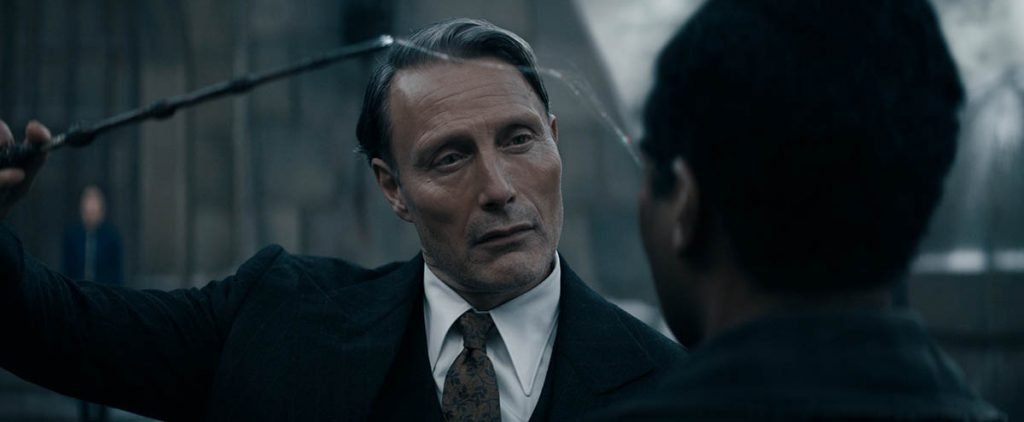 Grindelwald as a villain is kind of a complicated topic to discuss since by the time of the release of The Secrets of Dumbledore he's been played by three different actors in three different films, each bringing something different to the role yet not feeling like a fully realized character. For what is worth, Mads Mikkelsen manages to actually make Grindelwald like an actual human being. A despicable one at that, but an interesting one to follow, at last. Mikkelsen's line delivery during his monologue and the screen presence that he radiates all serve in favor of a stronger version of our antagonist. The opening scene in particular does a great job at conveying that his plan isn't just evil for the sake of it, but he genuinely believes he is working towards something meaningful that he cares about. His relationship with Albus Dumbledore adds a lot of layers to both characters, as you can tell there is a lot of love and resentment amongst one another, raising stakes in the process.
As for Jude Law's Albus, it never fails to amaze me just how much charisma the man can bring to a role. His take on the character isn't just refreshing, but the way he manages to recreate Michael Gambon's (Harry Potter and the Half-Blood Prince) voice he used for Dumbledore while bringing his own flavor is absolutely astonishing to witness. Also, Albus actually gets to do something in the film, unlike in The Crimes of Grindelwald where he kind of just stood there waiting for his cue. His plan to stop Gellert by assembling Newt's team is convoluted, but at least in a way where it still allows for satisfying character arcs and surprises.
The supporting cast in The Secrets of Dumbledore is surprisingly not annoying this time around and regains some of the magic and charisma they had in Fantastic Beasts and Where to Find Them, feeling much like an assembly rather than people fighting for screen time. Callum Turner's (The Last Letter from Your Lover) Theseus Scamander feels like he has a purpose here, actually spending time to develop his relationship with his brother Newt. Ezra Miller (The Flash) is back as Credence, and, although he delivers some great emotional moments, one in particular involving a confrontation against Albus, his character keeps suffering from being cut short despite audiences being told how important and powerful he is.
Out of the supporting characters, Queenie Goldstein (Alison Sudol, The Last Full Measure) definitely seems to be the one director David Yates and screenwriter Steve Kloves were more interested in course-correcting from her depiction in J.K. Rowling's previous script. The film doesn't focus enough on what exactly is going through her head regarding Jacob and her place amongst Grindelwald's followers, not allowing us to fully understand why she even joined him in the first place, but her radical attitude from the last movie is nowhere to be seen here and at the very least an attempt is made to bring her back to form. Speaking of Jacob, Dan Fogler continues to prove he was born to play this role. He's another character that was previously butchered, but he's an absolute delight to see back. By far the scene stealer of the show has got to be Jessica Williams (Love Life) as Lally. She doesn't get much of an arc, but what they do with her is so energetic, funny, badass, and totally clever. It reminds you of the best aspects of side characters in the Harry Potter universe into one.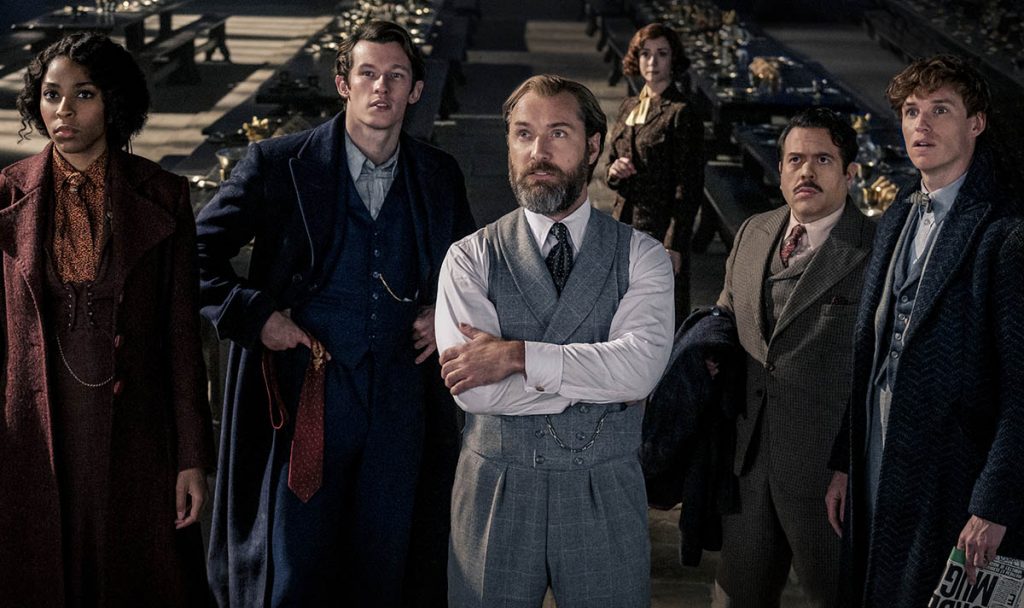 From a visual standpoint, Fantastic Beasts: The Secrets of Dumbledore is quite a hit or miss. There are some jaw-droppingly gorgeous shots involving the creatures, especially with the niffler Teddy and the bowtruckle Pickett in an action sequence within a magical prison, but there are also several scenes where people are standing in a room that is either clearly computer generated or simply badly lit. This is particularly shocking when we've seen sets like The Great Hall of Hogwarts done so well in the Harry Potter films, yet here it feels lifeless for some reason. What made those movies so immersive is that the locations felt like characters themselves, but that hasn't really been the case with these newer films. The third act climax isn't appealing either, as it's mostly people around talking to each other against a green screen. Credit needs to be given where it is deserved, as the film pulls out a very impressive mirror dimension-like visual during a fight with Credence involved, which might be some of the best visuals in the entire series.
I won't lie when I say I'm glad I get to talk positively about Fantastic Beasts after being enraged and frustrated by the first two entries in this prequel series. There is still a lot of work to be done in order for this franchise to get even remotely close to what Harry Potter achieved, but The Secrets of Dumbledore is a nice starting point. Some might argue it's too late to bring fans back into Newt's adventures, but, if this film proved anything to anyone, is that, with the right team, even what seemed impossible can become possible. I'll say this: keep Steve Kloves as your principal screenwriter, have J.K come up with story ideas if you want to keep her involved in this that badly, and let the guy who's been working on Rowling's playground since 2001's Harry Potter and the Philosopher's Stone work on the next films. I truly hope this third installment is a step in the right direction and leads us to more future projects like The Secrets of Dumbledore, less like The Crimes of Grindelwald.
---
Fantastic Beasts: The Secrets Of Dumbledore will be released theatrically in the UK, Ireland and Japan on April 8, and in the US and worldwide on April 15, 2022. Read our article on the "Harry Potter magic" in the Fantastic Beasts series and our ranking of all Harry Potter films from worst to best.