Euphoria Season 2 Episode 7 Review/Recap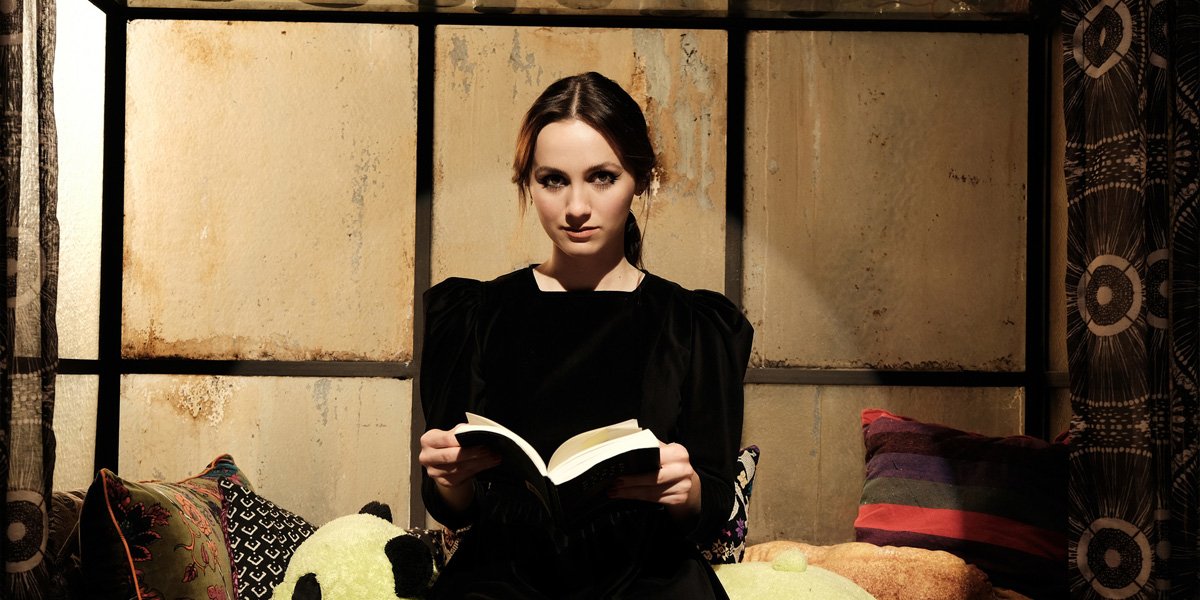 Maude Apatow in Season 2 Episode 7 of Euphoria (Eddy Chen/HBO)
Euphoria 's season 2 nears its end, as episode 7 walks us across Lexi's life memories through her school play.
---
This review contains spoilers for Season 2 Episode 7 of Euphoria.
If there's one thing that Euphoria always delivers on is entertainment value, and my god, does this week's episode go up and beyond to bring the messiness of season 2 together in such a meaningful way. Episode 7, "The Theater and It's Double," finally reveals the fantasy-like play that Lexi (Maude Apatow) has been working on for the entirety of this season. Was the wait worth it? Oh, you betcha! The episode begins with a seemingly nervous yet excited Lexi waiting for her cue as she walks out her dressing room, only for her to end up standing in the middle of Rue's (Zendaya) living room where a memorial for her father is taking place. Right off the bat, showrunner Sam Levinson and director of photography Marcell Rév make it very clear to the audience that we will be transitioning back and forth between present day at the school's play and how things actually went down in Lexi's perspective.
We've seen multiple scenes between Rue and Lexi showing off their friendship throughout the show's run, but nothing as intimate as this moment in the memorial. Maybe it's because we're seeing this from Lexi's point of view rather than Rue's, but you get a better sense that Lexi has always tried her best to be there for Rue at her lowest points. She knows Rue has been doing drugs and she knows if she tries to make her stop she's only going to make matters worse. So, instead of trying to tell Rue what to do with her life, she keeps her company and makes her feel heard while reading a poem to her until Rue falls asleep.
As if it wasn't obvious enough, Lexi's play then cuts away from this to a section where the quite literal audience watching the show is introduced to the play's main characters: five girlfriends who may or may not grow apart during high school. Those girls, of course, being Lexi herself, Cassie (Sydney Sweeney), Maddy (Alexa Demie), Kat (Barbie Ferreira), and Rue. What makes this whole thing as hilarious and oddly rewarding as it is is how Lexi doesn't even try to hide the fact that she based her play off her life and friends. She did the bare minimum by only changing their names to ones that sound similar to their real ones, almost as her way to tell them "yes, this is about you, so hold onto your seats." The cast of students playing the on-stage version of our characters are surprisingly charming themselves. Even small little details, like how the actress playing Marta (aka Maddy) carries herself, all do a great job at imitating Euphoria's core cast and their on-screen charisma. You can tell they are having the time of their lives portraying these beloved characters as their "real life" counterparts watched them from a few feet afar.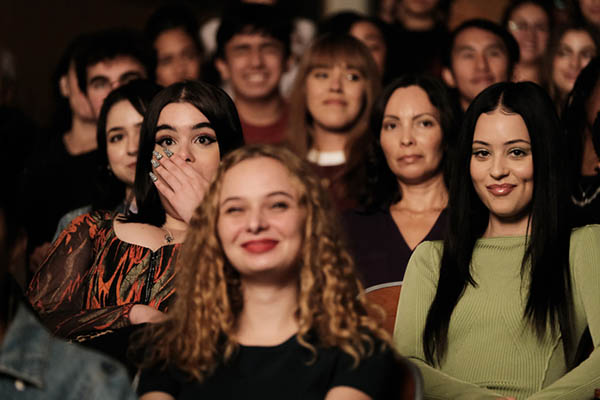 Because there could never be too many scenes between Fezco (Angus Cloud) and Lexi, we are treated to a flashback between the two where they're seen discussing the content of the show and whether or not it's a good idea to be talking about Cassie and company in the play without their consent. Fez admits it is kind of messed up not to ask for permission if you're going to talk about somebody else's life, but he assures her they will be fine with it if her intentions are good. Back at the play, Cassie is seen having a hard time watching her sister's show, sinking into her seat as everybody laughs at the character based on herself.
Through this playful portrayal of her sister, we get a look inside Lexi's head and how she views Cassie as this spoiled, attractive, and clueless girl. What makes this even more engaging is how, despite making fun of her, Lexi admits she used to look up to Cassie and her beauty and how much she wished to be just like her one day. Ever since season 1 we've gotten the idea that Lexi has always been in her sister's shadow, with nobody ever really paying much attention to her as much as she wished. Is quite a beautiful way to visualize their relationship over the years as now Lexi is finally receiving the school's spotlight while Cassie is in the dark watching the show unfold.
Fascinating enough, we are presented with another eerie flashback where Lexi and Cassie attempt to spend quality time with their father at the park while eating ice cream. After waking up from taking a nap on a bench instead of watching his daughters, their father decides to drive them back home. Lexi suggests they call their mom to pick them up instead, but Cassie objects to her idea in fear of upsetting their dad. On their way back, Lexi has a panic attack, seeing the danger they're in with their father driving intoxicated, while Cassie is unfazed by the whole thing.
Again, Levinson uses this opportunity to demonstrate the difference in ideologies these two sisters have compared to the other. Just from this small exchange do we understand that Cassie, in a way, has always been okay with being put through the mud by men, starting with her father. Making her relationship with Nate (Jacob Elordi) much worse, since she doesn't seem to understand she could be doing better than him and that she's repeating her mother's mistakes.
We get to see the continuation from last week's final sequence where Rue and Gia (Storm Reid) discuss the possibility of one day completely forgetting all the memories they made with their father. Rue, for the first time in a long time, behaves like the older sibling and is honest with Gia by telling her there's no way of ensuring she will be able to remember every second they spent with their dad. This connects flawlessly with Lexi and Cassie's tricky relationship with their own parents, the time they used to be a happy family feeling like a distant memory.
Later, in a ruthless, hard to watch conversation, Leslie (Nika King) confronts Rue about her addiction. She lets her daughter know that she gives up trying to help her get sober. You see, by trying to aid Rue in her fight against addiction, Leslie has been neglecting Gia, resulting in her constantly getting in trouble at school. In fear of losing both of her daughters, she confesses to Rue that she would much rather lose one daughter rather than two. It's heartbreaking because on one hand you understand where Leslie is coming from, tired of getting nowhere despite her efforts, but on the other you can't help but want to reach out to the screen and tell her to not give up on Rue yet. Leslie ends the conversation by telling Rue that she's allowed to do whatever she wants until she learns to value her life for herself.
Maddy gets her own little chapter within Lexi's play that serves as a reminder of her sisterhood like friendship with Cassie before their fallout. Here, Lexi gets the opportunity to express her initial concerns for Maddy when they first met. She was mostly intimidated by her personality, not so much because she made her uncomfortable, but because Lexi had never met somebody as confident about themselves as Maddy. Proving her doubts wrong, Lexi grew to care for Maddy and sympathize with her when Cassie invited her to stay in their home for a couple of months following Maddy's family drama.
During her stay, we see just how close Maddy and Cassie were to the point where they would sleep in the same bed and be there to support one another. Things get complicated when we see the final piece of the puzzle where Cassie and Maddy fall apart. Between her parents' complicated relationship to the way Nate abused her both physically and mentally, Maddy seems like she can't catch a break experiencing tragedy after tragedy.
In the meantime, as everybody is having an existential crisis watching the school play, Faye (Chloe Cherry) is seen helping Fez steam his shirt while he's getting ready to go see Lexi after promising he would be there to support her. They're interrupted by Custer (Tyler Chase), who arrives unannounced, questioning Fez's whereabouts. Knowing he is secretly working for the police, there's an uneasy feeling to these scenes, almost as if something terrible is about to happen to Fezco and Ashtray (Javon Walton).
What makes this even more stressful is the fact that Faye knows Custer's true intentions and she has the power to tell Fez what is going on behind his back, but instead she continues to stay silent despite receiving hospitality from him. That being said, she does seem conflicted, making us think she might actually speak up. Ash, on the other hand, eventually notices something is wrong from across the room and grabs a knife. Will Fezco make it in time for the remainder of Lexi's play? Can Ashtray do something to prevent Custer from exposing them to the cops? We will have to wait until the finale.
During a quick montage, we get a quick glimpse at Jules (Hunter Schafer) destroying the tape Nate gave her in episode 6, which might prove to be a mistake in the long run since that was the only thing she could use as blackmail against Nate Jacobs. Finally, it's no surprise that Ethan's (Austin Abrams) storyline, like Kat's, has been treated as an afterthought in season 2. That being said, episode 7 comes to a close with a fantastic musical number where Ethan is dancing to 'Holding Out for a Hero' as he's playing Nate on-stage. Lexi, through her writing, is able to make fun of Nate's sexul insecurities and his toxic traits.
The whole theater erupts into cheers and applauds, which makes the real Nate uncomfortable and storms out of the room. Cassie goes after him, but he shows his true colors and pushes her away and threatens her to better move out of his house after what his sister did to make fun of him in such a public space. In a terrifying final shot, Cassie sees how everyone is praising Lexi from outside the theater, as she breathes heavily into the door's glass window, with a promise for a chaotic final showdown. We are one episode away from Euphoria 's season 2 coming to an end. Despite its flaws, here's hoping the show goes out on a high note next week!
---
Euphoria 's Season 2 Episode 7, "The Theater and It's Double", is now available to watch on HBO Max.