Erase Una Vez en el Caribe: Film Review

()
Ray Figueroa can't outweigh the conventional story and baggy structure of his fresh and genre-crossing Erase Una Vez en El Caribe.
---

Currently, Puerto Rican cinema is in a bad state. The people in charge aren't giving visionary and creative filmmakers opportunities. The only ones getting a chance are those willing to do only raunchy comedies or films about faith. I'm not against either of the two. The problem comes when these films are made in the most straightforward, conventional, and outright desultory way. That has been unfortunate for most films released here on the island. One of the few directors given that rare opportunity to make something out of the norm is Ray Figueroa with Erase Una Vez en el Caribe (translated to Once Upon a Time in the Caribbean).
As Erase Una Vez en El Caribe develops, it switches genres and cinematic inspirations. Set in Puerto Rico during the 1930s, the film begins with a revenge thriller edge that doesn't dwell on exploitation cinema tropes but includes its select scenes with specks of crimson red. We see a young woman, Pura (Essined Aponte), and her daughter, Patria (Linda y Sophia Aguayo), folding clothes. Pura sings a song with her angelic voice that calls for her lover to come home. What she doesn't expect is that somebody is lingering around the premises. Pura is later kidnapped by two local workers turned bandits. These two crooks were hired by Walker Jr. (Robert García Cooper), an American businessman or the film's mustache-twirling antagonist, who wants Pura as his wife, no matter the cost or the repercussions.
Walker Jr. and his armed mercenary don't know that her husband, Juan Encarnación (Héctor Aníbal), is searching for her. And he isn't afraid to swing his machete across anybody, as the man is known in the town as "el capataz" (or taskmaster, yet with a more ruthless and aggressive demeanor). Juan first encounters the two crooks who took Pura and asks them nicely about her whereabouts. They won't squeal, so he cuts the face of one and the hand of another – beginning his merciless journey throughout the sun-bathed plains, fighting not only for his life but his wife's as well. After that introductory epilogue, Ray Figueuroa switches to a 'Lone Wolf and Cub'-like narrative, where Juan carries Patria on his back as they cross dangerous landscapes.
He swings his machete from left to right as he climbs up the ladder like a Mortal Kombat arcade ladder, defeating one mercenary after the other. Throughout the second and third acts, Ray Figueroa decides to once again play with more genre conventions and tropes by referencing two cinematic maestros: Akira Kurosawa (Yojimbo, Seven Samurai) and Sergio Leone (The Good, The Bad, and The Ugly). The revenge thriller aspects remain lingering in the background as blood splatters. However, the journey's next stage focuses more on the Western and Samurai genres.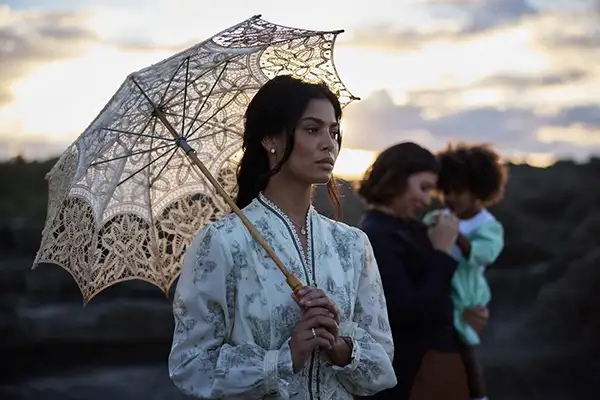 This isn't particularly fresh or innovative in international or US cinema. We have seen many reincarnations of such genres throughout the decades, such as Tarantino's Django Unchained, Kelly Reichardt's Meek's Cutoff, or even Nicolas Winding Refn's Drive. But it is such for the Puerto Rican one. There hasn't been a Western and Samurai-infused and inspired picture produced locally. Considering all of the films released in the past two decades, this one stands out by far in terms of cinematic language and genre combinations. The most fascinating facet that Ray Figueroa offers in Erase Una Vez en El Caribe is how he blends those classic genres that significantly impacted cinema with the nuances of Puerto Rican culture.
While I appreciate that Ray Figueroa doesn't want to do something that's within the parameters of what we regularly see in Puerto Rican, there are a couple of issues in its screenplay and structure that hold it back from becoming the "game changer" that we were looking forward to cinematically. The film's main problem is the narrative's unnecessary expansiveness and conventional approach. For the straightforward story that Figueroa wants to tell, its two-and-a-half-hour runtime isn't justified. He fills the runtime with an unnecessary backstory often repeated during other dialogue sequences, making Erase Una Vez feel pretty baggy. Figueroa dwells on some political topics, such as colonialism and its effects on Puerto Rico throughout the years. However, I believe he doesn't have the punch to tackle and intertwine such concepts with the genres he's crossing.
If the screenplay was sharp and clear-focused, like in the films Figueroa is inspired by, it shouldn't have been much of a problem. Since there's an airy quality to most of the lines, you never get that piercing impact of forthcoming quarrels. This leads to my second point: for a revenge thriller, Western, or Samurai film to work, you need three essential factors: tension, pain, and emotional sustainability. In the case of Erase Una Vez, there's neither. While the main culprits are the screenplay and its almost artificial graphic novel sensibility, the film's focus on style and flash does some damage as well.
See Also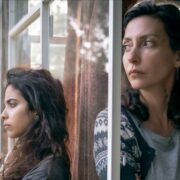 Since it is intent on replicating what worked for other directors instead of making an impression on his talents, each confrontation with a mercenary, one which is more brutal than the next, ends up being weightless. He recreates many scenes from Leone and Kurosawa that add to the film's aesthetic, yet not in the atmosphere department. You never get those emotions of angst, fear, and agony the lead character suffers throughout his journey to save his loved ones. The machete blade swings and eventually cuts, with the tip smeared in blood and its holder one step closer to getting what he wants. Yet, you never feel that these characters are suffering because Figueroa doesn't build the right amount of tension (or uncertainty of whether or not Juan will finish the journey) before each chapter comes and goes.
It is a shame that the one project that feels different from the rest still ends up being a mediocre picture in the grand scheme of things. Erase Una Vez en El Caribe will not change Puerto Rican cinema; this is not a transcendental picture. Nevertheless, there's a possibility that other filmmakers will be inspired to create more unique projects that do not necessarily adopt many genres simultaneously but are more playful in their direction and visual language.
---
Erase Una Vez en el Caribe is out now in theaters in Puerto Rico.