Emily (Film Review): Exquisite Emily Brönte Retelling

Emma Mackey as Emily Brontë in Frances O'Connor's Emily (Warner Bros. Pictures)
A magnificent tale of love, loss, strength, and independence, Emily delicately tells the imagined life of renowned English novelist and poet Emily Brönte.
---

Emily Brönte is most well-known for "Wuthering Heights", her first and only novel. Influenced by romanticism and gothic fiction, the novel centres around Mr. Lockwood, an English native who stumbles upon two diaries during his unnerving stay at Wuthering Heights, Yorkshire. The diaries unravel a deeply complicated love story between Catherine Earnshaw and Heathcliff, who were completely encompassed by one another until their relationship ruined everyone, and everything around them.
Frances O'Connor's 2-hour film Emily captures the writer's life before the 1847 classic novel was written or published. Focusing mainly on Emily's strength but also her struggles, writer and director Frances O'Connor sheds light upon the pressures and standards placed upon Emily by her family, which halted her 'childish' writing fantasies and almost forced her into teaching alongside her sister Charlotte.
There is a significant focus on the strength of family within the narrative of this film, especially the highs and lows. Emily (Emma Mackey) and Branwell Brönte (Fionn Whitehead) have perfect on-screen chemistry as brother and sister, making the duo my favourite acting performance of the release, particularly the 'Freedom In Thought' sequence, which I'm sure will stick with everybody who watches. The sequence places Emily and Branwell upon a desolate, extensive grassland as Branwell encourages Emily to scream as loud as she can, exclaiming that there is "freedom in thought". It's a powerful scene not only because of the delivery of the performance, but also due to the power behind the sentience of the phrase, with both characters putting aside their personal struggles and allowing themselves to be completely free.
Emily's sisterly bonds with Charlotte (Alexandra Dowling) and Anne (Amelia Gething) also play a huge role within the film, especially with regard to her creativity and writing abilities – as they are both constantly questioned and criticised by her sisters. There is an emphasis on the complicated relationship between Emily and Charlotte, as Charlotte leaves home to become a teacher, she expects the same dream from Emily, who's only desire is to write. Because of this, both Charlotte and Anne comment on how Emily ought to have outgrown the storytelling by now, whilst also being offended by the honesty and brutality of Emily's words within her first completed version of "Wuthering Heights".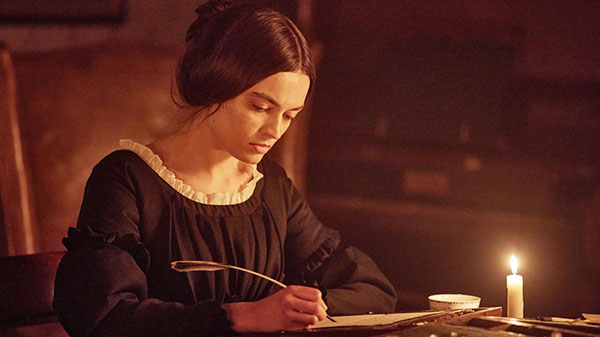 The movie also explores Emily's forbidden romantic relationship with Wiliam Weightman (Oliver Jackson-Cohen), because of course, a literary tale is never complete without the longing for a (somewhat) unrequited love. Whilst not much is known about Emily Brönte's actual private life, Weightman's character is real, and was in fact Patrick Brönte's (Adrian Dunbar) curate in the Haworth Parish. However, it is unknown whether the depicted illicit love-affair between Emily and William Weightman really did take place.
Casting for Emily was done by Fiona Weir and it is perfectly executed. Not only do the family members pass as relatives, they have an undeniable chemistry which results in a passionate delivery of performance. Scenes within this movie range from chilling, tense, heartbreaking, and inspiring, and they are all delivered excellently by the star-studded cast.
The cinematography within the movie is captivating, emphasising the beauty within nature. Frequently utilizing the wide-lens angle, cinematographer Nanu Segal eloquently captures the fields and natural landscapes in which the characters roam free. Similarly, the use of dramatic quartets and orchestral songs (Abel Korzeniowsi and Niv Adiri) accompany the timeless visuals to create a sense of the time period within the narrative, and of course, the costume design, completed by Michael O'Connor, is exquisite.
Emily is the kind of film that reminds me why I love cinema, a movie that has been created with the intention and desire to be released on the big screen. From the cast performances, to the perfectly executed cinematography and post-production, this film is definitely a must-see for 2022.
---
Emily is now available to watch on digital and on demand in the UK & Ireland. The film will be released in select US theatres on February 17, 2023.